Updated: 18 February 2022
So, you've planned the perfect vacation, and can't wait to kick back and enjoy yourself. It's so easy to let your usual healthy habits fall by the wayside as soon as you enter vacation mode. But the last thing you want is to come back home feeling guilty about the food choices you made.

Research shows that most people gain weight over the holiday season. And vacations aren't that far behind that throw-caution-to-the-wind food mindset.
It is possible to still try out all the local favorites and eat healthily. It's just about being more aware of what you put on your plate. Whether you're headed off to Greece to feast on the best of the Mediterranean or dying to wrap your hands around a freshly made burrito in Mexico, you can still indulge in the yummy pleasures of your holiday without overindulging.
Even though it's oh-so-easy to leave your nutritionally savvy self at home, you can still use some of these simple strategies to eat healthy on vacation.
Tips On How To Eat Healthy When On Vacation
Plan For The Day Ahead
Not quite like meal prep, but almost.
If you're planning on spending the day sightseeing, then pack a few healthy snack options in your backpack, so you don't find yourself buying overly salted, processed, or sugary snacks when hunger strikes.
It's usually easy to find fresh and dried fruit, nuts, and healthy snack bars at local grocery stores and gas stations. So, make a point of doing some shopping before you start relaxing. This is also a great way to save money by ensuring you have things to munch on during the day and don't stop off at street vendors unnecessarily.
Start Your Day Off Right
So, we all know that breakfast is the most important meal of the day, but when you're on holiday, it's easy to pile up your plate at the inclusive breakfast buffet with a greasy breakfast. Instead, why not make sure you stock up on items like your favorite whole grain cereals, nuts, or a protein powder to add yogurt or milk to. Add some berries or apple slices into the mix, too, to ensure you're getting your daily dose of fruit.
Shop Local
It's always a good idea to check out local farmers' markets while you're traveling. Not only will you be able to try out some exotic produce and interact with local people, but you can also stock up on some of the freshest (and healthiest) fruits and veggies.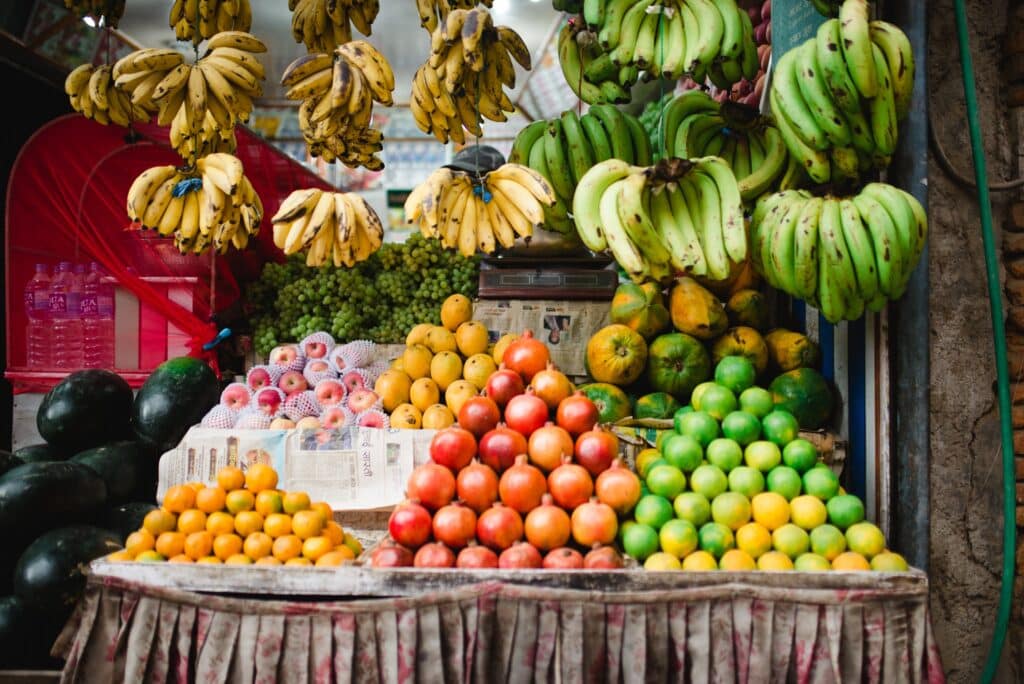 Stick To Your Usual Eating Habits
Planning ahead also means that you're more likely to stick to your usual eating habits. If you usually opt for smaller, more frequent meals throughout the day, make sure you don't change this up too much while you're on holiday. Your body is used to your normal eating patterns, and disrupting this will just make it harder to adjust when you're back home.
Self-Catering Kitchens Are The Way To Go
While it's not always possible, try to find accommodation options that offer a full or mini kitchen. This means that you can actually live like a local and it gives you much more control over what you eat. Many hotels now offer table-top stoves with basic cookware.
Eat One Meal At Home
Your home away from home, that is!
If you eat at least one meal at your self-catering accommodation or hostel, you can be sure you're eating at least one healthy meal a day because you're in control of the ingredients as well as portions. While many travelers opt to eat breakfast at home, you can decide this based on your itinerary for the day.
Opt For Lighter Drinks
It's easy to order round after round of multi-colored cocktails – especially when you're in holiday mode. But these are super sugary! You can still enjoy alcohol; just go for lighter versions like wine spritzers and light beer. Or why not try 'skinny' pina coladas with coconut water and a splash of pineapple juice.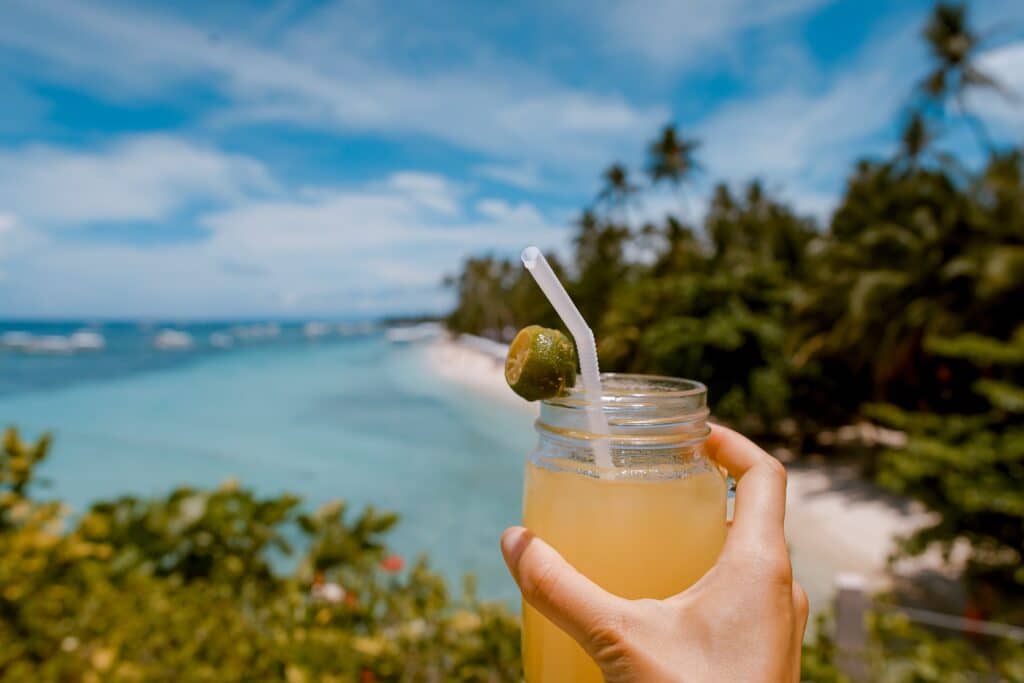 Stay Hydrated
This one can't be stressed enough. Whether you're on an eight-hour flight to Thailand or a Mozambique open-bar cruise with your friends, chances are you're not drinking enough water, which can lead to headaches, fatigue, and glugging back lots of unhealthy calories in the form of soda, and energy drinks.
Travel with a canteen, and keep it filled, or stock up on bottled water so you can stay hydrated during your daily adventures. Be wary of where you're traveling to – if local tap water isn't safe to drink, make sure you have access to filtered water.
Keep Local Cuisine For Lunchtime
If you want to indulge in local cuisine (and obviously you will), save it for lunchtime. Instead of eating a heavy dinner and then probably heading off to bed soon after, eat your delicious local dish at lunch, so you have the rest of the day to burn it off.
Stick To One Plate
When you're on holiday – whether it's at a hotel resort in Cabo or a cruise ship navigating the Portuguese Isles – there's usually an abundance of food options available in the form of a buffet. This also means it's far easier to overindulge. Try to resist the temptation of going back for seconds and stick to one plate – more often than not, you're not really that hungry.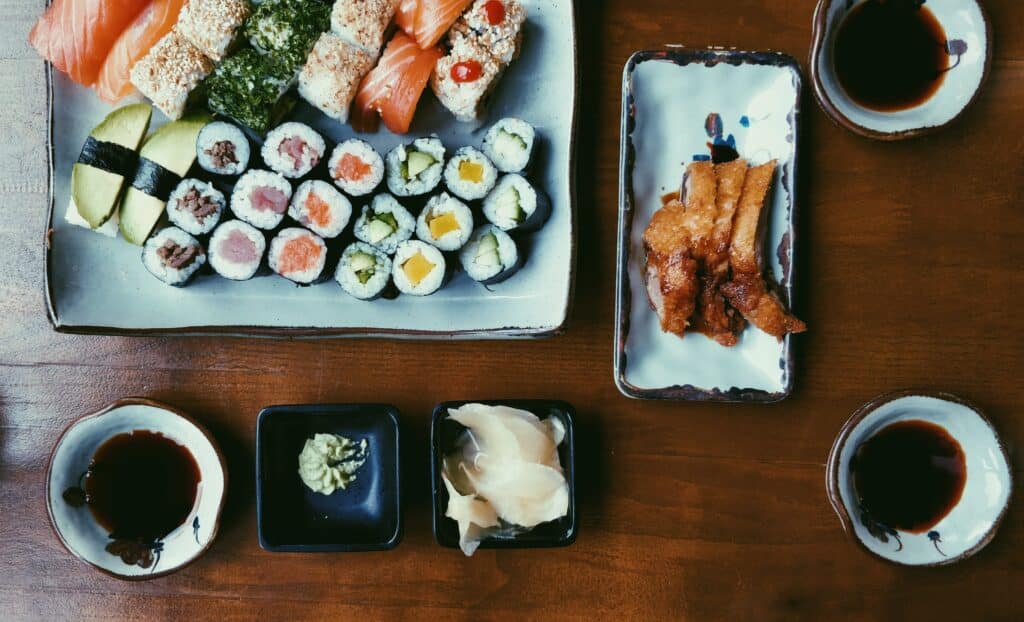 Avoid The Mini-Bar
That little refrigerator in your hotel isn't a healthy eating companion. So instead of raiding the mini-bar, keep your healthy snacks close by and stock your room with easy nibbles like fresh fruits and nuts. Read on for snack ideas to help you eat healthy on vacation.
Research Menus For Healthy Options
Most restaurants these days have their menus available online on their website or in ordering apps. This makes it super easy to check out what's on offer before you head out to eat and make sure that there's something healthy to fill your belly after a busy day of sightseeing. You can also make slight alterations to your meal to make it healthier by swapping common side dishes like fries for veggies or a salad.
Fast Food Can Be Healthy
More and more places offer grilled options instead of fried and fresh salads over salty sides. Order a bunless burger, or "protein style," and it'll arrive in a lettuce wrap instead of a bun. While these options won't always be your first choice, they might be the best you can do at the time.
Practice Mindfulness
Mindfulness isn't just a fad. Practicing mindful eating paves the way for making better food choices and overall having a healthier relationship with food. And there's research to back it up. If you're in Paris, indulge in that buttery, golden croissant that's just come out of the oven. In fact, order a café au lait (coffee with milk) too. But make sure you savor it slowly, enjoy every single bite, and take in the sights from that corner café. See this as an almost-meditative experience, and you're likely to find that you begin to only indulge when you need to and not every time you think you do.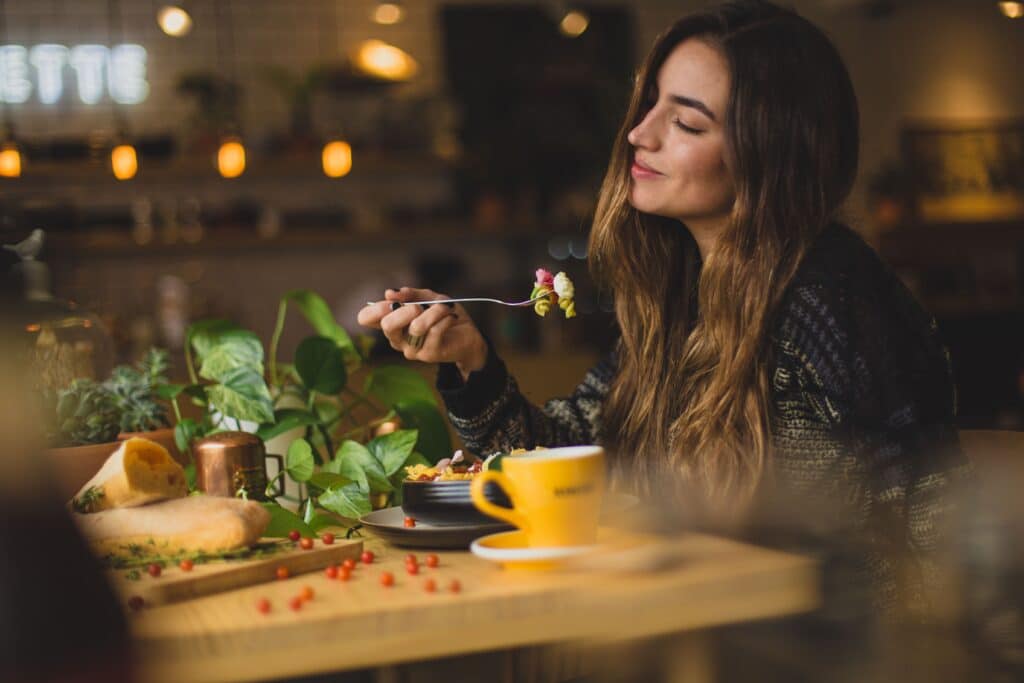 Snack Ideas To Help You Eat Healthy On Vacation
Stock up on some easy travel-friendly nibbles like:
Unsalted pretzels and nuts (you can easily portion out a big bag of almonds for a few trips in the week. Plus, these last long with no refrigeration necessary.
Cheese sticks
Packets of nut butter
Cut up veggies with hummus
Whole fruits like apples, bananas, and pears – no need to cut them up.
Chopped fruits and yogurt – a great way to try local produce!
Cereal bars – check the labels; sometimes these aren't that healthy
And while we've got food on the brain, here are a few dishes that come highly recommended across the globe! Bon appetite!
Czech Republic: Goulash and bread dumplings are a must. The goulash is made with vegetables and potatoes, perfect for dipping your light and fluffy dumplings in. Ferdinanda is one of the best-rated restaurants for this dish.
Spain: You just can't miss out on paella while you're in Spain – they know what they're doing. If you find yourself in Barcelona, head to Bodega Joan for a great experience.
Germany: Jägerbraten mit Spätzle is slow-roasted pork served with a dark sauce and mushrooms and is a must-try while you're enjoying the beer in Germany. Prater Garten offers a truly authentic experience in Berlin. Here's our complete guide to healthcare while traveling in Germany.
Hong Kong: You won't find better dim sum anywhere else. You simply can't leave Hong Kong without trying it. Seventh Son comes highly recommended.
Indonesia: If you are heading to Indonesia, don't miss the chance to try Soto, a meat, veggie, and noodle soup. Soto Kadipiro is one restaurant you can try for a good bowl of Soto. Here's a guide that will keep you safe and healthy while in Indonesia.
Italy: Cicchetti is a type of anti-pasta found throughout Italy and is the perfect snack after a long day of sightseeing. Head to Cantina do Spade in Venice for some delicious Cicchetti.
Switzerland: If there is one dish you should try while in Switzerland, it's cheese fondue, and Chäsalp is said to be one of the best places to try it.
Vietnam: If you want a fresh and authentic dish while visiting Vietnam, mi Quang is the one to try. Pho Xua is one restaurant that serves some of the best mi Quang.
There's definitely no shortage of tempting dishes worldwide, but it's still possible to work in healthier meals in between the delicious local cuisine.
But making your vacation healthy goes beyond your food and drink choices. Shifting into relaxation mode might be challenging to do straight away, but don't forget the main reason we go on holiday: to escape our day-to-day lives and minimize our stress.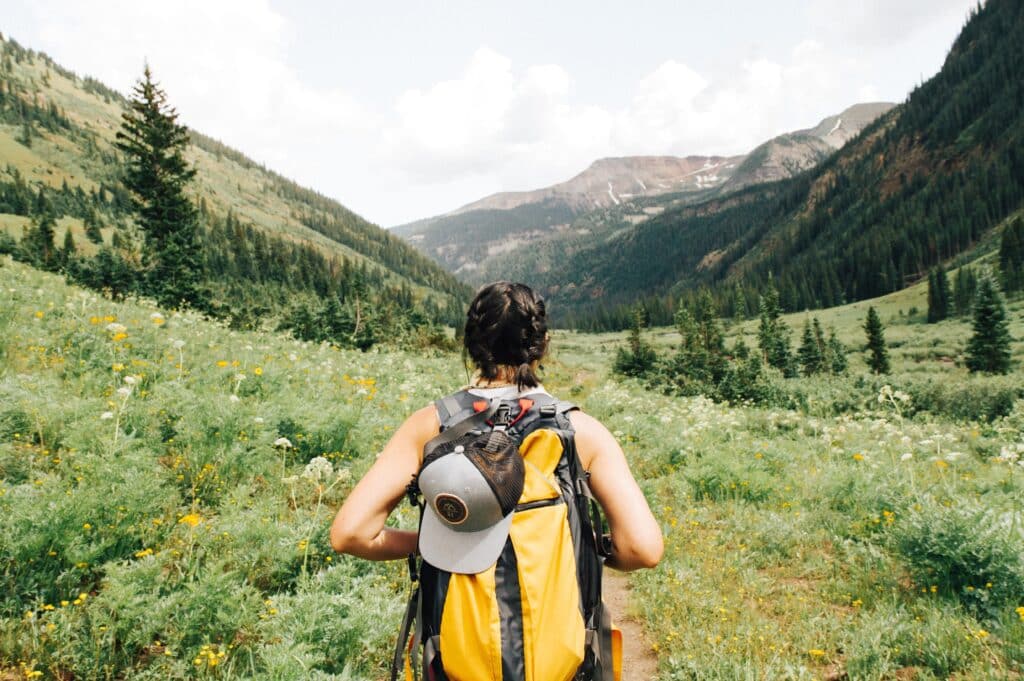 While some trips can be stressful, it's usually a good kind of stress that helps you grow and gain a bigger picture of the world you live in.
Here are some other tips to ensure you stay healthy and stress-free during your travels!
Minimize technology: If you can, try to disconnect. Stay in the moment and enjoy your vacation!
Stay as active as possible: Do activities that are a little more physical, like a guided hike, and opt to walk or cycle to places when possible.
Do what you can to remedy stress: Nature is a great way to recharge those batteries!
Get enough sleep: Even if you're not jet-lagged, traveling is tiring, and you'll be happier for it when you're able to enjoy your holiday feeling well-rested!
Pre-plan glitches: Be prepared for potential emergencies like knowing where local doctors and clinics are situated, so in case something happens, you're not floundering around last minute trying to translate "hospital" in Google translate. Air Doctor is a handy solution to keep in your back pocket while you're traveling – download the app now – it's available on Android & iOS!
You can implement many of these tips to transition back into real life after your vacation too. We can't reduce the number of emails in your inbox when you return, but at least you know how to eat healthy when on vacation!