The Maldives, a small archipelagic state synonymous with shimmering turquoise waters, powder-soft sandy beaches, waving coconut palms, and of course, luxe floating bungalows. You might be wondering, "Where is the Maldives?" The collection of over a thousand islands is just off the coast of Sri Lanka and India. A tropical paradise where visitors can snorkel, swim, frolic, laze and soak up loads of sunshine. Apart from the Republic being one of the world's most stunning island havens, the Maldives is the perfect travel bucket list destination for travelers exploring South Asia or the Middle East.
Whether you're still fleshing out your itinerary or you're already lying on a palm-dotted beach, here are the common mistakes to avoid when visiting the Maldives.
Top Mistakes to Avoid When Visiting the Maldives
1. Assuming It's Expensive
How expensive is it to go to the Maldives? Your holiday can be as expensive as you want it to be! While the Maldives islands have a reputation for being a lavish tourist destination, it's not reserved for only those with a rich and famous lifestyle. It's possible to enjoy a budget-friendly trip to the Maldives – even flight tickets don't have to be exorbitant if you hunt around for a multi-flight deal. You can also pick a local guesthouse or affordable hotel group like the Holiday Inn to cut back on your accommodation expenses. And when it comes to activities during your stay, it doesn't have to be chartered yachts and overwater bungalows. The Maldives is ripe with Mother Nature's beauty: you can easily enjoy the splendid marine life and even help with various conservation initiatives to plant coral in the Maldivian reefs. Don't let budgetary constraints make you miss out on immersing yourself in everything that this stunning destination has to offer.
2. Waiting Until Your Honeymoon
Yes, the Maldives is romance central. With countless dreamy beachscapes and glorious sunsets, the Maldives will always be a top pick for honeymooners. But you don't need to save this spot for your honeymoon or a romantic getaway. The Maldives is also the perfect destination for a family holiday, a trip with friends, or even a solo breakaway. Even more, than being a couple's destination, the Maldives is a place where you can go to recharge, forgetting about your stresses in the real world, and enjoy a little slice of paradise.
3. Not Island-Hopping
Of the many mistakes to avoid when visiting the Maldives, only visiting one island is one of them. Most resorts are situated on their own private islands – with a typical one hotel to one island ratio. This makes the most geographical sense because the Maldives islands consist of approximately 1,192 uninhabited and 200 inhabited islands. Whether you wish to tour multiple islands by staying over at various resorts, or you prefer to cruise around in a boat, make sure you explore more than one island to truly experience the magic of the Maldives.

4. Excluding Local Culture
The Maldivian culture is often sidestepped by beach-crazed travelers wanting to snorkel and scuba till sunset. Diverse South Asian influences make up the melting pot that is Maldivian culture. The Maldives is an Islamic state offering the cultural tourist a chance to experience a beautiful blend of Sri Lankan, Middle Eastern, Indonesian, and African influences. Immerse yourself in the local Maldivian way of life, sample local food, attend dance performances, or spend a day in a nearby village island and learn about the traditional practices that make the Maldives beautiful and sacred.
5. Missing Out On the Bioluminescent Views
Besides the already astonishingly beautiful marine life – boasting over 2,000 species of colorful fish, gigantic manta rays, and even whale sharks – most islands are visited by bioluminescent plankton. This means that during certain times throughout the year, shores across the republic become luminescent at nighttime, bathing the coastline with an ethereal glow-in-the-dark effect right on the water's edge. You can experience this magical display if you visit during the plankton high season, which occurs from mid-summer to mid-winter.
6. Not Considering an All-Inclusive Resort
When you're on the hunt for your accommodation in the Maldives, you could easily forget that food and alcohol are often the priciest part of a trip. Remember, you are on an island in the middle of the Indian Ocean, and it costs a lot to transport all the good stuff to your chosen resort. That's why many travelers opt for an all-inclusive resort. While the nightly rate and resort fees might be more when compared to budget accommodation, it packages everything together quite nicely.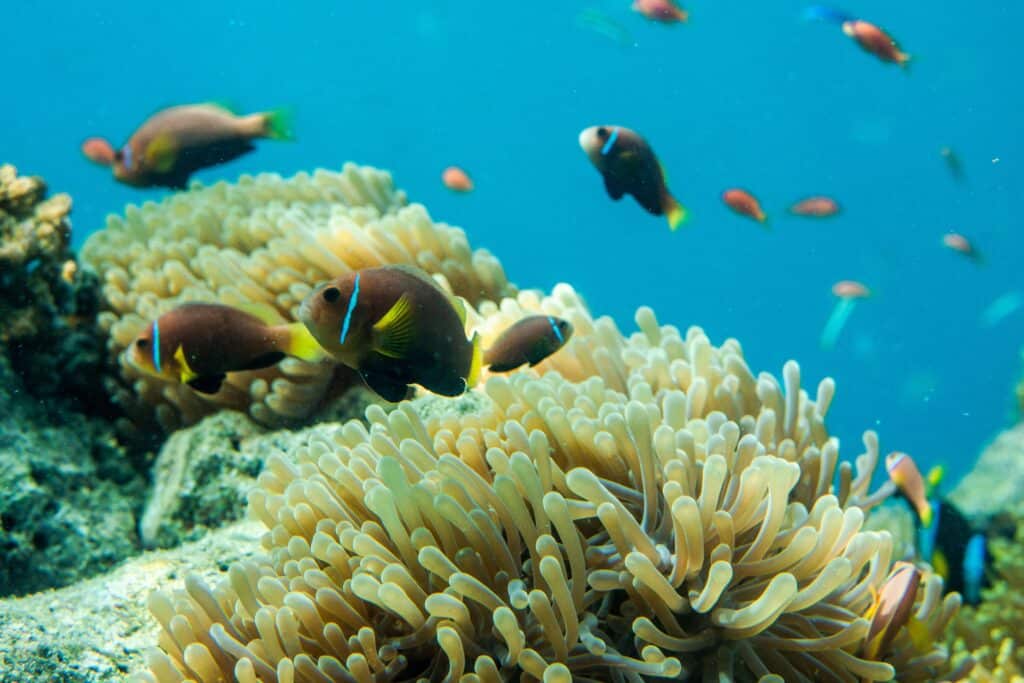 7. Forgetting to Be Sun Safe
The Republic of the Maldives lies directly on the equator, so while the sunshine is heavenly, the 90-degree angle sun rays can also be harsh. The sun is exceptionally powerful, so you need to be extra cautious while you're frolicking around in the crystal clear waters. Pack sunscreen, make sure it's waterproof, and remember to apply and reapply. Make sure you include sun protection in your suitcase, like hats and light, breathable clothing that offers extra coverage for when you've soaked up enough vitamin D for the day. Opting for reef-safe sunscreen is essential, too, especially when visiting a destination where the native reef is the main attraction. It also allows you to support ongoing environmental initiatives like conserving coral reefs.
8. Not Experiencing a Liveaboard
The Maldives liveaboard lifestyle is every nautical enthusiast's dream. With approximately 158 liveaboards scattered across the Maldivian seas – these localized cruise ships or houseboats offer total marine immersion with sea safaris touring the pristine waters and coral reefs. The best part is they are fully equipped with every facility you could possibly want, from personal chefs to scuba diving instructors. If you want to go the extra mile to ultra-lavish liveaboard goals, you can even rent out the entire cruising vessel and customize the staff to ensure your every need is catered to while you're at sea.
9. Not Combining Your Trip With a Visit To Neighboring Destinations
One of the best charms that the Maldives offers is its proximity to other major travel destinations. The islands are well-located with easy accessibility to both South Asian and Middle Eastern hubs. You're literally just a stone's throw away from Dubai and Sri Lanka, with a four-hour and a three-hour direct flight from the Maldives, respectively. You'd be silly not to take advantage of this closeness, as well as the excellent flight deals offered by airline carriers like Emirates and Qantas. You can easily island hop in the Maldives and then hop on a flight to the United Arab Emirates or even Singapore.

10. Missing Out Due to Rising Sea Levels
Sadly, traveling to the Maldives might not be possible forever. With rising sea levels, the Indian Ocean is evading the tiny island nation inch by inch, year by year. The country's minister of environment is imploring the globe to take action. Still, like other island nations around the world, the impact of climate change is already being felt by the Maldives, so having the opportunity to experience the beauty of this tropical paradise could be a rare occasion.
From extravagant yachting excursions to coral reef conservation activities, there are many incredible treasures to enjoy in the vibrant island state that is the Maldives. At least now you are aware of the common mistakes to avoid when visiting the Maldives.
Visting the Maldives FAQs
Is the Maldives Safe for Tourists?
Yes, the Maldives is one of the safer island destinations you can visit. Tourists should still be aware of petty theft and pickpockets though. If you're choosing to stay in a resort, you're probably safer than if you stayed in the capital, but even the capital is much safer than you might be imagining.
Can I Purchase and Consume Alcohol in the Maldives?
If you are not Muslim and are over the age of 18, you can consume alcohol. Be ready to pay a higher price though, particularly in resorts as alcohol is, in essence, banned from the local population.
What Language Do They Speak in the Maldives?
You can expect most locals to speak Dhivehi, but many can speak English too. As for the international resorts, you can expect anything from French and Mandarin to German.
What is the Best Time to Visit the Maldives?
November to April is the best time for a vacation in the Maldives, but if you would prefer to avoid tourists, rather stay away from December to March. If it's the weather you're worried about, know that you can expect pleasant weather almost all year round.
Is the Maldives Better Than Bali?
Maldives and Bali are very similar destinations. One is not necessarily better than the other. You can expect beautiful beaches, water sports, warm weather, unique shopping and dining experiences, and a wide selection of accommodation options at both destinations.