While one-way and roundtrip flights are the most common, airline travel isn't limited to these options. Multi-city flights give you the option to hop across the globe. Fancy a few days in Mexico on the way to Argentina? Or a week in Singapore on your way to Australia? Multi-city flights make this possible. Here's a comprehensive guide to booking multi-city flights.
Why Buy Multi-City Flights?
You might have already gathered that multi-city tickets are airline journeys with multiple stops. A multi-city flight is an advanced airline ticket that, if planned well enough, can increase the value of your journey by allowing you to experience several destinations.
Booking multi-city flights enable you to make the most of your time away and is the most time-efficient transportation method, at least over long distances.
If you want to visit multiple destinations within a specific country or continent, multi-stop tickets mean you can do it all in one trip – and in the most economical way too.
Are multi-city flights really cheaper though?
In most cases, yes. Multi-stop flights generally work out to be less expensive than booking individual flights to different destinations. So, while adding extra stops to your trip might sound costly, it often ends up costing the same or less than a traditional roundtrip ticket.
Where are the Best Destinations for a Multi-City Vacation?
While the possibilities are endless when it comes to your multi-city vacation, it's often best to stick to a few specific regions. This is purely because some areas have well-situated capitals and airline hubs, which is easier on your wallet, as well as your sleep cycles.
For instance, embarking on a multi-stop journey across Europe is a worthwhile travel experience. Flight times within the continent generally aren't very long, so you can easily stop at multiple points without having to endure more than two-hour flights.
One popular option is to bask in the Mediterranean sunshine in Europe's southernmost cities, like Lisbon, Barcelona, or Madrid, and then fly on to Italy to explore the streets of Rome or Florence.
The same can be done in South East of the globe. You can see all of Australia's major cities with a multi-stop flight and experience the best of the Downunder in Melbourne, Brisbane, and Sydney. And, with the dramatic scenery of New Zealand right next door, as well as the proximity to South East Asia, you can easily extend your trip to Auckland or Bangkok too.

How Do I Book a Flight with Multiple Destinations?
Booking a flight with multiple destinations is more straightforward than it sounds.
First things first, do your research. Figure out which places are on your shortlist. Pick destinations that are realistic candidates for the entire duration of your trip, as well as affordable enough to add to your multi-city journey.
A tool like TripPlanner lets you explore various destination options and offers a cost estimate for your entire trip. Most airline hubs and airlines even offer stopovers for free in their home country. Consider making a stop in a city that provides connections in the middle of your itinerary.
Just be sure to pick the correct airports for connections if you're booking the trip yourself. Sometimes a city has two or three airports which can complicate departures and connecting flights.
Most airlines, third-party booking sites, and even Google Flights offer the option to select "multi-city" instead of "round trip". Let's use Google Flights as an example. . .
First, select "multi-city" instead of "round trip."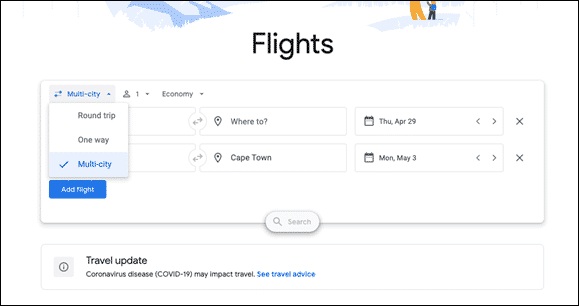 You will now see destination and date fields, which will help you build your trip.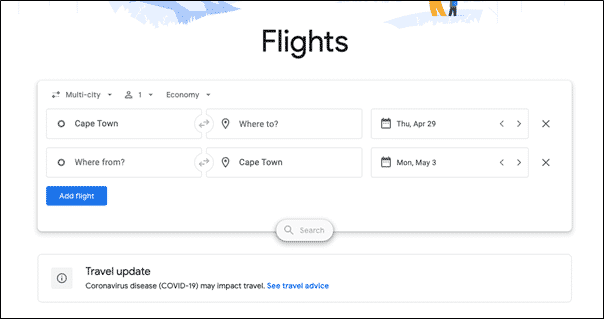 You can add as many flight legs as you want by choosing "Add Flight." Then, filter through your options for stopovers at various destinations.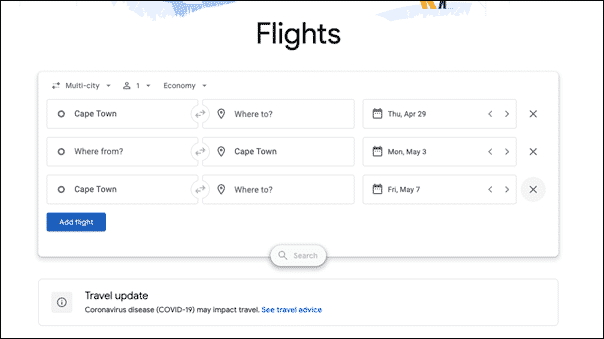 Keep in mind that finding the cheapest route may take some trial and error. Play around with different dates for each stop on your itinerary to see if the price drops on specific days.
So, when is the best time to book a multi-city flight?
One of the benefits of multi-stop airfare is that it is already more cost-effective. Giving you a bigger bang for your buck than roundtrips. But you can add even more value to your multi-city flight by booking tickets during the off-seasons.
Naturally, traveling in peak season means you must compete with many tourists paying more for tickets, making it more challenging to get economical seats. In most cases, flights are fully booked! Shoulder seasons, the time right before and right after peak season, are probably the best times for finding decent airline tickets.
In addition, booking before or after school vacations also allows you to save on ticket costs and ensures you avoid the crowds at all the attractions. However, a good rule of thumb is booking your ticket as far in advance as possible. Use flexible flight dates if possible – this also affords you a better price.

What Are The Best Sites For Multi-City Flights?
Some of the most popular websites for booking multi-city flights include:
If you've had the opportunity to travel, then you already know how rewarding the experience is, from meeting new people to seeing new places and everything in between.
Traveling is one of the best ways to open your mind and encounter true adventure. And what better way to travel the globe than by hopping from one city to another. If you're new to round-the-world travel, it's less intimidating than it seems. Just take some time to research your options.