Your flight is booked, your out-of-office message is set up, and it's time to pack your bags. But before you start ticking off your checklist, you might want to do some research to avoid any mishaps at the check-in counter. While travel rules may vary depending on where you're headed, for the vast majority of airlines, carry on luggage size limits remain consistent across the board.
Of course, there are those times where you're lucky enough to sneak a bag onboard that's a bit oversized or over the allowed weight but planning ahead is always the smart thing to do. So we're answering all the frequently asked questions when it comes to airline carry on luggage.
What Is The Standard Size Of Carry On Luggage?
Each airline carrier has its own luggage size restrictions; this applies to both domestic and international flights. So, in essence, there is no "standard" one-size-fits-all baggage rule. This means you should always check your airline's specific policy before you travel to ensure your carry on luggage isn't rejected or requires additional costs.
However, the most common carry on baggage size that's accepted by most airlines is 22 inches x 14 inches x 9 inches (56 cm x 36 cm x 23 cm) – including all handles and wheels. You may find an inch or two of a difference with various airlines though. This restriction means your baggage – as well as everyone else's – must be able to be stored safely in the overhead compartment during the flight.
In addition, personal item and carry on dimensions may vary according to ticket type since airlines often have more generous baggage allowances for flyers in first or business class, as opposed to economy class.
What Is The Weight Limit For Carry On Luggage?
Similarly to the size restrictions, there are no set maximum weight allowances for carry on luggage. These are explicitly defined by each individual airline – and some airlines, like Delta, for instance, doesn't have a weight restriction. They just state that the passenger must be able to lift the baggage item into the overhead bin by themselves.
Most commonly, even if airlines do list a specific kilogram or pound limit on their website, they likely won't weigh your carry on bags. As long as the baggage doesn't seem overstuffed, it's probably okay. In general, weight is more critical for small passenger planes – this is primarily due to safety regulations.
It's worth checking whether the airline's weight allowance applies to just your carry on luggage or for both your carry on and personal item—more on personal items below.
This guide to traveling smarter will show you how to pack lighter.
What Is A Personal Item?
Many airlines allow you to bring a personal item in addition to your carry on luggage.
A personal item is typically a smaller bag, like a handbag, briefcase, or laptop bag – whatever you prefer, as long it is relatively small and can be stored under the seat in front of you. Personal item restrictions vary from airline to airline, and some don't include any specifics on size and weight restrictions for personal items. In the case of the latter, the general rule of thumb is an item smaller than your carry on luggage, in both dimension and weight.
Families traveling with a stroller or diaper bag – or passengers flying with unusual additions like an instrument can be rest assured that most airlines will let you bring these along with your carry on and personal item. However, it is best to confirm this with the airline in advance.
What Is The Best Carry On Luggage?
Just like any other kind of travel gear, each person has varying thoughts on the best carry on luggage, and there are so many various options: from soft-side to hard-side luggage, two-wheel to four-wheel suitcases, and even the trusty backpack.
Ultimately you should go with the one that meets your travel needs. For instance, if you're always on the road, a durable, portable bag that can keep up is the best option. If you only go on vacation once or twice a year, then you can get away with something that's more affordable.
Nowadays, you can get a decent quality suitcase that isn't an expensive branded baggage item. But before you make a purchase, check the dimensions in comparison to your preferred airlines to ensure you're shopping smartly – reading the reviews doesn't hurt either.
What Is Allowed In A Carry On Bag?
Understandably what you are allowed to pack in your carry on luggage is regulated. It goes without saying that the same rules which apply to checked baggage apply to carry on bags, which prohibit firearms and other potentially hazardous items, like sharp objects and flammable items.
You must also take note of liquids when packing your carry on. No matter where you are headed, you cannot take individual containers of liquids, paste, aerosol, gel, or cream over 100ml (3.4 ounces). Check the airline's specific rules, so you don't have to throw anything away at the boarding gate.
Carry On Luggage Sizes for Major Global Airlines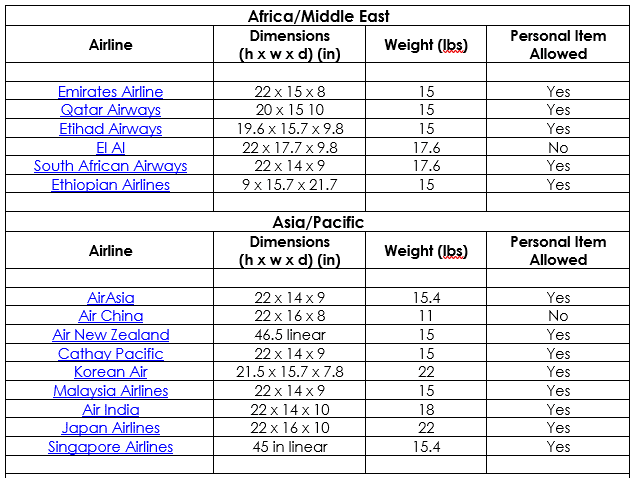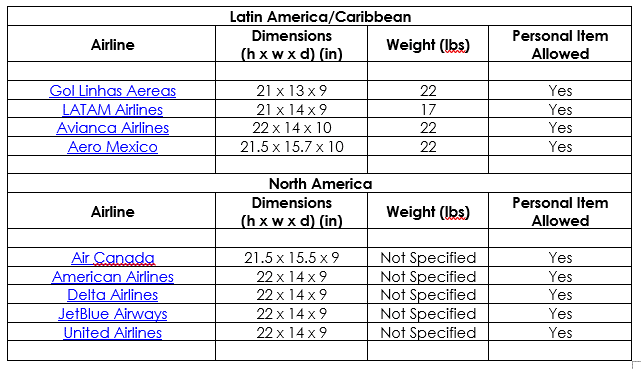 So, when it comes to choosing your carry on luggage, it's always best to check the specific restrictions of the airline you are traveling with. The carrier you book through when you're heading on your tropical getaway is likely different from the one you reserve for that business trip. You might want to ensure your carry on luggage meets most sizing guidelines for both international and domestic airlines so you can enjoy stress-free jet-setting to anywhere in the world.
This guide to essential travel documents will also help you better prepare for your trips.