Perhaps no sector has been as severely affected by the global pandemic as the tourism industry. As regulations shift and restrictions on companies and tourists relax, what will the new world look like?
The Impact of the Pandemic on Hostels
COVID-19 has wreaked havoc upon the travel industry and the hostel segment is no exception.
Stay Wyse recently revealed findings from STR's COVID-19 impacts on hostel performance. Examining four hostel markets – Amsterdam, Berlin, Edinburgh, and London – STR studied how the pandemic is affecting hostels across the continent. At the outset of the pandemic, hostels were still coping with the circumstances, but as social distancing gained traction, occupancy began to plummet. Hostel occupancy dipped below 40% across all markets – a year-on-year decline of over 50% for each.
From empty dorms in Queenstown, New Zealand, to "no reservations" in Peru, a BBC article shows how famous backpacking towns worldwide instantly became ghost towns due to COVID.
As a result, many hostels decided to shut down ahead of national regulations to protect staff and guests. In contrast, others attempted to adapt by closing communal areas and reducing dormitory bed capacity.
But the very concept of hostel lodging is built around community and sharing – can they survive in a time of social distancing? As hostels across the globe reopen, they are confronting new challenges.
Hostels Try to Adapt to the Post-COVID World
In the wake of the pandemic, hostels in every corner of the world have sat empty the past few months, missing the lively prattle and chatter which appoints them as self-made attractions. As continents across the globe emerge from months-long lockdowns and travel restrictions are lifted with the vaccine roll-out, hostels are slowly reopening their doors. But many hostel owners and managers don't know what awaits them.
With sociability arguably one of a hostel's most significant features, owners and managers must determine how to operate post-lockdown without diminishing that aspect. Like many businesses in the travel industry, they are facing new challenges. An article in the New York Times reveals how some hostels have attempted to combat these restrictions. Most hostels ensure that it is easier for guests to follow COVID-19 preventative measures by setting up sanitization stations, providing masks, and operating at limited capacity.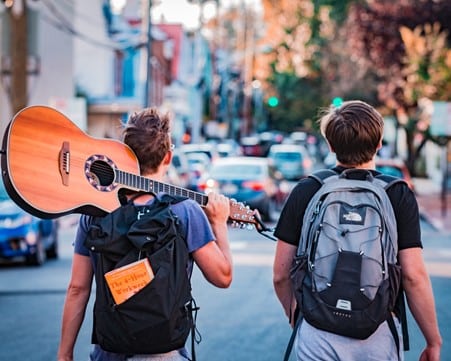 For instance, one hostel in Croatia now only allows 50% capacity – accommodating up to 90 people at full occupancy – with dorms which usually sleep 12-15 guests now only bunking half. Another hostel in Amsterdam is marking the floor to ensure travelers maintain social distancing practices. Shared spaces and communal areas in most hostels are now under strict social distancing guidelines, too – a hostel in Rome now only allows three people in the kitchen at a time.
While these measures prevent the spread, they also prevent the sense of shared community. Hostels and social distancing are comparable to wearing snowsuits in Miami. They simply don't mix well.
The Importance of Hostels as A Tourism Segment
Hostels are a popular accommodation choice among the backpackers and budget travelers for whom globe-trotting is a way of life. While the main market has typically been the young – millennials and Gen Z travelers – hostels attract people from all walks of life. Many hostels have broadened their scope to appeal to families, as well as younger travelers.
A 2017 study by WYSE Travel Confederation estimated that nearly 100 million travelers stayed in hostels worldwide. For many bunking in hostels is a rite of passage. Hostels offer people freedom and the chance to explore the world affordably – but the real charm of hostel-going isn't just affordability. It's about meeting new people at every stop along the way. Hostels allow you to encounter people and share spaces, stories, and adventures with them. As travelers and business owners alike navigate this rocky terrain, the sheer tenacity and spirit of the hostel community is sure to see them through to the other side.