Updated: 4 May 2022
With its cultural and historical background, unique islands, gorgeous cities, vibrant nightlife, and delicious cuisine, it's no surprise that Greece is one of the world's most fascinating travel destinations.
And thanks to the fact that Greece has the largest coastline in Europe (13,676 km), the country is also famed for its vast amount of astonishingly beautiful beaches. Moreover, Greece has safe beaches, without waves, strong currents, sharks, or poisonous fish. So, get ready to take in incredible stretches of golden sands and turquoise waters.
We have put together a comprehensive list of some of the best beaches in Greece – which are often rated among the top beaches in Europe and even in the world.
12 of the Best Beaches In Greece
1. Shipwreck Beach, Zakynthos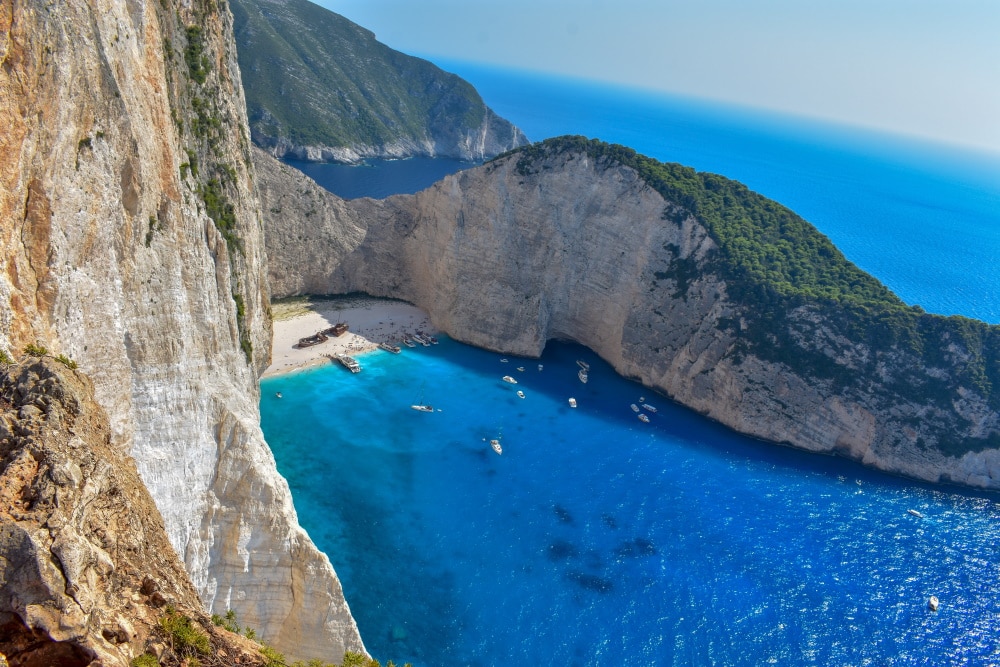 Easily the most famed on our list – possibly the most beautiful beach in Greece – but without a doubt, one of the most photographed places in the country is Shipwreck Beach or Navagio Beach. Located on the northwest coast of Zakynthos in a gorgeous area with towering white cliffs and beautiful blue waters called Shipwreck Cove or Smugglers Cove, this is a must-see for any beach enthusiast.
The beach is only accessible by boat, so you either have to book a tour, or you can hire a boat for the day and go there yourself. The story behind its namesake goes that a ship was suspected of carrying contraband cigarettes in the 1980s and shipwrecked due to bad weather while being pursued by the Greek Navy.
Make sure you bring a sun umbrella, especially if you're planning on staying there between 10 AM and 2 PM when there's no shade.
2. Myrtos Beach, Kefalonia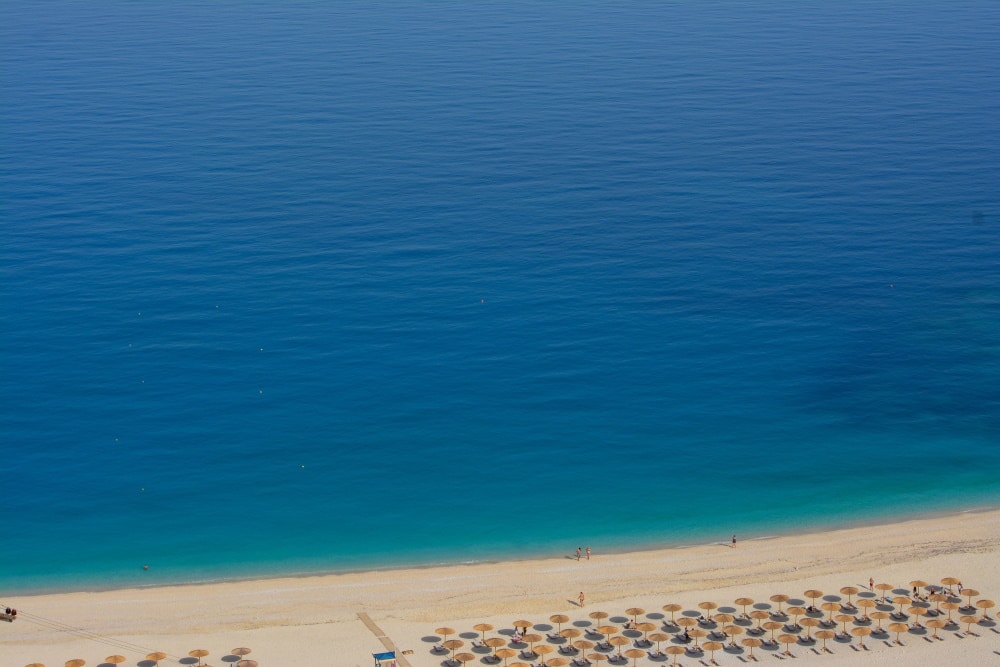 As you zig-zag down the road and spot the beach, you'll understand why Myrtos Beach on the Kefallonia island is another one of Greece's gems. Located around 19 miles out of the main town Argostoli, the beach can be accessed by sea or road. From afar, Myrtos beach is certainly a stunning sight. With some of the clearest water in Greece contrasting against its white pebble beach, it's fit for a postcard.
Some of the best things about this particular beach are the tall cliffs behind it. Cinephiles might find this place familiar, and that is thanks to its appearance in the film adaptation of Captain Corelli's Mandolin.
3. Sarakiniko Beach, Milos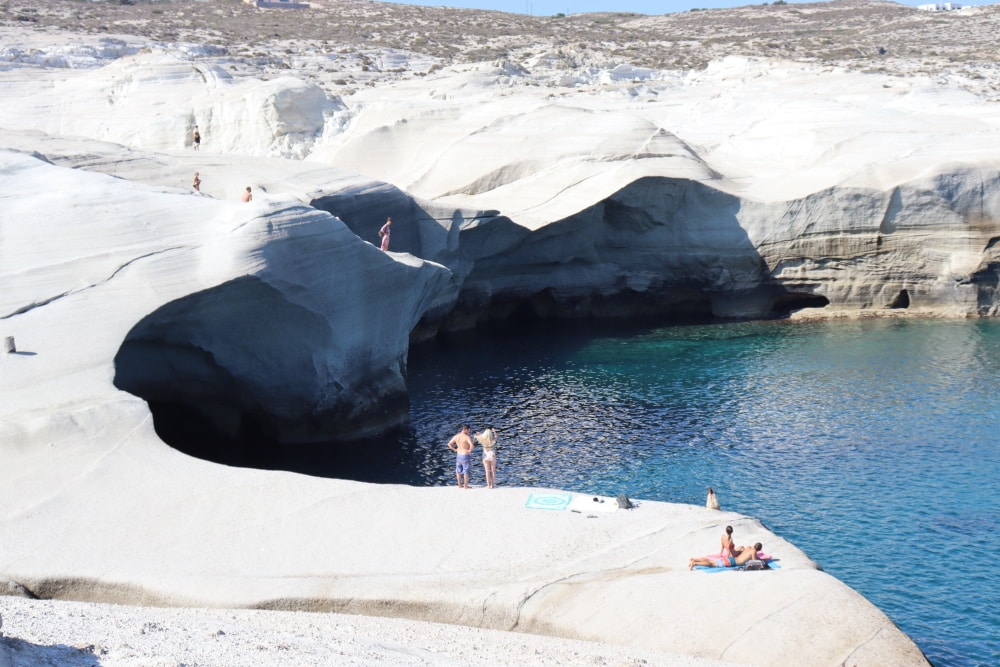 Located on the island of Milos is Sarakiniko beach. This is not your typical beach, though. The beach is surrounded by a series of caves carved out in volcanic rock by both wind and water over time. Here, you'll be able to experience one of the most otherworldly and intimate feelings of taking a swim in a quiet little cove.
Milos is another Grecian Island only accessible by plane or ferry, so you'll need to keep that in mind if you want to visit one of the best beaches in Greece. But once you're there you'll instantly be amazed by this incredible beach experience.
As a side note, if you are planning to spend more time at the beach this year, here are our recommendations for the best islands in Indonesia.
4. Elafonisi Beach, Crete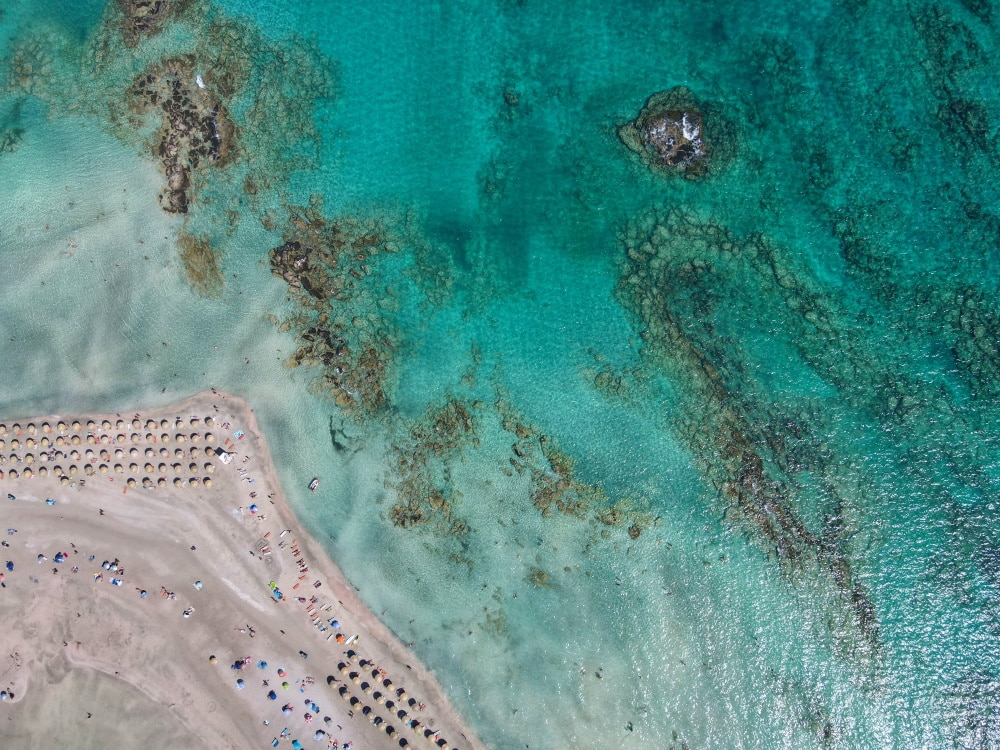 Tucked into the southwestern corner of Crete is another one of the best beaches in Greece. Elafonisi beach is famed for its white-pink sand and warm water and is one of the most unspoiled beaches you will ever find.
This natural gem may be less than idyllic in peak summer when hundreds of umbrellas and sunbeds take up every inch of sand. So if you're looking to enjoy some of the clearest water in Greece, you should think about going during the off-season to enjoy a more tranquil, sustainable visit.
5. Porto Katsiki, Lefkada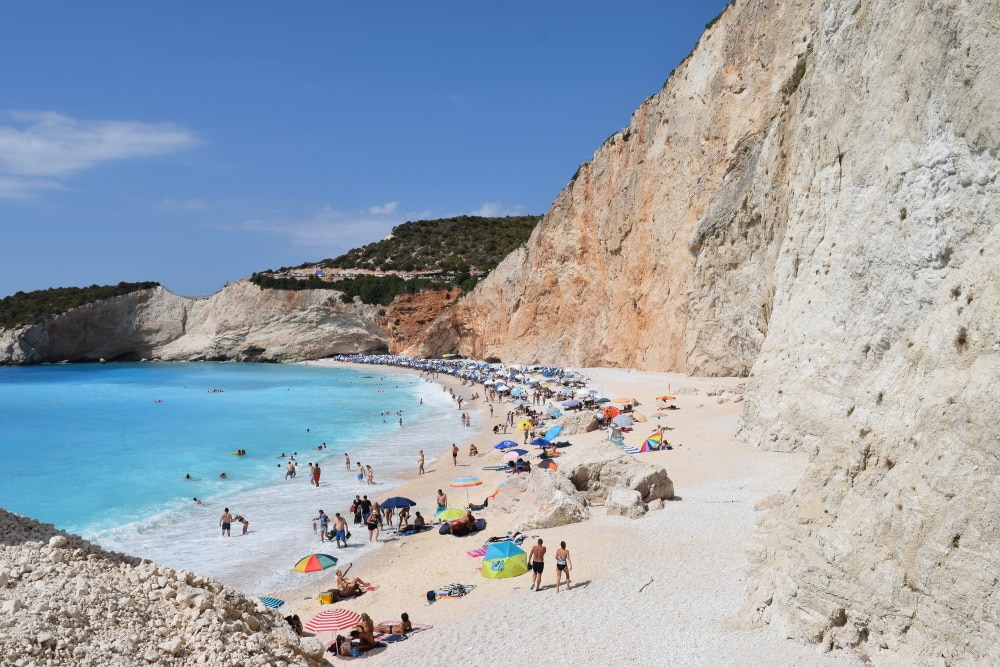 The next one on our list of the best beaches in Greece is also the most famous beach on Lefkada island. Porto Katsiki, meaning "the port of the goats", is located on the island's southwestern side. Visitors to this stunning beach will have to descend a few steps before they reach this white coastline.
While it might not be the sandiest beach in Greece, it does offer deep exotic waters that gently wash up against its pebble beach. But you can already enjoy a breathtaking view of the Ionian Sea and grab a drink at any one of the beach bars, all from the car park above the impressive Grecian Bay.
6. Potami Beach, Samos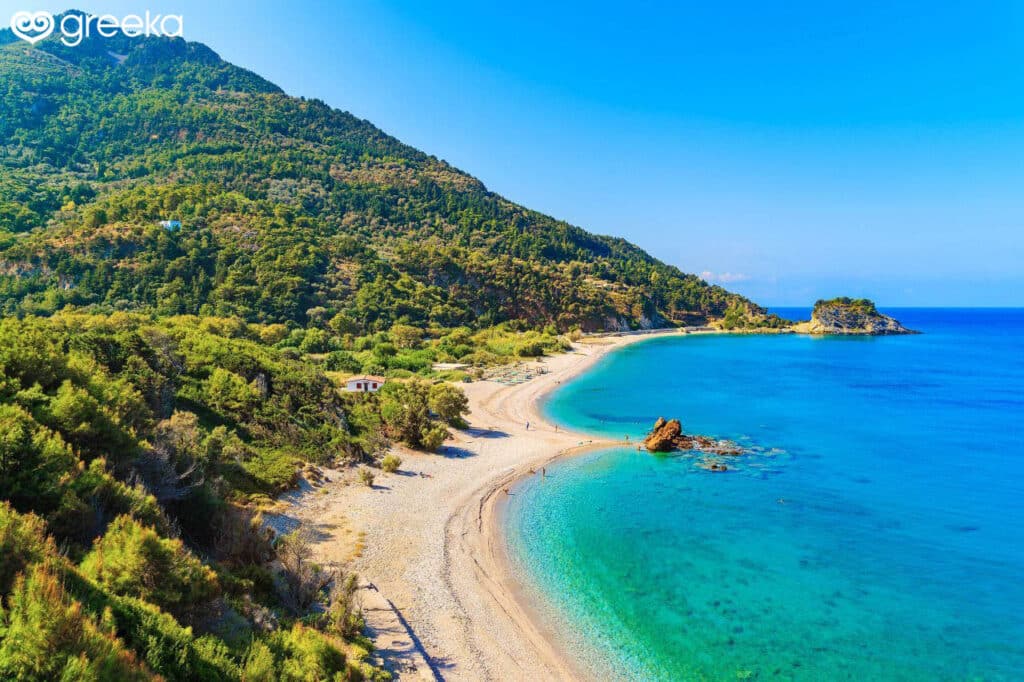 Head to Northern Samos to stroll along a long, tranquil beach adorned with colorful shells and take a dip in some of the clearest water in Greece found in the mouth of a mountain river. Potami Beach is a dream come true for the explorer in every traveler.
Trek up the river to reach a chain of waterfalls and crystal-clear pools, uncover a hidden taverna in the woods, and quench your thirst at the infamous Potami beach bar. What more could you ask for when it comes to one of the best beaches in Greece?

7. Vai Beach, Crete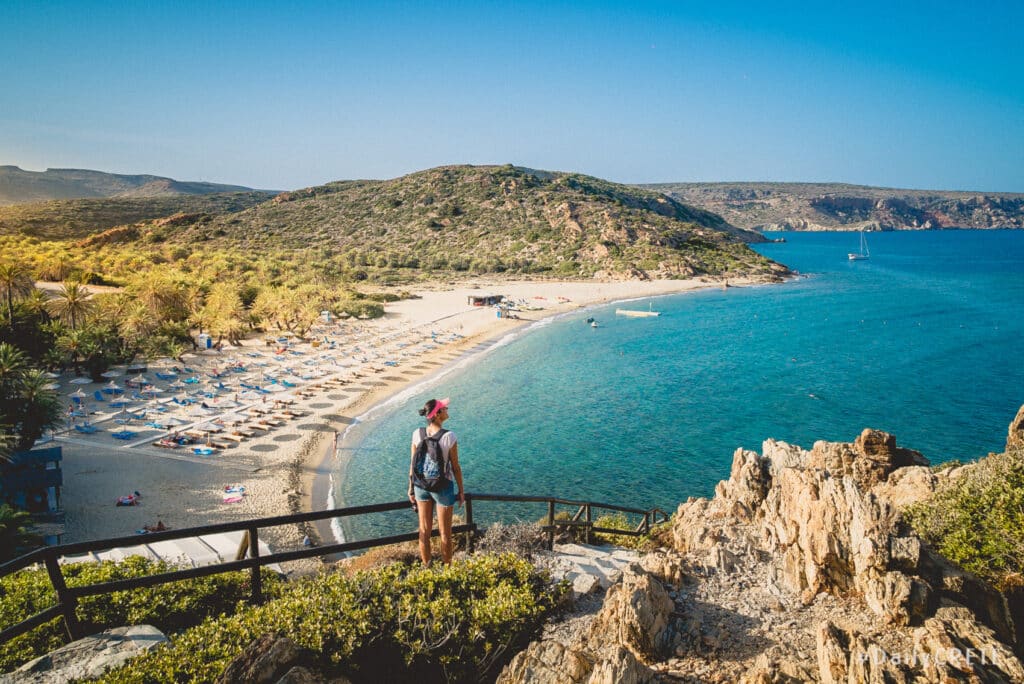 You can find this beautiful beach, also known as Palm Forest, in Crete. Once you step foot on this little piece of coast, you'll see how it got its name. Over 5000 palm trees dot the sands above the beach, making it the largest known palm tree forest throughout Europe. The forest lining Vai Beach was even mentioned during the Classical period. Its existence is attributed to Phoenician merchants who threw away the seeds of their dates. It's no surprise that the forest is protected by the ICUN.
But besides the forest's exciting history, the beach itself is filled with vendors renting out beach chairs and umbrellas, while the nearby monastery runs a restaurant right on the beachfront which serves delicious Greek food.
8. Super Paradise Beach, Mykonos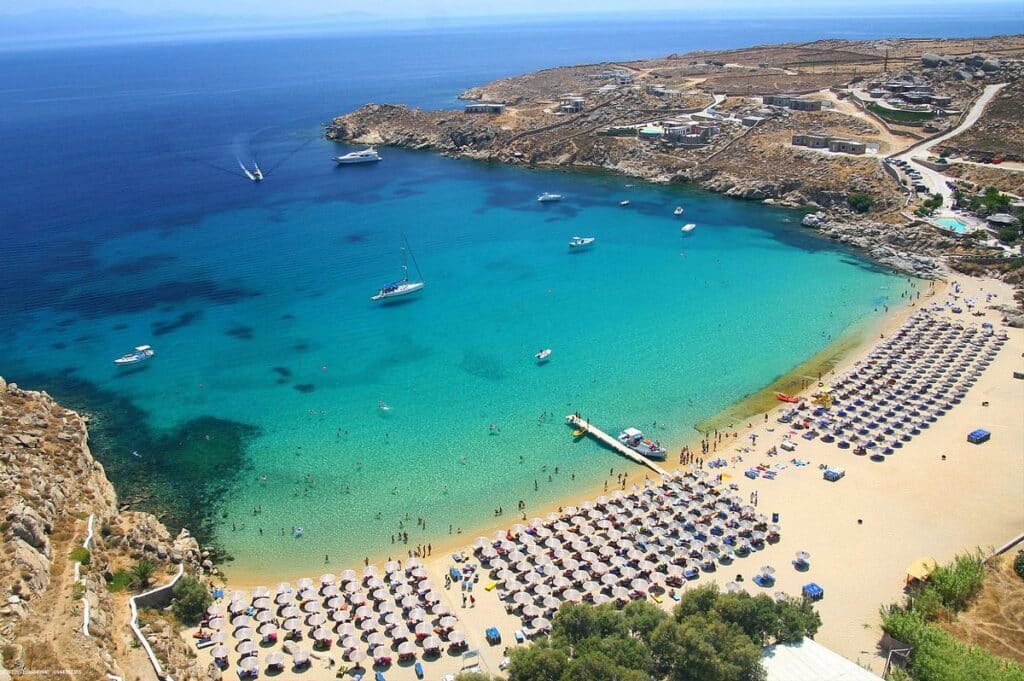 If you're looking for a little slice of Grecian paradise, Super Paradise beach on Mykonos Island is just for you. While most notable for its all-day beach bars and lively parties, this beach also has fabulous water.
Soak up the sun on the super-soft sand, enjoy the music from nearby bars, and swim in the crystal-clear waters of the Aegean Sea. Accessible by boat or bus from Mykonos Town, Super Paradise Beach offers up some of the clearest water in Greece and has many accommodations nearby – from family studios to luxurious hotels.
And if your trip to Greece is a long-overdue vacation, here are our top tips on sticking to your work-life balance commitment.
9. Agios Prokopios Beach, Naxos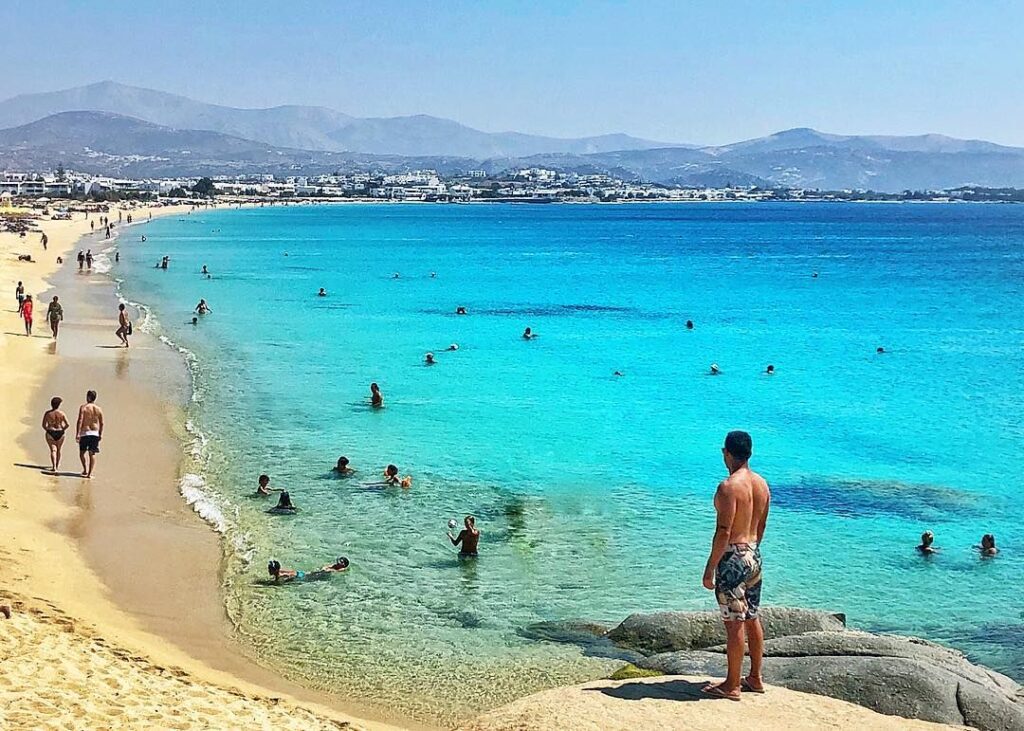 The island of Naxos's Agios Prokopios beach also competes for the title of the most beautiful beach in Greece. The long beach has glittering light blue waters which lap against soft, golden sands. While the ever-popular beach draws large crowds, thanks to its size, it never gets packed.
You can also find taverns, cafés, and studios lining part of Agios Prokopios beach, and thrill-seekers will also be pleased to know that many sports centers have their base in or near Agio Prokopios – meaning there'll be many opportunities for windsurfing, kite surfing, and diving.
10. Prasonisi Beach, Rhodes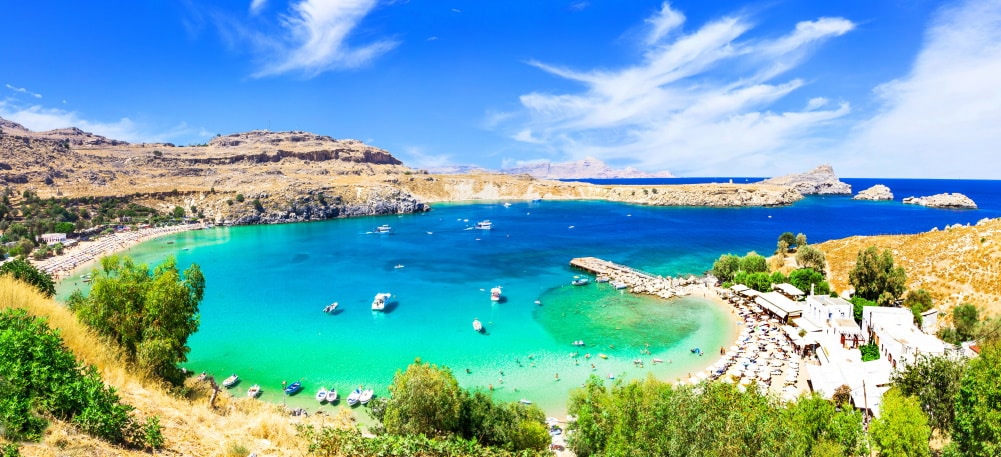 Accessible via a windswept road that winds 10km south from Kattavia, Prasonisi Beach stretches into a narrow sandy neck connecting to Cape Prasonisi – the southernmost point in Rhodes'. This is also where the Aegean Sea meets the Mediterranean, resulting in ideal wind and wave conditions for both kite surfers and windsurfers.
You can find everything from rental equipment and lessons to overnight accommodation in surfer-style hostels. But make sure you visit Prasonisi Beach in summer because, in winter, everything closes.
11. Mylopotas Beach, Ios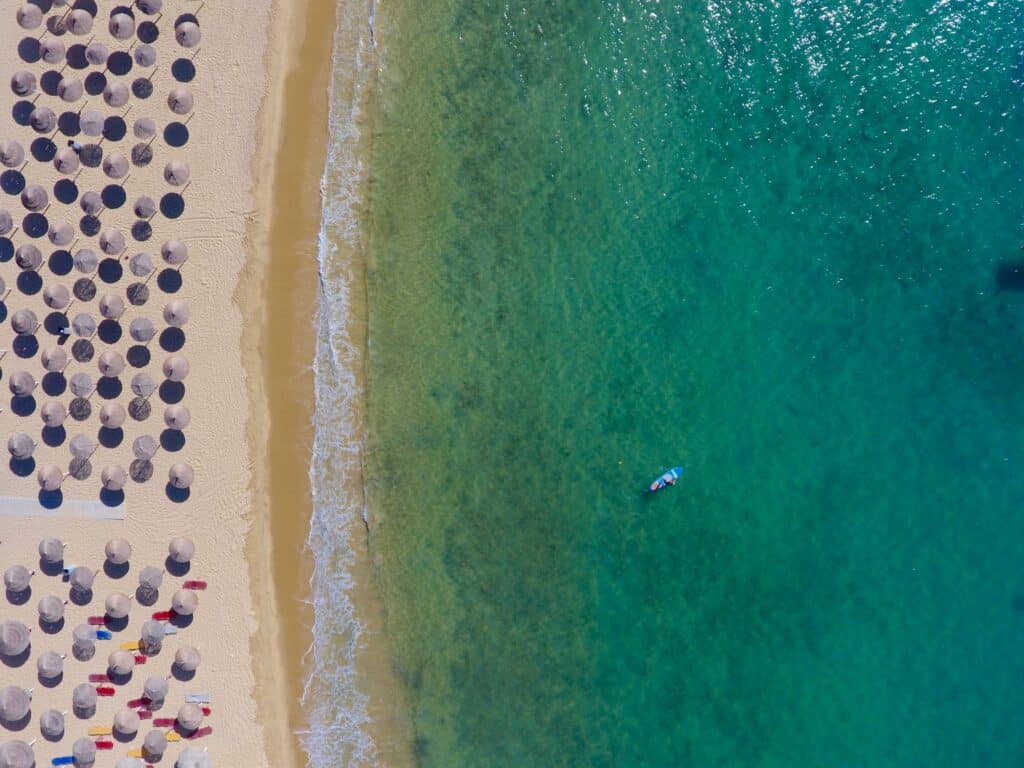 You can find another one of the most visited and beautiful beaches in Greece in Ios, Mylopotas Beach. A stunning, sandy bay with turquoise waters and lush greenery makes this beach one of the island's most crowded.
With Mylopotas, you get the best of both worlds since the beach consists of two parts, an organized area with sunbeds and umbrellas and an unexploited area where you can lie under the warm Grecian sun.
12. Kokkini Beach, Santorini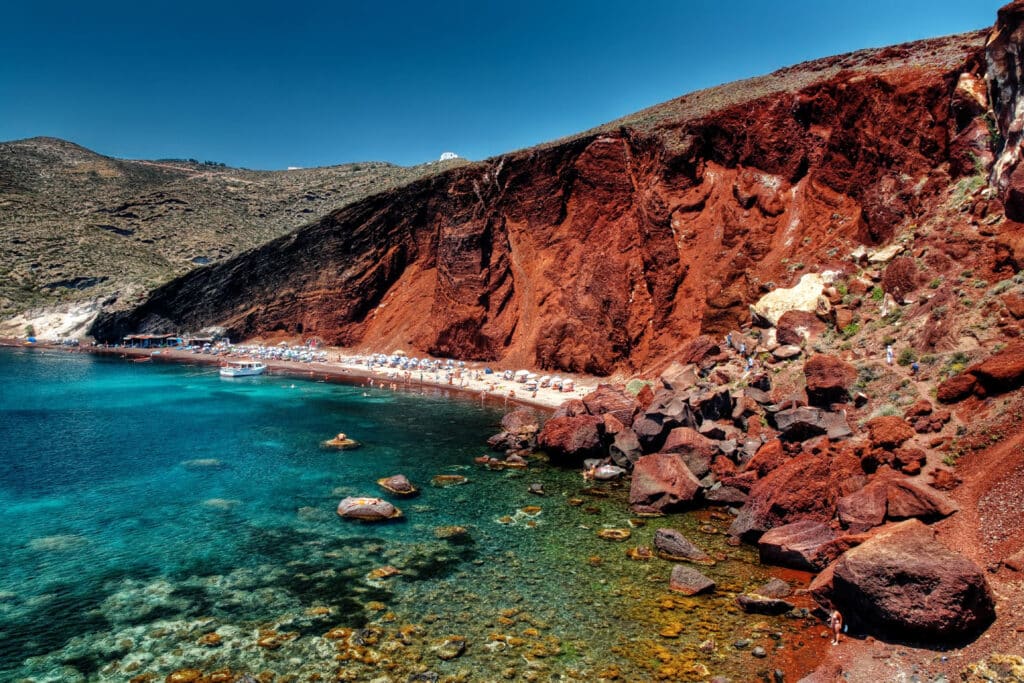 Also known as the Red Beach, Kokkini is a surreal beachscape etched into southwestern Santorini's cliffs. Easily one of the most photogenic stretches of sand in the country, the beach gets its name from the rust-and-fire-colored cliffs that offer the pristine beach a striking backdrop.
If you want to stroll along the Red Beach, you will need to get there by boat or a short walk from a nearby church – but make sure you wear sturdy shoes! You can find a handful of lovely restaurants close to the church too. And if you want to score a good spot on the beach, make sure you arrive early in peak season.
How to Spend a Day on a Beach in Greece
Whether you opt to visit these beaches or others, you should know that some of the best beaches in Greece can be found on these islands: Crete, Mykonos, Naxos, Milos, Paros, Ios, Lefkada, Zakynthos, and Rhodes.
Sandy or pebbled, secluded or organized, these Grecian beaches charm visitors with their unspoiled beauty and their cleanliness. Here are our top tips and suggestions on how to spend a day on a beach in Greece:
Enjoy the water: If you're kitesurfing or swimming, you will find some of clearest water in Greece. With no sharks and lovely temperatures, you'll never want to get out of the water.
Explore the surrounds: Not all the fun is meant to be had at the beach itself. Many of the best beaches in Greece are surrounded by stunning scenery with plenty of cliffs, trails, waterfalls, and crystal pools to explore. Make sure you keep an eye out for any of these gems before you head to your beach of choice so you can pack your comfy shoes.
Feast on Greek food: If your beach is close to tavernas and beach bars, you can grab a bite to eat and a drink between sunbathing and soaking in the ocean.
And the most beautiful beach in Greece? Well, that's up to you to decide.