With over 18,000 islands to choose from, it's tricky to decide which island to visit in Indonesia. Needless to say, island lovers are spoilt for choice. Each island (and islet) on this archipelago nation has its own distinct personality and quirks. You'd definitely need more than one lifetime to possibly see them all.
But that doesn't mean you can't have your very own Eat, Pray, Love experience on an Indonesian island. With magnificent powder-soft beaches, busy cultural villages, terraced rice paddies, and stunning volcanic backdrops – there's still so much more than islands on offer
Top 11 Islands to Visit in Indonesia
1. Sumatra
When it comes to Islands in Indonesia, Sumatra has it all. Just adjacent to Malaysia, you can visit Sumatra and one of Indonesia's top tourist attractions. The world's largest volcanic lake, Lake Toba, is located in the center of a supervolcano and offers a tranquil setting for spending the weekend. As a result, the lake water here is pleasantly warm and crystal clear, surrounded by traditional sloped roof homes and quiet hotels with charming gardens.
While on the island, tourists can visit many other interesting spots and attractions. One of Indonesia's largest cities, Medan is home to a vibrant culinary scene. Foodies should be sure to try out local specialties like Rendang: spicy beef; Soto Madan: a local version of chicken soup; and Nasi Padang: a banquet-style spread of steamed rice with meat and veggie toppings.

Nature-lovers should definitely head to the village of Bukit Lawang while on Sumatra. The local residents feed protected orangutans in the area from a platform every day. There are also great hiking spots nearby in Gunung Leuser National Park.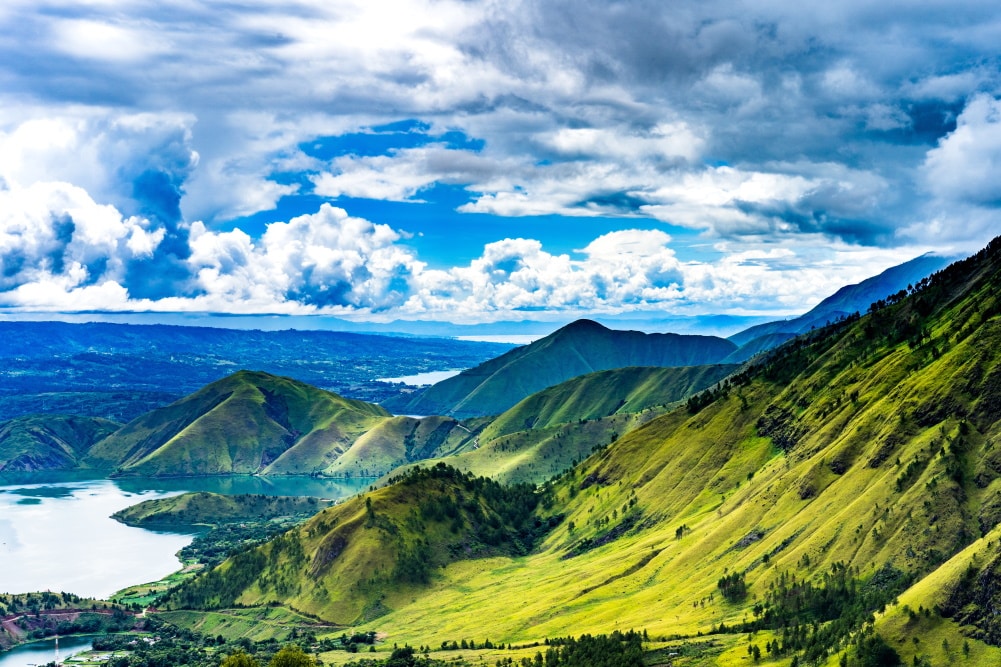 2. Bali
Of all the islands in Indonesia, Bali is by far the most popular. Even though this island can get crowded during peak season, it remains one of the best islands in Indonesia to visit. Also called the Islands of the Gods, Bali boasts a varied landscape, incredible beaches, and a fascinating Hindu culture.

Make sure you give Ubud a visit – home to forests filled with monkeys and an exciting art scene. Culture buffs should make sure to explore Hindu temples while in Bali, while nature lovers should definitely hike around the foothills of the active volcano, Mount Batur, or see the traditional rice terraces still farmed by residents.
And if there's an outdoor sport you can imagine, it's likely available in Bali. From surfing to kayaking, fishing, yoga, and diving are just some of the many activities you can indulge in on the large, scenic island of Bali.
3. Wakatobi Islands
In the far southeast corner of Indonesia, you'll find the Sulawesi Tenggara Province, home to the Wakatobi Islands. This quaint archipelago is a dream for diving lovers since its regarded as one of the top diving spots in all of Indonesia, and it's far less crowded than other tourist spots.

Many of the local resorts and hotels on the island cater directly to divers, and there are plenty of great deals that include frequent diving trips in your stay. Two of the best diving spots in Wakatobi include Pulau Tomia, known for its stunning marine life, and Pulau Hoga, known for its colorful coral reefs.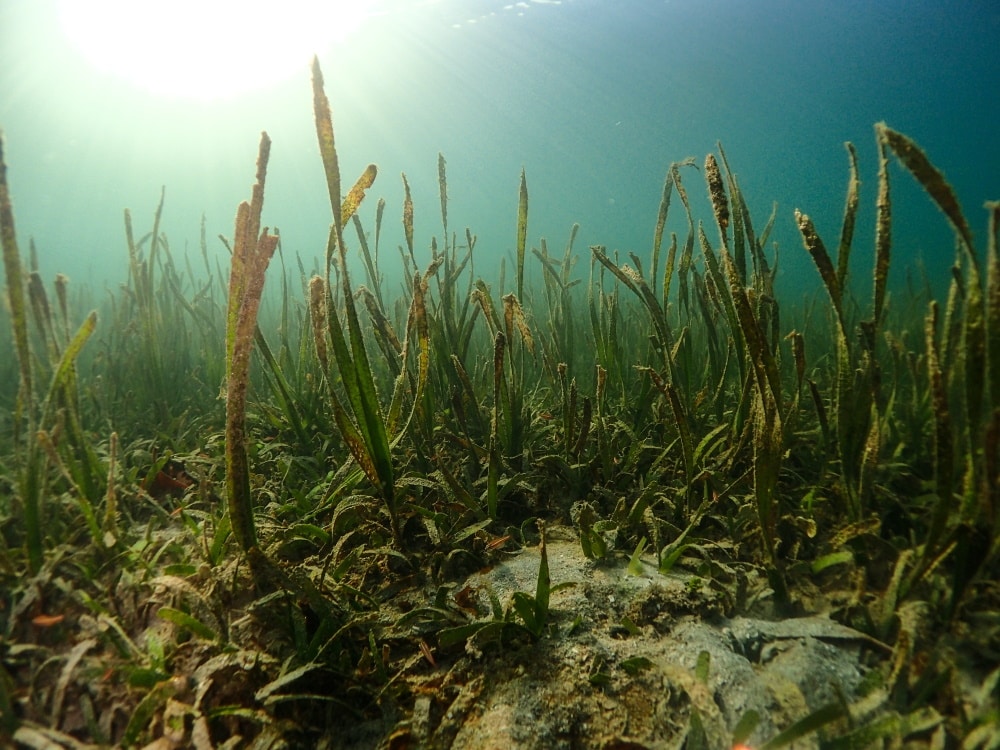 4. Lombok
Just east of Bali is a lesser-known island in Indonesia, but no less beautiful than all the others – Lombok. The island is super popular with travelers and is home to several small cities, the largest of which, Mataram, is where you can find the stunning 18th-century palace of Taman Mayura. And the Taman Narmada, a Hindu temple-turned park where locals, travelers, and even royals all come to unwind and relax.
You can also find the thriving beach destination of Kuta on this island in Indonesia – where surfing is the biggest pastime. This spot is a backpacker's paradise and features beautiful beaches and a welcoming and relaxing atmosphere.

5. Gili Islands
Just off the coast of Lombok is one of the most popular tourist destinations in all of Indonesia, the Gili Islands. Once a mecca for backpackers eager to wander off the beaten track, the Gili Islands are no longer a secret travel spot.
The largest of the Gili Islands, Gili Trawangan is the perfect place to try your hand at scuba diving and surfing. Or opt for a more recharging activity with a week-long yoga retreat. The island of Gili Meno is by far the most romantic of the Gilis and is popular among couples honeymooning or looking for an amorous getaway in Indonesia. The third island, Gili Air, is extremely popular with serious scuba divers who want incredible scuba spots without big crowds in the water.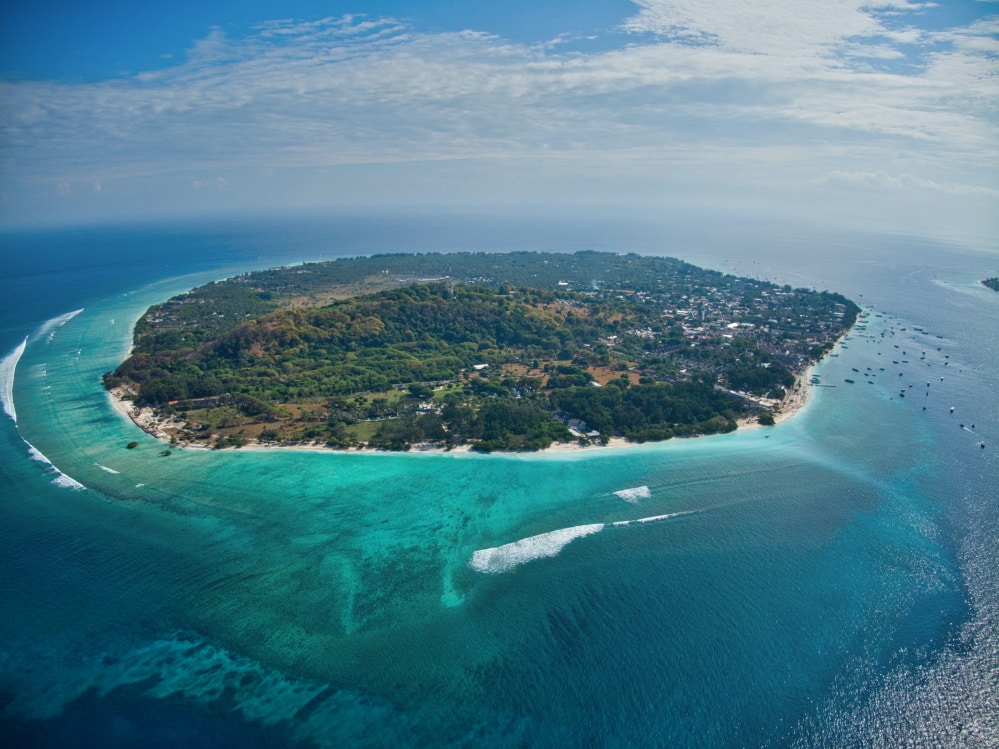 6. Banda Islands
In South Maluku are the Banda Islands, an archipelago that is famous for its spice production – particularly nutmeg, which put the Banda Islands on the map in ancient times. The culture on the Banda Islands is quite a little melting pot since the islands were under Portuguese, Dutch, and even British control throughout its history.
Don't expect to find major attractions or shopping malls on the islands but do expect phenomenal scenery and outdoor recreation. Popular pastimes include hiking Gunung Api – which features the tallest peak in the archipelago, snorkeling out at sea, and dining on Ikan Bakar or fresh fish.
7. Raja Ampat Islands
You can find the Raja Ampat Islands in the Papua region of Indonesia. Even though there are over 600 separate islands that comprise Raja Ampat, the four main isles are Misoo, Bantanta, Waigeo, and Salawati. These islands in Indonesia are known for their biological diversity, making them a top pick among snorkelers, scuba lovers, and bird watchers.
Avid bird watchers can spot rare birds like the Cendrawasih and Wilson Birds of Paradise in Raja Ampat. These Indonesian Islands are also home to pristine coastlines with shallow blue waters and powdery soft sand. Lagoons are well protected from the wind and offer an incredible place to relax and enjoy Indonesian paradise. Another popular thing to do on these islands is living with local residents and learning local crafts and skills.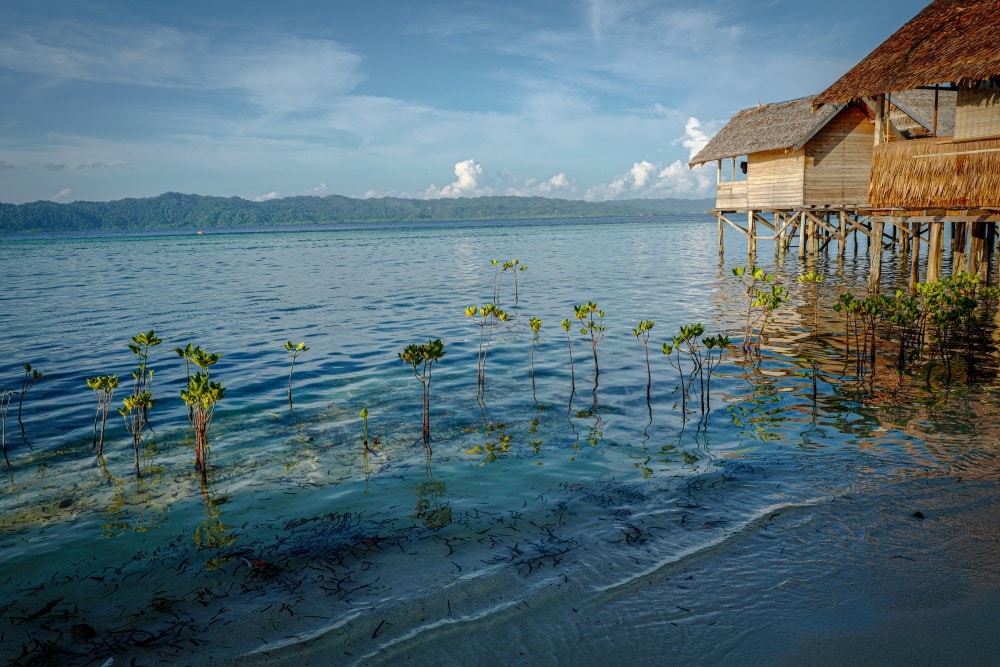 8. Bunaken
Off the far north-eastern tip of Sulawesi is Bunaken, home base for those who want to explore the Bunaken National Marine Park. Once you discover that this marine park is home to a staggering 70% of all the fish species in the Indo-Western Pacific Ocean, it's easy to see why Bunaken is such a popular spot for those who enjoy spending their time underwater
For the most part, diving spots are geared towards advanced divers who have strong swimming skills. However, snorkeling in shallower coral reefs closer to the shoreline is increasing in popularity too. Make sure you quench your thirst after a long day in the water, with Cap Tikus, a form of distilled white wine served with lemon.
9. Flores Island
One of the Lesser Sunda Islands in Indonesia is Flores Island – Portuguese for flowers. You can tell by the name that this Indonesian island is undoubtedly one of incredible scenic beauty. While the island offers plenty to do, see, and explore, it's best known for being a gateway to Komodo Island.
Flores' Labuanbajo is a common spot for ferries to pick up passengers headed to Komodo National Park, where you can witness the relatives of ancient dinosaurs, Komodo dragons, in their natural habitat. The most fascinating attraction on Flores Island is the collection of crater lakes on Mount Kelimutu, which frequently change color thanks to mineral and chemical alterations due to volcanic gas.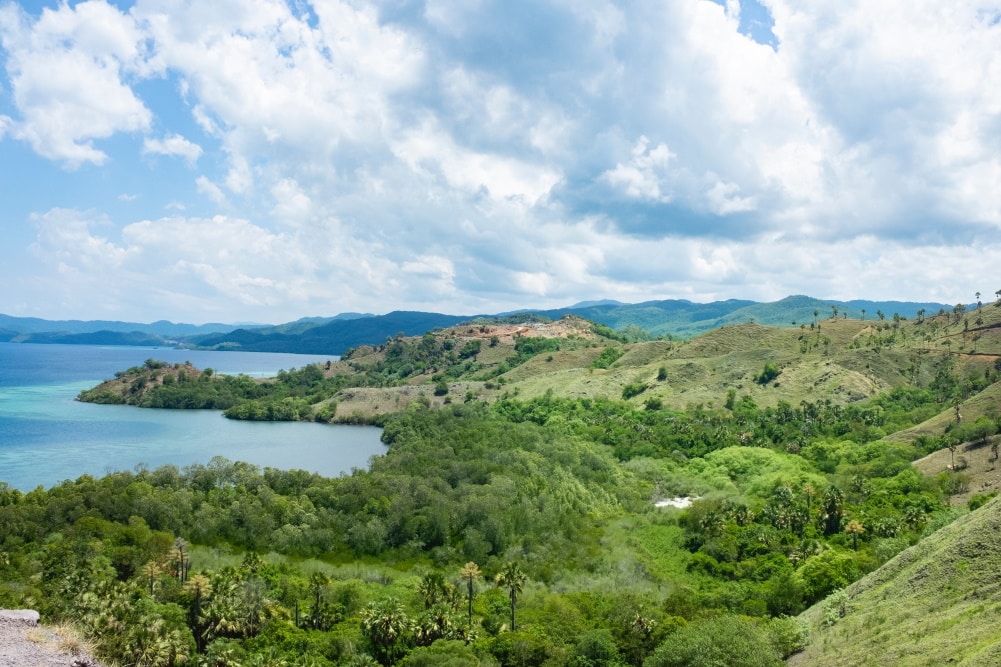 10. Ternate Island
Previously known as the Spice Islands, the Maluku Islands were once the only place on earth where nutmeg, cloves, and several other valuable spices were grown. Today, these islands in Indonesia are largely off the beaten track for visitors. One of the most intriguing of the Malula Islands is Ternate, a small island that's now the provincial capital.
Since this capital once had such a rich spice trade, the island is home to several mighty fortresses – many of which are now mostly ruins. History enthusiasts should definitely tour Fort Oranje, built by the Dutch, and Fort Tolukko, which was built by the Portuguese, Dutch, and Spanish. There are also plenty of beautiful places to swim, including the clear waters of Sulamadaha Beach. Dominating Ternate is the Volcano Gamalama, which erupted as recently as 2011.
11. Bangka-Belitung Islands
Situated just off the coast of the major island Sumatra are the Bangka-Belitung Islands. These islands in Indonesia are an incredible place to visit if you're searching for some of the world's best beaches. Many of the beaches go on for miles, are largely uncrowded, and boast pristine white sand and crystal-clear waters.
You can also explore some of the many Dutch lighthouses, most of which are from the 19th century and were constructed when the islands were integral to a much larger trade route. Dutch colonial buildings interspersed on the islands also hint at the region's history.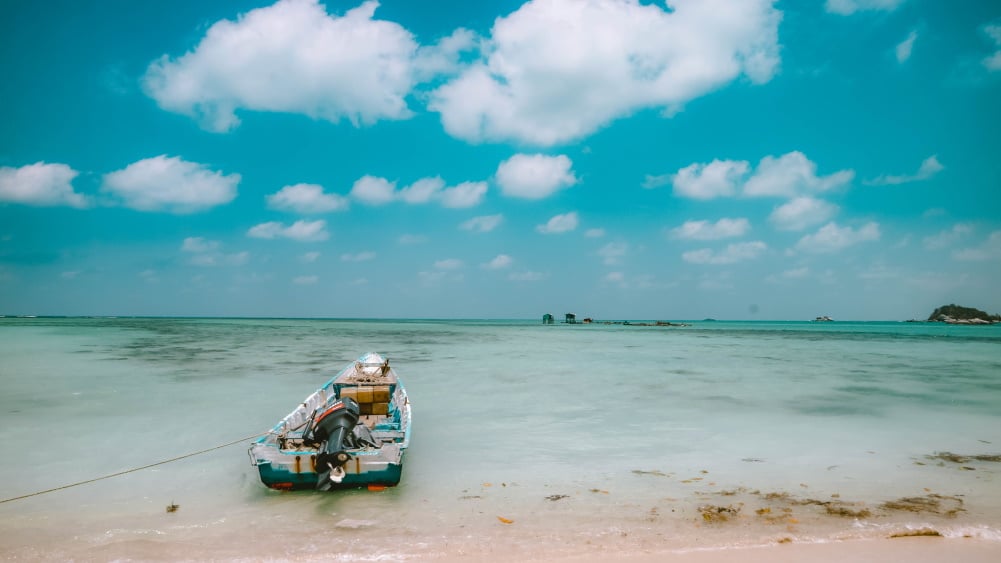 Indonesia Travel Tips
Packing Tips
Don't forget to pack bug spray! You'll thank yourself later.
Sunscreen is a must in the harsh Indonesian sunshine.
And for aftercare, make sure you have aloe vera gel or coconut oil to soothe your skin after spending long hours in the sun.
Make sure you bring a universal adapter with you.
Pack light. Most internal flights are ATR aircraft, and the weight limit is 10 kg.
General Tips
Don't just visit Bali. Other islands in Indonesia have many hidden gems that make for a much more interesting travel experience.
Tourists coming from more than 160 countries receive visas on arrival. Make sure your passport is valid for at least six months.
Keep your return ticket handy. Passport officials will want to see this.
Make sure you have an authentic prescription for all meds you're carrying.
Make sure you keep plenty of cash on you. The local currency is IDR (Indonesian Rupiah). Most smaller islands won't have card facilities.
Get a Simpati – a sim card that provides ample reception across all islands in Indonesia. You can pick one up at the airport, but it will be much cheaper to get one once outside. Don't be shy to bargain here to get the best price since they're not sold at a standard rate.
Tap water in Indonesia is not safe to drink – so make sure you stock up on plenty of bottled water.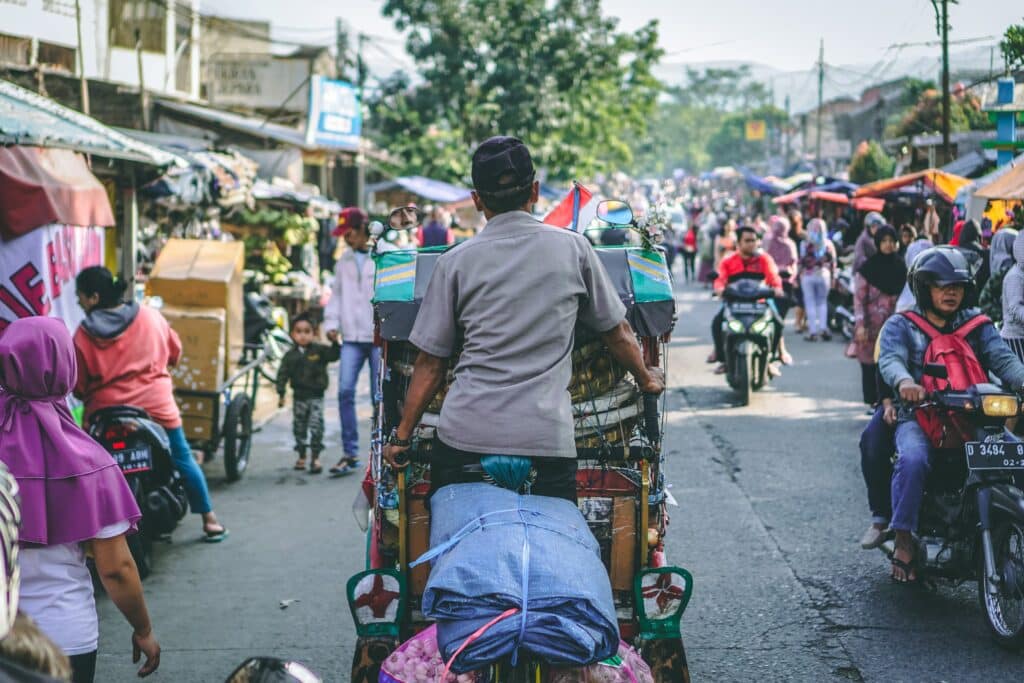 Transport Tips
Many bigger islands like Bali have big distances between tourist attractions, so make sure you factor this into your itinerary.
If you opt for a cab, Bluebird Cabs is a well-known cab service.
On smaller islands (or if you prefer to get around like a local), opt for renting a scooter or "two-wheeler."
Download an offline map so you can easily get around without needing internet access.
Language Basics:
Hello – Halo
Thank You – Terima Kasih
Yes – Ya
No – Tidak
Sorry/Excuse Me – Maff
Help! – Tolong!
Where? – Di Mana?
How Much/How Many? – Berapa
Lastly, don't forget to download the Air Doctor app on Android or iOS before your trip.
PS: If you want to look at islands in Thailand too, here are our top picks.