There's nothing more exciting than jet-setting off to a foreign destination, but some things in other countries work very differently than at home. For one: transportation. Getting around different cities can be confusing for travelers who don't know how local transportation systems work or whether there are any scams to look out for.
This is part 2 of how to get around the world's top travel destinations.
If you missed part 1, you can read it here.
Contents
How to Get Around in The World's Top Cities – Part 2
1. Istanbul, Turkey
Istanbul offers an incredible mix of rich culture and delicious food. Turkey is steeped in thousands of years of history, beginning with the Ancient Greeks and Ancient Romans, leading up through the Ottoman Empire. Must-see places include the Blue Mosque, Hagia Sofia, and Topkapi Palace. Here's how you can find your way around Istanbul.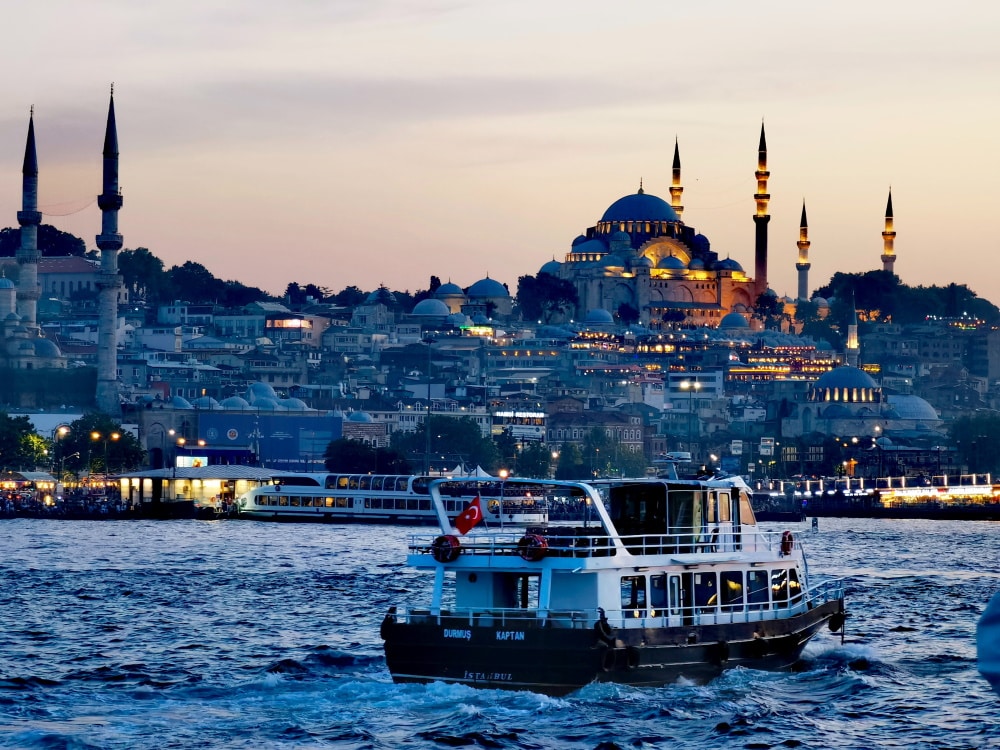 On Foot:
Neighborhoods like Sultanahmet and Eminönü are super walkable. While bazaars and alleys are also perfect for on-foot exploration, you definitely need to jump on a bus or tram if you plan to go greater distances.
By Bus:
Istanbul's bus system – operated by Istanbul Metropolitan Municipality – is very effective, with routes running across the entire city. But buses don't have maps, so it's best if you know where you are going before you get on. You can get a bus map at any terminal, and timetables for all routes are available on the Station Search page.
Bus drivers also don't announce stops, so you'll need to stay alert. To use the city's buses, you'll need to buy a limited use ticket depending on how many times you plan on using the bus. But if you plan on using public transportation for the majority of your trip, it's best to buy an Istanbulkart card, which is reloadable and works on buses, trams, metros and ferries. These cards usually cost about $1.50.
Most buses run daily between 6 AM and midnight.
By Tram:
Trams are an excellent way to see Istanbul and get from one place to another. There are four tram lines, but the Bagcilar-Kabatas (T1) Tram is the most helpful to get around the touristy spots and makes stops near sights like the Hagia Sophia Museum. One-time rides on any tram line will set you back around $1, but if you have an Istanbulkart, it will cost around $0.50. You can find a tram network map on Metro Istanbul's website.
By Metro:
Metro Istanbul has six metro lines that mostly service the city's European side. The Yenikapi-Atatürk Havalimani (M1A) stops at the airport and central bus station (Otogar). Most metro stations aren't the most convenient transport option for popular attractions, but it is a quicker option during rush hour. One-time rides cost about $1 per person, but if you have an Istanbulkart, it will cost around $0.50 per ride.
By Ferry:
Known locally as vapurlar, ferries in Istanbul are operated by Sehir Hatlari, and depart multiple times a day from the city's European and Asian sides. It's the best mode of transport to reach the Princes' Islands, and the most affordable way to tour the Bosphorus. There are several ports along the Bosphorus, the Sea of Marmara, and the Golden Horn are available, including ones in Eminönü, Ortaköy, and Karaköv.
One-way tokens to ride the ferry will cost $1, and trips to and from the Princes' Islands cost about $1.50. Or you can tap your Istanbulkart card. Fare for Istanbulkart cardholders varies by route but starts at $0.50. Two-hour Bosphorous tours cost $3 per person, while full-day, round-trip tours cost $7 per person.
By Taxi:
You can easily find a taxi in Istanbul, and they're affordable. But be careful because drivers have a reputation for scamming riders. For instance, they might tell you that their meter is broken and quote you a higher flat rate. If this happens, you should just get out of the cab and find another one. It might also be helpful to write down the address of your final destination and show your driver.
You can hail taxis on the street but ask your hotel to call one for you to decrease your chances of getting scammed. Drivers are less likely to overcharge passengers being picked up from a hotel because they don't want to hurt their future business. All taxis charge a base rate of about $1, plus a metered rate of less than $1 per mile. You can also use Uber in and around Istanbul.
By Car:
Driving in Istanbul is not recommended. Traffic in the city is usually slow and congested, parking is hard to find, and gas is expensive. To make matters worse, the roads are challenging to navigate. But if you need to have a car, you can get a rental car at the airport. You will need an international driving license – which you can get through AAA and DMV.org. Rental car fees vary by company but expect to pay anywhere from $20 – $30 per day for standard models.
2. Marrakesh, Morocco
Just a short flight away from most major European cities, Marrakesh is the epitome of an exotic destination. Imagine snake charmers, belly dancers, treasure-laden souqs, and the sun sinking into the desert. Here's how to get around the Moroccan delight, Marrakesh.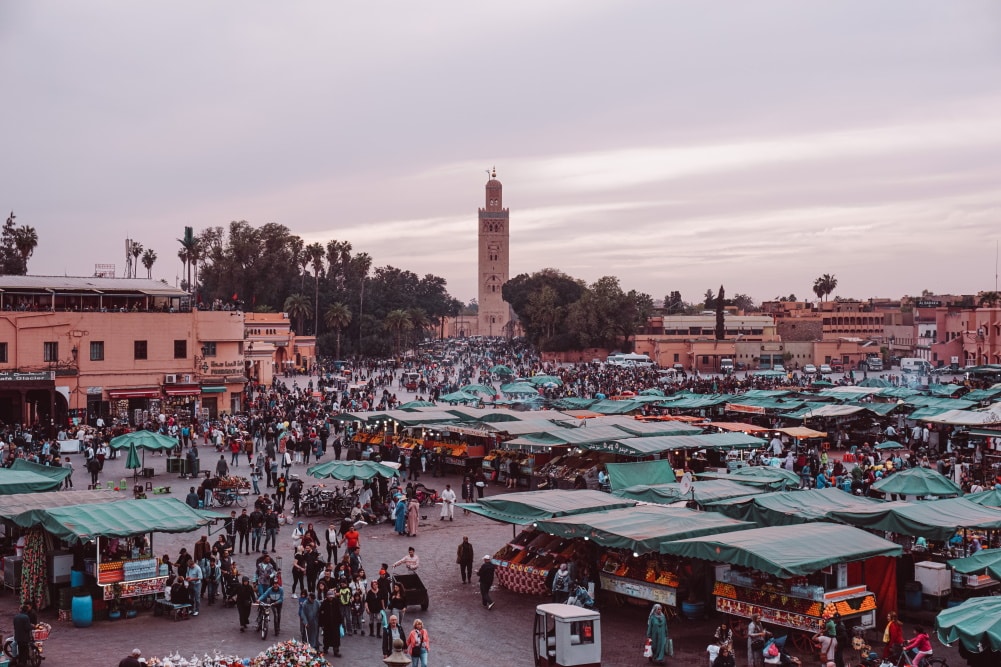 On Foot:

The best way to get around Marrakesh is on foot. Even though it's a big city, most of the Red City's main attractions are clustered at or within walking distance of the medina. But you may want to consider hiring a professional guide, as the medina's winding alleyways can be tricky to navigate. Make sure you opt for a reputable guide through your hotel or a local tour company. If you venture out on your own, make sure you carry a comprehensive map or guidebook. Many street signs are in Arabic, and you could easily get lost – but that might not be a bad thing.
By Bus:
Public bus services are available through ALSA Marrakech, but there is no set schedule and routes. If you decide to use buses, expect most buses to operate daily every 10 to 60 minutes, depending on the line. One-way tickets cost less than $0.50 for adults and kids older than 6.
A far more convenient way to get around Marrakech is to use ALSA's Tourist Bus system. This two-line network is designed with visitors in mind: The History Tour and Oasis Tour Tourist Buses can get you to and from the airport and take you to the city's main attractions, like Majorelle Garden and the Saadian Tombs. You can buy a bus ticket from $15 to $18 per adult and about $8 to $10 for children aged 6 to 14. Schedules vary by season, but both lines are generally available between 9 AM and 6 PM every day. You can find a map of routes here.
By Calèche:
Why not consider taking a horse-drawn carriage or calèche to get around Marrakech. You'll spot these green carriages everywhere across the city, but you're more likely to find an available one at Jemaa El Ena or outside Koutoubia Mosque. They are fun to ride, can fit up to six people at a time, and generally cost less than taxis. Some routes have a fixed price, but feel free to haggle before agreeing on a price. Expect to pay around $13 to $20 for an hour-long ride. Make sure you pick a calèche that has a SPANA badge of honor – awarded to drivers by the British animal rights group for taking proper care of their horses.
By Taxi:
Ride-hailing services like Uber and Lyft are not available in Marrakesh, but you can access two types of taxis: petits taxis and grand taxis. Petits are relatively small and calculate your fare using a meter (most of the time). Grands taxis are larger and generally have a fixed rate per route. There is no standard rate for taxis to and from the airport so negotiate a fee with your driver before you begin your trip. Getting from the airport to central Marrakech starts at about $7.50. If you get into a petit taxi that doesn't have a meter, make sure you also settle on the rate beforehand.

Make sure your driver knows exactly where you're going to avoid spending more than you anticipate. Some drivers will deliberately take you to the wrong hotel because they receive a commission from that property. Others will simply misunderstand you. To avoid confusion. Write down the address on a piece of paper. Here's a website for Marrakech Taxis.
3. Edinburgh, Scotland
Scotland's capital city is brimming with things to explore on every street corner. With the historic Edinburgh castle watching over the town, oodles of culture, and welcoming locals, Edinburgh is easily one of the world's top tourist destinations. Here's what you should know about getting around this incredible Scottish city.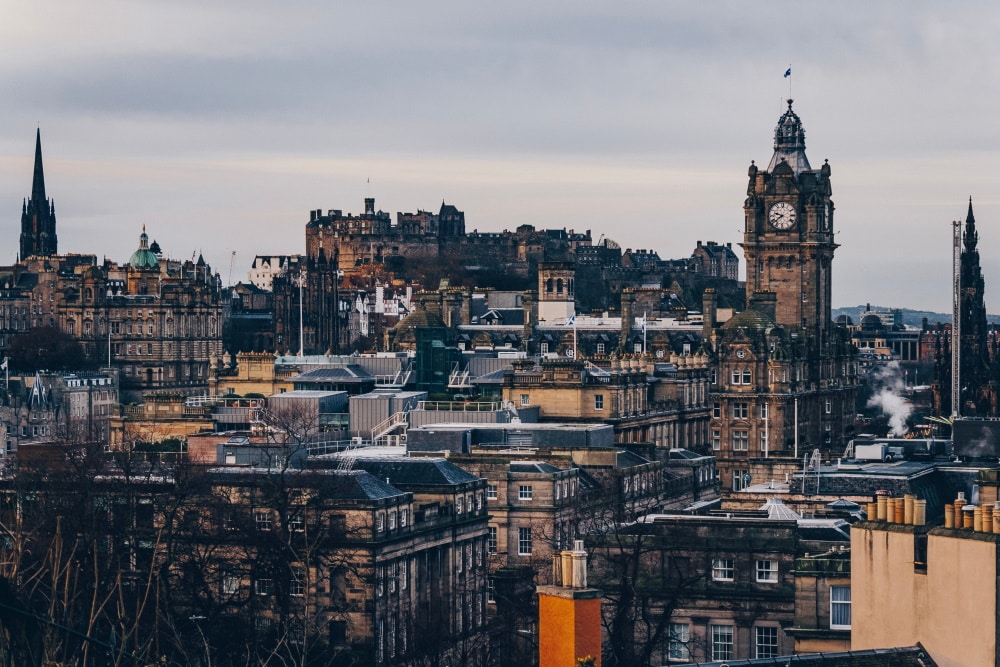 On Foot:
Edinburgh's intimate size means walking is the best way to get around the city. This hilly city may leave you breathless at times, but it is still small enough that walking makes the most sense. And many of the top attractions are bundled close together in New Town and Old Town.
By Bus:
After walking, the bus is the next best mode of transport to get around Edinburgh. A single journey costs about $2.40, but if you're planning to use the bus more, you should buy a DAYticket, which costs around $6 for adults and $3 for children. But if you're planning to be in Edinburgh for more than a few days, consider buying a one-week Ridacard pass or TapCap pass (both cost around $27) and can be found on the bus, at travel shops, or online.
You can also take hop-on, hop-off sightseeing bus tours – which make stops at all the major attractions.
By Tram:
Presently, Edinburgh trams only have one line, stretching from the Airport to West End. The tram stops at a few points of interest across the city, like Murrayfield Stadium. Tickets are available at every tram station. Make sure you keep your ticket close, as random ticket checks can happen. Ticket prices vary depending on whether you opt for single tickets, DAYtickets, and the number of stops on your ticket. More information can be found here on the Edinburgh Trams website.
By Taxi:
Taxis are readily available in the city and can be hailed on the street or at popular attractions. Travelers should know that taxi fares tend to be quite pricey, and taking the bus or tram is more economical. Prices depend on the day of the week and the time of day. From 6 AM to 6 PM, Monday through Friday fares start at about $4. At night fares increase to about $5.40.
By Car:
Having a car during your time in Edinburgh isn't recommended. Most of the city's streets are one-way, some are pedestrian-only, and you'll be terrorized by narrow, winding roads if you're in Old Town. Besides, walking is the best way to experience the city's charming cobblestone streets and allows you to discover quirky boutiques and warm pubs. But if you do insist on driving, you won't need an international driver's license, and you can find rental agencies at the airport when you arrive.

4. Havana, Cuba
Havana, or La Habana, was founded by the Spanish in the 16th century and is nearly 500 years old. With iconic overhanging balconies, brightly painted buildings, vintage cars, and vibrant nightlife, Havana is bursting with color and fun. Here's how you can get around this incredible Cuban city.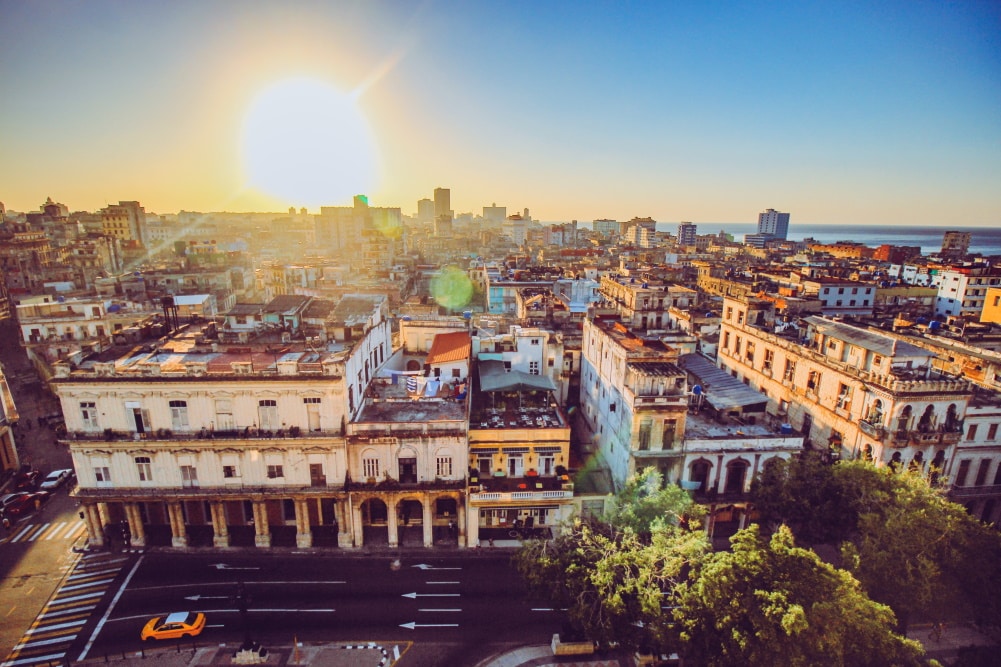 On Foot:
Just because Havana is Cuba's biggest city, doesn't mean you have to travel far and wide to get to its main points of interest. All of the city's most popular attractions and its best dining and entertainment options are found in and around the super walkable Old Havana. The UNESCO status neighborhood is always filled with travelers exploring its colorful streets.
By Taxi:
There are many different kinds of taxis in Havana. Cubataxis are modern cars that are clearly marked, service tourists, and aren't shared the way colectivos are. Colectivos are easy to spot – it's those early 20th-century American cars that Havana is famous for. Instead of taking one passenger, colectivos run on a fixed route and only drive once the taxi is full, so you may find yourself sharing a ride with some locals. If you opt for colectivos, simply state the street you're looking to go to, and the driver will let you know if it's on the route.
Gran Cars are a happy medium – old-fashioned cars made for tourists. But they do come at a higher rate. Standard taxis are metered and tend to start at $1 and range from $0.50 to $1 for each additional kilometer traveled after that. Don't worry if drivers decide to ditch the meter and negotiate a rate beforehand; it's common here and not always a tactic used to scam travelers.
By Bus:
Public buses (guaguas) are crowded and operate on unreliable schedules. They're also prime spots for pickpocketing. Typically, local buses will not offer rides to visiting foreigners, so your best bet is to get on a Habana Bus hop-on, hop-off tour bus since it appeals to tourists and has routes that go to various points of interest in the city.
By Car:
Renting a car in Havana is dangerous and not advised, as many roads and city streets are unlit at night. And even during the day, it can be tricky to navigate the streets due to a lack of signage and "road rules". If you do decide to rent, you must be 21 with a valid driver's license, and a budget for a daily insurance fee.
Want to learn how to travel smater? Read this guide next.
5. Singapore
The small island city-state off southern Malaysia punches way above its weight on a global level. Singapore's modern, colorful buildings, futuristic bridges, and unique attractions are the reason why this popular destination is visited by millions of travelers every year. Here's how you can get from point A to B in Singapore.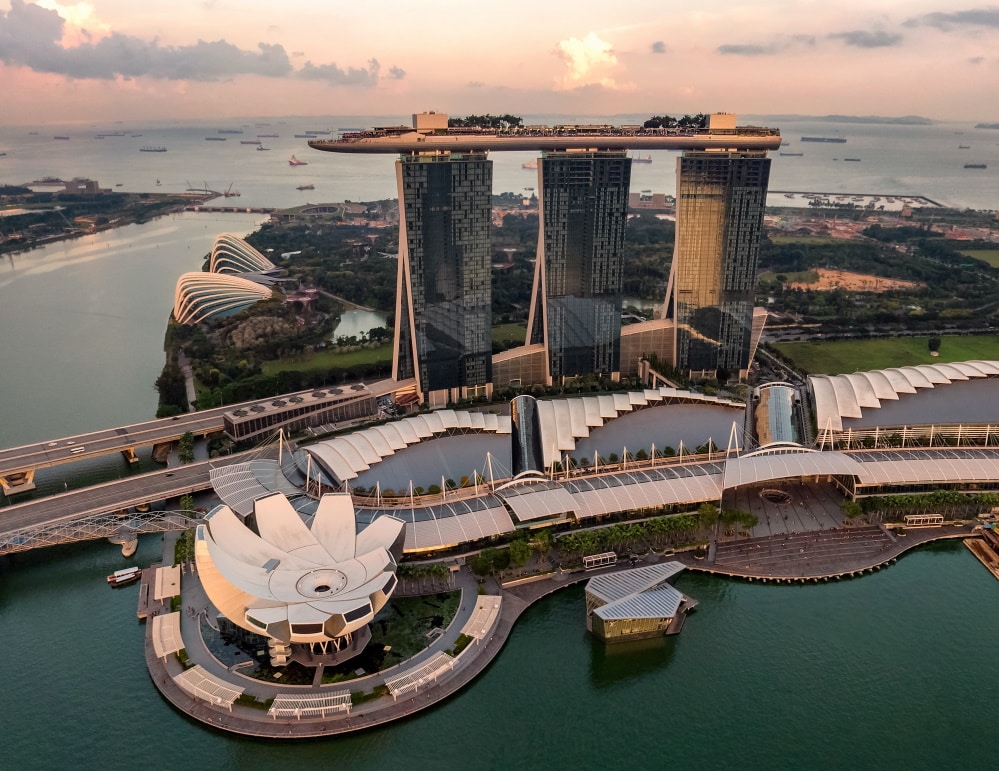 On Foot:
Singapore is an expansive city, making it tricky to explore entirely on foot. But you will want to walk through individual neighborhoods to absorb the local atmosphere and sights. Visitors' centers, run by the Singapore Tourism Board, provide free street maps and suggested walking tours.
By Subway:
Singapore's MRT subway system is extensive, clean, cost-effective, and efficient – as well as easy to understand. Maps are available at every station. Fares are based on the distance you travel and usually range from$0.74 to $1.85. Instead of purchasing single fare tickets, buy an EZ-Link rechargeable card for about $9 to save some extra cash and avoid ticket lines.
By Car:
Home to over 5 million people means Singapore has its fair share of traffic. Driving can be a huge hassle, and parking is expensive. But if you insist, there are rental agencies at the airport and throughout the city.
By Taxi:
Just hail a cab if you want to get somewhere in a hurry. Taxis in Singapore are reasonably priced, and the meter starts between $2.30 to $3.75, and around $0.16 per kilometer after that. Most drivers also speak English, so make sure you ask them for local tips. SMRT Taxis' official website has more information.
By Bus:

Buses can be found all over the city. But there are many different bus routes which could easily confuse first-time visitors. Fares are based on distance traveled, time of day, and traveler type (adult, children, and senior citizens fares are offered). Based on all those factors, you could spend the same amount as a metro ride. You can find more information on the SMRT Buses website.
6. Seoul, South Korea
Also known as the Special City, South Korea's Seoul is a vibrant city where modern skyscrapers, high-tech subways and pop culture – hello K-Pop – meet Buddhist temples, palaces and street markets. A true old-meets-new metropolis. Here's what you need to know about getting around Seoul.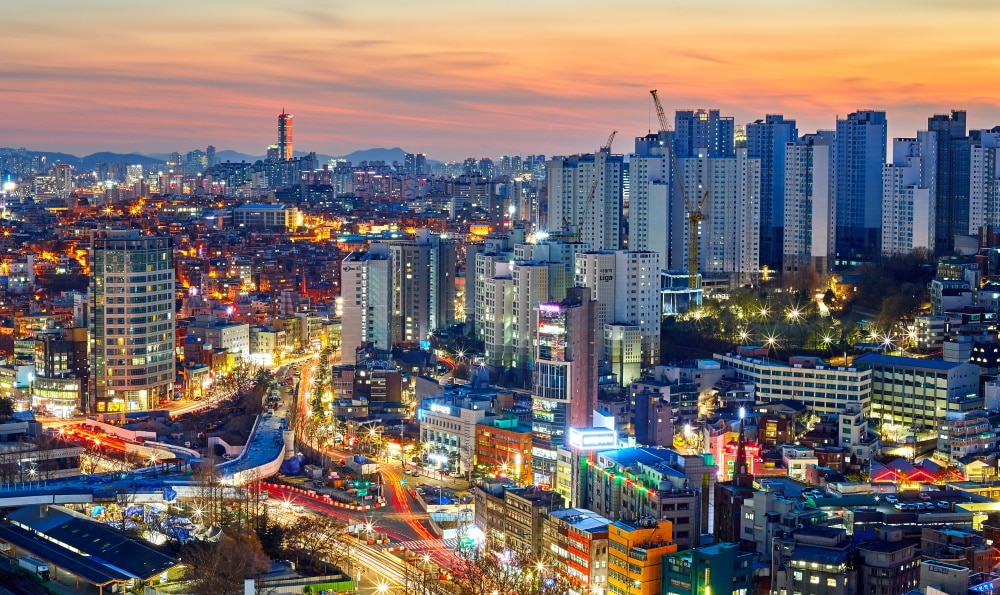 On Foot:
Seoul is far too big to get around on foot alone, but it does contain several neighborhoods and hiking trails that provide nice areas to put one foot in front of the other. Just be careful when crossing the street – green lights given to pedestrians tend to be short, so cross briskly.
By Subway:
The Seoul subway is inexpensive and widespread, making it an effective mode of transport to reach just about anywhere. As long as you avoid rush hour (8 to 9 AM and 6 to 7 PM on weekdays) – also the system is closed between midnight and 5:30 AM. The signs, maps and recordings in the stations are in English. Use Multiple Journey Transportation Cards (or T-money cards) to pay for a subway ride – with fares starting at about $1.20 for the first 10 km of travel. These cards cost $2.24 for the card; you can find more info on the T-money site.
By Bus:

While Seoul's subway system is easy to navigate, the bus routes can be more challenging for foreign travelers. Most bus maps are not translated into English, and most bus drivers speak only Korean. You need to either pay the bus fare in cash or use a T-money card, which decreases the bus fare for adult travelers. Buses and bus stops are color-coded to indicate different routes. The different bus routes can be found on the Seoul Bus website. Buses run all hours of the day.
By Taxi:
You can easily hail a cab in Seoul, and a short ride can be inexpensive. Silver, orange, or white regular taxis cost between $2.50 to $2.68 for the first 2 km plus an extra 10 cents for every eighth of a mile thereafter. Between midnight and 4 AM, taxi fares increase by 20%. Deluxe Taxis – which are black with a yellow stripe – cost between $3 and $4 for the first 3 km, with an additional 18 cents for every additional tenth of a mile. It's also a good idea to write down your destination address to show your driver to avoid miscommunication.
By Car:
Driving around Seoul is hassle-prone. Traffic in the city happens more often than not, and drivers can often throw caution to the wind when getting around in a hurry. Avoid the headache of driving and make use of Seoul's public transportation instead. But you can easily rent a car if you insist on driving. But make sure you get an international driver's license before you do!

7. Buenos Aires, Argentina
Bookstores set in palatial theatres, tango dancing in the streets, and brightly painted neighborhoods charm Buenos Aires visitors. The capital of Argentina is filled with treasures to uncover. Here's how you can find your way around the city.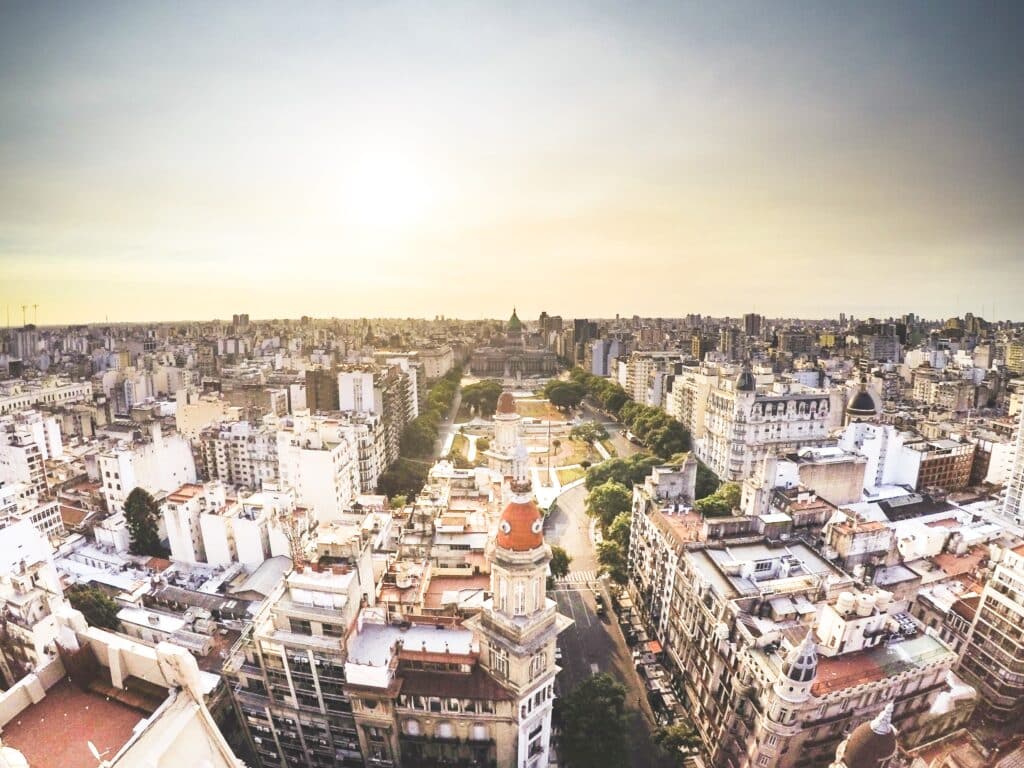 By Subte:
The subte – which forms part of the city's Light Rail Line – is easily accessible and makes stops all over the city. You can buy single tickets for about $0.25, but a multiple journey travel pass might be more cost-effective – and is available in two-, five-, 10-, or 30-journey increments, the card grants you access to the six lines. Trains run Monday to Saturday from 5 AM to 11 PM. Sundays from 8 AM to 11 PM.
By Bus:
Also known as colectivos, the city buses in Buenos Aires are cost-efficient and run 24/7. Within the city, fares start at about $0.25 and increase according to distance. Prices outside the city vary. You will need to bring exact change to buy your ticket – which can be done on the bus. Many bus drivers don't speak English but are also very friendly and will try to be helpful. Be alert, because pickpocketing on buses isn't unusual. Buy a Guia T (comprehensive route map) and browse the Los Colectivos website for more info.
By Taxi:
Radio taxis are easy to spot with their marked "radio taxi" sign. When available, these metered taxis have a red "libre" sign. When you enter one of these taxis, keep in mind that the meters start at about $1, and increase by time and distance. Many Argentinean drivers are known for leading drivers on long routes and returning counterfeit change, so be vigilant.
By Car:
Renting a car in Buenos Aires should be avoided, unless you plan to explore outside the city. Driving is more of a disaster with dense traffic, few observed driving rules, bad signage, minimal parking, and a high accident rate. If you're planning to drive, note that major driving roads are prone to traffic.
By Remis:
Another choice is hiring a remis (car and driver) which can save you the hassle of navigating through the city. Although this is more costly and typically requires a multiple-hour booking minimum, remis are a reliable form of transportation. For more info, ask your hotel for a trusted driver service.
PS: Don't forget to pack these essential travel documents before your trip to any of these major cities.