Updated: January 27, 2023
Travel is one of the most rewarding experiences in this life. But if you've always wondered how some people seem to be able to jet-set across the globe with such ease – I'm about to let you in on a few secrets.
From how to travel on a budget and flying smarter to packing like a pro, I have you covered.
Get ready for a year filled with more enriching experiences, new cultures, and pure adventure. And if you need any more reasons to travel more this year – I suggest you read this.
Skip to the Good Parts
Traveling Smarter After a Pandemic
We can all agree that life circa COVID-19 has been a little bit more complicated, to say the least.
The pandemic has brought with it much uncertainty and anxiety, throwing everything as we know it off balance. And when it comes to travel, it's completely normal to feel on edge about, well, everything.
From following protocols to staying up to date with the ever-changing regulations, and of course, the fear of contracting the virus – but that doesn't mean you can't be prepared and learn some techniques to manage your anxiety and overall travel smarter, albeit in the pandemic era.
Tips For Combatting Travel Anxiety
Feeling anxious before you travel is entirely normal. Scratch that; anxiety is completely normal. It's our body's natural response to stress. Thankfully there are simple coping mechanisms you can implement to help you better manage your anxiety levels before you head to the airport.
First of all, breathe – there are ways to calm your anxiety.
Second, identify what triggers your travel anxiety. If you're anything like me, flying is the first thing that gets those butterflies swarming around your stomach, and not in a good way.
Write down your triggers so when you start to feel that impending sense of doom in your chest, you can identify what's causing it and learn to manage it.
Plan for specific scenarios. Many times, it's those pesky "what-if's" that set us off. And while we can't plan for all the worst-case scenarios in the book, you can plan for many of them.
For instance, "What if I get lost?" Well, you can always keep an offline map on your phone or guidebook on hand to make sure you can find your way back even if you have no WiFi or mobile devices available.
One of my go-to tips for flying (and easing my anxiety) is to bring plenty of distractions. Whether you prefer to bury your nose in a book, or play games on your phone, whatever it is that you find comfort in – it's a good idea to bring it along for the adventures. You never know when you need to distract your brain from those negative thoughts.
Actively relaxing is one of the most important ways to teach your brain to manage anxiety and reduce your stress levels. So even if you decide to pass on the distractions, try out some deep breathing exercises or close your eyes for a quick five-minute meditation to center yourself and your thoughts.
Click here for even more tips on how to feel calmer before you fly.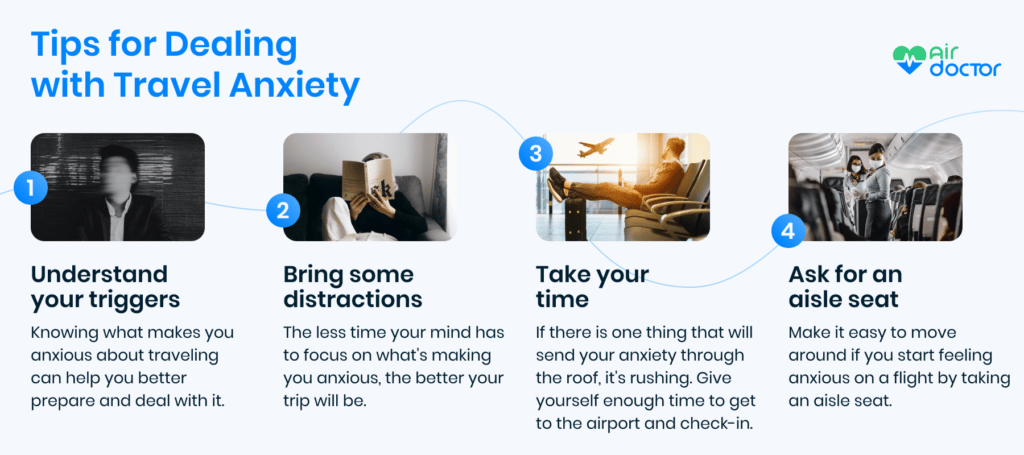 Keep COVID-19 Protocols in Mind
It's super important to not forget the basics during your travels. The best way to prevent the spread and protect yourself and others is by following all health recommendations laid out by officials.
Check your destination's COVID situation before traveling. This goes whether you are vaccinated or unvaccinated, although the CDC advises you to delay travel until you are fully vaccinated. If you aren't fully vaccinated and can't avoid travel, then get tested before and after your trip to stay on the safe side.
During your travels, remember to adhere to basic COVID-19 protocols:
Practice social distancing by remaining 6 feet (2 meters) apart from others.
Wear a mask that covers both your nose and mouth while indoors and in close proximity to people. Keep a few spare masks on hand.
And wash your hands often with soap and water or use hand sanitizer with at least 60% alcohol.
If you want to brush up on your COVID etiquette before your trip, this article will help.
Traveling Smarter on a Budget
If there's one thing that all savvy travelers do, it's stick to a budget. Let's face it, we could all be a bit savvier when it comes to our spending (okay, maybe it's just me), but that doesn't mean we can't have a blast or . . . travel across the globe.
First things first – book that plane ticket! Booking well in advance with flexible dates allows you to pay in parts and save for your upcoming trip while also finding the best deal on flights. Sneaky right? Why not travel even smarter by visiting during the off-season?

Also, try to avoid tourist traps if possible. While bigger cities and tourist hotspots are among the most popular destinations, they're often overcrowded and expensive! So why not opt to stray off the beaten track to lesser-known spots – and while you're saving money, you'll probably find some hidden gems too!
The same goes for when it comes time to eat. Don't eat away your money by going to overly priced restaurants and eateries on main strips. Instead, eat out at backward alley joints or street vendors – chances are you'll get a taste of far better local cuisine and save a pretty penny! Ask locals for recommendations – they're always happy to help.
I found this guide to be extra helpful for traveling on a budget – I am certain it will help you too.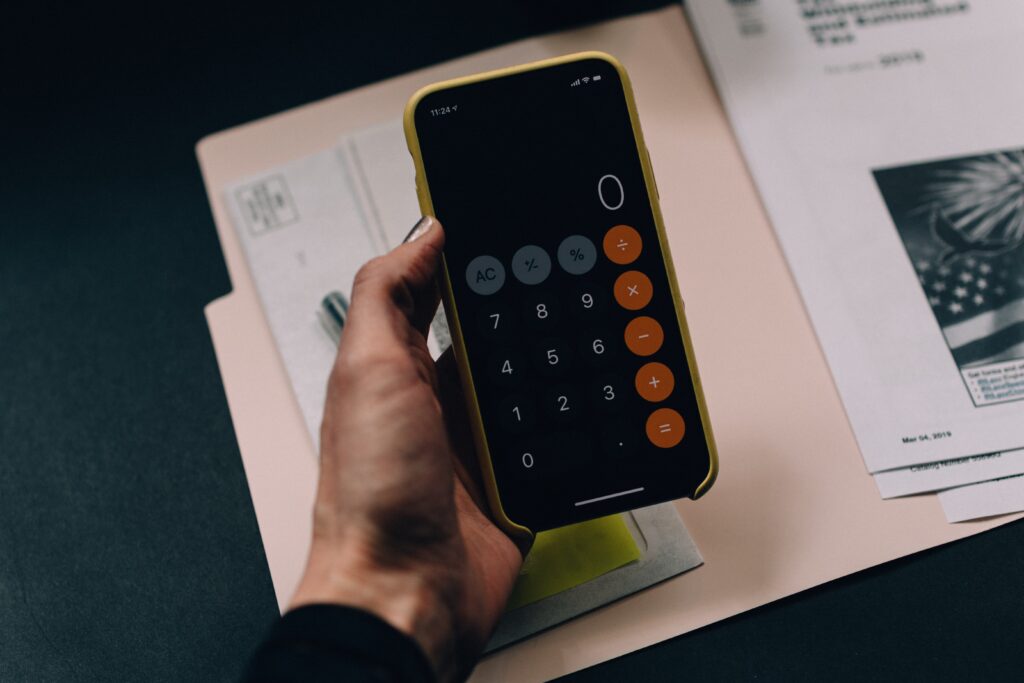 Planning a Trip Like a Pro
Let's jump straight into some of my most recommended tips to use throughout your trip.
The Basics
Don't pack too many tours and activities into one trip. I get it, you want to see as much as possible but it's essential to use your time wisely. However, if your itinerary allows for multi-flights, you can easily add another destination to your trip and get cheaper airfare rates at the same time. If you're opting for a cruise instead, be sure to book dinners and spa appointments in advance to avail more cost-effective options.
Travel smarter by collecting an arsenal of travel apps. We're in the digital age, and tech-savvy travel nerds have harnessed the digital market to create apps that make traveling easier for all of us. Apps like Skyscanner simplify searching for and booking local and international flights based on your budget. And if you have a particular itinerary in mind, use Hopper to analyze airfare trends and find the optimal time to book certain flights. Hopper provides a visual of daily prices for flights and warns people when prices are likely to go up.

To enjoy hassle-free travel, Holiday Extras makes it that much simpler.
Whether online or via the app, HEHA!, Holiday Extras improves your travel experience by bringing all the things you need to book a holiday together.
Just think airport parking, hotels, transfers, car hire, holiday insurance, UK getaways, and more – all organized in one place where you can easily compare, save, and find the best value for your trip. With Holiday Extras you can enjoy less hassle and more holiday.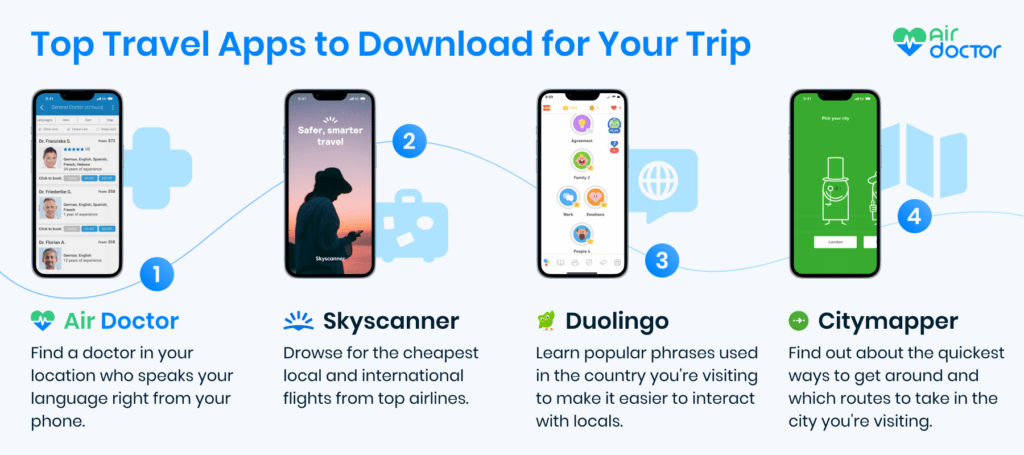 Pack Like a Pro
Before you open your suitcase, make a packing list. Use your itinerary to plan what you'll wear each day. This avoids last-minute over-packing and creates more room for souvenirs.
Vacuum bags are great space savers. Want to boost the space you have available? Purchase some basic vacuum bags to pack more without it taking up as much room. Just be wary of weight – you may want to invest in a luggage scale at the same time (I use mine every time). Don't want to purchase vacuum bags? Roll your clothes instead of folding them – great space saver!
Comfort over style when it comes to shoes. You'll regret packing shoes that make your trekking seem longer. This is especially important if you have a lot of sightseeing planned. And if you want to prevent shoes from dirtying your clothes, cover them in shower caps or place them in shoe bags.
Don't skip the sunscreen. You'll probably be outdoors much more than usual so protect that skin of yours. I've made this mistake more than once and the last thing you want is to end up with sunstroke. It will probably be quite easy to find sunscreen at your destination anyway, especially if it's a sunny spot.
1-3 Weeks Before Your Trip
Create a list of essential documents. Don't wait until a few days before you leave to check your passport or get a PCR test. Create a list of documents you need at least 3 weeks ahead of time to ensure they're all available by the time you leave for the airport.
Read through your itinerary again. If you need to change anything or have queries with your travel agency or insurance provider, you can easily find out or make amendments in due time.
Inform your bank. Notify your bank or credit card company of your travel arrangements. Make sure you also research the fees for international usage of your cell phone if applicable.
Refill any prescriptions. If you're going to need medication on your trip, refill your prescriptions in time and keep a copy of your prescription too. In fact, make sure you have extra medication in the event of any delays, and always pack them in your carry-on. Here are some other general guidelines on traveling with medication that you should read.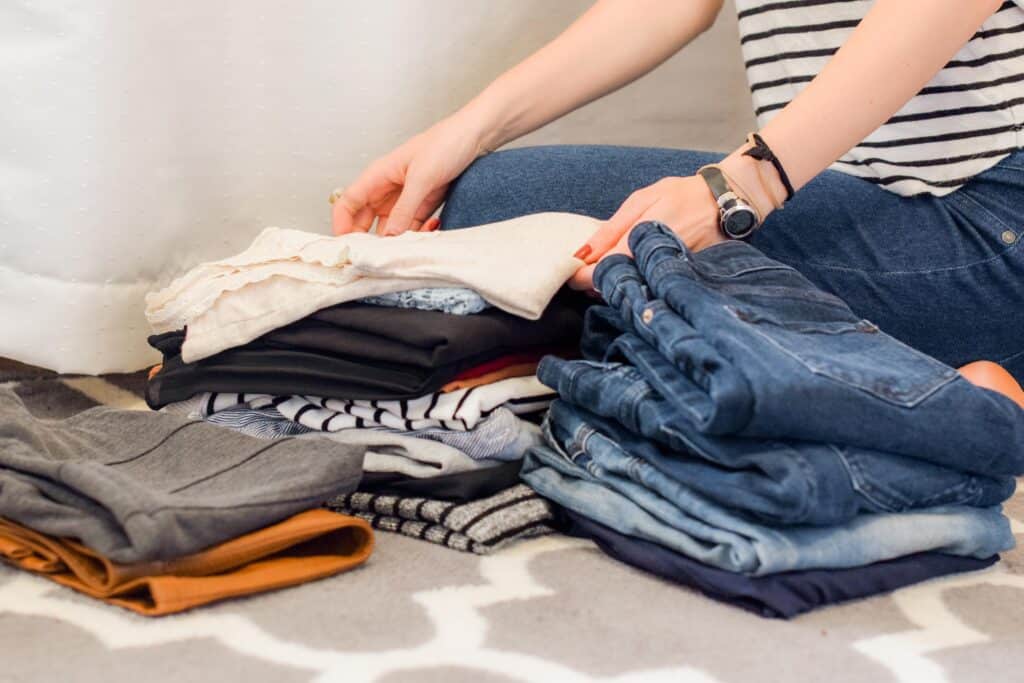 1-3 Days Before Your Trip
It's time to prep your carry-on. Remember to pack your chargers, headphones, a cozy jacket (airplanes can get chilly), prescription meds, and a change of clothes just in case your luggage doesn't arrive on time.
Double-check any entry requirements (primarily related to COVID). Make sure you have your vaccination status or negative test results ready to go.
Put your passport somewhere you won't forget it!
At The Airport
Once you get to the airport, find your gate before you stop to get food or browse those delightful airport bookstores. Sometimes gates and times change, so rather, make sure you don't miss your flight over a book and a bagel.
Traveling with Children
Let your children help you plan the trip. To help reduce travel stress, let your children help you plan the trip, even if it's them choosing one activity.
Get consent letters ready. If only one parent is traveling, make sure you have a consent letter from the non-traveling parent. Some countries even require a notarized letter.
Take a nap. Make sure you leave times for naps and relaxation in between activities. Nothing ruins a holiday like a tired little one.
Prepare a backpack. Make sure you have fun activities packed in your little ones' backpacks and include some snacks too. Why not make these travel packs a surprise until the trip starts so that they have something to look forward to and a distraction to ease any travel anxiety!
During The Trip
If something isn't right, let your travel advisor know. They can fix the problem when they know about it, but they can't change it after the fact.
Put a shoe in the safe. Storing passports and valuables in the hotel safe? Make sure you don't leave it behind by ensuring you won't forget what's in there. Chances are, the missing shoe will prompt your memory!
Don't wait until the last day to get souvenirs. If you see something while you're out and about that you really like, get it.
Remember to try new things! You'll regret not eating those fried scorpions in Thailand.
Take pictures but don't remember to disconnect and just be in the moment. Those memories are priceless.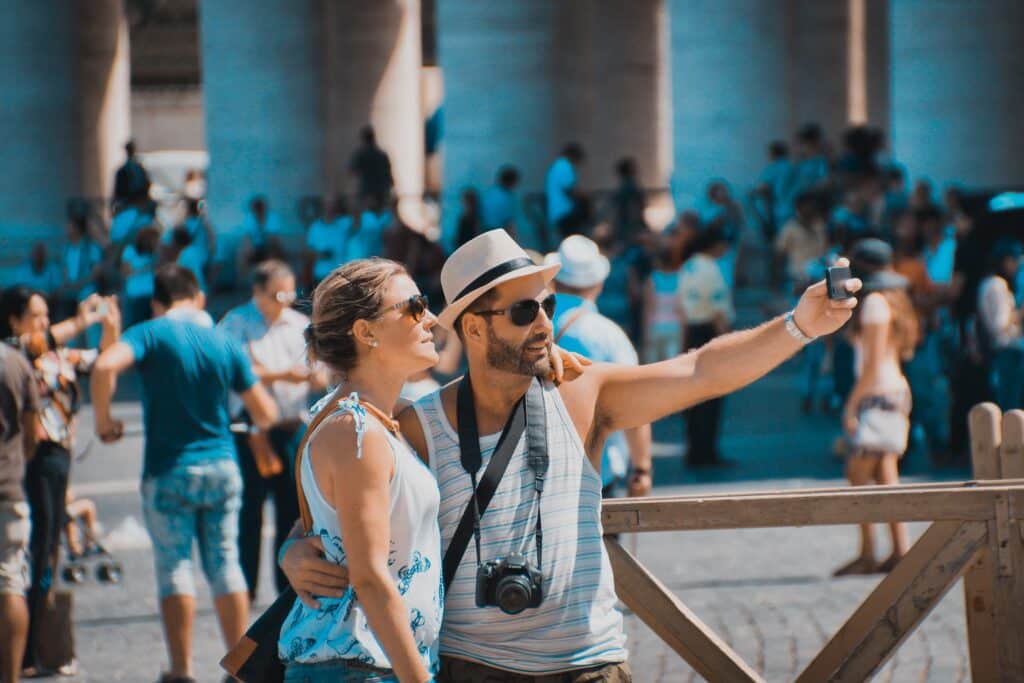 When You Get Home
Give yourself a day or two to settle after your trip. Besides the possible jetlag, you need time to adjust to the real world. There's also the unpacking, catching up on laundry, and getting groceries. Don't just jump back into work if you can help it.
Now that you are armed with all the travel tips on how to travel smarter, it's time to start planning for your next trip. Let me know how it goes.
Bon voyage and safe travels!
PS: I have added some bonus international travel tips in this quick guide.