When the COVID-19 pandemic first struck the globe, misinformation surrounding the disease spread almost as rapidly as the virus itself. While coronavirus draws some parallels with the common flu, the two are in many ways, worlds apart. Now, almost a year into the pandemic, medical experts are debunking prevalent myths and backing up the facts with evidence.
Let's uncover the collective misconceptions surrounding flu vs COVID to ensure you don't fall victim to these false notions.
Flu vs COVID – Debunking Common Myths
Myth #1 – COVID-19 & the Flu Are Essentially the Same
It is still a common belief that COVID-19 and the flu are onw and the same, or that COVID-19 isn't worse than the flu. This is false.
While they are both considered contagious respiratory illnesses, they are caused by different viruses. According to the Centres for Diseases Control and Prevention (CDC), COVID-19 and influenza do have many similarities, but they are not classified as the same and have some key differences.
Not only do they affect the immune system differently, but they're also dissimilar in terms of contamination. COVID-19 spreads more quickly than the flu and may take longer to manifest symptoms in patients – the coronavirus incubation period varies anywhere from 2 to 14 days. Perhaps the most significant difference between COVID-19 and influenza is that the former causes more severe illness in high-risk people and that there is, in fact, a vaccine for the flu.
Myth #2 – You're Not Susceptible to the Flu Because You're Wearing a Mask
Masks have become the latest unwitting fashion statement. In a bid to prevent the spread of coronavirus, wearing a mask is recommended and even enforced. However, this doesn't necessarily mean that you won't catch the flu this season. Taking preventative actions to stop the spread of germs is always your first line of defense against the flu. Influenza is best prevented with the vaccine, and most flu shots protect against the flu viruses which research indicates will be most common. This brings us to our next myth.
Myth #3 – The Flu Vaccine Could Make You More Susceptible to COVID-19
Another common myth surrounding flu vs COVID is that getting a flu shot could make you sick, weak, or even more vulnerable to coronavirus. In reality, the flu vaccine could play an essential role in ensuring that your immune system is not as susceptible to infection.
Amplifying this, the CDC has urged people not to miss out on their vaccinations this season, saying that getting a flu shot during 2020-2021 will be more critical than ever – and this is especially true of high-risk people.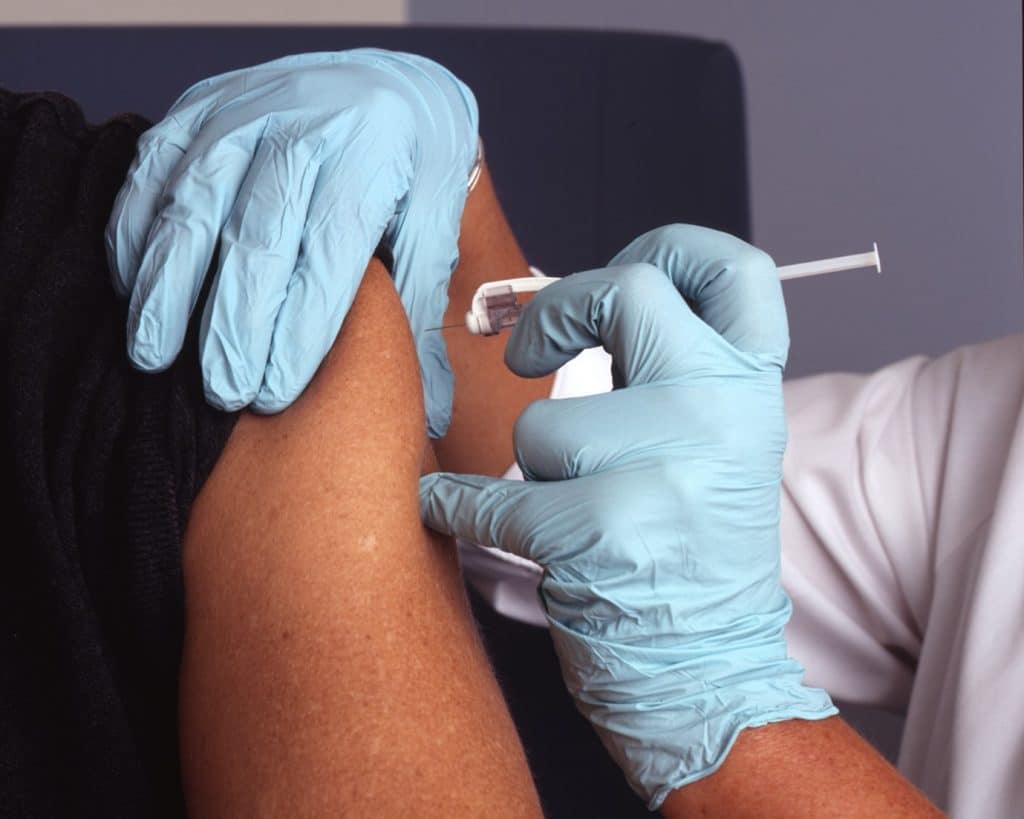 Myth #4 – The Flu Shot Protects You From COVID-19
While getting an influenza vaccination might ensure you don't get infected with both the coronavirus and the flu, it is not going to prevent you from getting COVID-19. Unfortunately, there is no evidence to refute or back this up at this time. However, according to Scientific American, early findings conducted at a Netherlands' based hospital, have shown that COVID-19 health officials who received a flu shot seemed less likely to contract the coronavirus.
The findings were published in a journal: The effect of influenza vaccination on trained immunity: impact on COVID-19, and while interesting, cannot be considered definitive evidence. As it currently stands, the flu shot will not prevent the coronavirus.
Myth #5 – You Would Manage COVID-19 & Flu Infections the Same Way
Although there are a significant number of similarities between the symptoms of flu vs COVID, such as chills, fever, and body aches – how you would proceed after contamination would differ significantly.
In both cases in a transmissible context, you are highly contagious and need to be mindful of contaminating other people. Common principles such as self-isolating, practicing good hygiene, and getting rest should be followed. However, in the event of it being COVID-19, very different rules apply for after the fact.
Medical researchers are still unsure of exactly how long a person can spread COVID-19. They suspect that the time frame of contagiousness is longer than the flu, which makes it essential to get tested.
Is COVID-19 the New Flu?
Certainly not – we can already see the coronavirus pandemic is unparalleled. Myth-busting is only half of the challenge; staying informed of current affairs is also critical. As officials uncover more about the novel coronavirus and new evidence comes to light, it is imperative to stay "in the know". As they say, defense is the best offence, and everyone should be on the defensive right now.