The tourism industry remains one of the most affected by the COVID-19 pandemic. For many economies, the tourism sector boosts revenue, develops infrastructure, and creates thousands of jobs – the significance of which cannot be understated.
So as a tribute to tourism markets worldwide (that are showing tremendous tenacity), and in celebration of World Tourism Day, we're looking at a few important 2021 tourism stats and what the future of travel might look like.
Tourism Stats: What's Currently Happening in the Sector
In 2019, the travel and tourism industry grew 3.5%, marking the ninth consecutive year of sizeable growth. But come 2020, and the industry experienced a year like nothing we'd ever seen.
When the pandemic first struck, it was the catalyst that brought about a year (now almost two) of change and reflection. With COVID lockdowns, travelers found their options limited, drastically changing their outlook and travel behavior. The good news is that while people are more cautious, they still want to travel.
A survey of 3,000 travelers conducted by Travel Leaders Group and the World Travel & Tourism Council (WTTC) found that 70% of respondents originally planned to vacation in 2021. In addition, 45% have already made plans or are starting to plan their next vacation. While 54% say, they are dreaming of when they can travel again. (Same.)
So, what is changing in the tourism industry, and what's likely to stay the same?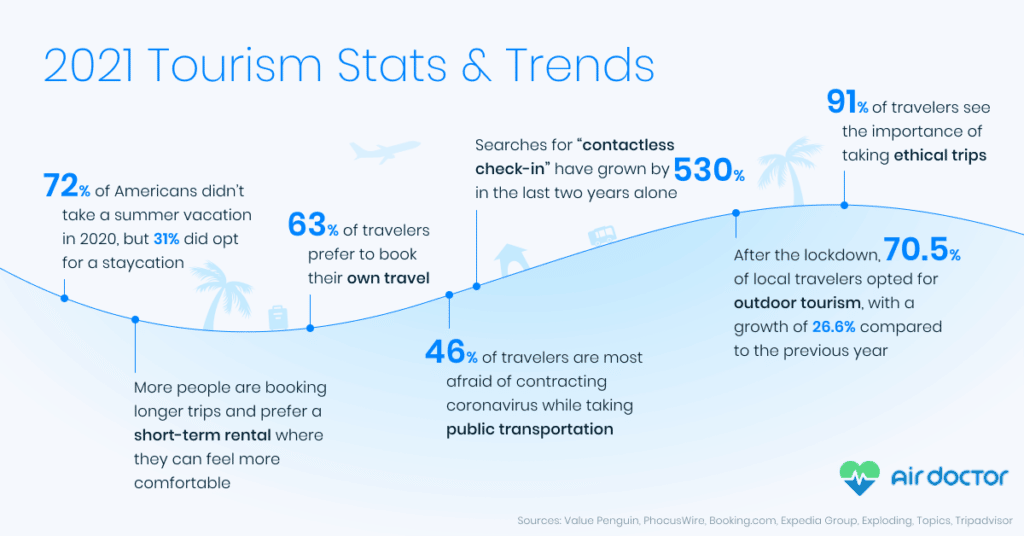 What Will the Future of Travel Look Like?
Staycations Will Be an Ongoing Trend
Travel experts predict that local tourism will continue to be a significant choice among travelers for the remainder of 2021. Airbnb is also expecting this trend to continue, reporting that nearly half of the travelers surveyed were exploring a destination within driving distance of their homes.
Transport Hygiene Will Improve
It also comes as no surprise that consumers have a higher demand for COVID safety and cleanliness – especially when it comes to public transport. And for the tourism industry, that mainly means air travel.
Airlines like United, Iberia, and JetBlue are already experimenting with various cleaning protocols, including touchless technology at baggage check-in and electrostatic pistols, which shoot a disinfecting powder into the cabin to clean all surfaces.
Some airlines are going to extreme measures to lesson traveler's anxiety. For instance, Dubai-based airline Emirates will cover medical costs of up to $183k and quarantine expenses of $122 each day for up to 14 days for passengers who are diagnosed with COVID-19 during their trip.
Business and Leisure Travel Will Be Combined
With more people working remotely, it's very likely that holidaymakers will turn their vacations into working holidays going forward. Doing so means people can work and explore a new destination. Short-term rental companies like Airbnb and Vrbo will more than likely start seeing an increase in long-term bookings.
Sustainable Travel Will Become More Prominent
Sustainable travel involves minimizing the impact on the local cultural environment, as well as taking an eco-friendly stance on the environment. Nearly 70% of travelers say they are more likely to book a stay if they know the accommodation is eco-conscious.
Many in the travel industry have begun to make the shift towards a more sustainable mindset. Hotels in the state of California, for instance, will no longer be allowed to provide toiletries using single-use plastics to their guests from 2023. And Marriott International has pledged to remove these types of plastics too.
Outdoor Destination Bookings Will Increase
Travelers are leaning more towards outdoor travel experiences that allow them to be in nature. Remote escapes like the countryside or mountains are likely to continue to become a favorite among tourists as borders open up.
Celebrating World Tourism Day
We believe that the tourism sector deserves to be celebrated on 27 September. This industry has received a hard hit over the last two years but is slowly coming back to life. A lot of changes need to be made in order for tourists and holidaymakers to feel safer when traveling again, but the tourism sector is embracing these changes fully.