The City That Never Sleeps is home to some of the most famous bars in the world. New York has more than its fair share of incredible watering holes to explore (and quench your thirst). Whether you're looking for a cozy place to grab drinks with friends or you want to try some of the best cocktails, these are some of the best bars in New York.
15 Bars in New York You Simply Have to Visit
1. The Dead Rabbit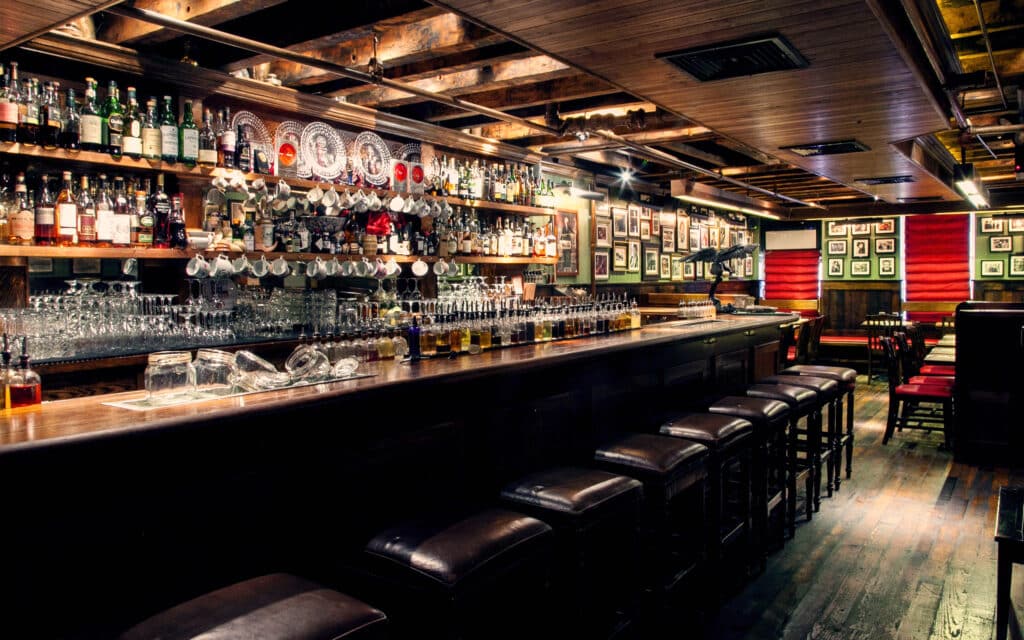 What do you get when a pair of Belfast bar vets decide to conjure up a 19th-century tavern, complete with a refined cocktail parlor upstairs? That's right! The Dead Rabbit. When it comes to local bars New York is popular for, it's easy to find one, but it's certainly not easy to find one that offers 60 different kinds of whiskies. In its four years since opening, The Dead Rabbit has become home to bartenders from around the globe, as well as a historic cocktail of its own creation: The Old Boy. With a name inspired by the Five Points-era gang, you'd half expect the cast of the Peaky Blinders to be throwing back pints at the bar.
Opening Hours: Monday – Closed. Tuesday 4 PM – 2 AM. Sunday, Wednesday, Thursday 12 PM – 2 AM. Friday – Saturday 12 PM – 3 AM.
2. The Magician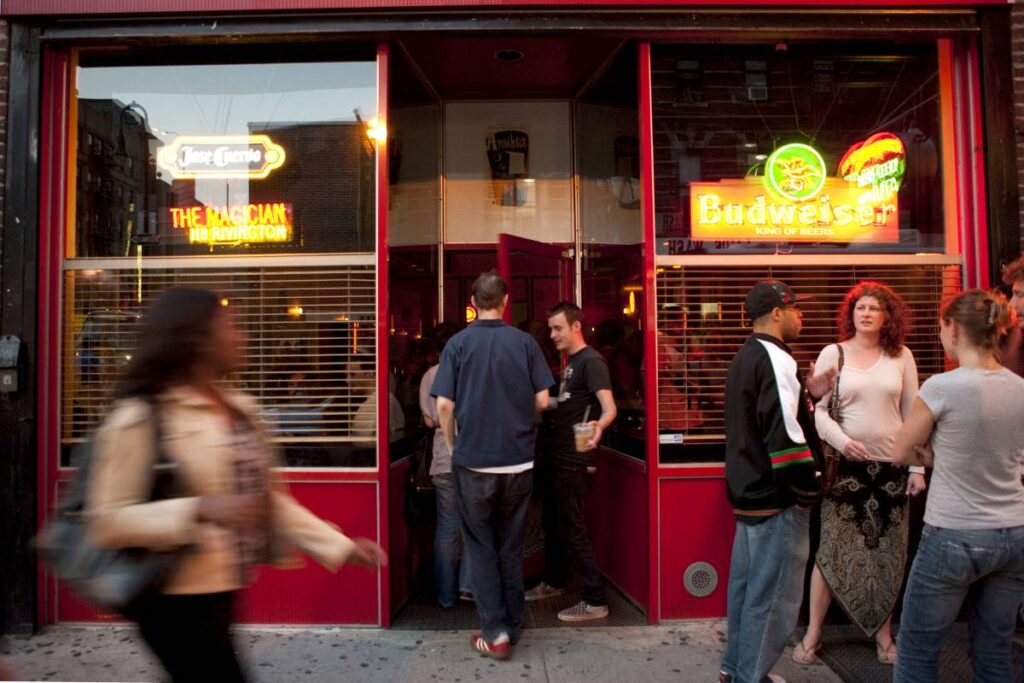 This speakeasy on 17 East 5th Street is the epitome of fun bars. One of the least-themed bars in the city, the Magician is always bustling but not too busy. Make sure you start off with their Original Cocktail – this craft cocktail bar is known for its old-school ambiance and great drinks specials. If you're looking for jukebox tunes and a place that has oodles of that classic New York bar charm, this is the spot for you.
Opening hours: Sunday to Monday 4:30 PM – 11:00 PM. Saturday 2:00 PM – 11:30 PM.
3. Attaboy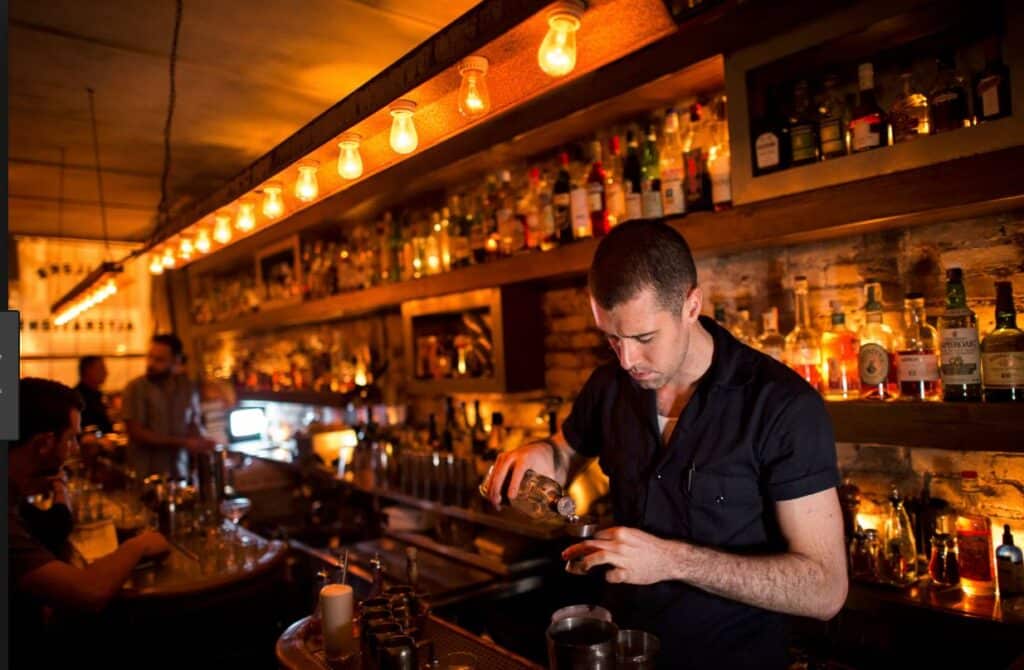 This East Village bar is a cocktail lover's dream. In addition to an extensive and well-researched menu of classic drinks, Attaboy has numerous daily specials and seasonal drinks that you can sample. If you love trying new cocktails, there are few better bars in New York than Attaboy to visit. Delve into a prohibition-style space at the steel-brushed bar inside, of course, or sit outside in the mod patio area.
Opening hours: Sunday to Monday 6 PM – 4 AM.
PS: If this is your first visit to New York, here are some top tips on how to get around.
4. PDT (Please Don't Tell)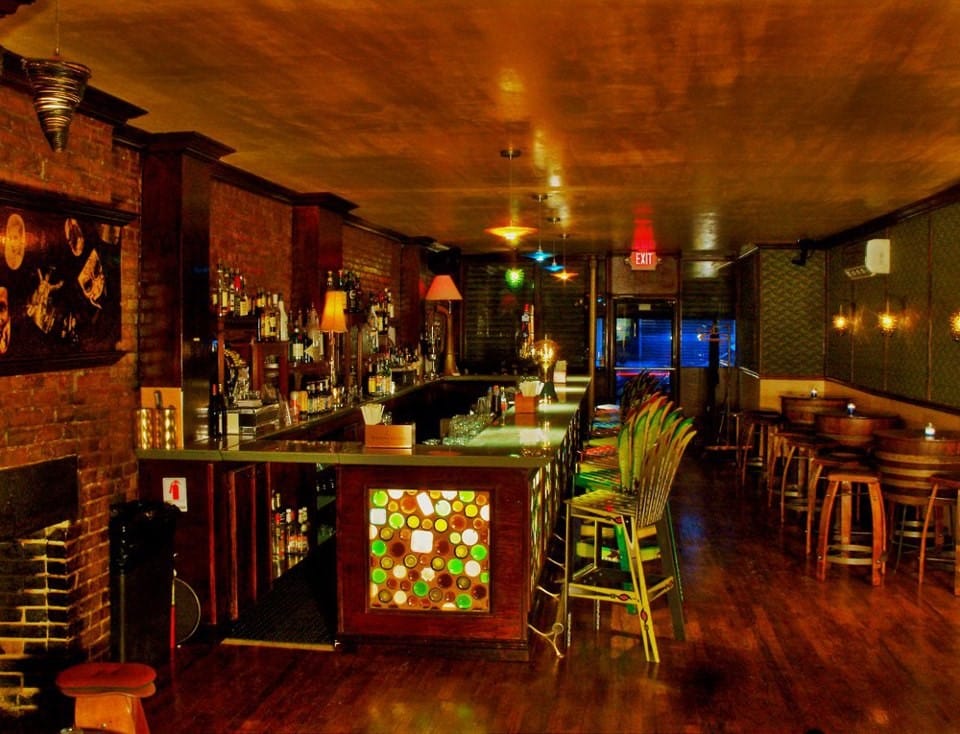 When we say PDT is hidden, it may be slightly misleading. The entrance to this taxidermy-strewn saloon is hidden behind an old phone booth inside Crif Dogs. There's an unassuming neon sign outside and a doorbell to ring when you arrive, but once you get inside, the wood accents, charming bartenders, and lack of windows are what truly make it feel like a hideaway. This is where you go for drinks before dinner or after work—but it's also a great option for date night if your date likes whiskey.
Opening hours: Sunday to Tuesday 5 PM – 2 AM. Wednesday 5 PM – 12 AM. Thursday to Friday 5 PM – 3 AM.
5. Minetta Tavern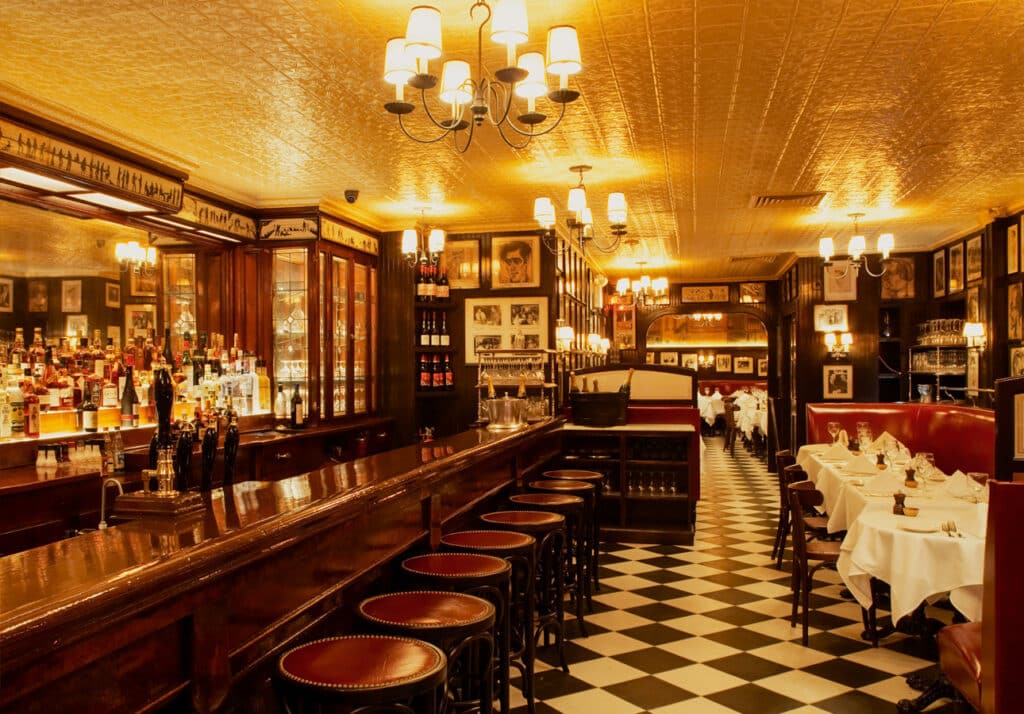 One of the oldest on this list of best bars in New York, Minetta Tavern, has been open since 1937. Located just a block away from Washington Square Park, Minetta Tavern is considered one of Manhattan's finest restaurants and one of its best steak houses. But the best seats are at the bar, and you'll want to order a cocktail first. The vintage setting pairs better with a Martini or Manhattan. The food is incredible — there are plenty of meat entrees to choose from — but most people come here for drinks instead. Be prepared to wait, but it'll be worth it.
Opening hours: Sunday 11 AM – 3 PM, 5:30 PM – 12 AM. Monday to Tuesday 5:30 PM – 12 AM. Wednesday 12 PM – 3 PM, 5: 30 PM – 12 AM. Thursday to Friday 12 PM – 3 PM, 5:30 PM – 1 AM. Saturday 11 AM – 3 PM, 5:30 PM – 1 AM.
6. Dante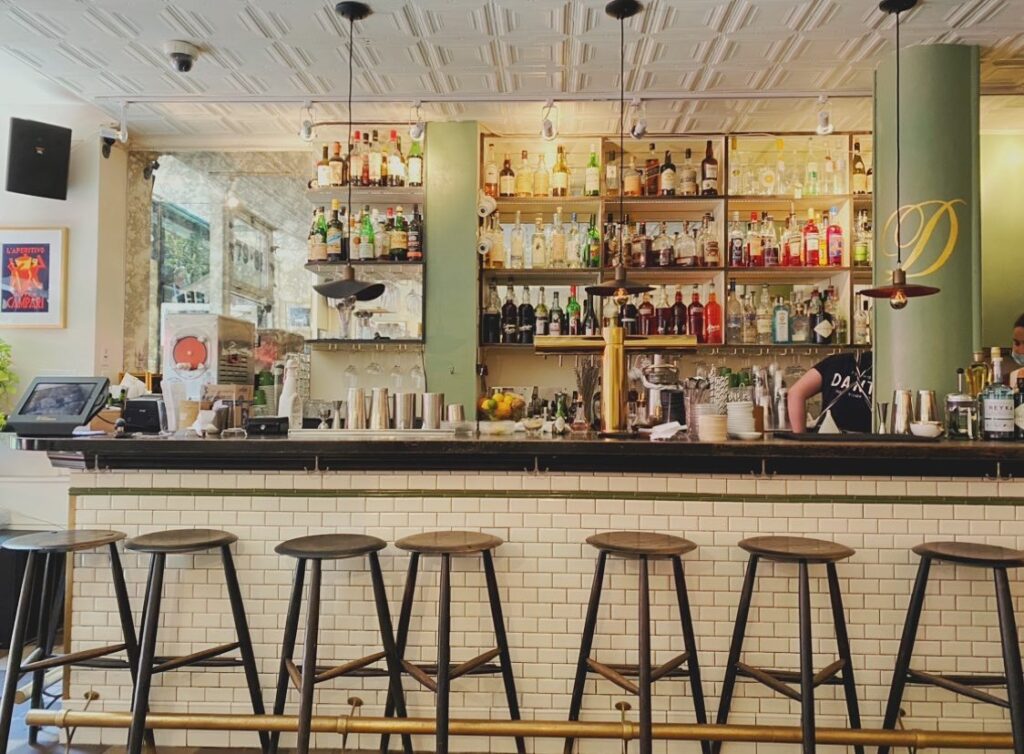 Before you Google: local bars New York – why not visit this century-old watering hold that the likes of Heming way and Patti Smith frequented. Dante is a must-visit establishment in Greenwich Village, located right by Union Square, and naturally is a hipster's dream bar. Bring your friends or come alone—you'll make some new ones here! With Bellinis, obscure Amaro, and a "Negroni Sessions" menu, happy hour has never been happier!
Opening hours: Sunday to Monday 12 PM – 11 PM.
7. Dutch Kills Bar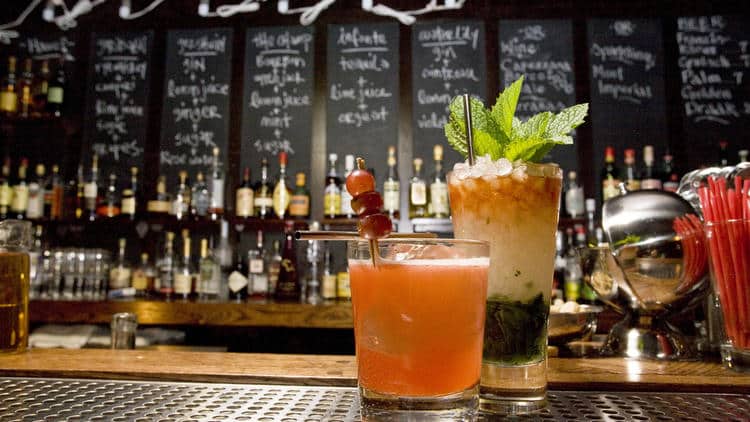 A traditional Irish pub on Long Island City's Restaurant Row, Dutch Kills Bar is exactly what you picture when fun bars New York City comes to mind. This hidden gem has seven beers on tap and local beer specials during happy hour (3–7 PM every day). With incredible food and drink on the menu and a warm atmosphere, you can easily spend hours at Dutch Kills Bar.
Opening hours: Sunday to Wednesday 4 PM – 2 AM. Thursday to Saturday 4 PM – 3 AM.

8. Tørst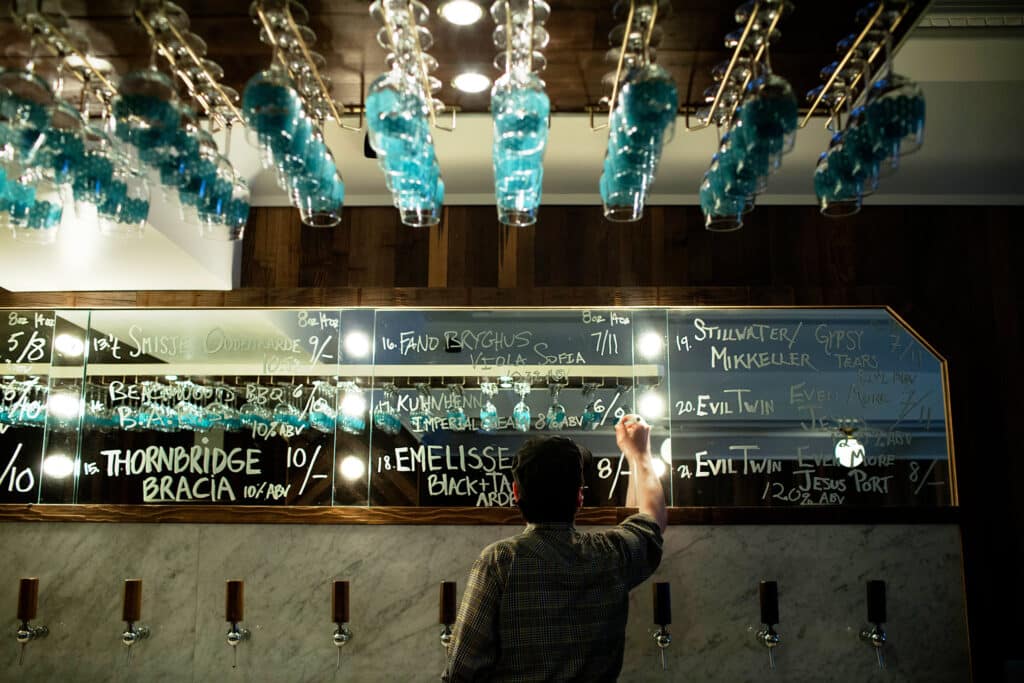 New York City's newest craft beer bar, Tørst, is a dream come true for beer lovers. The drinks are carefully selected and prepared, both classic and new American beers are offered, and delicious bites like housemade chorizo help soothe your palate after some of Tørst's bolder brews. Tørst also offers cask ales, which can be hard to find elsewhere.
Opening hours: Sunday 12 PM – 12 AM. Monday to Wednesday 3 PM – 12 AM. Thursday 3 PM – 12 AM. Friday 12 PM – 1 AM. Saturday 12 PM – 1 AM.
9. Maison Premiere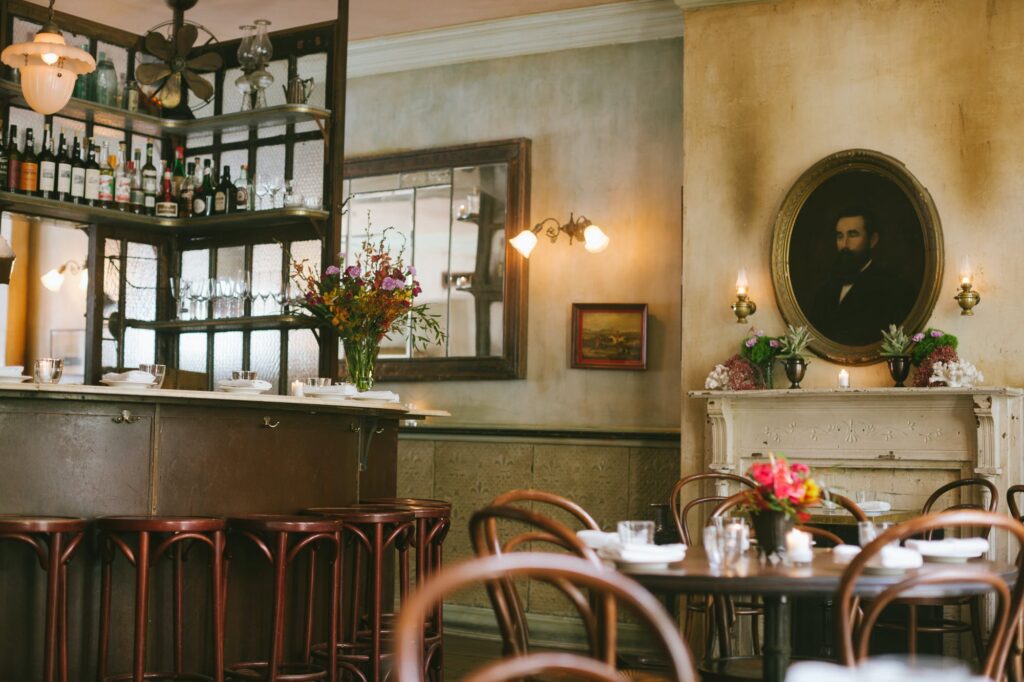 Maison Premier oozes best bars in New York energy. This popular bar and restaurant is excellent for groups, boasting live music, a lively bar scene, and fantastic lobster dishes. Renowned for its cocktail program and oyster happy hour, and once you catch a whiff of their New Orleanian dishes, you'll fall in love with the Southern Gothic vibe. Although pricey (drinks average about $14), you can't beat it for a fun night out with friends or colleagues. Make sure you try one of their absinthe cocktails.
Opening hours: Sunday 12 PM – 1 AM. Monday to Thursday 4 PM – 1 AM. Friday 4 PM – 2 AM. Saturday 12 PM – 2 AM.
10. The Rum House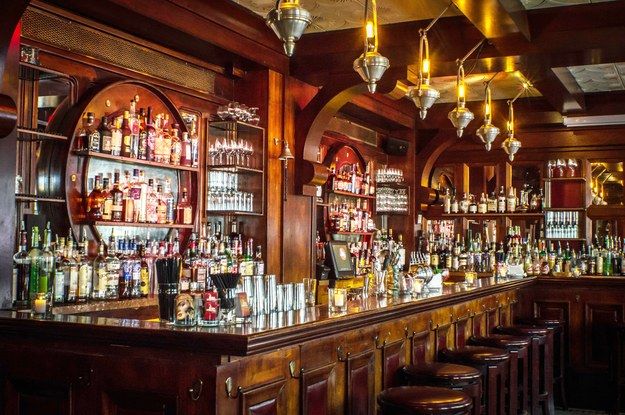 Established in 2008, The Rum House is a popular bar for tourists and local residents. Located just one block away from Times Square, The Rum House provides a relaxed atmosphere and an extensive food menu, making it a great place to kick back and relax while you take in some of New York's best scenery – and of course, drinks. Try a "daiquiri your way" (classic, dark, pineapple tinged or Hemingway-esque) or an extravagantly coconutty take on the Pina Colada called "The Escape". Either way, it's rum galore at the Rum House!
Opening hours: Sunday to Thursday 4 PM – 1 AM. Friday to Saturday 4 PM – 2 AM.
Speaking of the best bars – Singapore is another must-try destination for foodies and cocktail lovers.
11. Death & Co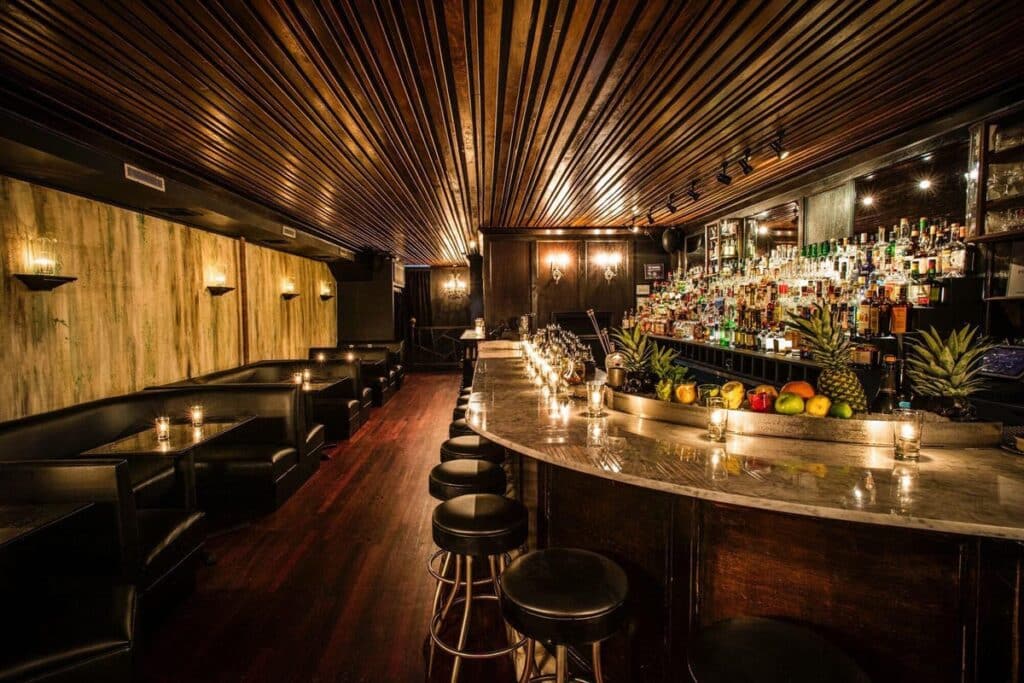 If you're looking for a true cocktail experience and don't mind dropping a few extra dollars for a drink, Death & Co. is a great choice when it comes to bars in New York. The bar has an extensive menu of craft cocktails, all created by an award-winning mixologist. Death & Co is a top pick for those who take their spirits seriously and anyone who enjoys effortlessly glamorous spaces. Seating is first-come, first-serve, so you'll need to wait if you're hoping to grab a spot at peak times.
Opening hours: Sunday to Saturday 6 PM – 1 AM.
12. The Honeywell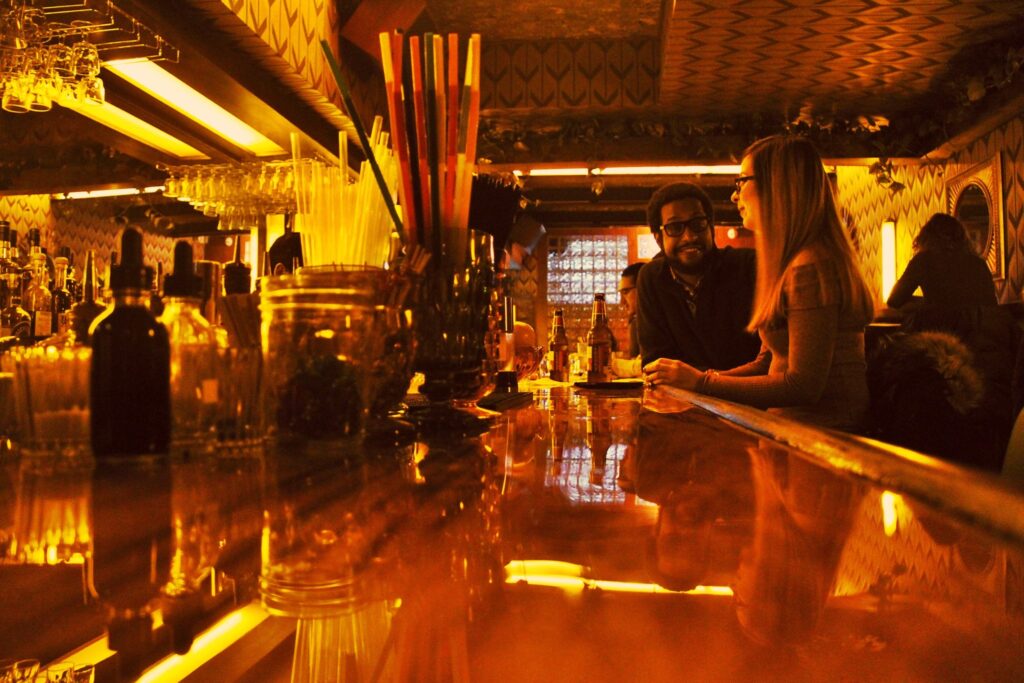 Easily one of our favorite bars in Manhattan, The Honeywell has all you need for a good night out. Fun bartenders, great décor, and an incredible selection of drinks make it well worth your visit. Bartenders at this cool downstairs bar serve yummy sips in unlikely vessels like "lightbulbs" and even glowing approximations of lava lamps. Not sure what to order? Go with a whiskey or gin martini, and if you are looking for something unique, try out their signature martinis. You can thank us later!
And did we mention how fab the atmosphere is? Picture retro tunes and amber hues playing off wood panels and beaded curtains. Living up to its uber-sweet name, The Honeywell is the kind of bar that leaves you wanting more.
Opening hours: Sunday to Thursday 4 PM – 12 AM. Friday to Saturday 4 PM – 2 AM.
13. Overstory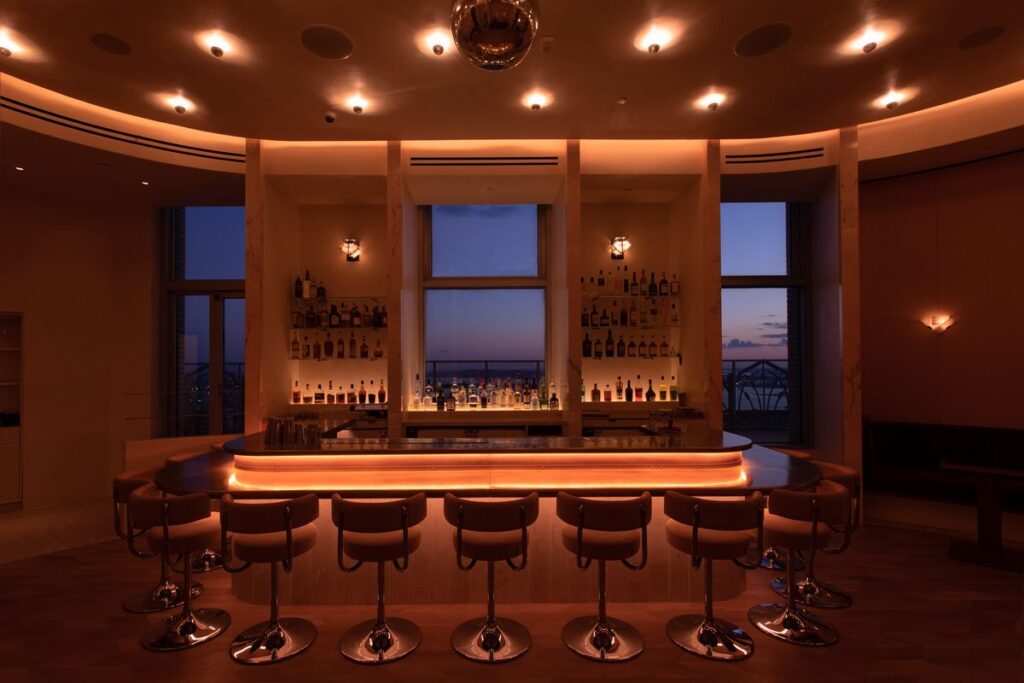 Hovering near the top of special occasion destinations, this next bar is close to cloud 9 – since it's perched on the 64th floor of a downtown Art Deco skyscraper. Part Dive Bar, Part Boutique Hotel, Overstory is unique when it comes to fun bars New York City has to offer. Especially when you factor in the gorgeous views from its wrap-around terrace, it's tucked away on West 11th Street (between 5th Ave & 6th Ave). It's one of those places where you can grab drinks, have an amazing meal, and sleep in their comfy hotel rooms.
Opening hours: Sunday to Monday Closed. Tuesday to Saturday 5:45 PM – 12:30 AM.
14. Katana Kitten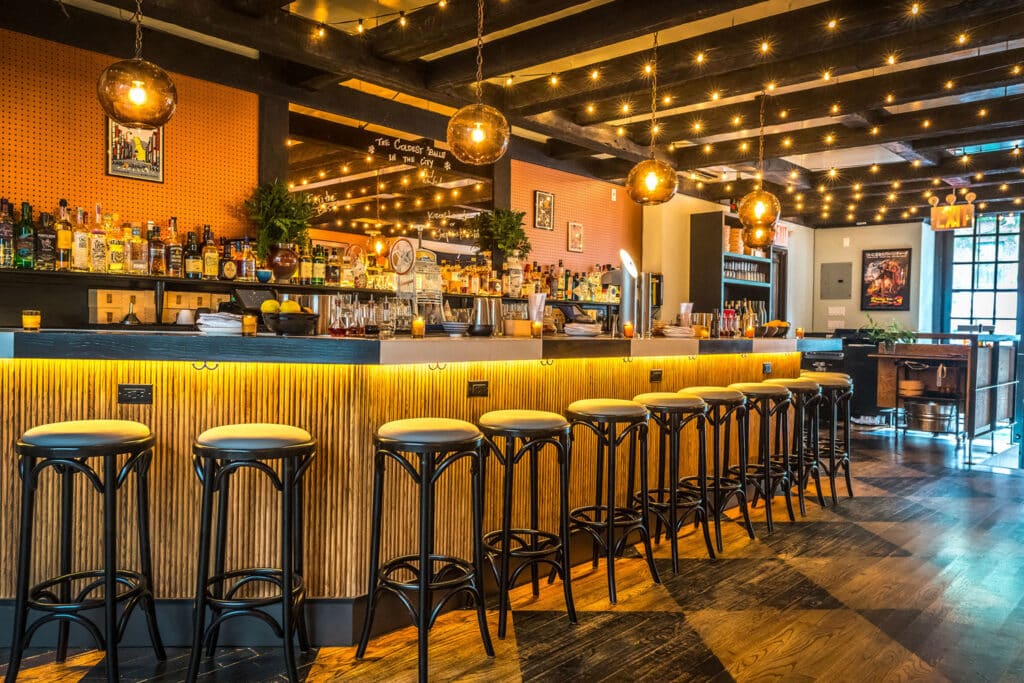 Ask anyone who has spent more than a few days in Manhattan where to go for a drink – the answer is always Katana Kitten. No one knows why they're so great – perhaps it's because this cool bi-level bar specializes in all different kinds of booze. We think it's magic, but either way, you should go there right now (and we don't even care if you live on Jupiter). Sip on carefully crafted signature cocktails, boilermakers, sake, beer and wine.
Opening hours: Sunday to Friday 4 PM – 2 AM. Saturday 2 PM – 2 AM.
15. Heaven or Las Vegas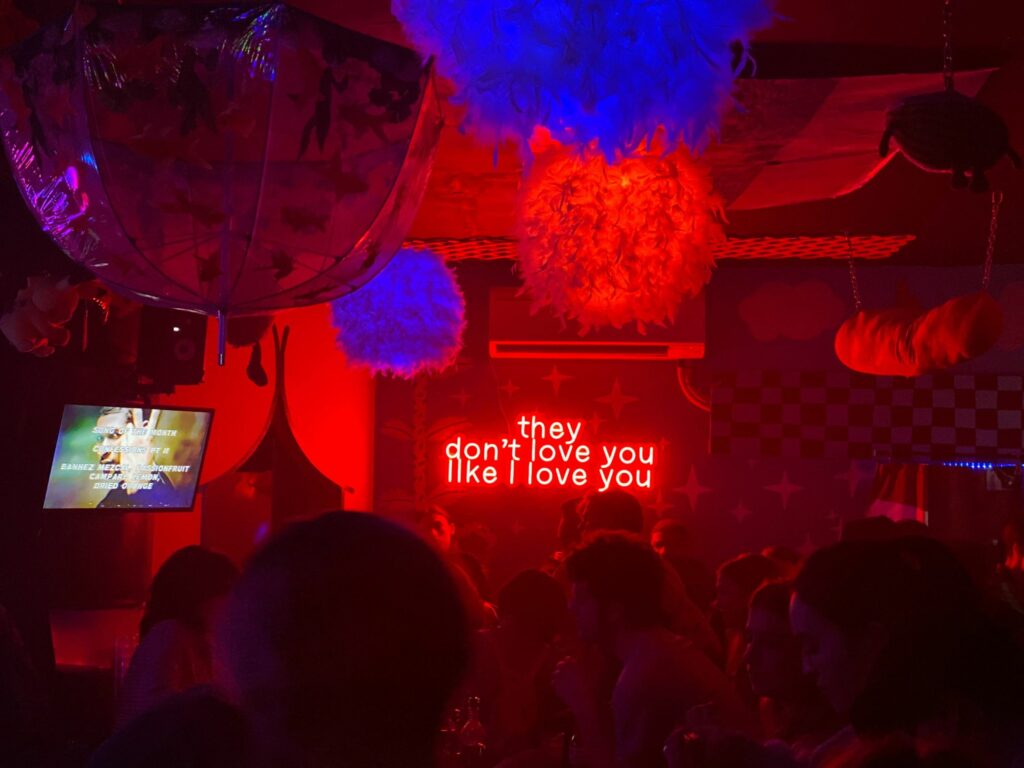 If the name isn't enticing enough to lure you inside, Heaven or Las Vegas also has karaoke! The final spot on our best bars in New York list will make you feel like you're in an early 2000s music video, with umbrellas stuck to the ceiling, neon accents, and sultry red lighting. If you're in the mood to sing your heart out, stop by for karaoke before 10 PM on Fridays and Saturdays. And even though you're technically in the heart of New York, the saying still applies "What happens in Vegas. . ."
Opening hours: Sunday to Thursday 6 PM – 2 AM. Friday to Saturday 7 PM – 4 AM.
So, which of these best bars in New York do you plan on making your new haunt?
Bars in New York FAQs
What part of NYC has the best bars?
Although you can find incredible drinking spots all over the City That Never Sleeps you can find some of the best bars in New York in these neighborhoods:
Lower East Side
East Village
Greenwich Village
West Village
Chelsea
SoHo
What is New York's most popular drink?
Last year Upgradedpoints revealed the most popular drink in every state according to Google search results, in New York, it was the Vodka Fizz. Other popular favorites of the city include Appletini, Cosmopolitan, Martini, and of course The Manhattan.
What drinks did New York invent?
You've probably already sipped on some of New York's signature cocktails. Here are some of the drinks that have come out of New York:
Manhattan – invented at Little Branch
Red Snapper (Bloody Mary) – invented at King Cole Bar
Cosmopolitan – invented at The Odeon
The Bronx at the Waldorf-Astoria's Peacock Alley
Gin-Gin Mule at Pegu Club
Oaxaca Old-Fashioned at Death & Company
Penicillin at Attaboy
What is a classic New York cocktail?
Craving a classic New York cocktail? Order one of these at your local bar and taste some of the Big Apple no matter where you are in the world.
The Manhattan – a three-ingredient whiskey cocktail that packs a punch.
New York Sour – a whiskey sour with a twist: red wine float!
Long Island Ice Tea – a highball glass that has everything in it (vodka, tequila, light rum, triple sec, gin) and a splash of coke.
Cosmopolitan – aka Cosmo – a yummy vodka cranberry cocktail.
Appletini – the sour apple version of the iconic Martini *shaken, not stirred please*.