Meet Dr. Omar Saldaña Díaz, a general practitioner and founder of Emergency Response Barcelona. Dr. Díaz was born in Mexico but has been living in Barcelona for the past 10 years. His qualifications and experience ranges from general and emergency medical care to pediatrics. He also has extensive experience in elderly care and has spent time practicing in the USA.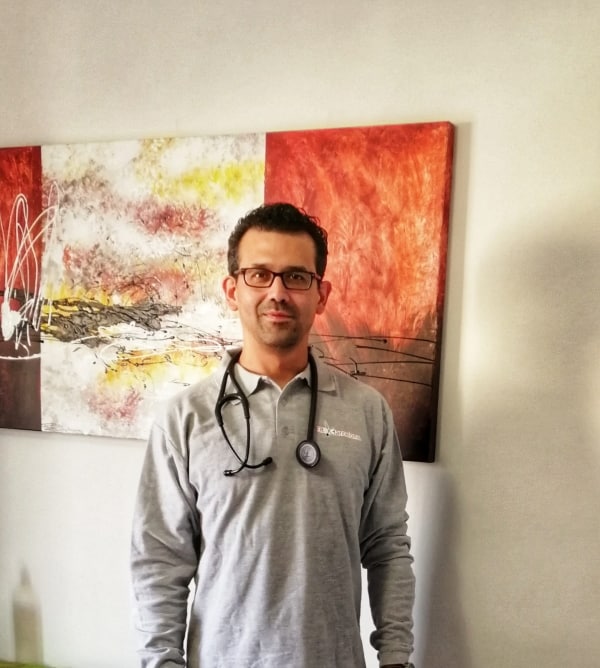 Emergency Response Barcelona currently works with 5 doctors and specializes in assisting foreigners and tourists with medical and repatriation services. Dr. Díaz has partnered with 24/7 pharmacies and a selection of hospitals, dentists, psychologists and psychiatrists, ensuring patients get the help they need while away from home.
We spent some time asking Dr. Díaz about his plans for Emergency Response Barcelona and how to vacation safely in Spain.
Where does Emergency Response Barcelona currently operate and who can you assist?
While I currently do see patients at my rooms in Barcelona, online consultations have become the new norm. Our aim is to slowly start extending our online consultation services across Spain, starting with the major cities. Emergency Response Barcelona has also partnered with doctors across a number of European cities, including Paris, Rome and Munich. These doctors offer online consultation services to patients who require general care and prescriptions, which can be fulfilled without having the written prescription in hand.
Emergency Response Barcelona was initially just servicing foreigners in Barcelona but since the COVID-19 pandemic, local patients have become our primary focus. Visits to doctor's rooms and hospitals are only recommended if we feel it's completely necessary. We do still consult with foreigners who need assistance in English though.
What are some of the most common medical concerns that you deal with in Spain?
As you can imagine, at the moment, respiratory infections make up the majority of our consultations. Gastrointestinal infections make up most of our other cases. One concern that patients often encounter that isn't necessarily related to a medical condition is being able to get the medication they need. We ensure patients can get the necessary medication without having to speak the same language as the pharmacists – that's the beauty of our partnerships, we get to offer patients additional assistance.
Tell us about a unique or life-changing experience you've had in your career to date?
One case I clearly remember is that of a 75-year old Brazilian man. He experienced a fall in his hotel room but thought he was fine. When we arrived, we found that his oxygen and blood pressure was very low, this is because a broken rib had perforated his lung during his fall.
After spending a week in hospital, he was evacuated to Brazil via plane. Since I believe in connecting with my patients, we made a point of staying in touch, ensuring that he was healing and doing well. This was a very memorable connection for me.
Based on experience and professional opinion, what should travelers consider when traveling to Spain?
If you're thinking about traveling sometime soon, follow all of the necessary COVID-19 protocols, including wearing a mask and sanitizing and washing your hands. Over and above this, I would highly recommend a good sunscreen – the temperatures can be quite harsh during the summer months. In terms of the drinking water, it is safe to drink out of a tap but since the water consists of different types of bacteria, bottled water is best.
What are some of the things that everyone should see when vacationing in Spain?
There are so many options. Sagrada Família is a beautiful unfinished Roman Catholic church that everyone should see. Just be sure to purchase your tickets online. Casa Batlló, which is a modernist building designed by Gaudí, is also a must-see. As is La Pedrera in downtown Barcelona. The beaches are all very clean and beautiful and if you're lucky, you may end up seeing the fishes swimming around you. Soccer fans shouldn't miss Camp Nou.
If you enjoy festivals, Jardins De Pedralbes is a music festival that takes place in the summer months. If markets are more your thing, La Boqueria Market is an amazing experience. You can choose a fish, have them cook it up for you and enjoy it right there.
What is your favorite iconic Spanish dish?
Pulpo a la Gallega is definitely at the top of my list. It's octopus with lemon and spicy pepper. Paella is also always good, as is black rice.