Meet Dr. Donna Robinson, a General Practitioner with over 30 years of experience. While she has spent most of her professional career in Thailand, she has also worked in the UK and New Zealand.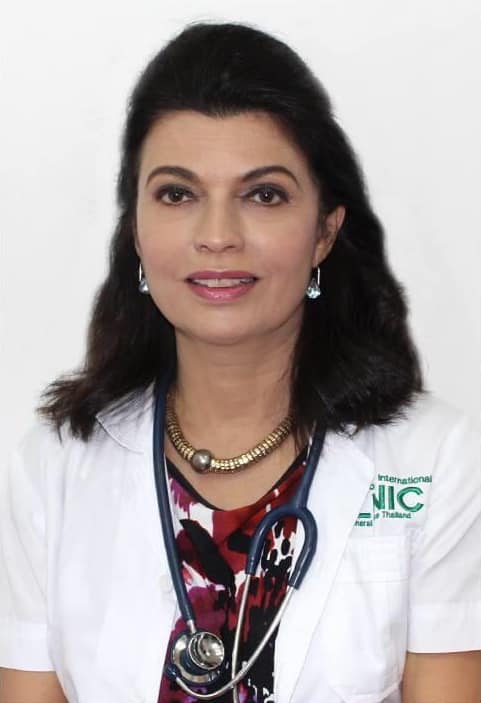 At the moment, Dr. Robinson works out of the Bumrungrad Hospital in Bangkok as well as her private clinic, MedConsult, which was founded in 2008.
Dr. Robinson is a GP, but she also specializes in internal medicine. Since she already had a Thai medical license and spoke Thai, she didn't encounter too many obstacles when opening her clinic.
We spent time finding out more about some of her cases. We also asked her what tourists should be aware of when traveling to Thailand.
What are the most common medical cases you encounter?
Many tourists contact me because they've forgotten their medication at home or have run out. Since vaccinations and HIV treatments are so affordable in Thailand, it is common for tourists to travel here just for that.
The other cases that I most commonly encounter include colds and flu, respiratory infections, gastroenteritis, and wounds.
Both locals and tourists prefer to see private doctors because they know their treatment experience will be more efficient. Due to Thai medical policies, seeing a private doctor is also very affordable, hence its popularity.
What have been some of your most memorable experiences as a medical professional?
Many times, patients see me for a common condition and end up having to receive treatment for something more serious such as jaundice. This is an example of a condition many people don't realize they have.
Every now and then I also diagnose patients with uncommon or unusual medication conditions. Bangkok has a lot of specialists, so it's easy to refer patients to the right professionals. Being able to help patients in this way is very rewarding.
What should travelers bring along to Thailand?
Many tourists find it overwhelming to try and find common medicines during their travels. For this reason, I recommend bringing your own kit along. This should include medicine for flu, vomiting, and diarrhea. With that being said, the pharmacies in Thailand are better than most people realize, so you will always find what you need.
Thailand is no longer home to weird tropical diseases. However, travelers should still protect themselves from mosquitos if they want to avoid dengue fever.
Is there anything that tourists should avoid?
There are a number of motorbike accidents every day, so it's best not to ride them, especially if you're not experienced. Tourists should also avoid feeding monkeys. They might seem friendly, but interactions with monkeys usually result in bites.
What are some of your favorite local dishes?
The local markets are filled with delicious dishes, but everyone should try Sum Tam, which is a green papaya salad. Tom Yam Kom, which is a shrimp soup, is another must-try dish.
What about the markets? What do you recommend?
The university close to my home hosts a market, which I love. The flower market is a popular choice among tourists though.