Food. Greece.
Greece. Food.
No matter which comes first, these are easily two of the best words to go together in the English language.
And we already know why. . . Apart from having some of the most scenic and beautiful islands in the world, Greece is also home to delicious food.
When you hear the phrase "Greek food", your mouth probably already starts to water (I know mine is). From refreshing tzatziki to world-famous gyros, and buttery baklava, food from Greece is nothing if not tasty.
Traditional Greek food is packed with lots of flavor (and lots of heart) and is often made with the freshest local ingredients. Greeks are known for loving food, loving to eat, and loving to feed others – so you're guaranteed to never feel hungry.
If you're planning a trip to the Mediterranean, it's important to make sure that you try at least some of these amazing Greek dishes.
12 Traditional Foods From Greece That Will Have You Coming Back For More (& More)
1. Amygdalota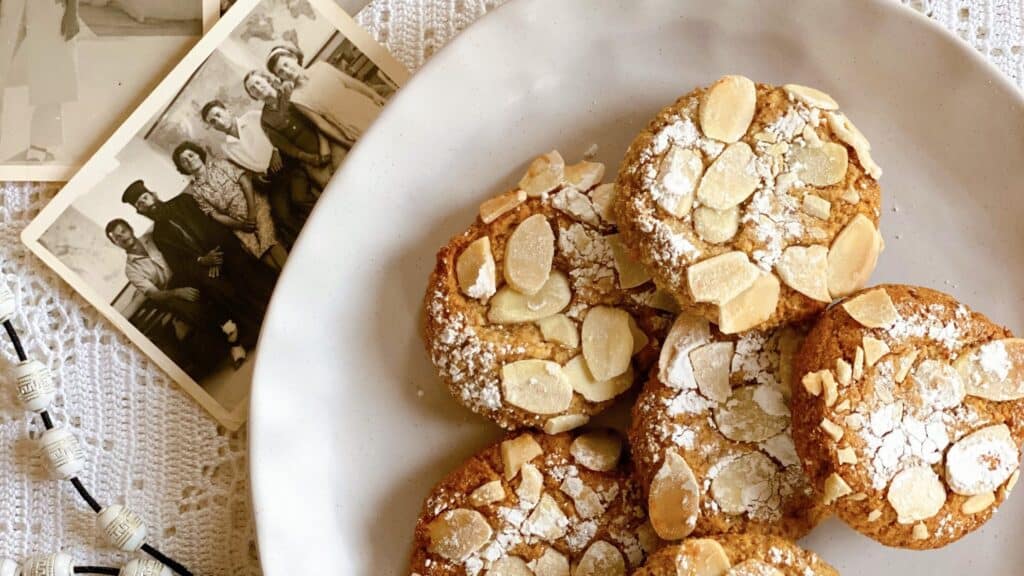 Also known as "Greek macarons", Amygdalota are a kind of almost cookie. And, while the flavors vary in different regions of Greece, the core ingredient (almonds) remains at the heart of this sweet food. Enjoy it like the locals do: as the perfect snack pairing with a cup of Greek coffee.
2. Baklava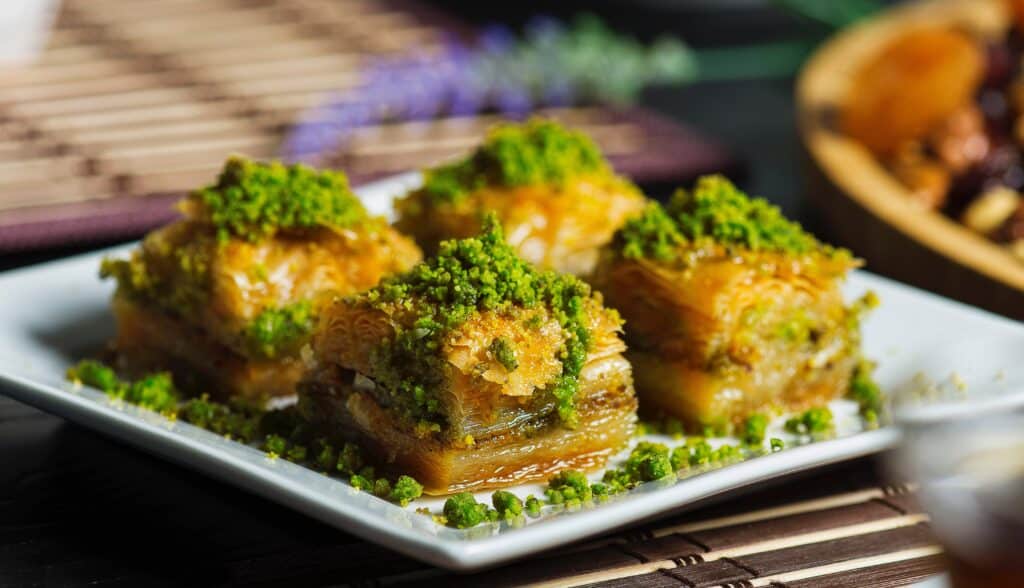 A true classic that can be found all over Turkey, the Middle East, and of course, Greece!
Baklavas are small, heavenly dessert pastries made by soaking freshly baked (and crispy) phyllo (or filo) pastry in honey-like syrup and layered with crushed nuts (walnuts or almonds). Traditionally, baklavas are made with almonds in central Greece, walnuts in the eastern regions, and pistachios in northern Greece.
3. Dolmades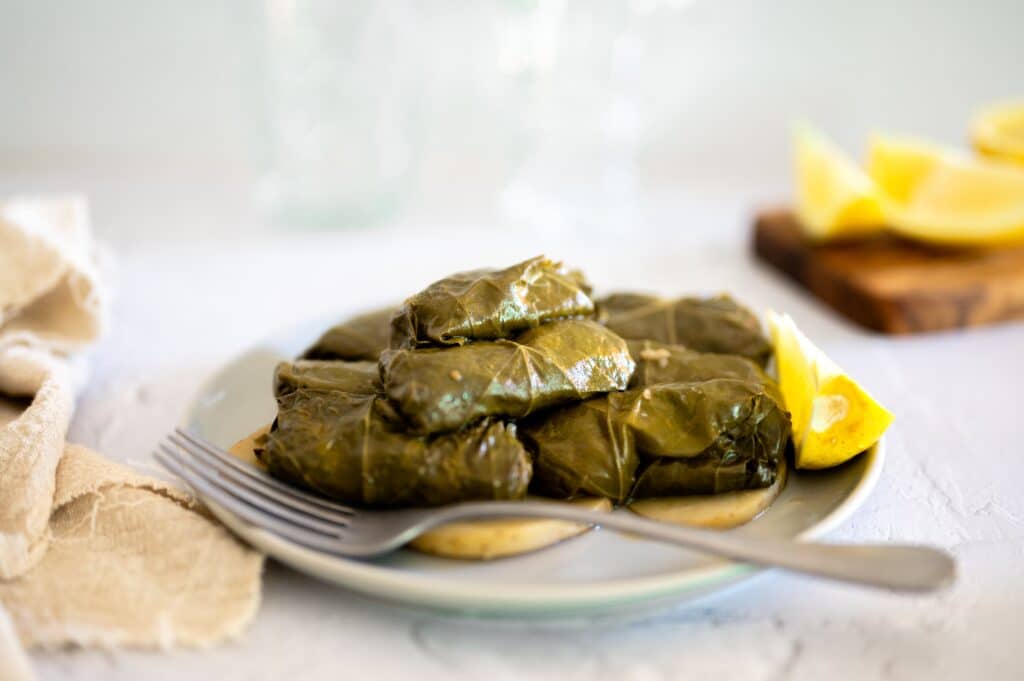 When it comes to trying out food from Greece, your mission is not complete without biting down on dolmades (plural because you can't have just one). Dolmades are a traditional Greek side dish – and vegetarian-friendly! They're made from grapevine leaves stuffed with lemon-flavored rice, and an assortment of herbs and spices. Once stuffed, they're rolled up and boiled till tender.
The finished product will have you asking why dolmades are a side dish when they're clearly capable of being a meal on their own.
4. Spanakopita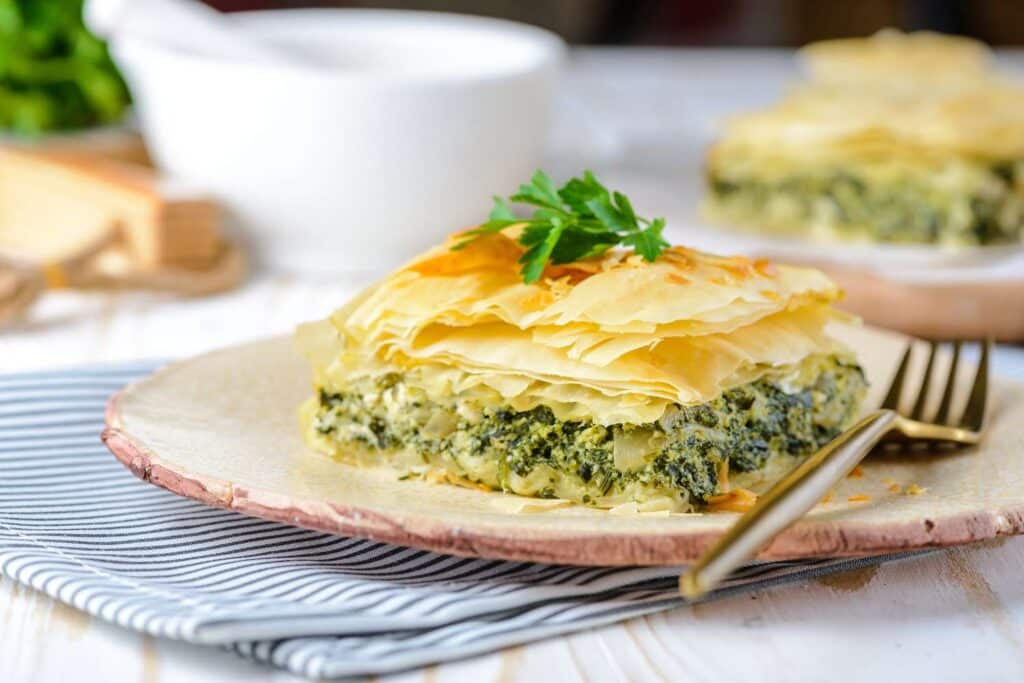 Greek food consists of lots of pies, and there are many different kinds – from flaky phyllo (or filo) pastry to ones made with enriched dough – and stuffed with fillings from aubergines or meat to greens or cheese. The most classic is undoubtedly the spanakopita. By layering feta cheese, and spinach flavored with dill between layers of phyllo pastry, the result is a dish that's buttery, flaky, and seriously delicious.
5. Moussaka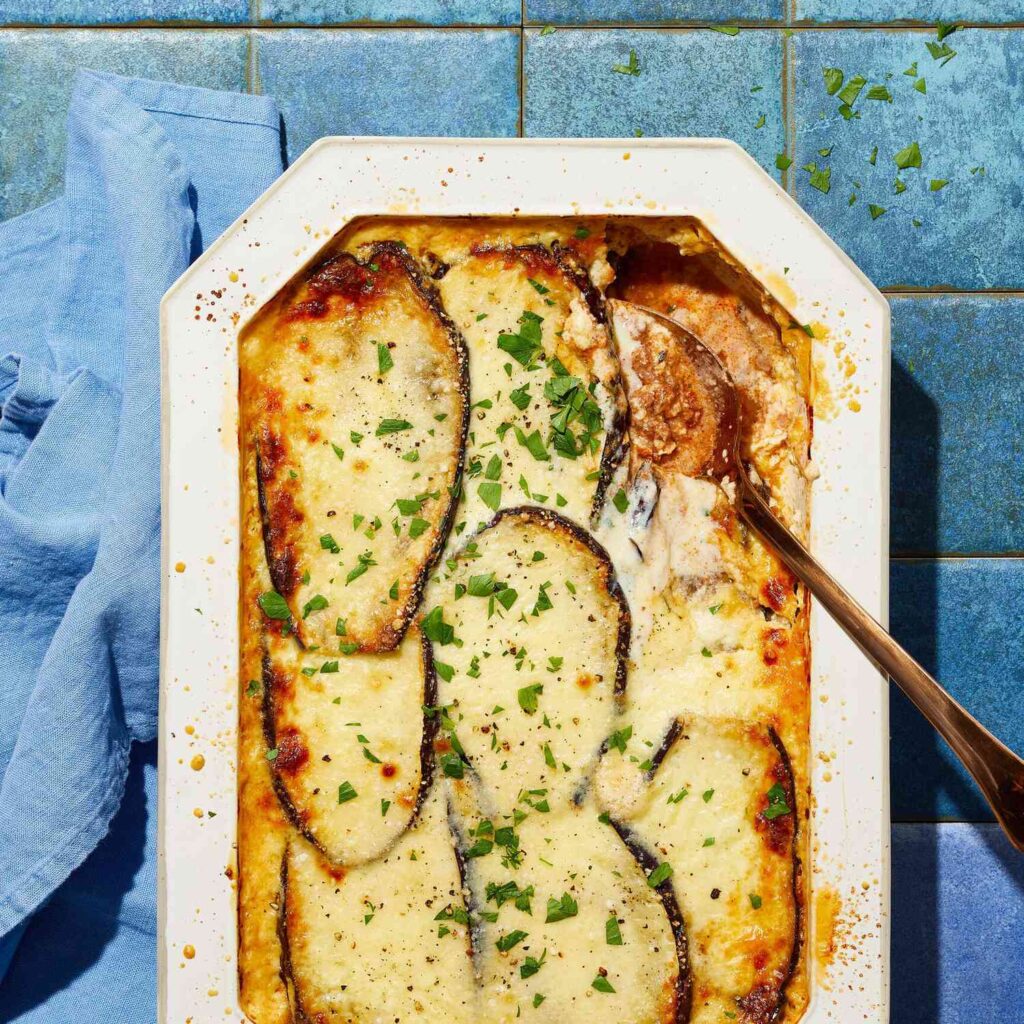 You haven't lived or enjoyed Greek food to its full extent until you've tried a delicious baked moussaka. Another famous traditional Greek dish, moussaka is made with layers of fried aubergine, minced meat, and potatoes topped with a creamy white sauce and baked till golden brown. And many restaurants serve an incredible vegetarian version.
(With or without the meat, you must try some moussaka!)
6. Souvlaki (Gyros)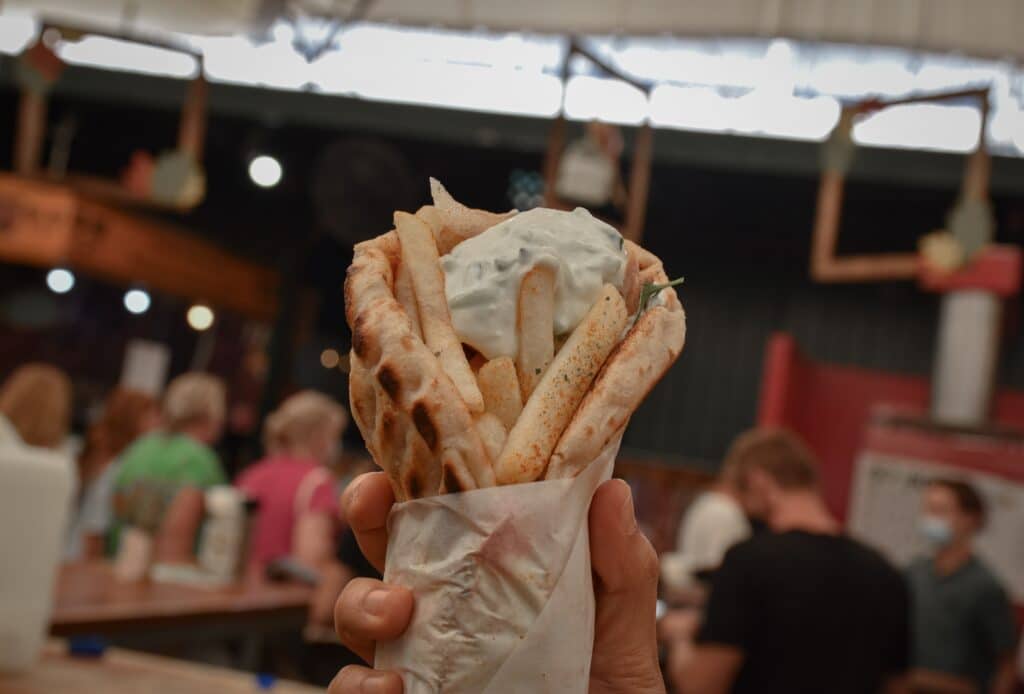 A Greek delicacy loved by all, loukoumades are small fried doughnut-like balls soaked in honey syrup and sprinkled with various toppings like crushed nuts and cinnamon. They're usually ordered by the plateful and shared with friends or family. This is easily a Greek food favorite.
8. Choriatiki (Greek Salad)
This is an all-time classic accompaniment for nearly all Greek meals: choriatiki salad. The infamous Greek salad consists of cucumber, olives (of course), tomatoes, and a big piece of feta cheese. How you dress the salad is up to you – which is why every restaurant's table will have olive oil, salt, balsamic vinegar, and pepper. While it's usually eaten as a starter, it's also an amazing side dish!
9. Gemista (Yemista)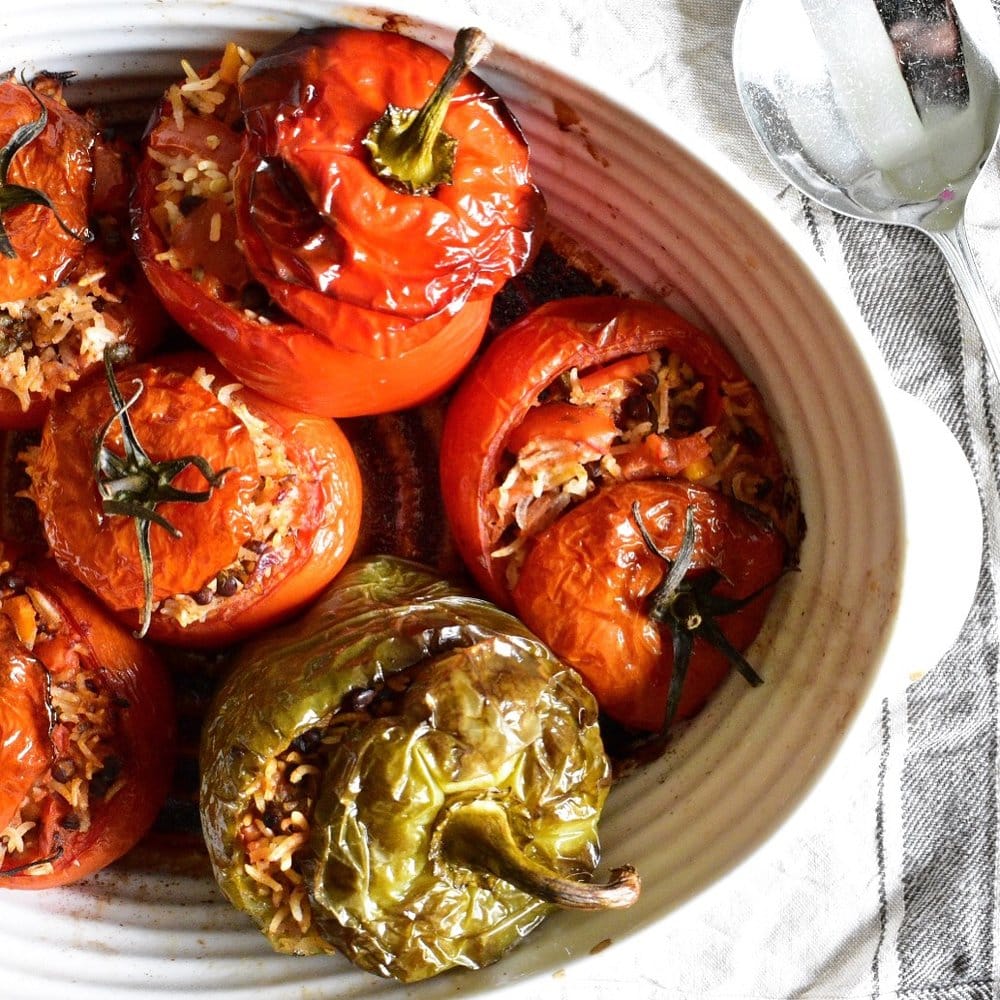 Or Yemista.
Whichever way you spell it, it still tastes delicious! Yemista, which means "filled with" in Greek is another Greek food classic!
The key to this traditional dish is juicy local vegetables (usually tomatoes or peppers) which are stuffed with aromatic rice, herbs, and sometimes minced meat and then roasted in the oven. Yummy!
10. Tzatziki (to go with everything)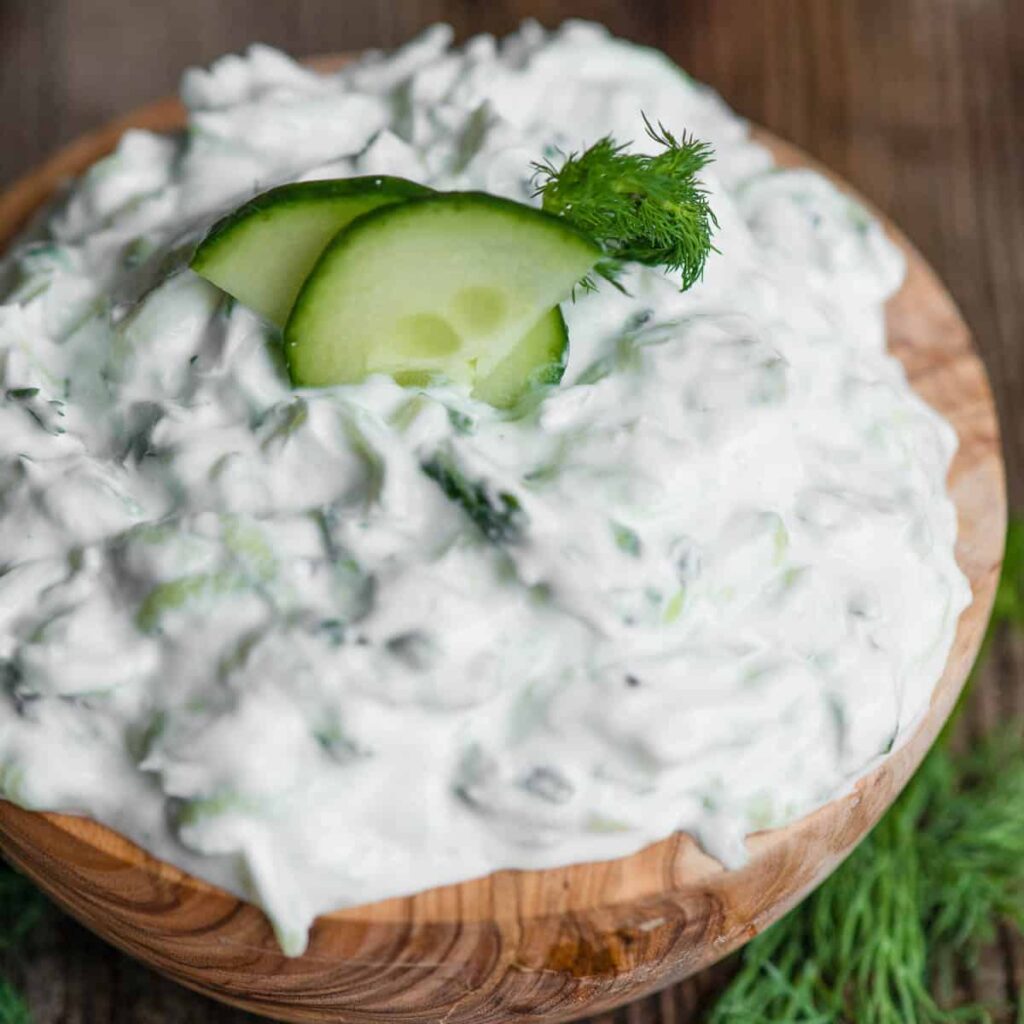 An iconic Greek dip or mezédhes (meze), tzatziki is made with strained Greek yoghurt, garlic, cucumber, olive oil, fresh dill, and sometimes lemon juice. It's often eaten with bread or fried eggplant and is also a favorite accompaniment to other dishes. Honestly, a spoon and bowlful are perfectly suitable too.
And it's a Grecian tradition dating back to before the Ottoman empire.
11. Kleftiko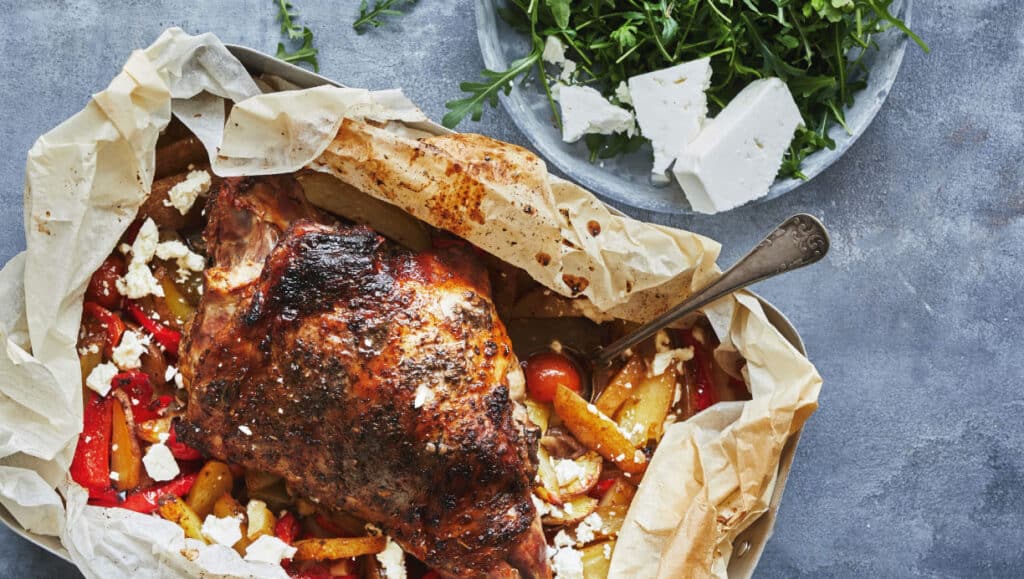 Lamb. A staple in Greek dishes (and they're always exceptional!)
This traditional Greek dish is given lots of time for the flavors to develop.
Kleftiko is made by slowly oven-cooking lamb infused with olive oil, lemon juice, and garlic. Originally, cooked in an earthen oven to better trap all the fragrant smoke and heat.
"Kleftiko" translates into "stolen" and the name for the dish apparently originated from the Klephts (descendants of Greeks who were anti-Ottoman insurgents) who stole goats or lamb and cooked the meat in hidden underground ovens to lock in the smells and flavors (and avoid getting caught)!
12. Keftethes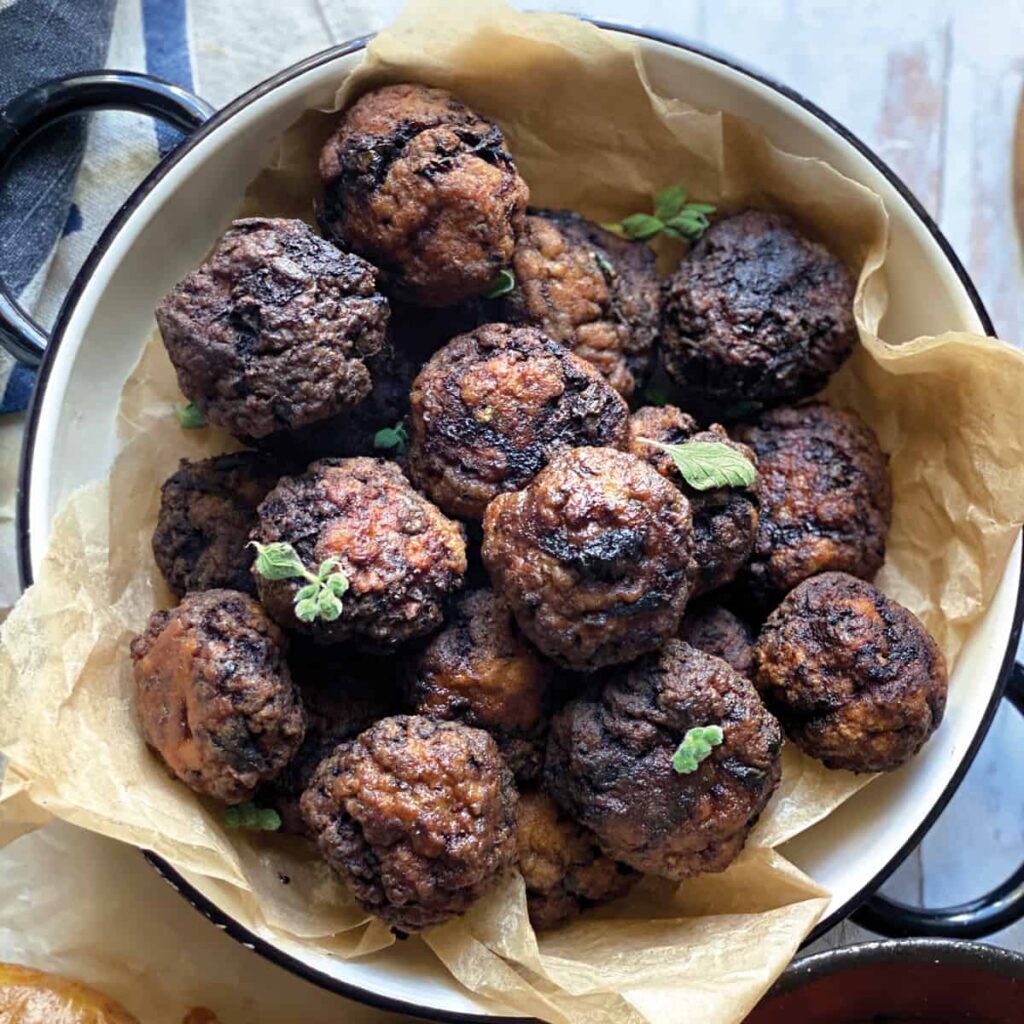 These Greek meatballs are enough for you to move to Greece.
Usually made with lamb meat and grated potato, the breaded meatballs are served with a creamy yogurt sauce. (Is your mouth watering yet?)
Keftethes are crispy, and juicy, and typically enjoyed with sides like rice or salad. This is a must-try classic Greek food!
Food in Greece: Popular Greek Food By Region
We can't possibly have a list of every incredible dish that comes from Greece, but we can get regional and explore which dishes are more popular across different parts of Greece.
Whether you're exploring charming, coastal fishing villages and enjoying your fill of Grecian seafood or heading to the mountainous regions and trying out all the freshest local produce, you're guaranteed a full and happy tummy.
If you ever find yourself in any of these parts, be sure to try out the local favorite!
Sifnos – Revithosoupa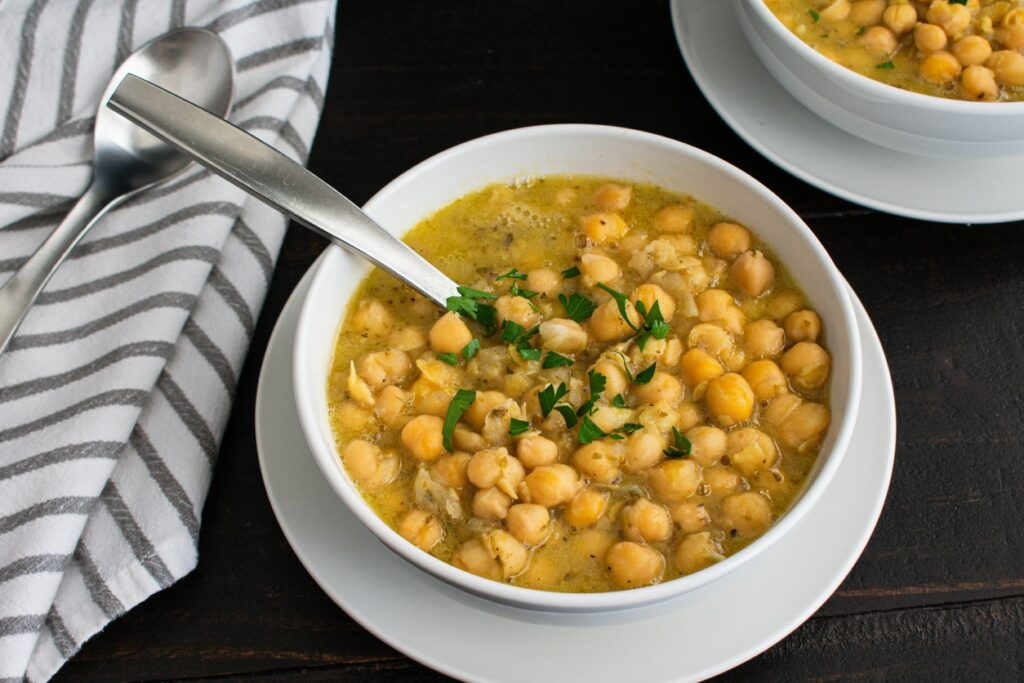 This incredibly hearty and nutritious chickpea stew is native to the Greek island of Sifnos. Traditionally, Revithosoupa is thick and saucy, but it all depends on who's cooking it. And of course, it has all the Greek staples: lemon juice, olive oil, and a generous handful of aromatic herbs. Served as a starter or as a main with some freshly baked bread – *chef's kiss*!
Crete – Dakos (or Ntakos)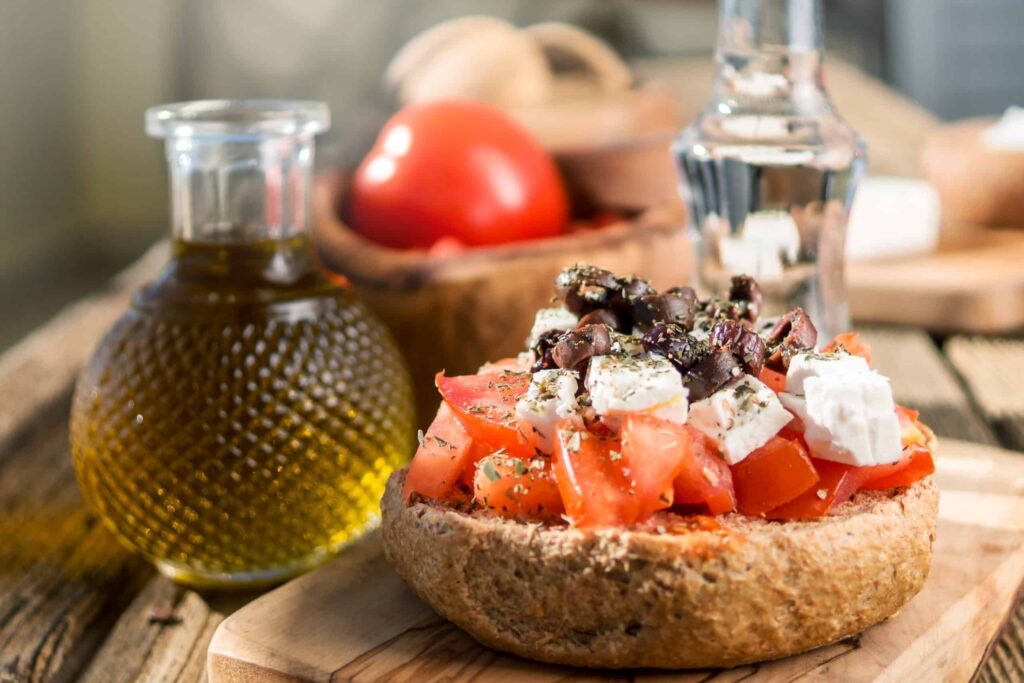 Dakos is a classic Cretan meze dish that's made with soaked dry bread or a barley rusk base, topped with juicy chopped tomatoes, olives, peppers, crumbly feta (or mizithra cheese), and spices and herbs like oregano. This dish is also known as "kouloukopsomo" (allegedly the bread given to puppies).
Santorini and Syros – Tomatokeftedes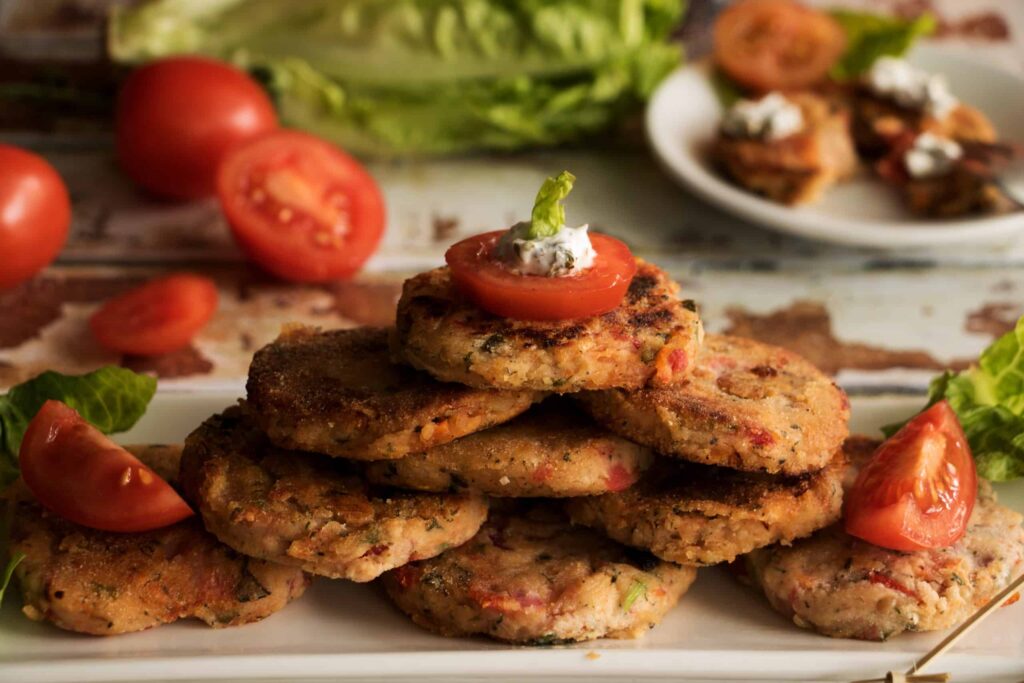 Tomatokeftedes or tomato fritters are traditional meze and main course vegetarian food items commonly found in Santorini and Syros. It's important to drain the tomatoes thorouglhy to make this incredible Greek dish properly. These Santorini tomato fritters have crispy edges with pieces of mint, tomato, and onion.
Crete – Kolokithokefetedes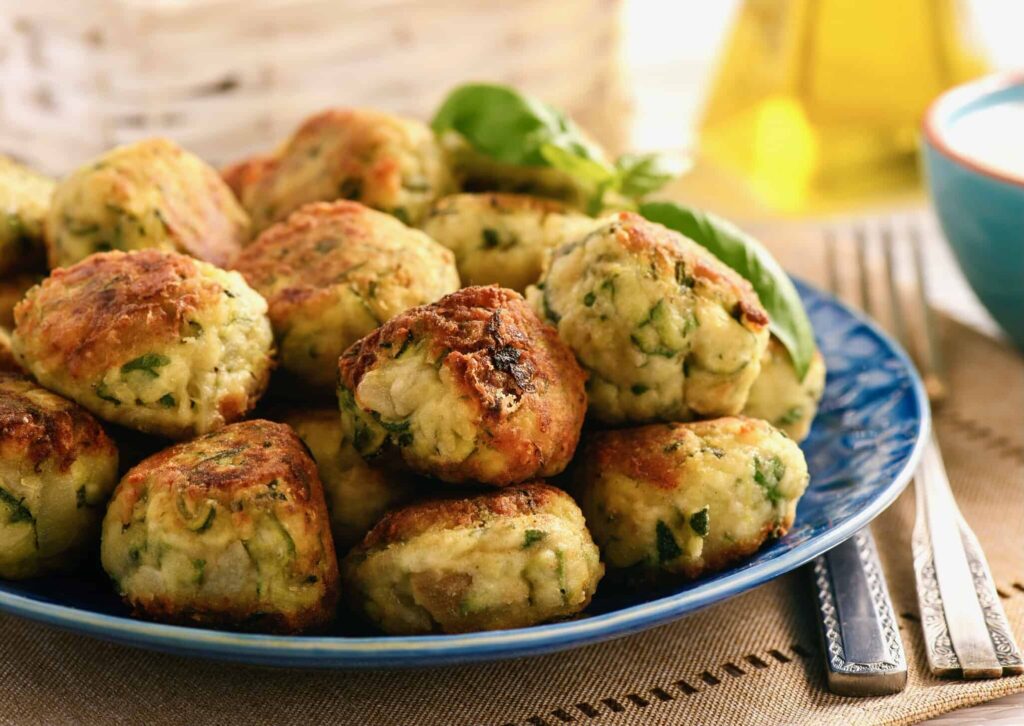 Another popular (and extremely delicious) Cretan meze, kolokithokefetedes are courgette balls and they make for a tasty veggie starter. Found in most (if not all) Greek restaurants, these kolokithokefetedes have a flavorsome texture, salty feta cheese, and a hint of fresh mint. Traditionally they must be crispy on the outside with a creamy center.
Epirus – Pies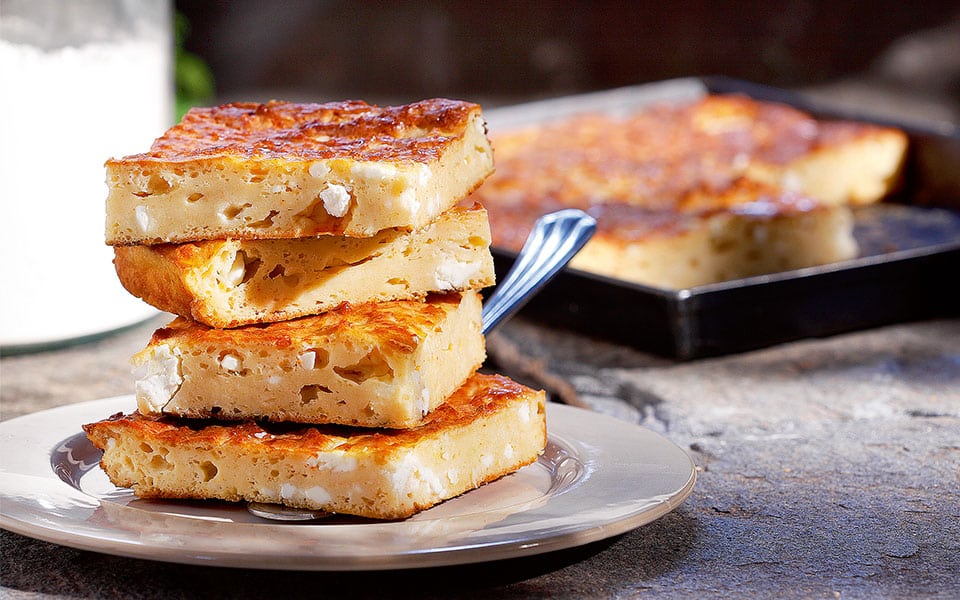 In the west, mountainous region, Epirus boasts pies perfected by nomadic shepherds and farmers, which are incredible examples of rural cuisine. With wheat and/or cornflour mixed with a drop of oil or butter from their own flocks, as well as a handful of wild greens plucked from their surroundings, and a smidgen of cheese – it sounds so simple, but the result is delectable.
Corfu – Pastitsada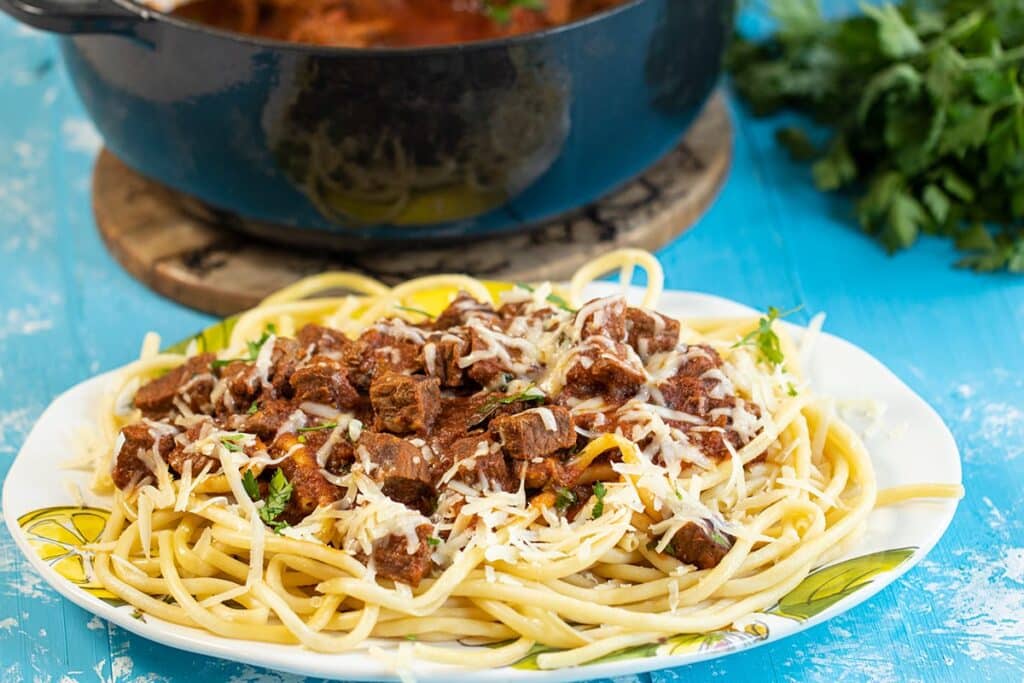 In the Ionian, you'll find many culinary influences from the 400 years of Venetian occupation, which is why pastitsada is the perfect Greek food with Italian influence. Consisting of pasta topped with beef or cockerel cooked in a deliciously aromatic tomato-based sauce. Traditionally served for Sunday dinners, it's often called pastitsada Korfiatiki.
And there you have it – the best traditional and regional food Greece has that you simply must try!
So, who's hungry?