Updated: 3 June 2022
Located over 900km west of Ecuador, The Galapagos Islands are a mecca for travelers who want to spend time in nature among the most unique wildlife ecosystems. Why visit Galapagos Islands? They're a travel destination unlike any other, and many travelers say that the Galapagos Islands have a distinct aura. Once you arrive in this otherworldly place, it's easy to forget about the rest of the world.
In this article, we go through several reasons why you should visit the Galapagos Islands, as well as other essential things you should know before you start planning your trip.
Why Visit Galapagos Islands? Here Are 7 Reasons!
1. The Unbelievable Wildlife
The Galapagos Islands' animals naturally steal the show. The wildlife is truly spectacular and one of a kind too. The islands are home to species that can't be found anywhere else, including Galapagos Island's snakes. There are only three species– one being the infamous Galapagos racer. This mildly venomous constrictor is notoriously quick and shy.
Since the island's wildlife has evolved with little human contact or major predators for hundreds of years, it's one of the few places where the animals don't have a problem being around humans. Stroll the highlands with the 200-year-old Galapagos Island's giant tortoise and sit face-to-face with Galapagos Island's penguins – the only penguin found north of the equator. Not to mention the bird life – but we'll get to that.
2. Encounter Species You Can Only Find Here
The Galapagos Islands is home to some of the highest levels of endemism. Meaning most of the species found on the archipelago only exist here. More than 80% of land animals, 30% of plant species, and 20% of marine species can be found anywhere else.
PS: If you love exploring unique places, check out these least visited national parks.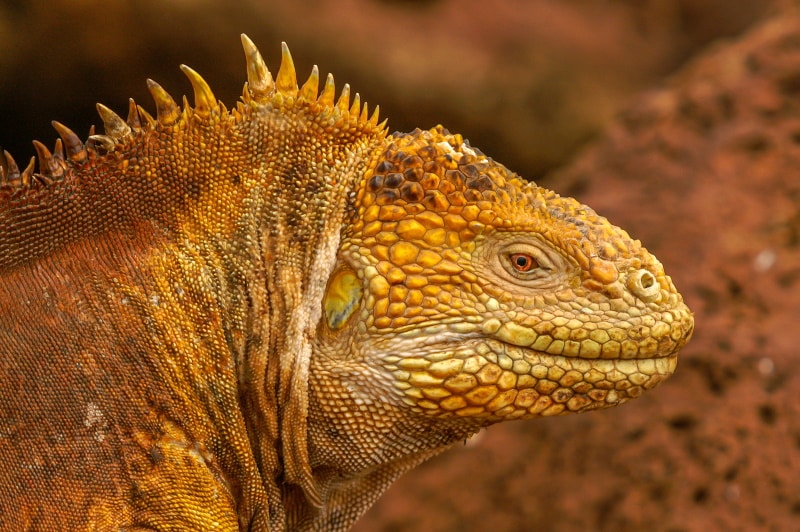 3. Pristine Beaches (& when we say pristine, we mean it)
Why visit Galapagos Islands? For some of the most beautiful beaches in the world. While the wildlife is one of the main attractions, travelers can also look forward to strolling along pristine coastlines. From Punta Cormorant to Cerro Brujo, where powder-soft white sand beckons you, crystal-clear water laps the shoreline.
4. See What Darwin Saw
In 1835, Charles Darwin sailed to the Galapagos Islands – he spent just five weeks (and only 19 days ashore) in the Galapagos. He might've gone for the volcanoes but collected several Galapagos species for use in his research and to illustrate his controversial theories. It was enough time to form the basis for what would become The Origin of Species.
Darwin's trip to the Galapagos Islands now has a place in natural history, and he famously called the archipelago "a little world within itself."
5. Marine Life
Explore some of the most untouched reefs in the world, get up close and personal with the marine life that calls the waters home, and discover another reason why Galapagos Islands is worth a visit.
Galapagos Islands scuba diving is one of the most rewarding experiences in the archipelago. Snorkel and dive with playful sea lions, green sea turtles, graceful stingrays, and even the Galapagos Island's marine iguana. The planet's only sea-going lizard whose origins date back nine million years. And, of course, schools of tropical fish in every color imaginable!
6. Birdwatch To Your Heart's Content
Still wondering, "Why visit Galapagos Islands?" The archipelago is a bird watcher's paradise, with close to 200 species inhabiting the Islands, including the Galapagos Island Penguin, Hood Mockingbirds, Waved Albatross, Swallow-tail Gulls, Magnificent Frigatebirds, Lava Heron, the Galapagos Dove, and multiple species of finches and boobies, to name just a few.
Did you know the Galapagos is also the only place in the natural world where penguins and flamingos can be seen together?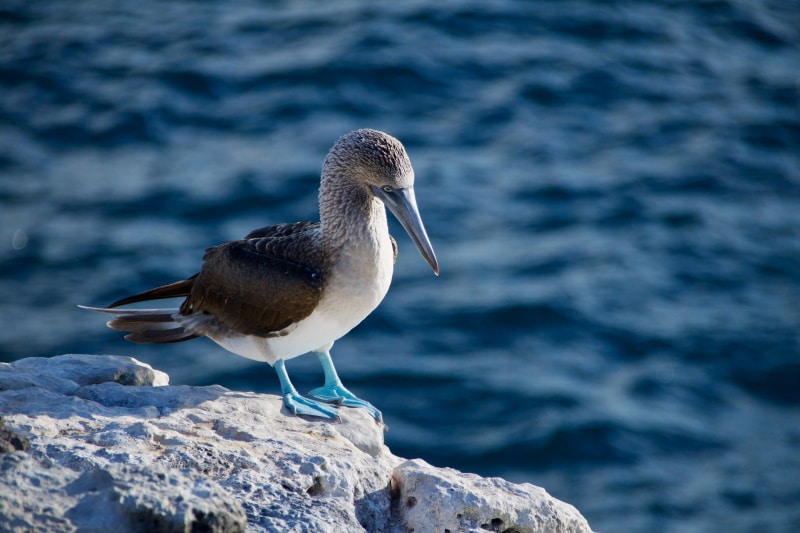 7. Experience Another World
The presence of humans has been and remains minimal, meaning it's possible to experience the land and water in a more unspoiled state here on the archipelago than almost anywhere else on Earth. The Islands were formed by underwater volcanoes that continue to shape and change the Islands' environments today.
Experiencing the magic of the Galapagos Islands is truly like being in another world. Take in expansive views of the incredible untouched landscape; the views atop the volcanic cone are something else.
Galapagos Islands: The Best Time to Visit
While the Galapagos Islands are considered a year-round tourist destination, the Galapagos Islands' best time to visit is usually from November to December, when temperatures begin to rise, and the calmer seas mean underwater visibility for snorkellers is good.
You can be sure to experience incredible wildlife interactions every month since most species are non-migratory.
Weather for Galapagos Islands
Generally, the climate in the Galapagos can be divided into two seasons: the warmer but wetter season, which runs from January to June, and the cooler and drier season, which runs from July to December. However, due to the location on the equator, even in the wetter season, the weather is typically hot and sunny.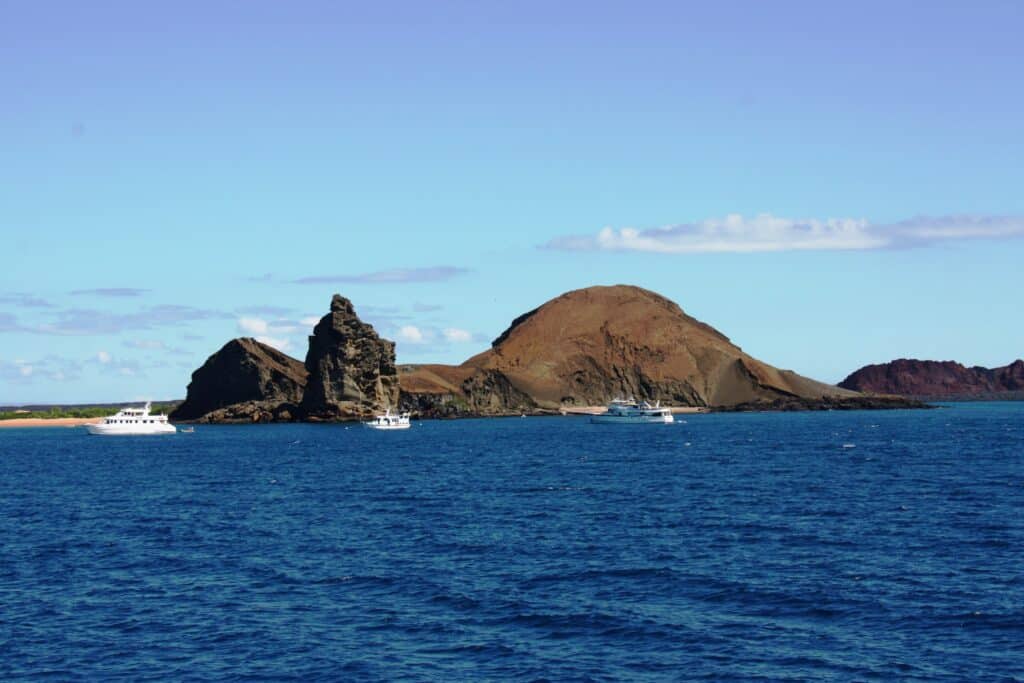 Where is the Airport for Galapagos Islands?
So, you're probably just about ready to start planning your trip and Googling: airport for Galapagos islands. We've got all the details.
Because the Galapagos is a protected National Park, there are some regulations that airlines shall fulfill. It probably comes as no surprise that there are no direct flights to Galapagos. So, you will need to book an international flight to Guayaquil or Quito, the capital of Ecuador.
Two International airports in Ecuador:
José Joaquín de Olmedo International Airport in Guayaquil (GYE) receives flights from:
Miami & New York
Amsterdam and Madrid
Major towns of Central and South America
The Mariscal Sucre International Airport of Quito (UIO) receives flights from:
Atlanta, Houston, Miami, and New York
Madrid and Amsterdam
Many major cities in Central and South America
There are daily flights from these airports to the archipelago. You can land on Baltra Island or Puerto Baquerizo Moreno on San Cristobel Island, departing from Quito or Guayaquil.
Things to Know:
Flights from Quito to Galapagos take around two and a half hours – with most flights making a stop in Guayaquil.
Arrive one day before your Galapagos flight in case there's a delay or cancellation.
If you plan to book a cruise, book it with your flight ticket since most cruise lines work with flights too.
Where to Stay in the Galapagos Islands?
Where to stay, Galapagos islands? Well, that depends on how you plan to visit the archipelago.
Cruises:
Cruises are a great option for those who want the whole Galapagos experience – who have relatively few physical limitations. Most cruises offer impressive itineraries, visiting significant sites and remote islets. And since most navigation takes place at night, you can spend more time doing activities and exploring the islands during the day.
Naturalist guides lead all your tours, and an experienced crew attends to all your needs onboard, including providing excellent international cuisine for your meals. You also have a place to relax on deck and enjoy the sunset with a cocktail; most cruises also offer evening presentations about cultural history, conservation, and essential information about the archipelago.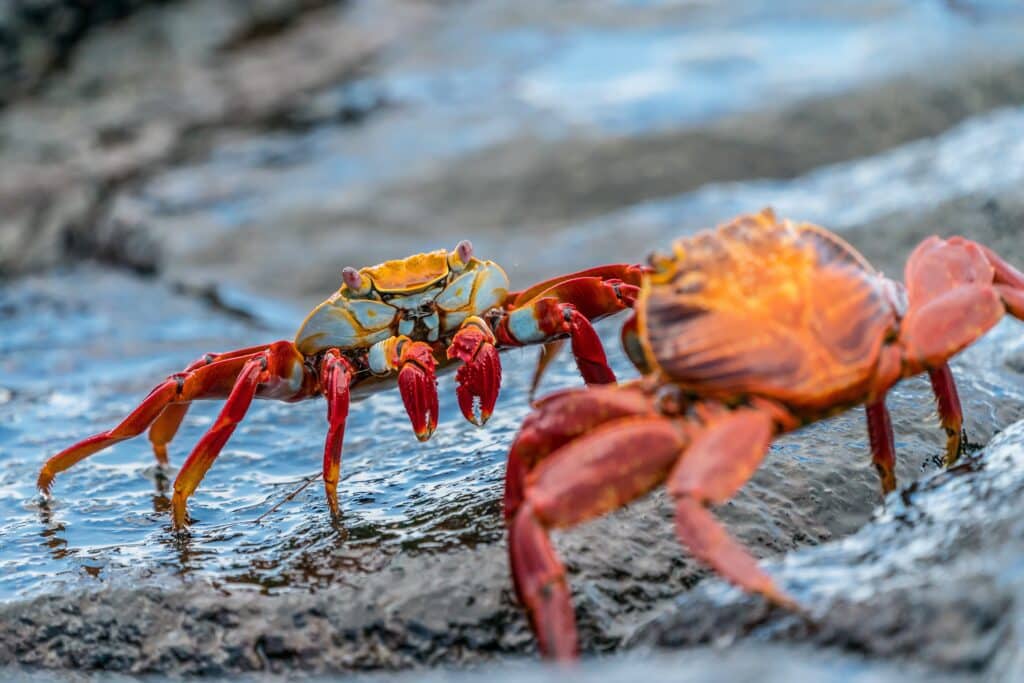 Hotels:
If you prefer to stay on solid land, you have four options when it comes to hotel-based tours: island-hopping, land-based, diving, and multisport tours. All of which allow visitors to select their accommodation from a range of budgets – with midrange, first-class, and luxury hotels situated on the islands of Santa Cruz, San Cristobal, Isabela, and Floreana. This also lets you spend time in the ports, browse the shops, eat out at restaurants, and get to know the local communities.
Hotel-based options also offer a wide range of activities to suit all interests, allowing visitors the flexibility to build their schedules. Since only four significant islands have hotels, visiting options may be limited. Day visits to some islands may be impractical due to navigation time to and from the nearest hosting island.
Galapagos Islands: Quick Travel Tips
Let's leave you with a few tips to help you plan your trip:
Avoid the busy seasons. Summer and the winter holidays are the busiest and most expensive times to travel to the islands.
Resources are limited. You are heading to a remote destination, so be prepared for certain types of food to run out and for little to no internet access.
Do some reading. To appreciate the wildlife, fauna, and flora, do some research on your way to the islands or while you're there. Otherwise, hire a tour guide if you can.
Don't touch the wildlife. The primary rule in Galapagos is to leave everything as you found it. You also can't touch the animals.
Take a cruise. If your budget allows for it, take a cruise, as this is the best way to see as many of the islands as possible during your trip. Some of the best activities are also only accessible via boat.
Pack strategically. Some must-pack items for travelers heading to the islands are reef-safe sunscreen, comfortable walking shoes, appropriate clothing for warm/wet weather, and an underwater camera.
Ready to start packing yet?
FAQs
What are the dangers of the Galapagos Islands?
The Galapagos Islands are primarily safe, with almost no dangerous wildlife and very little crime. Just make sure to practice safe swimming and wear sunscreen!
Is it safe to swim in Galapagos?
Yes. Waters are generally calm. The only thing you should know about is how to interact with marine life responsibly.
How many days do you need in Galapagos?
It's recommended to spend 5 to 7 days to get an adequate experience of the Galapagos Island's diversity and incredible landscapes.
How much does food cost in Galapagos?
Meal prices on different islands can vary, but the average cost of food is $27 per day.
How long is the boat road from Ecuador to Galapagos?
It takes three days by sea to reach the Galapagos Islands from Ecuador. These are often cargo ships with basic accommodations that don't match the luxurious cruise liners in the archipelago.