The Bahamas is renowned for its breathtaking island surroundings. Soak in crystal blue waters, stroll along white pearly beaches, and enjoy endless days of sunshine. And of course: swim with the pigs!

A simple search: swimming with pigs Bahamas – will churn out millions of photos and videos of tourists frolicking on the Exuma shores with the island's pigs and piglets.
Who knew that the number one tourist attraction would be a unique encounter with Bahamas pigs? Yip. These happy pigs are one of the biggest reasons tourists continue to flock to the Bahamas every year.
We've got everything you need to know about swimming with pigs in the Bahamas, including the fascinating tale behind how these island inhabitants got there.
What You Need To Know About Swimming with Pigs in the Bahamas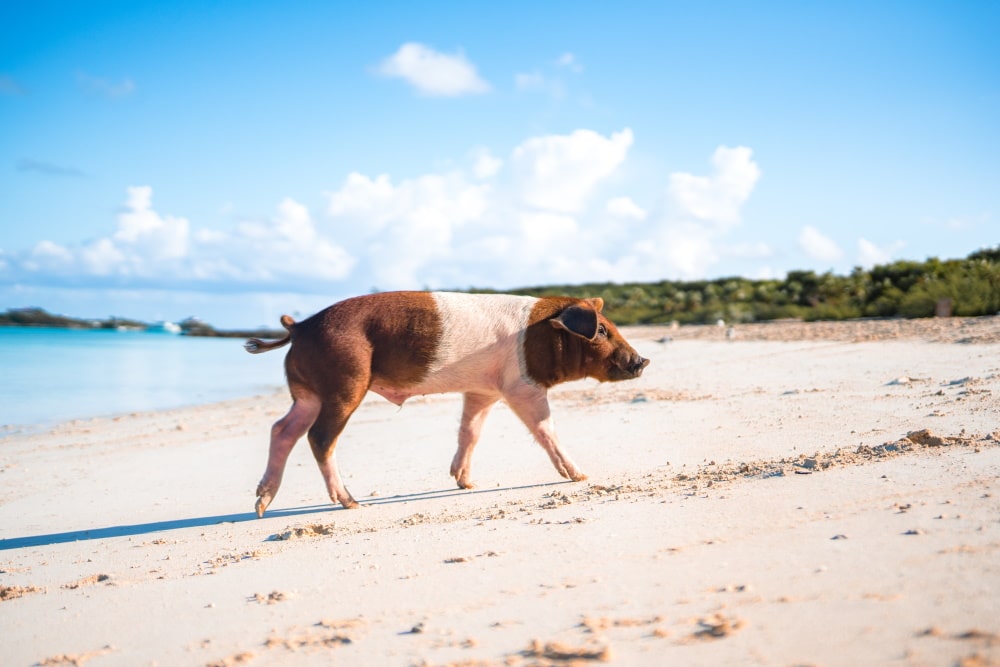 Where Do The Bahamas Pigs Come From?
The pigs stumbled mysteriously upon Big Major Cay – a famous small island in Exuma, Bahamas. The truth of their arrival remains unknown.

Some say the Bahamas pigs were deserted on the island by sailors, with the intention to return and feast on the pigs. Others believe the pigs are the survivors of an old shipwreck nearby. While the TODAY Show reports that two men brought the pigs to the island to create a farm in preparation for Y2K in the 90s.
Either way, these delightful beach babes arrived and settled comfortably into their digs.
How Did The Bahamas Pigs Become Famous?
In their early days on the island, the swimming pigs were far from an internet sensation. But with the rise of smartphones, the Bahamas pigs blew up the internet and put the Exuma's on the map.

From humble island dwellers to celebrity status in no time. The pigs have attracted visits from Hollywood stars like Jenifer Lawrence and Johnny Depp and even featured in a romantic setting on ABC's "The Bachelor".

Which Island are the Bahamas Pigs On
Pig Beach is in a part of the Bahamian Islands called The Exumas, which are an archipelago of 365 cays and islands starting about 80 miles southeast of Nassau.
Most visitors tend to stay in Nassau, but you can find various resorts, hotels, and vacation rentals scattered across the Exumas.
The Bahamas pigs live on an island called Big Major Cay. And apart from the pigs, the island is uninhabited.
Tip: When you book your swimming with pigs Bahamas trip, make sure you ask if the tour visits Big Major Cay. Other "pig beaches" have popped up in the Bahamas, but the original Pig Beach is in the Exumas.
Fancy a visit to Greece too? Here are the islands you definitely need to see.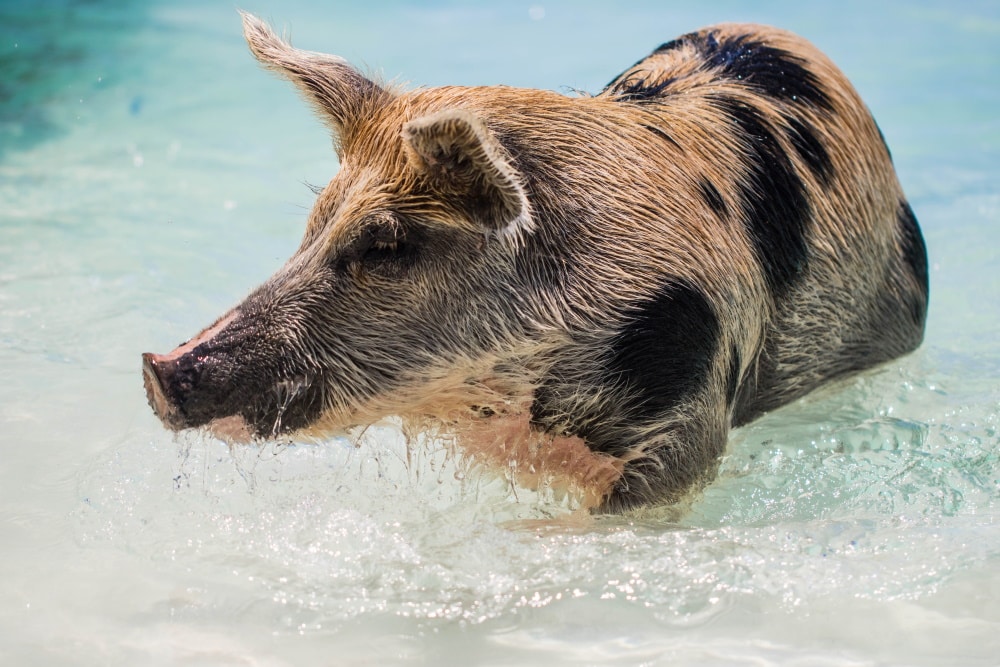 How To Get There:
The only way to reach the swimming pigs of Big Major Cay is by boat. All-inclusive resorts arrange trips to see the Bahamas pigs so tourists can get up close and personal.
The closest inhabited island to Big Major Cay is Staniel Cay – despite its tiny populous of 110 people, it has an airport.
Unless you're planning to travel in your own boat, all these options will be part of a tour:
Visit Pig Beach from Staniel Cay – 10 minutes by boat
Visit Pig Beach from Great Exuma – 2 hours away by boat
Visit Pig Beach from Nassau – a 35 min flight to Staniel Cay (& then another 10-minute boat ride) or a 3-hour speedboat ride from Nassau to Pig Beach
Visit Pig Beach on a day trip from Florida (a 1-hour flight to Andros Island, followed by a 45-minute flight to Staniel Cay, and then a quick 10-minute boat trip to Pig Beach)
All these options are usually full-day trips which include other stops in addition to swimming with the pigs. Of course, you can opt for a private tour over a group tour, but you'll need to pay a premium fee.
Where To Stay:
So, if you're planning to visit the swimming pigs you've got two options: you can base yourself on Staniel Cay (you can get to the pigs in just 10 minutes) or you can base yourself on Nassau, another island in the Exumas – and take a day trip to visit the pigs.
Some popular options include:
The Cost:
Please note that these are approximate costs and are just to give you a rough idea of how much you can expect to spend.
Pig Beach from Nassau by speedboat: $400 per person
Pig Beach from Nassau by plane: $500 per person / $250 per child
Pig Beach from Staniel Cay: $249 per person / $100 per child
Pig beach from Staniel Cay private tour: starting at $1000 for the smallest boat which can take up to four people
Pig Beach from Florida: There are three companies that offer day trips to Pig Beach from Fort Lauderdale's Executive Airport: Makers Air and Staniel Air – prices range from around $630 to $900 – depending on the time of year and availability.
Please note that children under two usually don't pay anything. And prices will vary depending on which tour company you make your booking with.
It's important to know that the cheapest way to visit Pig Beach from Nassau is via speedboat. But this is also the most uncomfortable – the ride is quite bumpy and you're spending hours on the boat. It's also an open-air boat which means that you're exposed to the elements.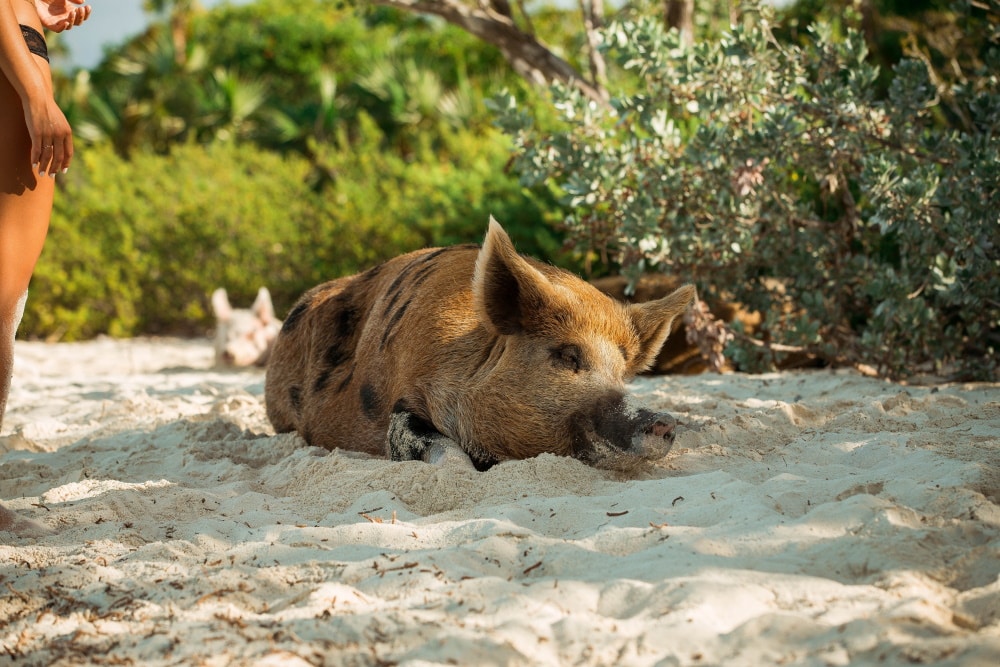 What To Bring:
These items might be obvious, but it's better to be overprepared.
Bathing suit
Beach towel
Camera or phone – bring a portable charger too
Waterproof case or pouch for your phone
Underwater camera
Sunscreen, sunglasses, and hat
Goggles for snorkeling – if not provided by tour operators
Insect repellent
Water and snack – most tour operators have but it's always better to have in case
Cash or credit cards
Light sweater or jacket
Do's And Don'ts for Visting & Swimming with the Pigs in the Bahamas
Do pet the pigs: Even though the pigs are feral, they're incredibly friendly – and they love belly scratches.
Don't tease the pigs: The rule is you must treat them with respect. So don't throw rocks at them or try to ride them.
Do give them a snack: You can feed the Bahamas pigs, in fact, some places even include snacks for you to feed the piggies. If you're bringing something with you: carrots, lettuce, watermelon, and apples are recommended.
Don't feed them outside the water: In the past, the pigs were ingesting too much sand because they were being fed on the beach. So, it's best to feed the piggies in the water where there's less chance of them ingesting sand.
Don't forget to take time to enjoy the island itself: Pig Island is untouched and a completely uninhabited cay. So while the piggies do steal the show, it's also recommended to take some time to walk through the forest, or sunbathe on the white sandy beaches.
Do give the other inhabitants of the Bahamas some attention: It's not all about the pigs. Meet iguanas, play with stingrays, swim with nurse sharks, and spot turtles.
We hope this has given you a good idea of what to expect during your visit to the Exumas.
FAQs
Is It Safe to Swim with Pigs in the Bahamas?
Yes. The island is safe, and the water is fairly gentle. As long as you don't stray too far from your tour group, you'll be perfectly fine.
Are the Pigs in the Bahamas Okay?
Yes, they are. While there have been some animal rights activists advocating for an end to Pig Islands (and others popping up), the pigs are well cared for and looked after. Make sure you go to Pig Island through a reputable tour operator where ethical tourism is prioritized.
Are There Sharks at Pig Island?
Yes. These are called nurse sharks, which are incredibly docile shark species that allow people to swim with them.
What is the Best Time of Year to Go to Exumas?
While the pigs are always ready to welcome snack-bearing tourists, the months of November to mid-December are the best time, as the weather is fantastic, and the islands are quieter.