Aloha globetrotters! Craving a relaxing tropical vacay? Hawaii should be at the top of your list!
Hawaii isn't a single travel destination. It's actually dotted with eight incredible islands, with six comprising major tourist destinations: Oahu, Maui, Kauai, Lanai, Molokai, and Hawaii (The Big Island). Boasting the fourth longest coastline in the United States, it's hard to pick the best islands in Hawaii to visit – but we think we've managed to narrow it down.
6 Must-See Islands in Hawaii
1. Oahu: Best for an All-In-One Island Vacation
Oahu is the third-largest island in Hawaii and the first on our list of the best islands to visit in Hawaii. Home to the capital city of Honolulu, Oahu is the economic and cultural heart of all Hawaii's islands. By far the most popular Hawaiian island among tourists, Oahu draws in over 6.2 million visitors per year.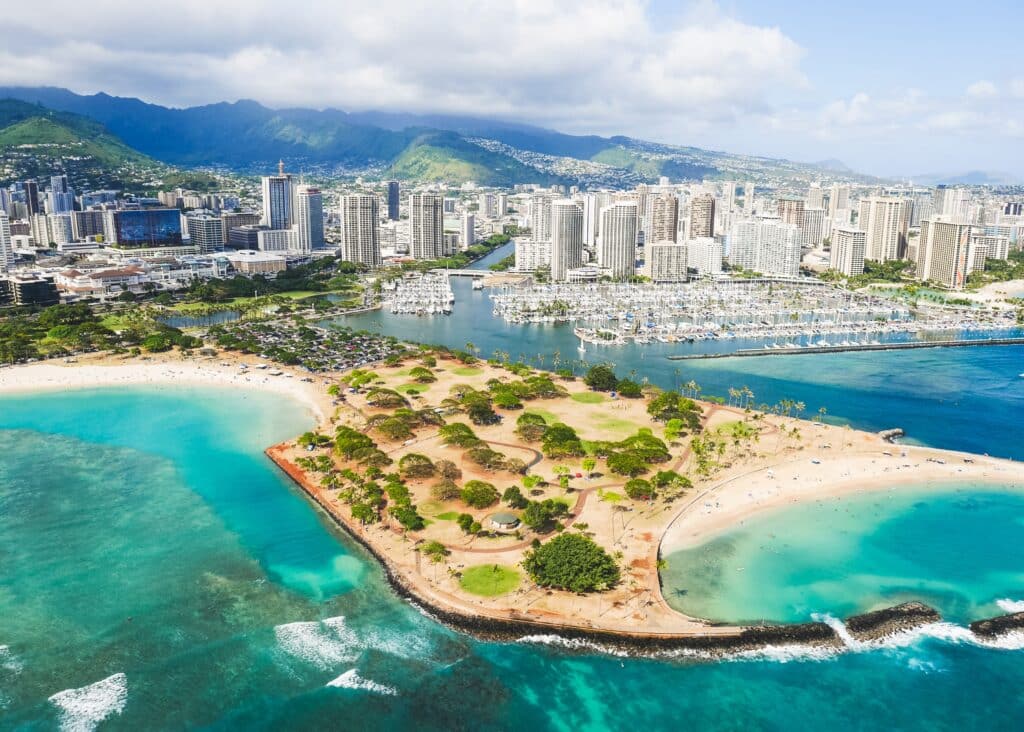 Known for its incredible selection of things to do, Oahu offers travelers tons of activities to satiate every tourist's travel bug. From endless mountain trails to trek, gnarly waves to surf, luxury shopping opportunities, and appetizing eateries! One could say that it's the best Hawaiian island for family holidays and first-timers to the Aloha State.
Oahu also presents a beautiful balance between unspoiled natural landscapes and unique historical sites like the USS Arizona Memorial at Pearl Harbor. Outdoor enthusiasts should totally try hiking up to the iconic Diamond Head Crater, spend the day at the infamous Waikiki Beach, or surf some big waves at the laid-back North Shore.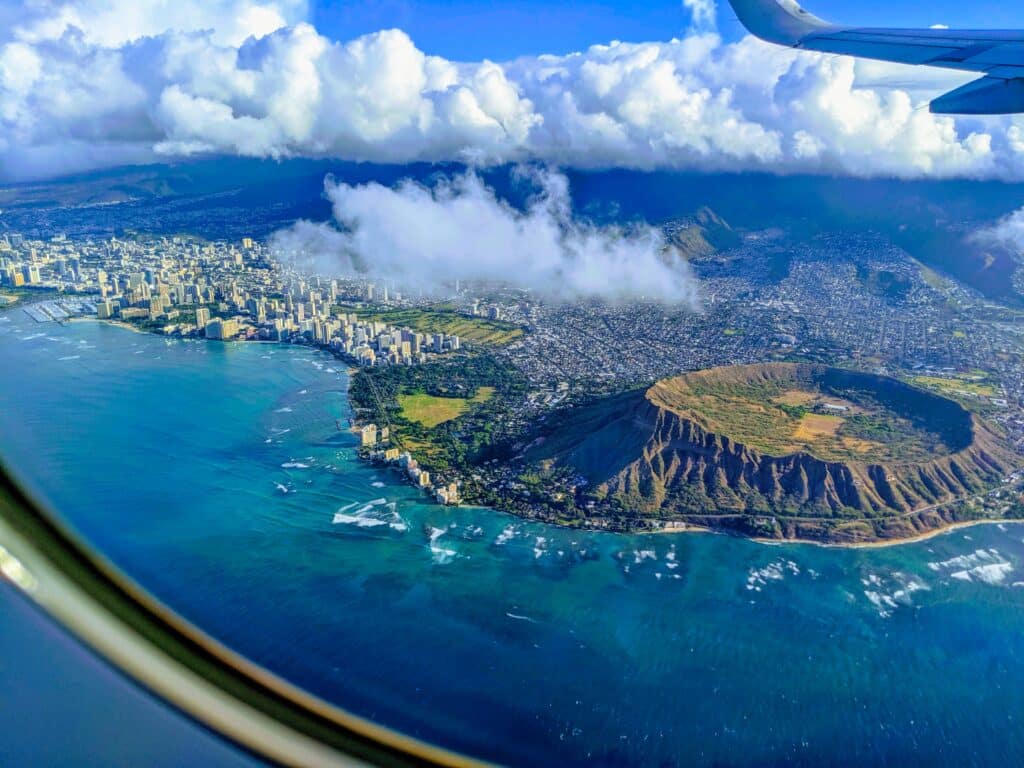 Don't miss out on the fun and educational Hanauma Bay. Located on the east side of the island, Hanauma Bay offers one of the best snorkeling spots in the entire state. With striking coral reefs and a popular underwater volcanic crater that's home to splendid tropical marine life, like parrotfish, sunfish, and the occasional sea turtle.
Living up to its nickname, "the Gathering Place," Oahu is also known for its incredible city experience and nightlife. You'll easily find a yummy restaurant to fill your tummy before dancing the night away.
Bonus: Oahu is also the cheapest island in Hawaii to visit because you don't need to catch inter-connecting island flights to reach the other islands.
2. Maui: Best for the Most Unforgettable Beaches
Situated between the Big Island and Oahu is Hawaii's second-largest island – Maui. Almost magically formed by lava flowing from two (now dormant) volcanoes, Maui is now a jaw-dropping island filled with incredible peaks and valleys. Thanks to its diverse landscape, this is a favorite island among outdoor enthusiasts.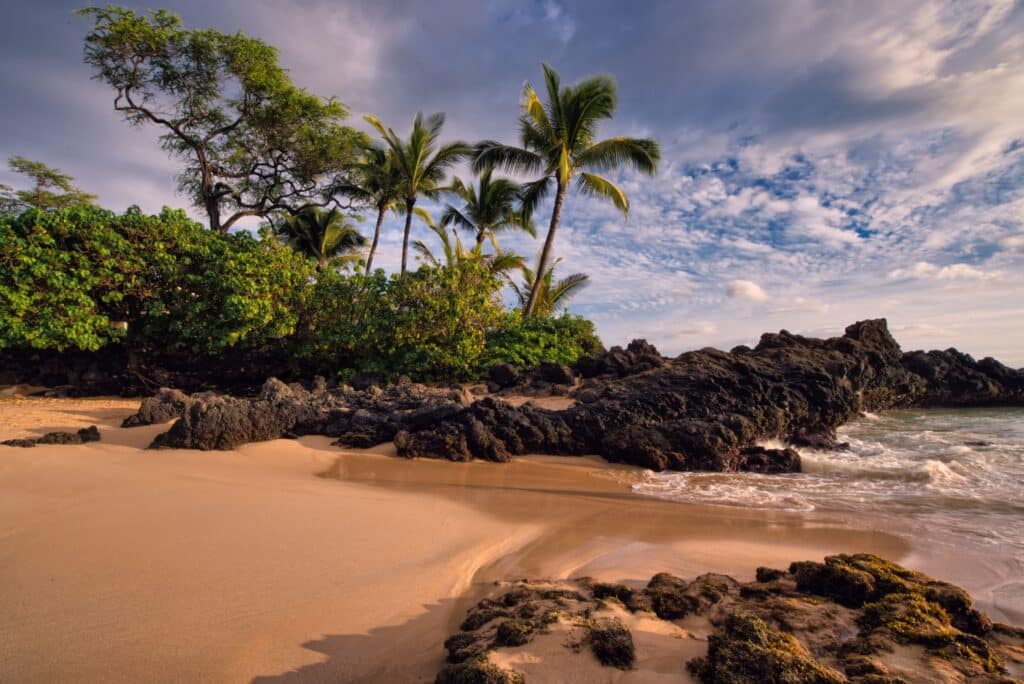 Known for some of the finest beaches in the world, Maui offers incredible snorkeling spots and sailing adventures that captivate over 3 million visitors annually. While many visitors consider Maui's beaches the highlight, it isn't all this island has to offer.
Make sure you stop off at the Haleakala National Park to see the world's largest dormant volcano. You can opt for a solo mission or hire a tour guide and uncover the history and significance hidden beneath the surface of the famous Haleakala Crater. Either way, you can explore the park on foot, by bike, or by car.
Or why not cruise down a 52-mile-long road, winding through the breathtaking scenery Maui has on display! The day-long Road to Hana takes you through the rainforest, where you can marvel and soak in the spectacular view.
But if you'd prefer some relaxing days on the beach, then beach lovers will be in their element on Maui's Wailea Beach – voted one of the top five beaches across the globe. It's also got some of the most luxurious family-friendly resorts, including the Four Seasons Resort Maui at Wailea.
The beach's pristine coastline stretches for nearly a mile and features serene lagoons to swim in, shaded areas to catch a break from the sunshine, and a marine conservation area consisting of over 1,200 acres offshore. The lagoon also has a designated kite surfing area and offers incredible snorkeling opportunities.
With so much to do in this little piece of paradise, you can see why Maui is one of the best islands to visit in Hawaii.
3. Kauai: Best for Hiking
Called the Garden Isle, Kauai is Hawaii's oldest and fourth-largest island. Offering acres of tropical rainforests, mountain ranges, and stunning waterfalls, it's easy to see how it got its nickname.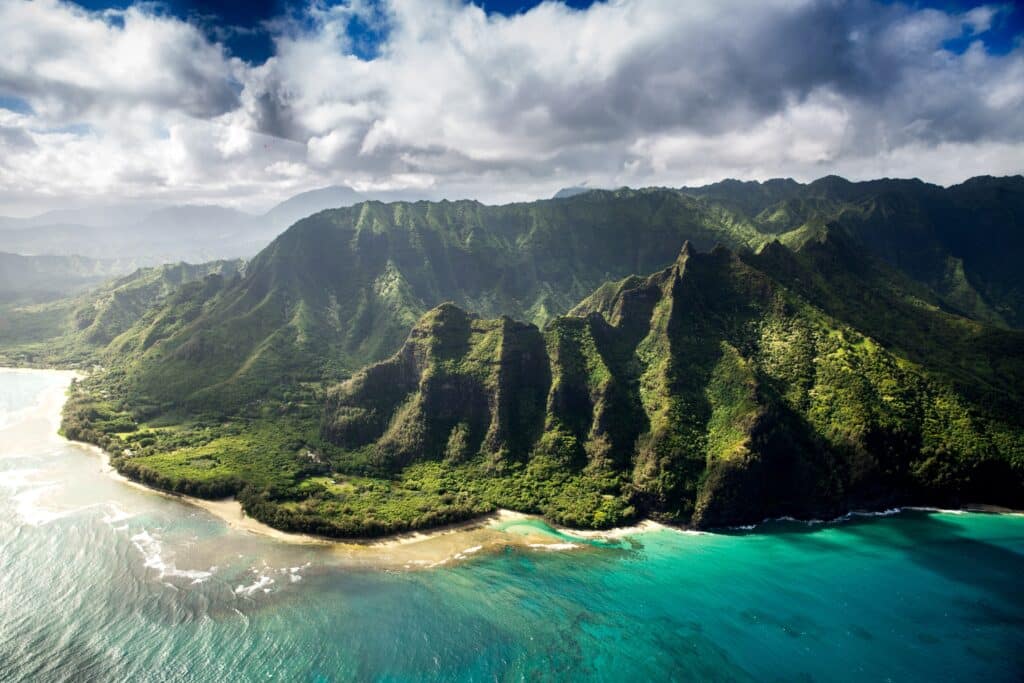 Kauai is the northernmost island of the Hawaiian Island chain and enjoys more rainfall than the other islands. In other words, Kauai is brimming with lush, vibrant greenery. And the best part is that most of this island can only be explored on foot, which means you basically have an unlimited amount of hiking trails and land to explore.
Kauai's western side is where you'll find many of Hawaii's most beautiful scenes. Not to mention the best lookout points. Go for a hike through the colorful gorge at Waimea Canyon, called the "Grand Canyon of the Pacific," or witness the beauty of the iconic Na Pali Coast, renowned for its majestic cliffs overlooking the sea.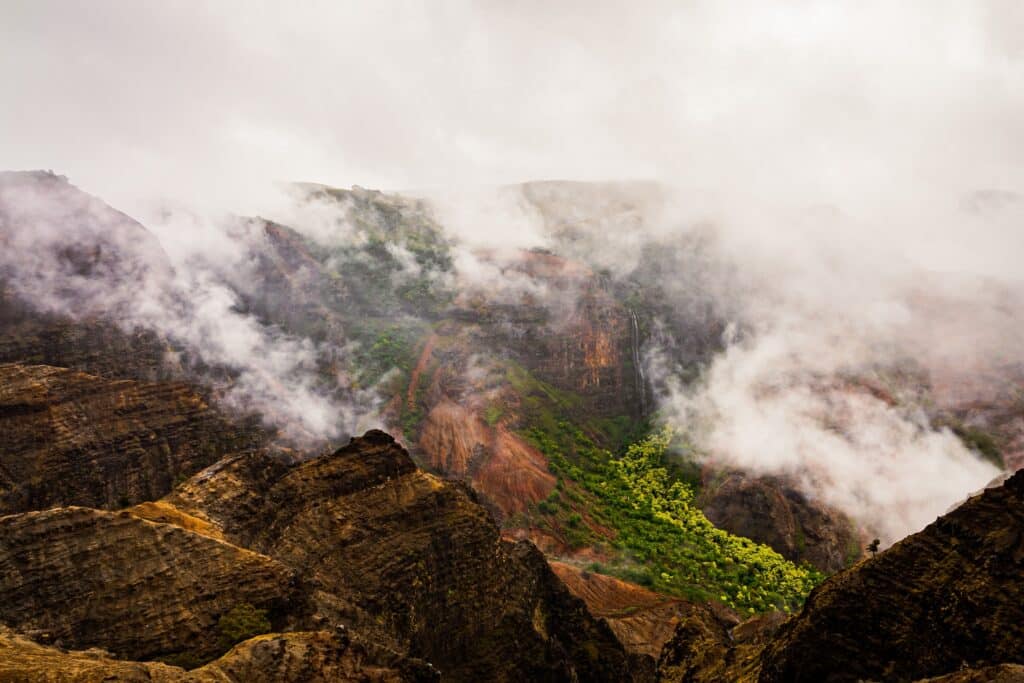 Another Hawaiian Island home to some of the world's most beautiful beaches, Kauai boasts more beaches along its coastline than any other Hawaiian island. It also has one of the best scuba diving spots in Hawaii and is the perfect spot to see sea turtles.
Kauai is the perfect Hawaiian island to visit for adventurous hikes through the rainforest, full of hidden gems just waiting to be discovered.
Prefer a Thailand island holiday instead? Here are our top picks.
4. Lanai: Best for a Secluded Break
Attention beach bums and romance seekers, the secluded shores of Lanai are calling. Easily the best island in Hawaii to visit for a peaceful tropical getaway, the tiny island of Lanai only spans 141 square miles, and is located just 9 miles from Maui, and is home to a small population of 2,800 residents.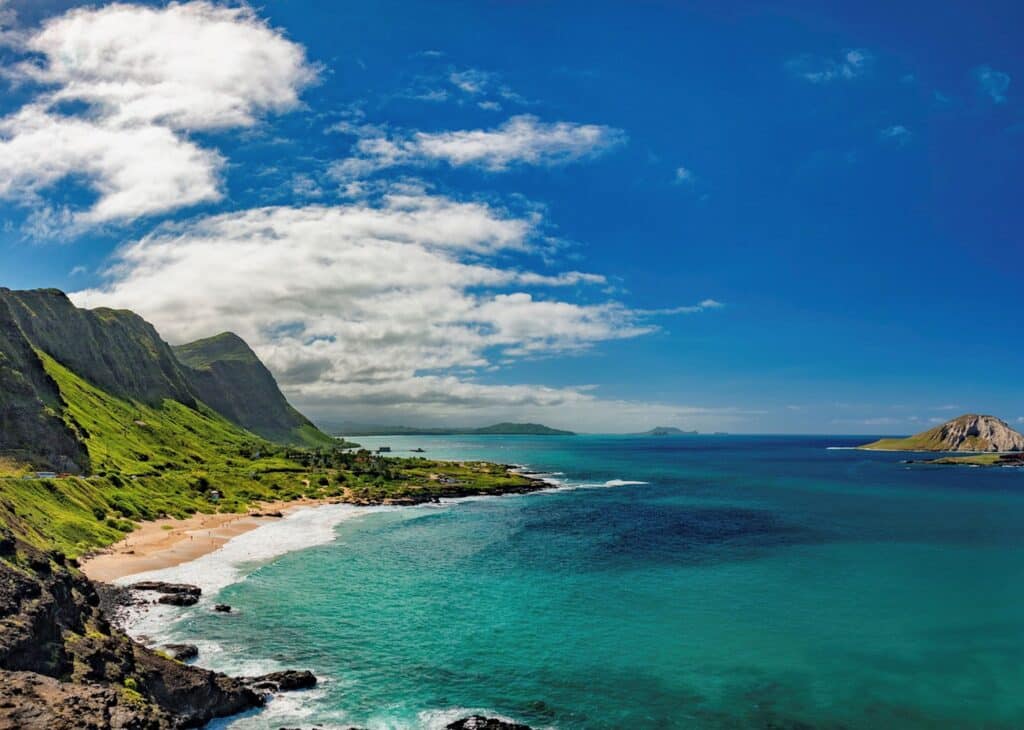 Once used solely for pineapple farming, Lanai has grown in popularity in recent years and now offers high-end vacation rentals lining the tranquil coastline. Make sure you set aside time to visit the vintage pineapple plantation and learn about the history of this tropical fruit that was once grown here and supplied to the rest of the world.
While there isn't much of a selection when it comes to excursions and activities on Lanai, it only adds to the appeal if you're looking to recharge in total seclusion. Make sure you don't overlook Hulopoe Beach when planning your Lanai holiday. This beach is beautifully undeveloped and quiet and is often called a "hidden treasure" because of its secluded location.
Some of the best things to do in Lanai include working on that tan, getting pampered at luxury resorts, going for a round of golf, or touring the island on a 4×4 vehicle. Since only a small number of tourists vacationing in Hawaii visit Lanai, it's the perfect spot for travelers seeking a quiet retreat.
5. Molokai: Best for Outdoor Adventurers
One of Hawaii's smallest habitable islands is the quaint Molokai. Sharing many similarities with Lanai, these two islands only account for 1% of people that travel to Hawaii. Since you won't find any luxury resorts or hotels here, Molokai is another great island for travelers searching for a more relaxing spot.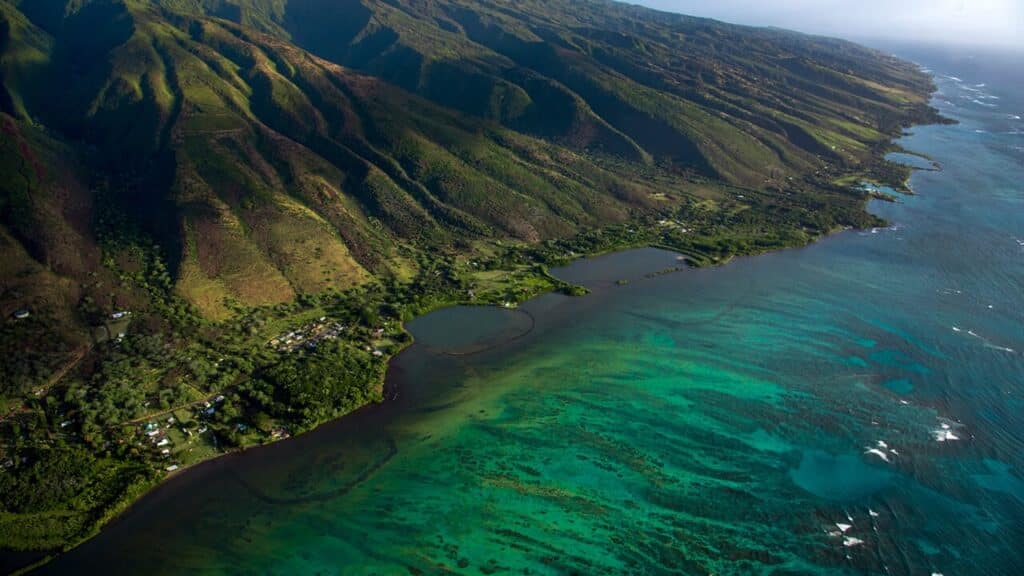 Locals in Molokai embrace a laid-back lifestyle, and you'll find many quiet white sandy beaches that seem to go on for miles. Perhaps the most iconic is Papohaku Beach.
A must-see attraction on Molokai island is the Kalaupapa National Historical Park which has an interesting back story since it is where 8,000 people with leprosy were exiled to isolate themselves from 1866 to 1969. Today the secluded park is a culturally significant destination that serves as a place where the people of Hawaii can honor the memory of their ancestors.
Also, home to some of the highest sea cliffs in the world, Kalaupapa is only reachable by air, mule rides, or by joining a guided hiking tour. Once at the top, the views will leave you awestruck.
If you have a moment, make sure you take a scenic drive to Halawa Valley and enjoy an easy hike to the breathtaking Halwa Falls.
Molokai is the best island in Hawaii for those looking to escape from the fast-paced life and just take a moment to enjoy things a bit slower.
6. Hawaii – The Big Island: Best for a Fun-Filled Family Vacation
The Big Island, also called Island of Hawaii, is both the youngest and largest of all the Hawaiian Islands. Known for its striking contrast in terrain, the Big Island was formed by the incredible eruption of five volcanoes, almost entirely made up of the world's largest shield volcano, Mauna Loa. It's also got the most active volcano in the United States, Kilauea, which last erupted in 2018.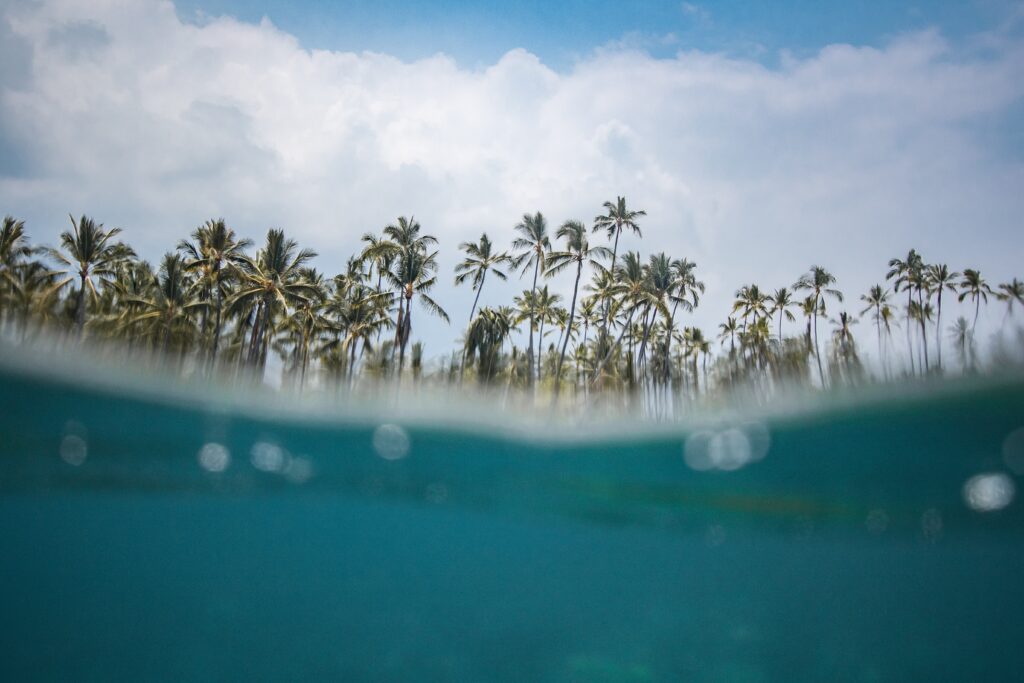 The diverse landscape of this island is truly a paradise for nature lovers. Trust us when we say there's literally no other place on Earth where you can witness 10 of the 13 climate zones in the world simultaneously. This means you can see flowing lava fields and snow-capped mountains against the astonishing backdrop of pristine coastlines and lush jungles all at the same time.
Famed for some of the most incredible hiking trails and endless lush valleys, Hawaii Volcanoes National Park, as well as the Hamakua Coast, are two of the Big Island's must-sees.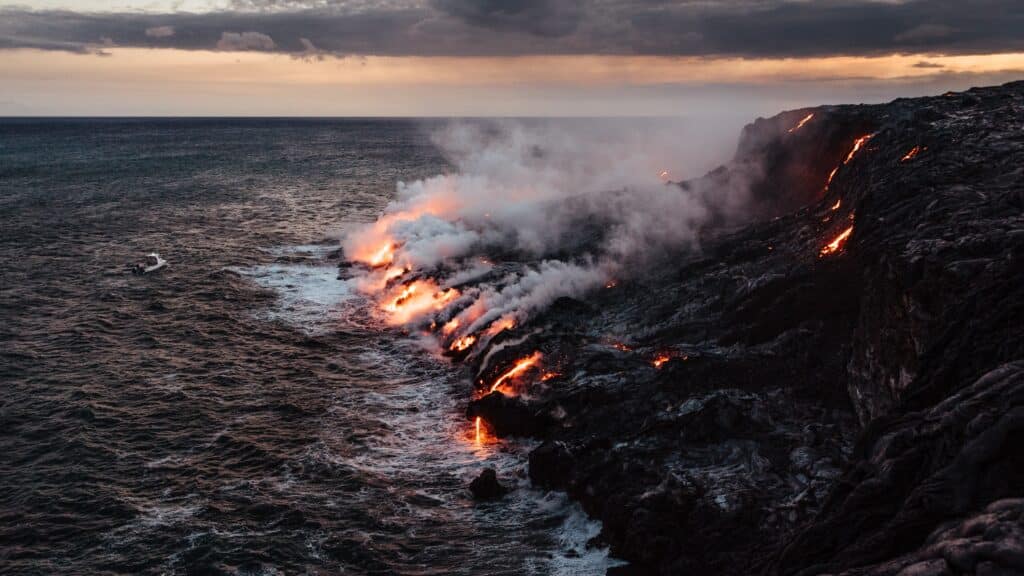 But make sure you don't miss out on Papakōlea Green Sand Beach, where you can see a stunning beach with green sand – there are only four in the entire world. The beach is a secluded and beautiful place to spend an afternoon listening to the waves crashing onto the shore and watching palm trees gently swaying from side to side. First-time visitors should definitely make sure they give this location a visit.
Looking for another stunning beach on the Big Island? Give Hapuna Beach a visit. Popularly known as one of the most beautiful beaches in Hawaii, the powder-soft sand and turquoise waters offer a paradise setting for all.
After a day of sightseeing, head to Kona to lounge and snorkel alongside Hawaiian green sea turtles or go on a deep-sea fishing adventure. We can all agree that this is the best island in Hawaii for outdoor adventures.
How To Choose Which Islands In Hawaii To Visit?
You can't go wrong no matter which island you decide on because Hawaii is that remarkable. And the best island to visit in Hawaii is totally down to how you want to spend your time.
If your ideal Hawaiian getaway is having the beach nearby for oodles of relaxation and soaking up the sun, then Maui or Oahu may be best for you.
And if you're looking for a more laid-back vibe in a secluded location, the sleepier Lanai offers the perfect spot to enjoy a more peaceful retreat.
But if you'd prefer to be out and about exploring every nook and cranny you come across, then the Big Island, Kaua'i, or Oahu will be right up your alley. You'll easily fill your days with kayaking, waterfall hikes, and volcano climbing.
Whether it's surfing or hiking, you should figure out what you want to experience because each island is uniquely distinct.