There are few things in life as exciting as attending a major sporting event – especially if you're traveling internationally. Whether it's the Super Bowl, Wimbledon, or the FIFA World Cup. The latter of which is the next major sporting event happing in November 2022 in Qatar.
Preparing to travel for an international sporting event can present challenges that seem as demanding as those faced by the athletes. Whether your favorite side wins or loses, you'll want to ensure your adventure ends in victory – these tips will help.
Don't forget to download the Air Doctor app on your Android or iOS device before you leave either.
Top Tips for Travelers Heading to International Sporting Events
1. Buy tickets from a legitimate source
Most, if not all, major sporting events are ticketed – and their popularity can often mean they sell out far in advance. Some sporting events might require you to purchase your tickets months in advance – but no matter what, make sure you're buying your tickets through reputable websites or ticket dealers like stubhub.com.
Avoid buying tickets from unknown individuals selling their tickets privately online. However, if you must, keep yourself in the clear by trying to get as much info on the seller as possible – for instance, ask where they got the ticket, why they're not attending the event, and maybe even ask for their identification. Simply put, just use your instincts before you hand over the cash.
2. Plan ahead and plan for everything
After you've decided which international sporting event you're attending – the next step is researching and booking your flights, accommodation, etc. Since big-name sporting events draw many people (domestically and internationally) hotel rooms and flights can fill up quickly around the dates of the event. If possible, make your travel arrangements as far in advance as possible.
Planning accommodation: Securing your reservation means you'll have somewhere to stay and won't be forced to pay increased rates closer to the date. Expect prices to be higher for many things when traveling to host destinations.
Planning transport: Don't forget to factor in transportation as well. Rental cars may also book out in advance or get more expensive as the event gets nearer. If you're using public transport, make sure you research your options. Are you planning on staying nearby the stadium/event space or arranging transport to get to the games you're attending? Traffic is also something to consider, as a potential delay.
Even though hotels in outlying areas tend to be less expensive than hotels close to the stadium, you may save time and money by staying at more expensive accommodation within walking distance of the venue –or at least easily accessible by public transportation.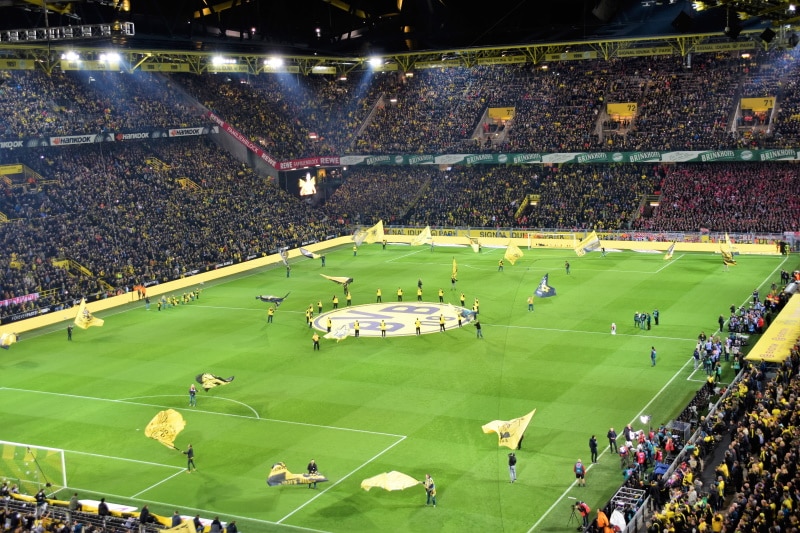 3. Respect customs and etiquette
This goes for both sporting rules and the host country.
When traveling, it's always important to respect the culture and customs of the place you'll be visiting.
So, make sure you read up on things like dress code and permittable items (camera, food, drinks, etc.) before arriving. For instance, you wouldn't wear the same thing to a horse racing tournament as you would to an American baseball World Series game. Similarly, golfing events like the Masters usually don't allow spectators to take photos inside the course and visitors need to remain quiet during the game so as not to disrupt the players.
Although it's reasonable for sports fans to get emotional during games, it's important to avoid things like heckling, swearing, and physically abusive behavior. This includes being respectful of opponents' fans. Light teasing is very different from starting a fight.
Usually, alcohol is present at many sporting events, but it's important to keep an eye on how much you consume so you don't get drunk and lose control of your actions. For instance, the FIFA World Cup 2022 in Qatar is the first Arabic destination to host this event. Since this is an Islamic nation, football fans attending the event will only be allowed to drink alcohol in specific places.
Failure to adhere to the set rules of a country or specific sporting match could result in you being asked to leave the event, being banned, or even getting arrested.
4. Pack cleverly and appropriately
Although packing for sports tourism isn't all that different from packing for other types of trips – packing lighter helps you travel lightly with less stress.

Here's a basic list of what you should have:
All necessary (weather appropriate) clothing, toiletries, universal adapters, passport/ID, etc. Of course, it goes without saying that you should pack according to the elements. For example, if you're in London at Wimbledon – a poncho, umbrella and rainboots should be on your packing list.
The 2022 FIFA World Cup is happening in Qatar – which means heat and sun are to be expected. So, you'll want sunscreen, a hat, and sunglasses.
Make sure you have a portable charger for your phones and camera (if photography is permitted at your sporting event).
And of course, any medication you regularly take (and their prescriptions if needed) as well as various OTC medications like pain killers, jet aid lags, anti-diarrhea pills, etc.
5. Be early
As a general rule of thumb – it's a good idea to get to the stadium at least two hours early. Especially if you don't want to miss out on pre-event ceremonies. Don't allow unexpected delays like being stuck in traffic, trying to find parking, or standing in line waiting to get inside, ruin the big day.
This is your bucket list event – make the most of your international sporting event by getting there early so you can experience it fully. More time also allows you to soak up the energy from the crowds as anticipation of the big event builds – as well as locate your seats, find the nearest restrooms, and find out where you can buy a snack and a drink.
Attending The FIFA World Cup 2022 in Qatar
In football, the FIFA World Cup is the sport's largest and most attended tournament, taking place every four years. The FIFA World Cup Qatar 2022 will be taking place from 20 November to 18 December – it's the 22nd edition of the competition and the first played in the Arab World.
With less than two months to go, the anticipation is building – here's what you can expect from this year's FIFA World Cup 2022.
Match Schedule:
With 32 countries participating, 8 groups of four countries each. Here's a basic idea of the match schedule – get more information here.
Group phase: 20 November – 2 December
Knockout phase: 3 – 6 December
Quarterfinals: 9 – 10 December
Semi-finals: 13 – 14 December
Third-place play-off: 17 December
Final: 18 December
Stadiums:
The 64 matches of the tournament will take place across eight venues:
Al Bayt Stadium
Khalifa International Stadium
Al Thumama Stadium
Ahmad Bin Ali Stadium
Lusail Stadium
Stadium 974
Education City Stadium
Al Janoub Stadium.
Visit this website for more information on which games are happening at which stadiums.
Tickets:
Ticket sales for Qatar 2022 are in the Last-Minute Sales Phase – which works on a first-come, first-serve basis.
Always visit the official FIFA website to get accurate information on the event and stay updated on any changes. So, what are you waiting for? Pack your suitcase and enjoy Qatar!