From seaside dining to ziplining in the Pitons, St. Lucia is one of the most breathtaking islands in the Caribbean. While it's a popular honeymoon spot, it's also a great destination for any tourists looking for a little slice of paradise – and we've got a list of all the best beaches on St. Lucia, the best resorts to stay at, and some travel tips!
And once you're done you can read through our ultimate guide to planning an epic island vacation, because the best beaches in St. Lucia will have you planning a trip to some of the best beach resorts in St. Lucia!
12 Best Beaches On St. Lucia Island
1. Jalousie
Best For: Snorkeling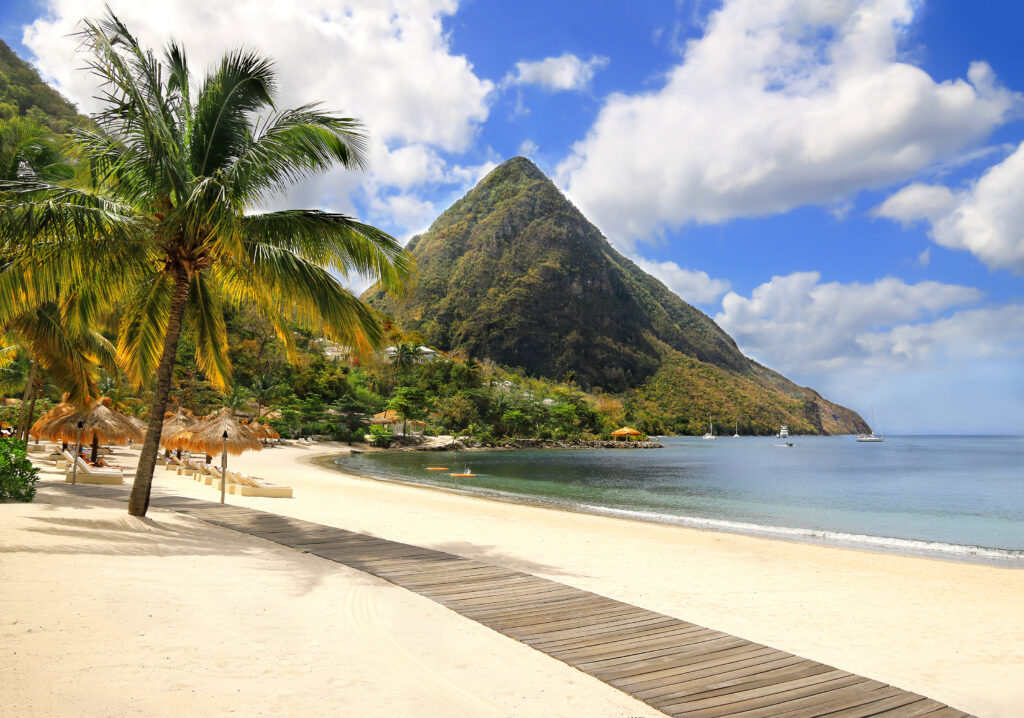 Also known as "Sugar Beach", Jalousie beach is one of the most iconic beaches on St. Lucia, and one of the most iconic beaches in the Caribbean. Nestled between the Gros Piton and Petit Piton mountaintops, Jalousie beach is a marine reserve, which means it's protected from fishing. That protection has led to sea life flourishing, which makes for a great snorkeling location.
And, if you're not into swimming, the mountaintops offer a great view from sunrise to sunset.
2. Grand Anse Beach
Best For: Turtle Spotting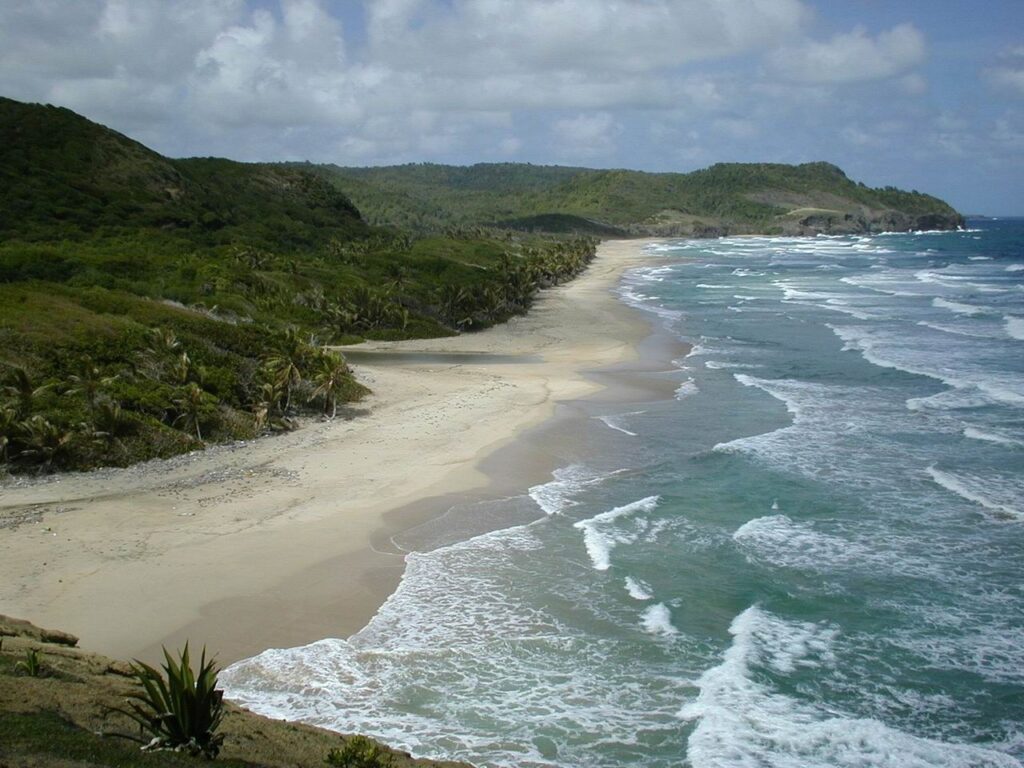 Also known as the "Forgotten Beach" because of its difficulty to reach, Grand Anse Beach is one of the best beaches on St. Lucia for one reason: Turtles. Unlike other beaches in the area, Grand Anse is known for its treacherous waters and strong currents, which means it doesn't get many tourists.
What it does get, however, is lots and lots of turtles. From February to October, turtles crawl onto the beach to lay their eggs. If you come by at night, you can watch the nestling process as well – but be careful. Volunteers patrol the sands to make sure the turtles are protected. So don't get too close!
3. Pigeon Island
Best For: Culture Nerds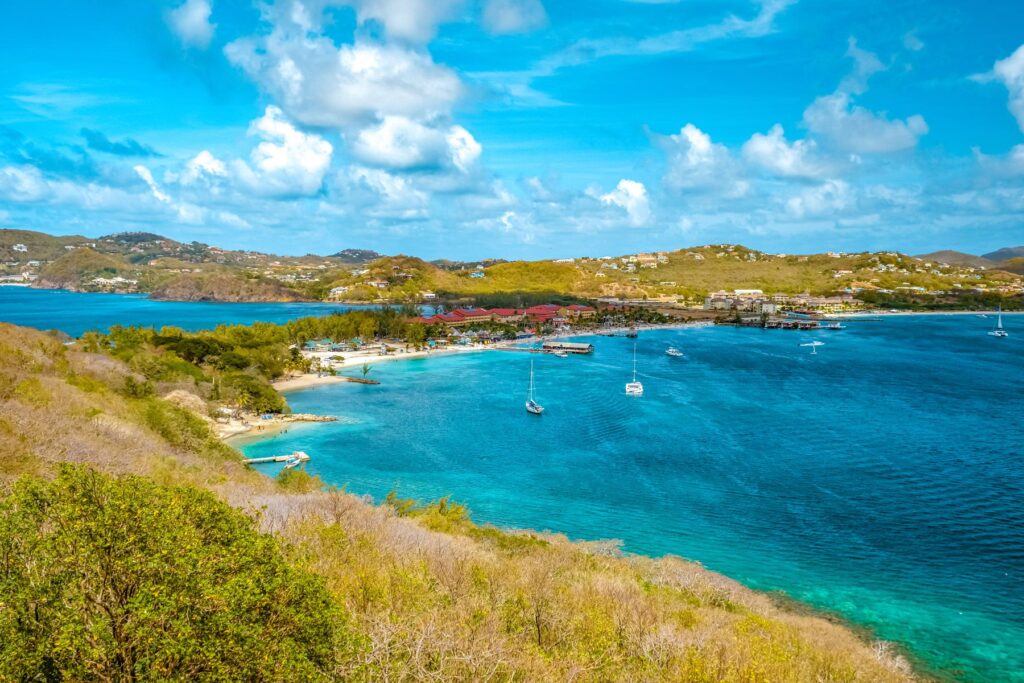 Formerly a pirate hideout and military fort, Pigeon Island is the go-to location for anybody looking to immerse themselves in the local culture. The island itself is a national landmark and proudly displays its history in everything you see. While it's not technically an island, the look and feel of this location will make you feel like you're in another world entirely.
4. Anse Chastanet
Best For: Photography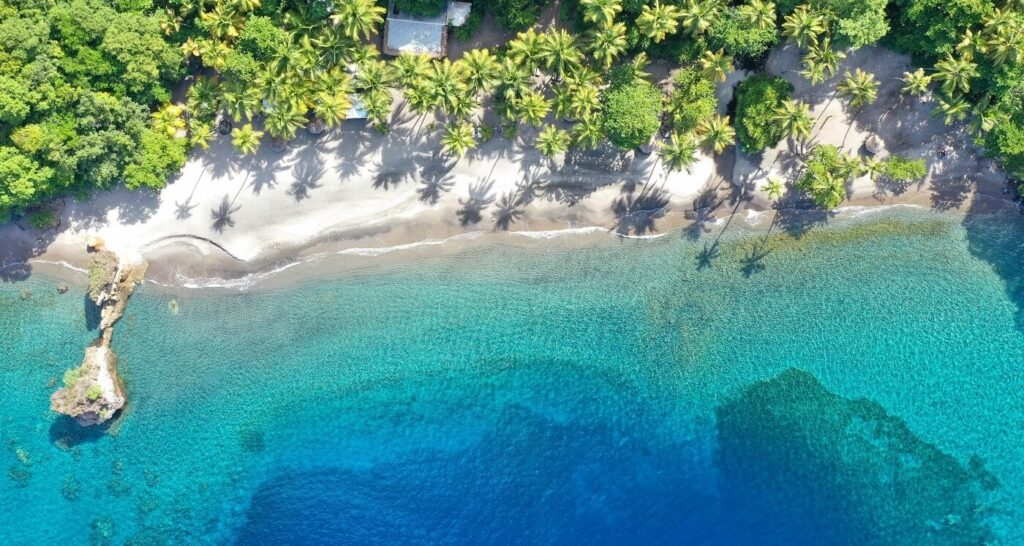 Technically, Anse Chastanet beach is located inside a resort with the same name. With that being said, you're still able to freely go to the beach, regardless of whether or not you're staying at the resort. Reflective of the island's volcanic history, Anse Chastanet beach consists of gorgeous waters, lush palm trees, and black sand.
5. Marigot Bay Beach
Best For: Laid-Back Beaching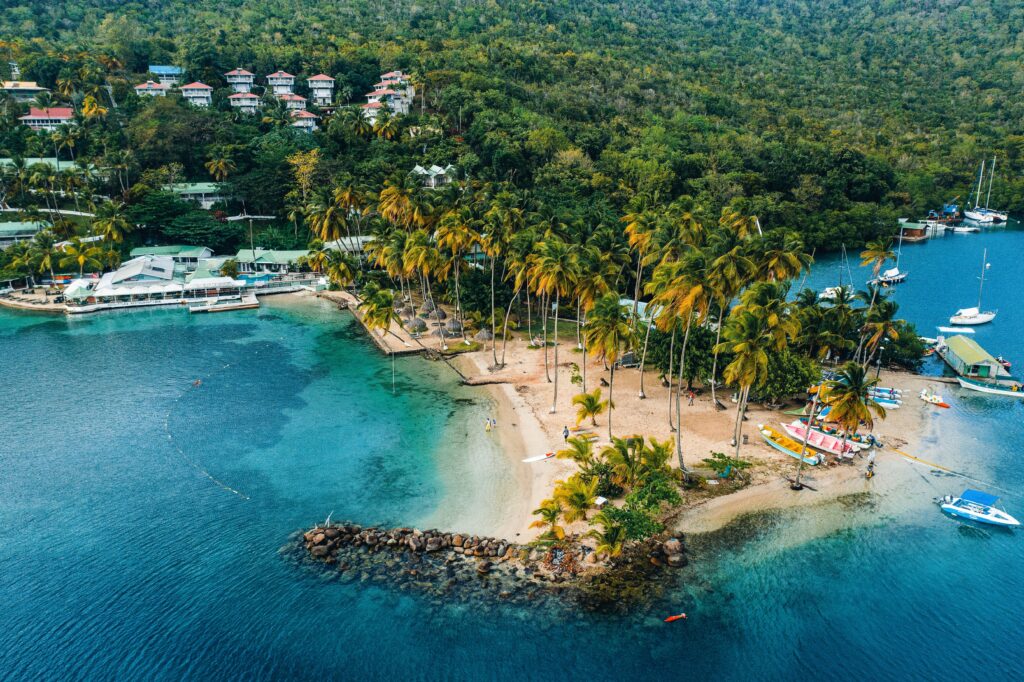 Located just south of the capital city of Castries, Marigot Bay is made up of a handful of small beaches, as opposed to one large one. The original Dr. Doolittle, as well as scenes from Pirates of the Caribbean, were shot here, and it's easy to see why. With long stretches of quiet sands dotted with beach bars, Marigot Bay is easily one of the best beaches in St. Lucia for anybody looking to kick back and relax.
6. La Toc Beach
Best For: Hiding Away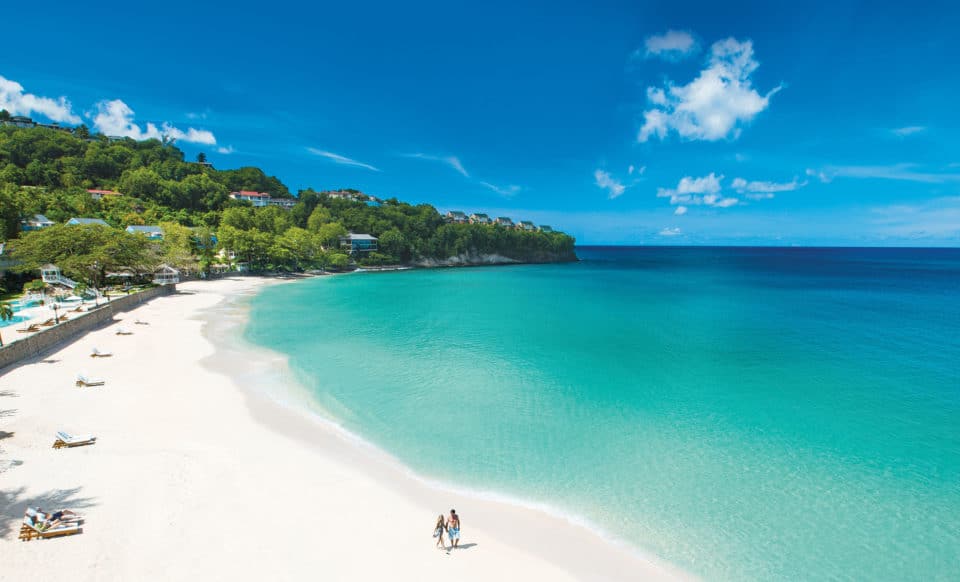 If you're looking to get away from the hustle and bustle, La Toc Beach is the place for you. The entrance is a bit tricky to locate, which is one of the reasons it's so quiet. You can go for a leisurely swim, stroll on the beaches, or just enjoy the space for yourself.
For the recluses out there – this is the top of your list of the best beaches on St. Lucia.
7. Anse Cochon
Best For: Swimming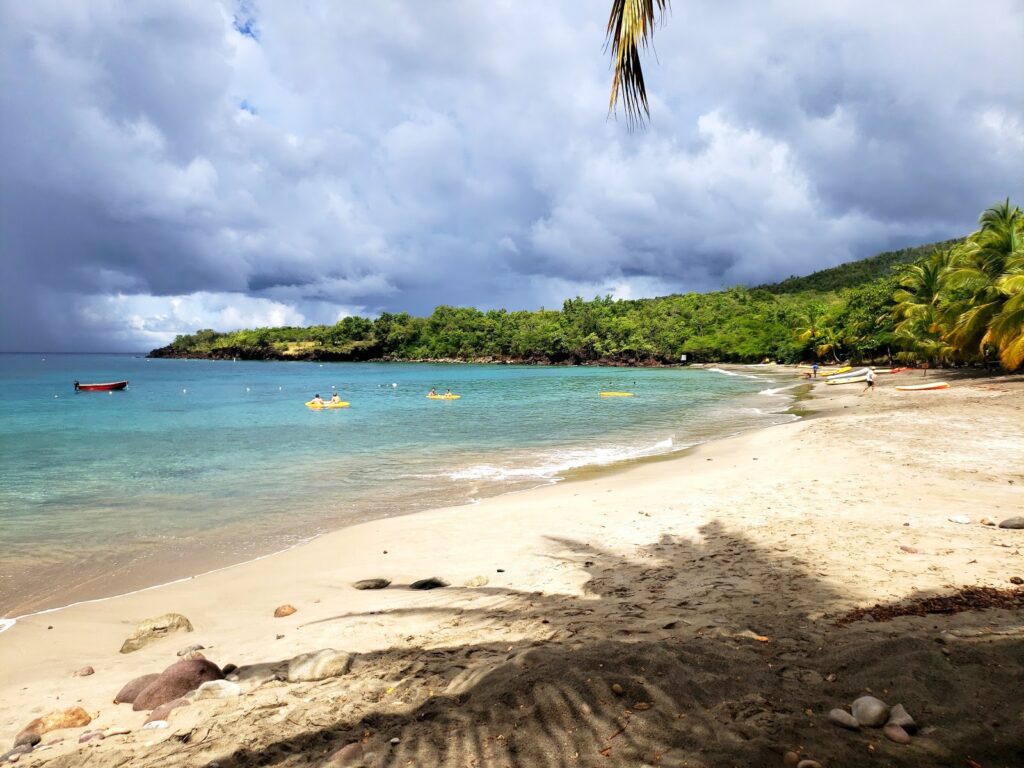 One of the favorite for day-trip boats, Anse Cochon beach can be quiet, or crowded (depending on when you're there). Although the Caribbean is known for its clear waters, Anse Cochon beach takes it a step further, offering some of the best swimming opportunities around.
Just be wary – people have reported pushy vendors asking high prices for kayaking trips.
8. Anse Louvet
Best For: Adventurers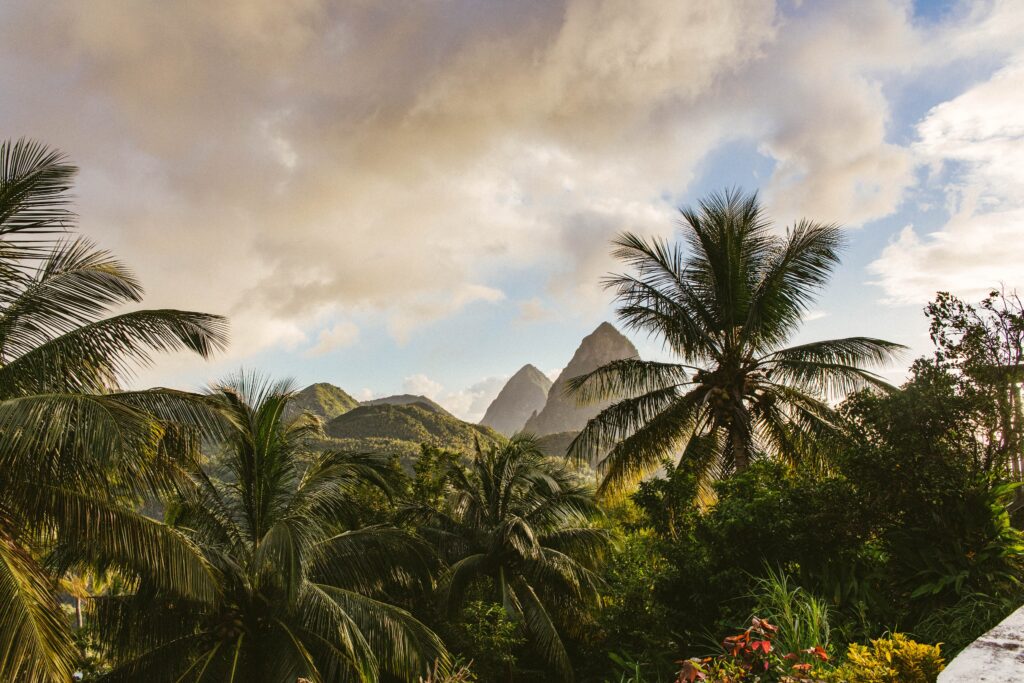 This one isn't for the faint of heart. While it may not be good for swimming because of choppy waters, Anse Louvet is well worth going to – if you're willing to go for the hike you need to take to get there.
Holding the title of the longest beach in St. Lucia, Anse Louvet beach isn't for everybody – but definitely not something to miss.
9. Anse de Sables
Best For: Surfing
Did you even go to the Caribbean if you didn't surf there?
Anse de Sables is known for 3 things:
Strong winds
Tall waves
The Reef Kite & Surf Centre, which has been around since 1994.
Offering kite surfing and surfing courses, the centre is great for anybody looking to pick up a hobby, and the beach itself is great for those who want to watch surfers catch intense waves.
10. Balenbouche Beach
Best For: Romance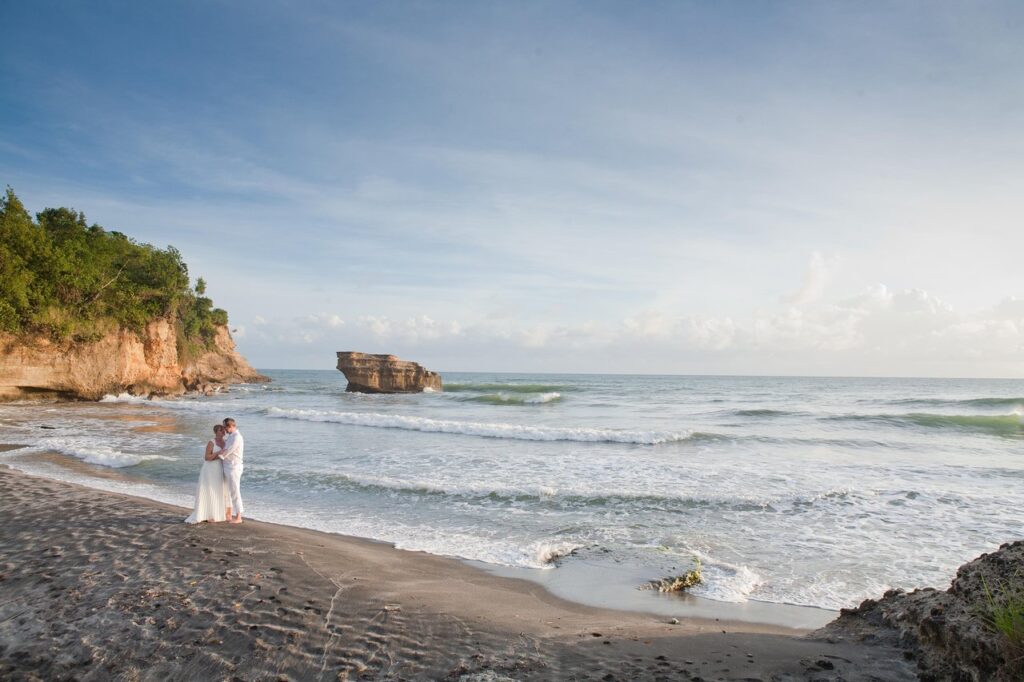 While St. Lucia is renowned for its beaches, it's also an award-winning honeymoon destination.
You can make magic on any beach in the Caribbean, but Balenbouche Beach is one of the best beaches on St. Lucia if you want to take your partner's breath away. Accessible only by crossing the 60-acre Balenbouche estate, this beach is often deserted, making romantic strolls the focal point of this stretch of sand.
11. Gros Islet Beach
Best For: Sunsets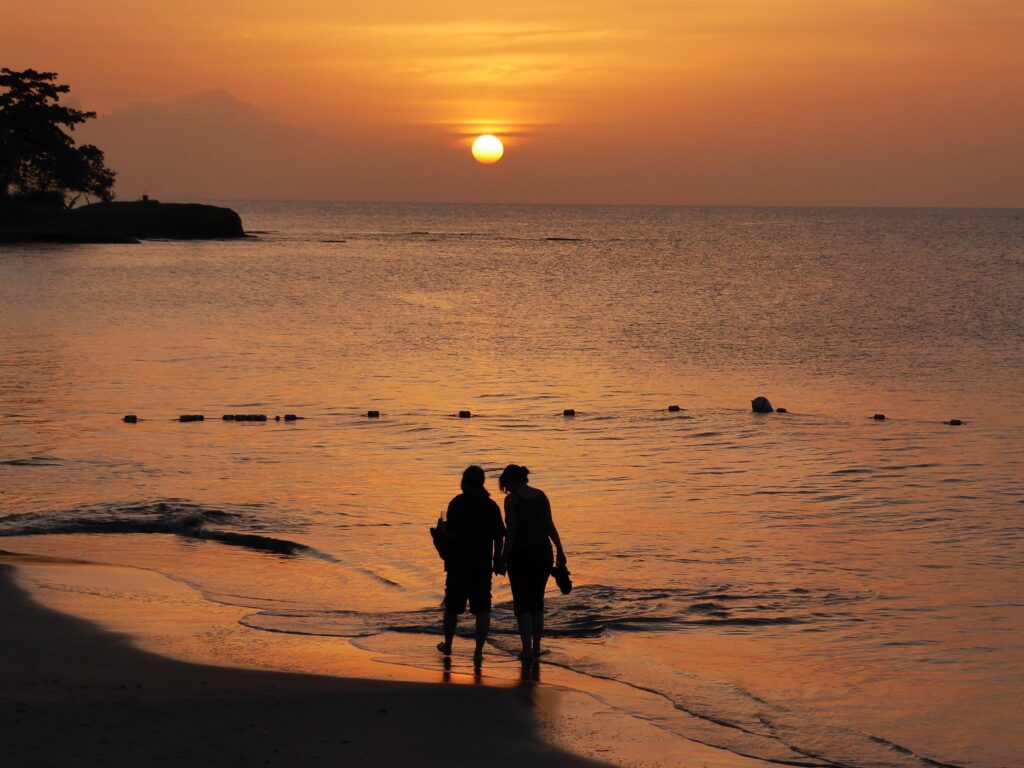 St. Lucia isn't just great for tans – it's also great for catching breathtaking sunsets. And, of all the places to catch the sky turning pink as the sun goes down, Gros Islet Beach is the best place to go.
As the sun sets, it lowers down behind a volcano, creating waves of yellows and oranges, making it seem like the volcano itself is on fire.
12. Reduit Beach
Best For: Families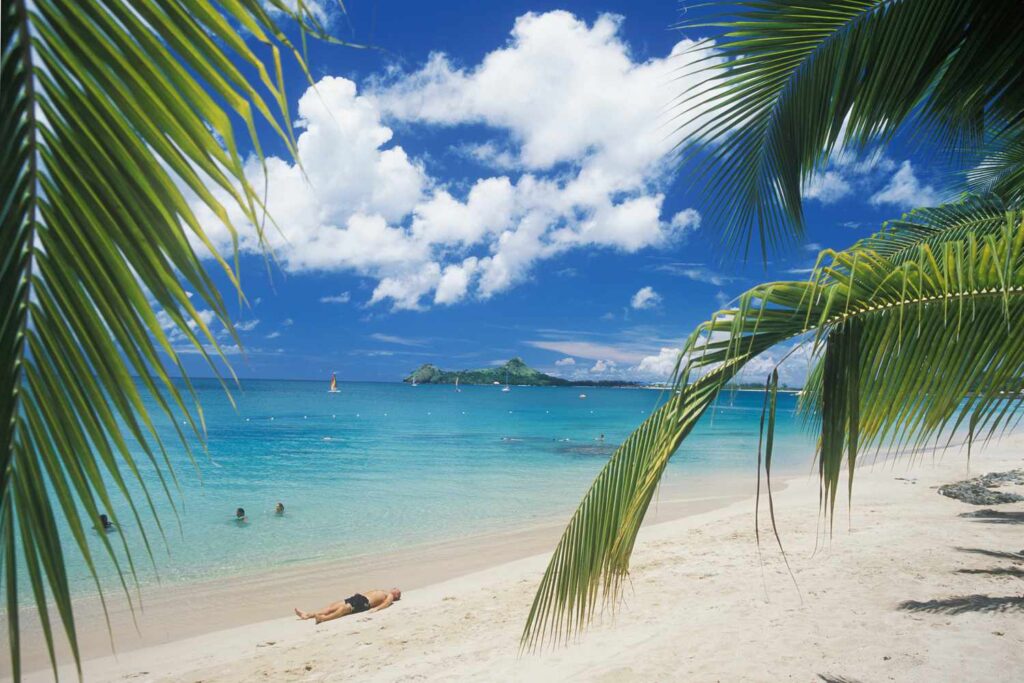 Considered to be the top spot in running for the best beaches on St. Lucia, Reduit Beach is known for its vicinity to just about anything. From grocery stores to the numerous hotels and resorts, Reduit Beach allows you to enjoy a true Caribbean beach experience, while not venturing too far from the comforts of home.
Finding the Best Beach Resort in St Lucia: Where to Stay
While it's not the cheapest on the list, Sugar Beach Resort is located walking distance from Jalousie Beach, making it the best beach resort in St. Lucia if you're looking to be on the beach most of the time.
With prices starting at just $200 per person per night, the Radisson Grenada Beach Resort is very close to the forgotten beach, meaning turtle-watching is almost guaranteed.
The best beach resort on St. Lucia for culture nerds, Sandals is an adults-only resort has classic-style bungalows, and taxis that will take you to Pigeon Island's hub whenever you need.
As we mentioned earlier, the beach is located inside of the resort. And this high-end hotel is the best place to be if you want to be near this gorgeous beach.
Situated next to St. Lucia's berthing spot for yachts, the Marigot Bay Resort and Marina is great for anybody looking to relax or organize a trip on a boat.
What better way to hide away than to spend time at a luxury resort and spa?
One of the best resorts on St. Lucia for those looking to go to the island, or specifically to visit the beach, The Landings Resort and Spa is guaranteed to have something for everybody.
Known simply as "Ti Kaye", the resort overlooks Anse Cochon has pools, a spa, and is a short walk to the beach, making swimming a natural choice of activity.
At only 8 minutes drive away, Casa De Amour offers suites that are perfect for couples or lone travelers alike.
Living up to the name, the Villa Caribbean Dream really offers a dream view (and walking distance) to the famous surfing spot.
If you're going to trek 60 acres, why not stay there?
The Balenbouche Estate prides itself on its friendly staff, beautiful scenery, and dogs that accompany you while you walk on the isolated strip that is Balenbouche Beach.
If you're planning on enjoying a sunset that movies can't even rival, then it makes sense to spend the day in town to pass the time. Situated a short trip from Gros Islet Beach, the Bay Gardens is one of the best resorts on St. Lucia.
This 60-acre full-service resort offers anything you could need. So, whether you're a family, a couple, or honeymooners, Windjammer has exactly what you need to make your stay unforgettable.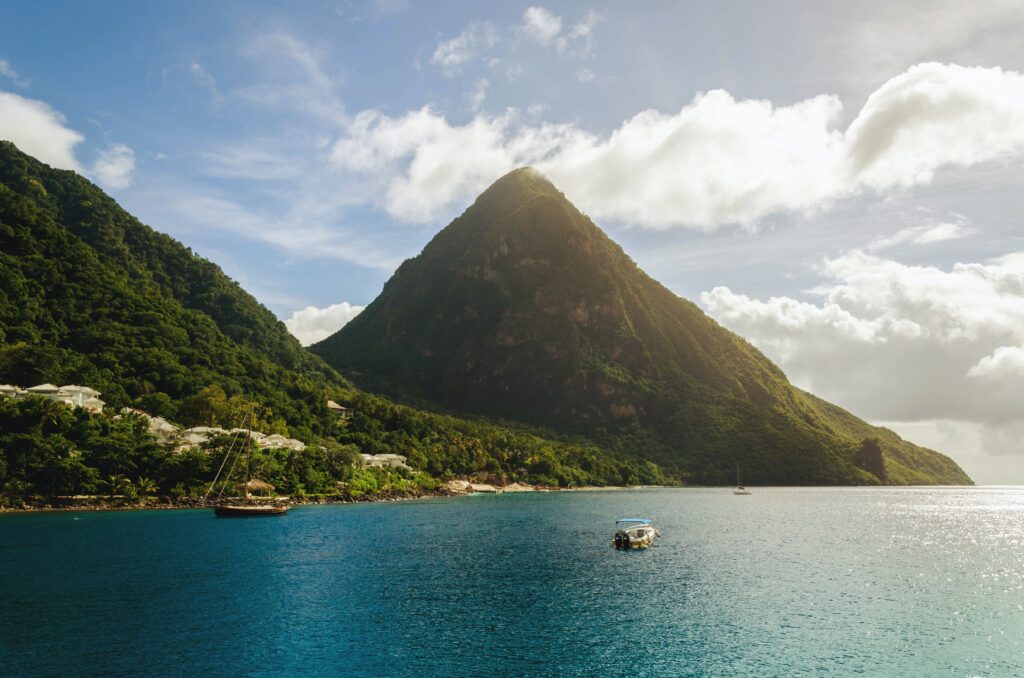 Tips For Visiting St. Lucia
Plan Your Trip: It's easy to get lost or distracted in the beauty of St. Lucia and its beaches. And, if you want to visit several places, it can be overwhelming. Plan your trip in advance to make sure you make the most of your time in this tropical paradise.
Make Copies Of Important Documents: This is a good travel tip in general. Make sure you keep copies of documents like your passport, ID, and prepaid receipts to ensure you aren't left stranded if something goes wrong.
Compare Rates And Prices: It goes without saying that some hotels and resorts are better priced than others – especially those that are further inland. If you're willing to spend some more time traveling to and from the beaches, it might be worth looking at a cheaper stay.
Consider The Off-Season: This point ties in with comparing rates and prices. Off-season runs from May to October and stays become much more affordable. And, there are still plenty of things to do – especially if you're planning on spending time on Pigeon Island.
Learn Some Key Phrases: While the official language of St. Lucia is English, 95% of locals speak Kwéyól, which is an offshoot of Creole. Learning a few phrases can make your stay much more enjoyable through casual conversation, and the locals might tell you about some hidden gems.
Have A Driver Pick You Up: If you're traveling from overseas (especially the United States), learning to drive on the roads of St. Lucia can be an entire day-long activity. Many of the resorts offer drivers who can take you to and from the airport – meaning less time worrying about driving, and more time enjoying your stay.
Pack Insect Repellant: Malaria isn't a problem in St. Lucia – but that doesn't mean it's mosquito free. Make sure you pack a strong insect repellant with you to avoid being bitten by mosquitoes and other bugs!
Enjoy The Roadside Food: St. Lucia is known for its vibrant colors, and food trucks are no exception. Brightly colored food trucks can be found littered around the island and offers delicious, freshly made local food.
Download the Air Doctor app: The last thing you need on your island vacation is to get ill, but if you do, you don't want to worry about finding a doctor . . . Make sure you can easily find a local doctor who speaks your language (from anywhere, anytime) with Air Doctor.