Las Vegas the Entertainment Capital of the World.
Sin City tantalizes its visitors' senses with hotels that soar into the sky, pulsating nightclubs, and stages filled with costumed entertainers that leave spectators awestruck night after night.
Despite the city's in-your-face, well, everything, Vegas has a handful of bars tucked away behind city walls and underground. These hidden bars are quiet and secret, and sometimes, you even need a password to enter.
From exclusive speakeasies to secret restaurants in Las Vegas, here are 10 of the best secret bars in Las Vegas for night goers to find.
Top 10 Secret Bars in Las Vegas
1. The Underground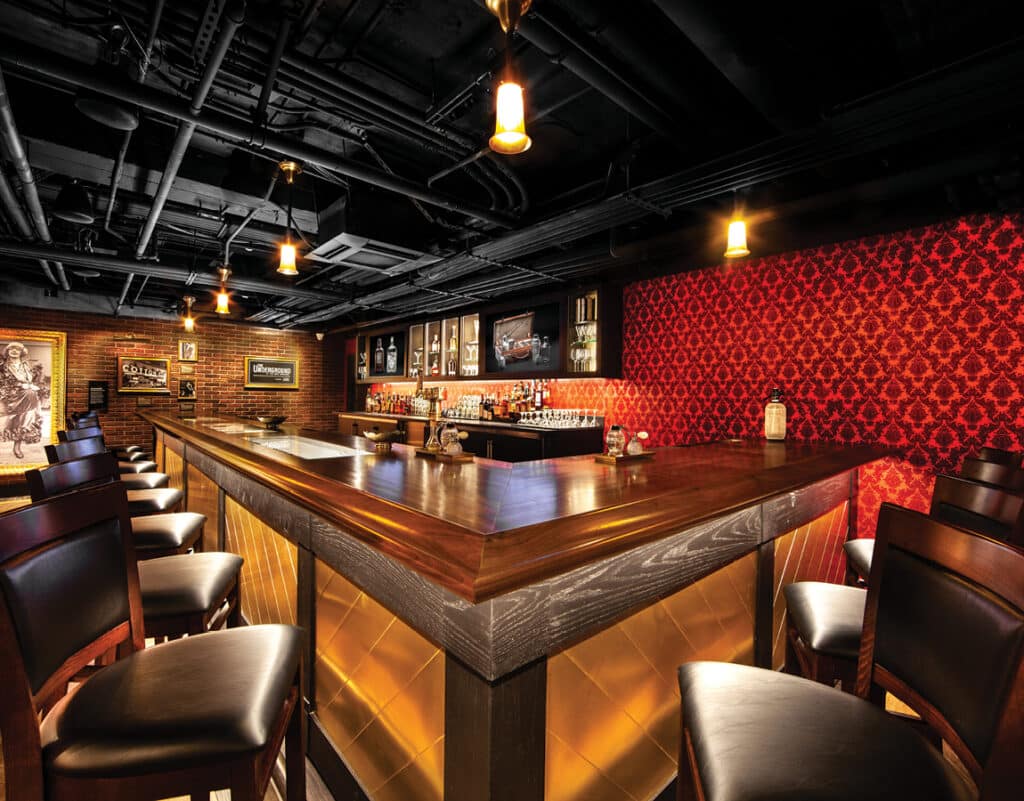 Google "secret bars Las Vegas", and The Underground is bound to appear.
Found in the Mob Museum – yep, it can't get more Vegas than that – the Underground speakeasy is part of a living exhibit that takes you back in time to the Prohibition Era when hundreds of speakeasies operated in discreet locations.

The exhibit is set up around a well-stocked bar and includes a stage with live jazz music. The Underground also features a working brewery and distillery which serves house-brewed beer and house-made moonshine. Order some yummy cocktails served in inconspicuous items like hollowed-out books.
You'll need to use the password of the week to get in.
2. The Barbershop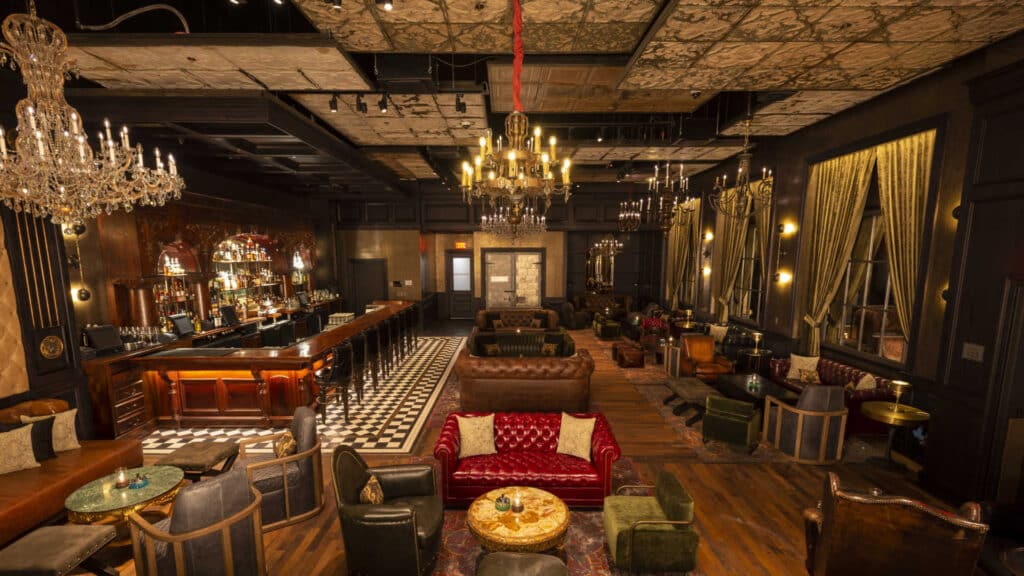 A barbershop by day and cocktail lounge by night – The Barbershop at The Cosmopolitan is found through an unassuming janitor's door. It leads to live music, craft beer, and an exquisite whiskey selection. The gorgeous mahogany bar is over 100 years old and includes over 150 whiskeys and bourbons from around the globe.
Live bands perform every Thursday, Friday, and Saturday, adding to the old-school charm reminiscent of classic Las Vegas.
3. The Laundry Room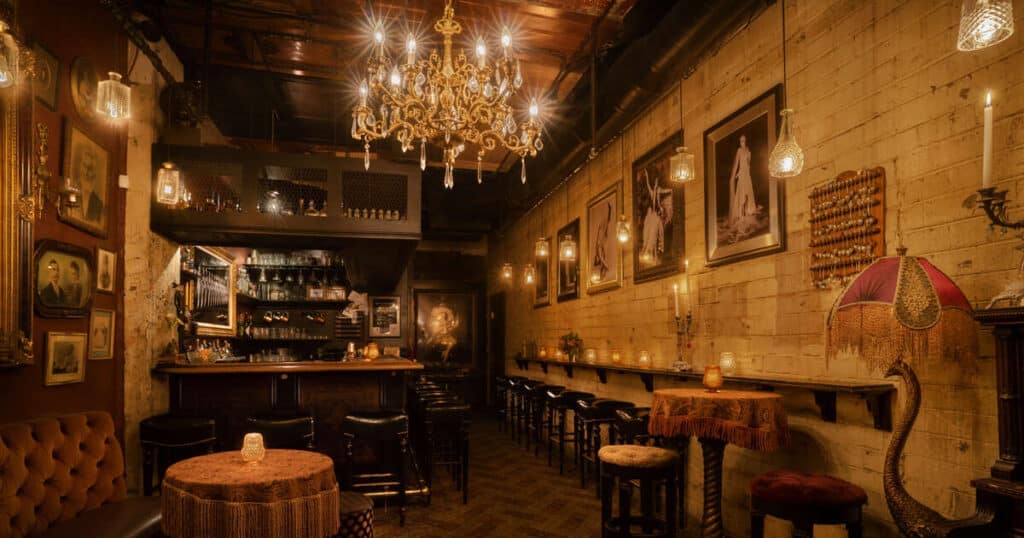 If you find yourself in Downtown Las Vegas, you're likely to see some crowds at Commonwealth – a 6,000 ft square double-decker tavern.
Head past the crowds, and you'll find a small hidden speakeasy behind a bookshelf. The Laundry Room is intimate, elusive, and infamous for its internationally acclaimed signature cocktails created by master mixologists. If you're lucky, the maestro will be at the piano to give you an extraordinary night of live music.
To get into this hidden gem, you'll need to obtain a secret phone number from the Commonwealth staff and text for a password.

4. Ghost Donkey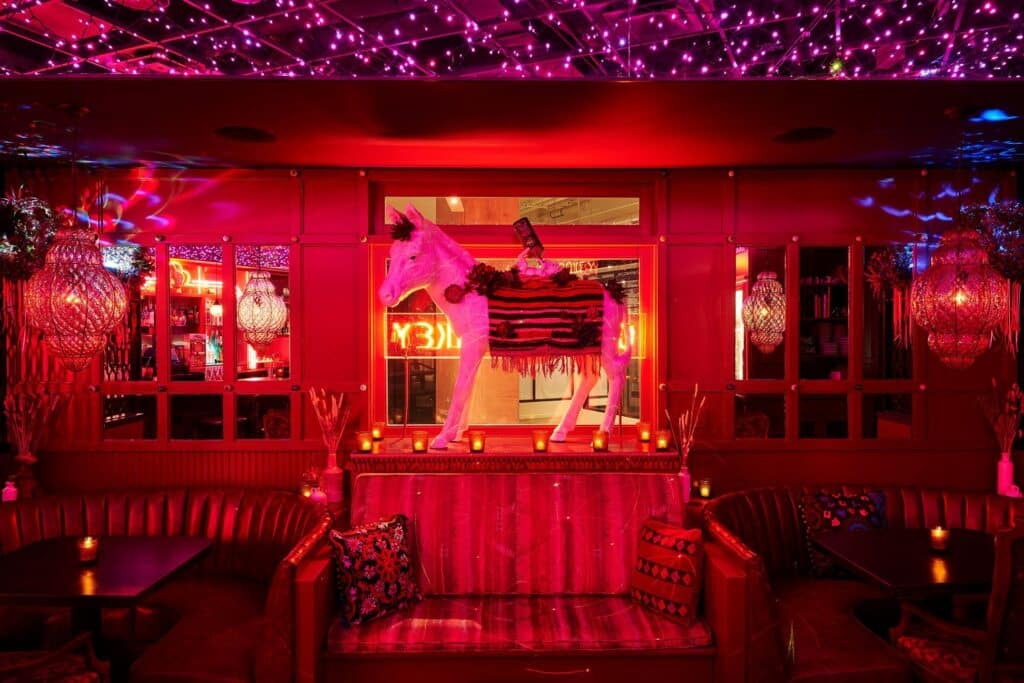 While many speakeasies offer classy roaring 20s vibes, Ghost Donkey takes it up a few notches. Tequila and mezcal lovers will instantly want to head to Ghost Donkey.
Situated within Block 16 Food Hall at the Cosmopolitan, the Ghost Donkey is hidden behind a green door with a pink donkey. Once inside, you'll be wooed by glowing red lights, donkey art, and the bar's impressive mezcal selection – it's a fiesta packed into a speakeasy.
Sip on traditional Mexican spirits, order delicious food, and enjoy lively music. You'll very quickly be transported to Mexico.
5. Here Kitty Kitty Vice Den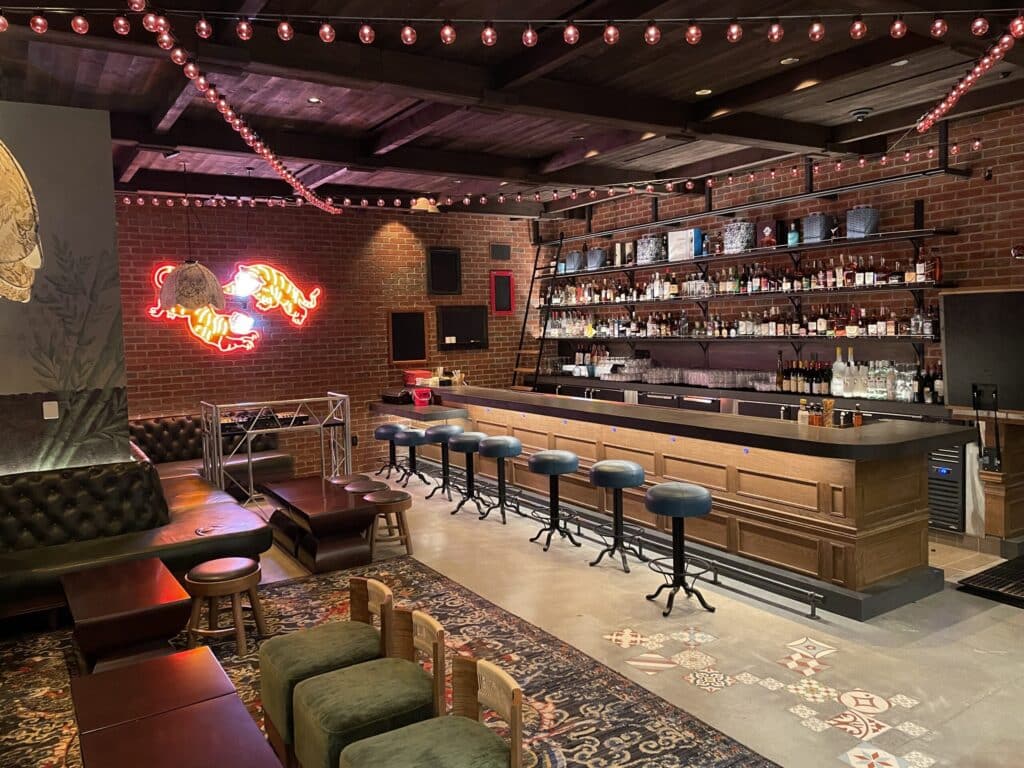 One of the newest speakeasies in Vegas can be found at Resorts World in Famous Foods Street Eats food court. With a name like Here Kitty Kitty Vice Den, who wouldn't want to visit this secret bar that caters to your vices? To head inside, find the door disguised as a blue shelving unit to the right of the cash register with three lucky cats (black, white, and gold).
You won't need a password to get inside, just as long as you know this priceless gem is tucked away in the food court. Once inside, the bar's craft mixologists can mix any drink you're craving.
6. 1923 Prohibition Bar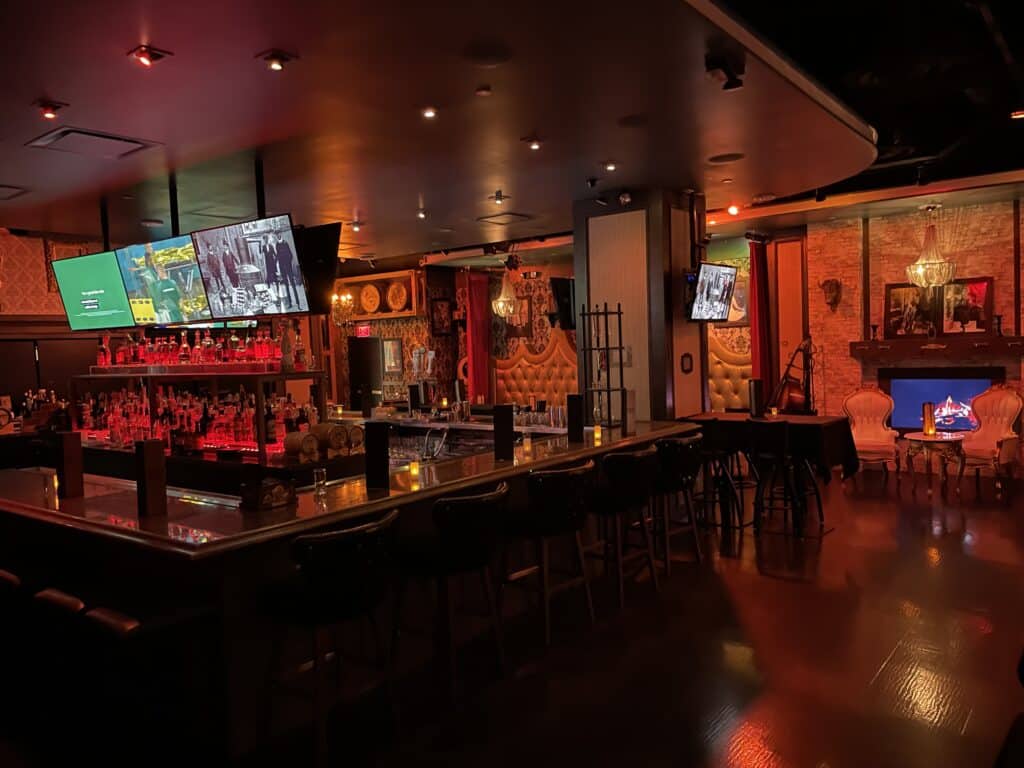 Tucked away beneath the unassuming escalators to the Shoppes at Mandalay Place is a swanky secret lounge and cigar room.
1923 Prohibition Bar is the epitome of secret bars Las Vegas has hidden away from the world's view. Featuring a long list of various whiskeys and bourbons, on top of an extensive brown liquor menu, this classy spot can craft up some delicious cocktails and includes an Estate Room for puffing on cigars.
1923 Prohibition Bar has entertainment on Friday and Saturday nights and even hosts New Orleans Nights featuring cocktails inspired by the city.
Make sure you order one of their specialty Old Fashions.
7. Más Por Favor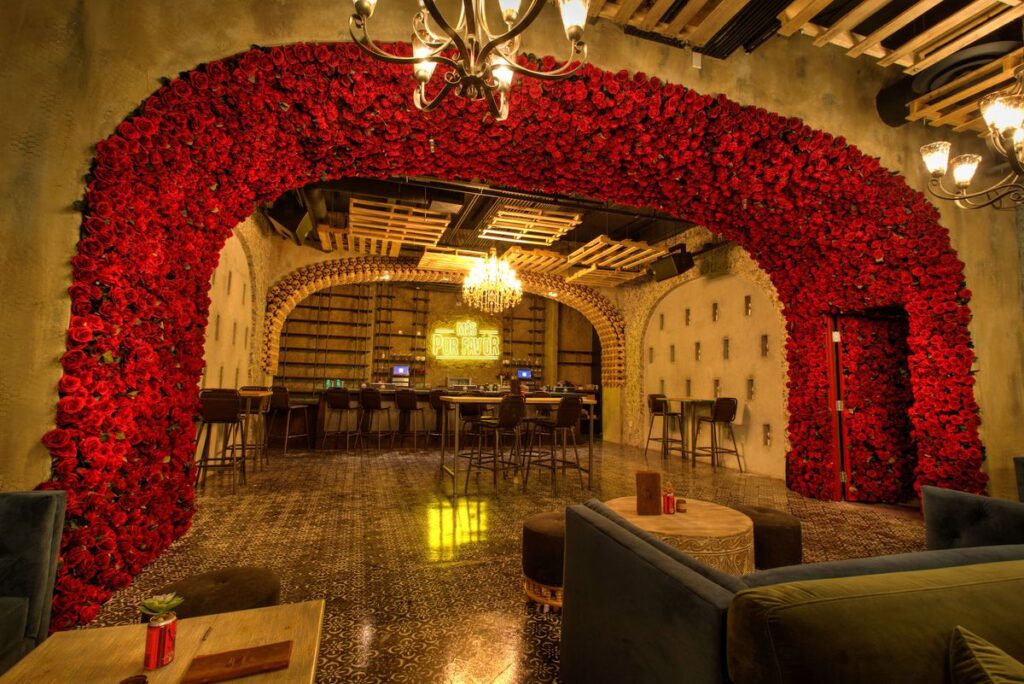 Another secret bar Las Vegas has tucked away is Más Por Favor. At first glance, it looks like a vibey taqueria in a Chinatown strip mall. But off to the side, there's a secret hallway designed to look like a drug tunnel decorated with bags of cocaine that leads to a speakeasy parlor with rose-filled archways, stunning murals, and a wall made from skulls.
The secret bar opened in 2020 and has a cocktail menu brimming with flavored tequilas and mezcal. And there are always specials running throughout the week – like Taco Tuesday with offers bottomless street tacos for $20.
8. The Golden Tiki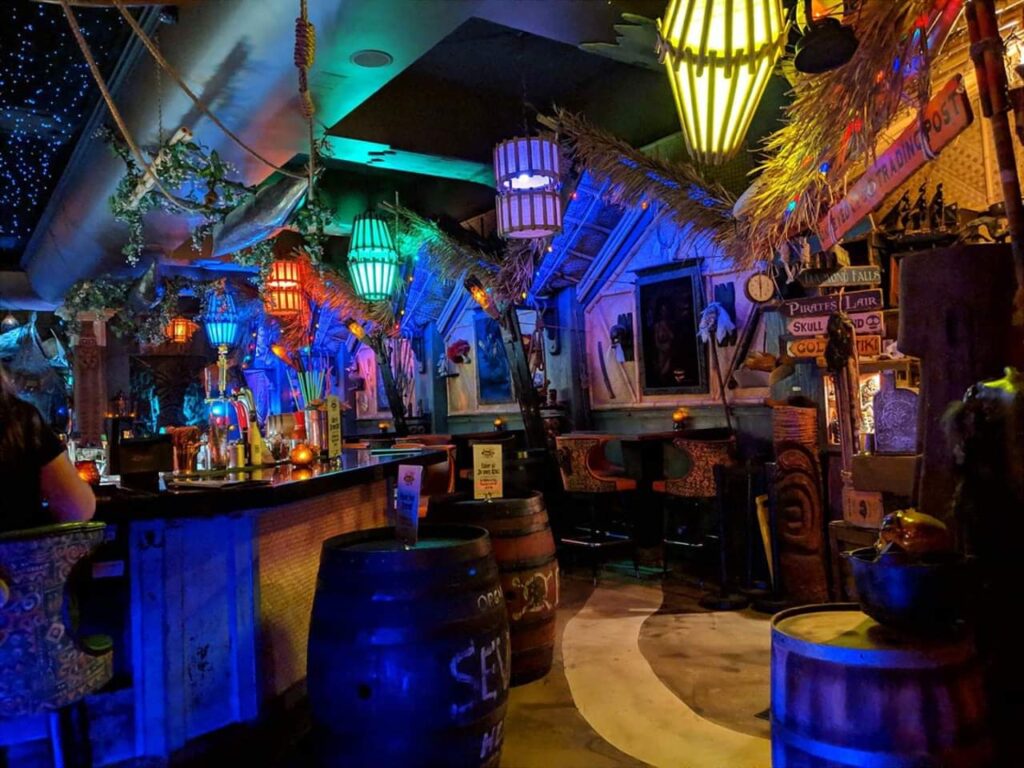 A modern version of the classic tiki bar, The Golden Tiki is a secret bar popular among locals and celebrities. You can enter this speakeasy through a secret lava rock cave entrance with a waterfall. Inside, the bar has different areas that look like pirate lairs and mermaid coves, as well as a small 1920-inspired theatre, a giant conch shell, and a 20-foot magical waterfall.
Fruity drink lovers can sip on classic tiki cocktails like punch bowls and Mai Tais. Read up on the legend behind the bar.
Fun fact: the bar is haunted, and a few patrons have even snapped pics of some of the bar's ghosts. The owner likes to say it's the number 1 bar in the After Life.
9. The Downtown Cocktail Room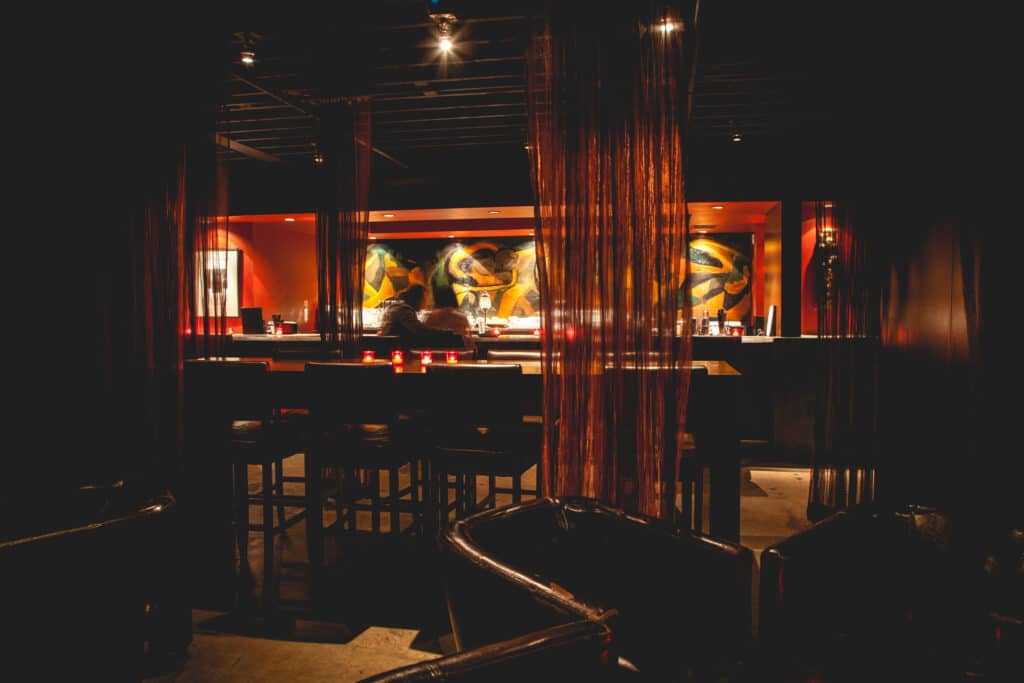 This secret bar is the perfect blend of authenticity and ingenuity. What makes The Downtown Cocktail Room unique is that it has a speakeasy inside a speakeasy – how's that for inception.
Head to the back room to see Mike Morey's Sip'nTip which has its own entrance from the alley and its own menu.
The Downtown Cocktail Room offers a sexy atmosphere with dim lighting, sheer curtains separating tables, and plush armchairs. There are also private rooms with red booths and tables for parties that want a more intimate speakeasy feel.
Cocktails dominate the menu and cater to people who want classics, as well as those who enjoy experimenting. It's also one of the few places in Vegas where you can drink absinthe.
10. Datamosh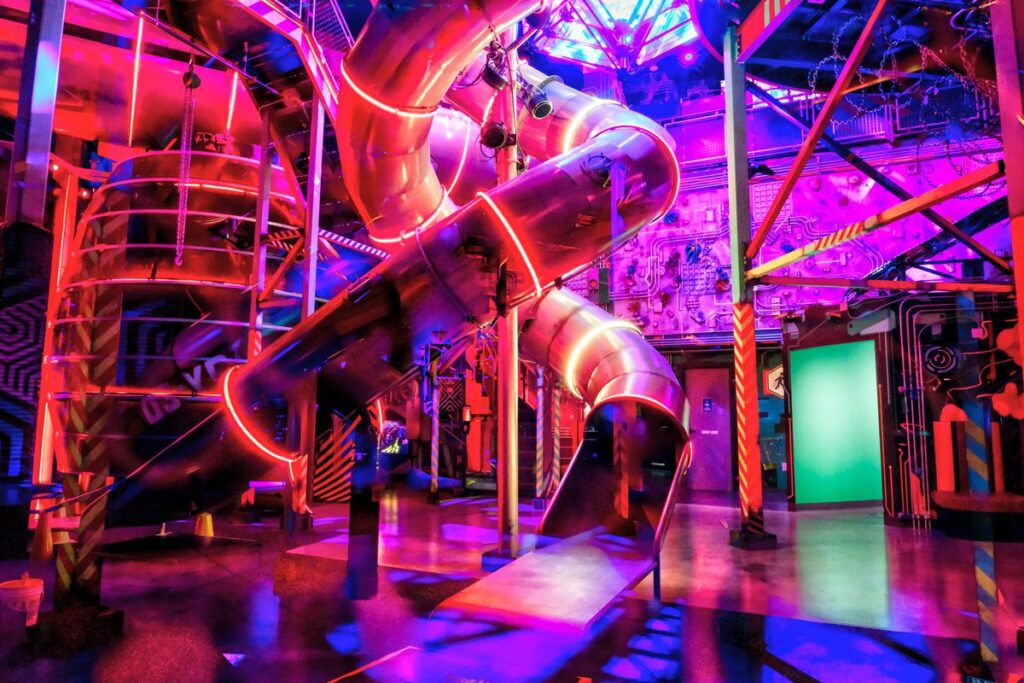 A little-known speakeasy, Datamosh, is located at Omega Mart – one of Meow Wolf's art installations disguised as a grocery store in AREA15. The self-proclaimed pharmacy in another dimension is an adult's playground where drinking and art meet.
The speakeasy has eight signature cocktails, including their homemade pink peppercorn champagne syrup and exciting flavors like basil-seed and rosemary bubble-filled smoke. And their presentations live up to their fascinating concoctions.
You must have a ticket for Omega Mart to enter Datamosh, but it might as well be a ticket to another world.
When it comes to the best bars in Las Vegas, these hidden gems undoubtedly make the list. Find your passwords, search for elusive entrances, and sip on some of the best drinks money can buy.
Also planning a visit to New York? Here are the bars to add to your list.
The Best Way to Get Around in Las Vegas
Are you wondering how to get around Las Vegas as you enjoy these secret bars? Don't worry; we've got you covered.
By Bus:
The Regional Transportation Commission of Southern Nevada (RTC) offers bus routes 24/7 along the Strip and downtown area and dozens of bus routes throughout the city and the greater Las Vegas Valley. This is an easy and affordable transportation option. If you're going to spend most of your time close to the Strip and the downtown area, you can rely on the Deuce to get around – which runs from the South Strip Transfer Terminal near the airport to the Fremont Street Experience. The bus runs every 10-15 minutes from 7 AM to 1 AM and every 20 minutes from 1 AM.

Fares are paid by time period, and tickets can be bought from ticket vending machines and select 7-Elevens, or downloaded through the rideRTC smartphone app. Two-hour passes cost $6, 24-hour passes cost $8, and a three-day pass costs $20.
By Taxi:
Despite the great bus service in the city, cabs are the best option for getting around quickly. Taxis can be found all along Las Vegas Boulevard and in front of all major hotels. Meters start at $3.50, with additional miles costing $2.76 per mile. It might seem costly, but cabs can take up to 5 people for the same fare. You can also use Uber and Lyft.
On Foot:
Since the Strip can get congested, walking is sometimes the best way to get somewhere quickly. Even though it's only 4 miles long, the desert can play tricks on you, making your destination seem closer than it is.
Make sure you don't get sunburn or heat stroke by applying sunscreen regularly and drinking lots of water.
Monorail:
The Las Vegas Monorail runs along the Strip between Sahara Avenue and the MGM Grand. Services begin at 7 AM up to Midnight on Mondays, 2 AM Tuesday to Thursday, and 3 AM on weekends. Trains run every 4 to 8 minutes. Single rides cost $5 and unlimited day passes (valid for seven days) range from $13 to $56.
By Car:
Car rentals are available at the airport and many agencies across the city. But unless you're planning a visit to the Grand Canyon, Red Rock Canyon, or the Hoover Dam, a car will be more trouble than it's worth. Navigating gridlock traffic, finding affordable parking, and getting the car back at the end of the night (with one person having to remain sober) are all headaches that you can easily avoid with other transport options.
FAQs
Is It Hard to Get Into Secret Bars in Las Vegas?
Not really. Once you know where to go and which secret entrance or password to use, it's relatively easy to enjoy secret bars in Sin City. The only thing is finding this information in the first place. Many sites like Yelp and even the bars' websites don't tell you how to find these secret bars. So, you'll need to scour blog posts like this one and ask for local recommendations to uncover these hidden spots.
What Are the Best Drinks to Order in Las Vegas?
It depends on you. Vegas is home to countless mixologists that concoct incredible cocktails. Make sure you try a few classics like The Painkiller and Mai Tai, spins on classics like the Yardbird Old Fashioned, and signatures like the Holland House and Rum Swizzle.
Make sure you're ordering plenty of water, too, to keep hangovers at bay and stay hydrated in the desert heat.
What Are the Big Drinks Called in Vegas?
Some popular ones include The Guitar, found at the Rockhouse, and The Yard, found at Carnaval.
Are Drinks Still Free in Vegas?
Yes. All Vegas casinos serve free booze to all gamblers. While you don't need to be seated at $100 blackjack tables, you won't be able to walk up to casino bars for free drinks. As long as you're gambling, cocktail servers will come up to you and ask you if you want something to drink – even if you're at a $10 slot machine. Keep in mind that you're technically still paying because you're gambling.
Nightclubs offer free drinks to ladies within the first hour or two of opening – but you'll need to arrive early.
How Much Cash Should I Bring to Vegas?
That depends if you're going to be a big spender. Make sure you bring a minimum of $150 per day per adult for food, shows, and other spending. Gambling should be determined by whatever you decide you can afford to lose. Some say $100 per day per person is enough, while others say you need as much as $1000 per day.