Air Doctor, is an Insurtech startup that helps travelers find local doctors abroad through an easy-to-use app. At the recent InsureTech Connect (ITC) conference in Las Vegas, Air Doctor's innovative platform proved its worth when they assisted an attendee who required medical care. During the event, the Air Doctor team had a chance to showcase their innovative platform and demonstrate how it enables travelers to access medical care, anywhere, anytime – including during the conference itself.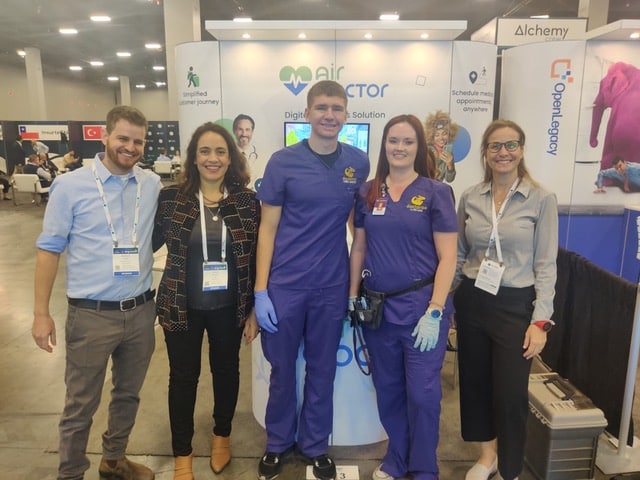 While the team was engaging with attendees and showcasing their product at the conference, an attendee at the conference came over and asked for medical care.
The injured attendee was highly stressed, since she'd not only been unexpectedly injured, but she had also contacted her insurance provider in her country, and they were unable to assist her.

In addition, she wanted to remain at the conference and run her company's exhibition so was unable to visit a clinic. This unique set of circumstances coupled with the fact that she'd been away from home for over a week, only added more stress to the traveler. All in all, it meant she was hesitant to arrange a doctor's appointment.
Air Doctor immediately stepped in and offered their assistance, reassuring the patient that she could receive the care she needed without interrupting her conference schedule.
Once they contacted their 24/7 customer support team, local doctors were brought in to consult with the patient.

Air Doctor's specialists arrived at the patient's booth right on schedule, with all the necessary equipment. Understandably, the traveler was still anxious as a result of her insurance issue, but the doctors and team immediately reassured her – initiating the trust process to put her at ease and give her the treatment she needed. The doctors consulted with her on site, completed a triage assessment, and administered the appropriate treatment. And thanks to Air Doctor, the patient was able to travel home without any discomfort. It goes without saying that the traveler was incredibly relieved.
Many people find themselves in similar situations while abroad – where they unexpectedly fall ill or get injured. While these aren't life or death scenarios, they are anxiety-inducing.
This is just one example of how Air Doctor's service can make a world of difference to the travel experience. With their easy-to-use app, travelers can access a global medical network of over 20,000 doctors and specialists, who can speak their preferred language. The platform makes it simple for anyone to search for healthcare providers, book appointments, and get access to quality medical care – even when away from home.
Air Doctor's commitment to customer care is unparalleled. The startup aims to always go above and beyond to ensure that travelers receive the medical attention they need, at a time that's convenient for them. This instance at the ITC conference is a testament to the effectiveness and importance of Air Doctor's service.
Read the featured piece in Fintech Global here.