With its breathtaking natural wonders, striking landscapes, and quirky local attractions, Iceland is one of those places everyone should visit at least once in their lifetime.
This magical destination welcomes millions of tourists every year, from volcanoes to waterfalls and dramatic sights all around; there are plenty of things to do and see once you get here.
Whether you're traveling alone or with a group of friends, here is why Iceland won't disappoint.
Why Iceland Is a Top Best Bucket List Destination
1. Safety Is Sexy!
Iceland is believed to be one of the safest destinations in the world! Few parts of the globe are immune to crime, but safety emerges as one of the primary draw cards for why Iceland is an ideal destination. Even solo travelers exploring Iceland won't need to worry! Icelandic people are also generally very warm and welcoming to travelers visiting their homeland.
2. Feast Your Eyes On The Northern Lights
Your trip to Iceland wouldn't be complete without setting your sights on the majestic Aurora Borealis. The piece de resistance of celestial displays, the Northern Lights are perhaps the first and foremost reason to visit Iceland. While you can witness this magnificent light show from the North and South Poles, Iceland is known to be one of the best places to see the Northern Lights.
Offering a tranquil environment to enjoy the view as well as a beautiful hunting ground for chasing the sometimes-elusive lights. These dancing lights are seasonal and are best viewed between the months of September and March when the excitation of atmospheric constituents grace the sky with hues of greens, blues, pinks, and reds.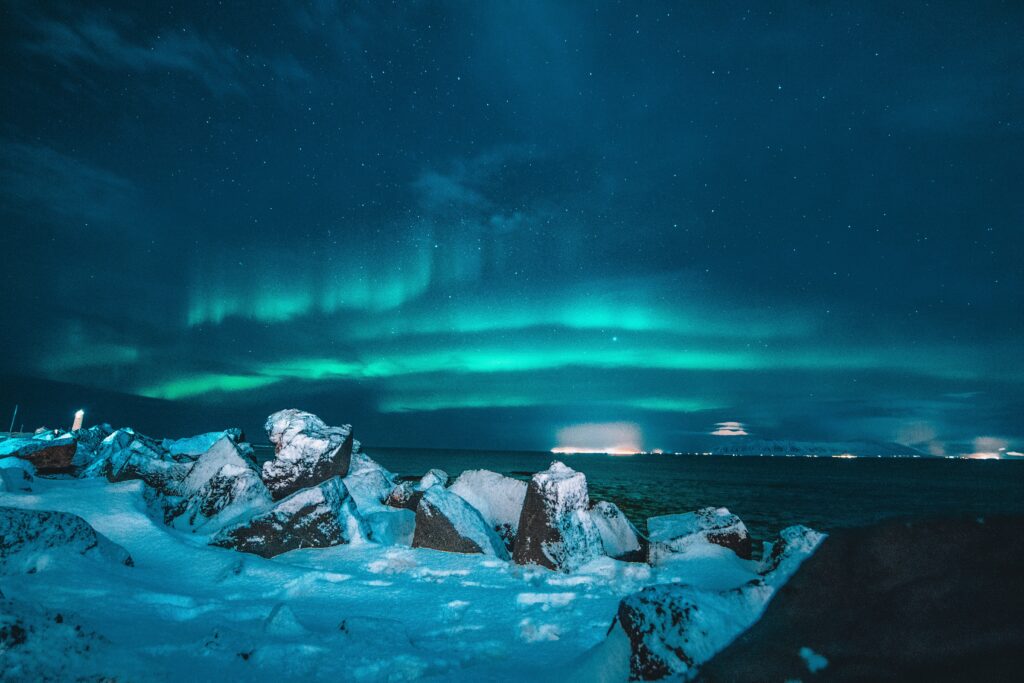 3. Enjoy Endless Summers
Have you ever been somewhere so pleasant that you didn't want the night to set in? Well, during the summertime, Iceland promises exactly that! With some days in the country's capital – Reykjavik – seeing over 20 hours of sunshine per day. Visitors traveling to the northern parts of Iceland can still experience sunshine past midnight, with only a short period of darkness until the sun rises again at around 3 AM.
4. Soak In The Blue Lagoon
Another reason why Iceland is the best in terms of indulgent getaways – is the opportunity to bob around in the decadent Blue Lagoon. Iceland is home to several hot pools that benefit from geothermal power, but the most notable is the Blue Lagoon – an enormous geothermal spa of turquoise seawater. In fact, the Blue Lagoon is Iceland's most famous attraction! This luxurious lagoon allows you to experience the warmth of a heated lagoon while in subzero temperatures. It is even said that the water has healing properties because it contains silica and various other minerals that help treat skin conditions and ailments.
Pamper yourself with additional treatments at the luxury spa or buy a bottle (or two) of the skincare range from the Blue Lagoon store to take home. Treat yourself to a yummy meal in the restaurant overlooking the lagoon or sip on something that quenches your thirst at the swim up bar while your skin enjoys a Silica Mud Mask!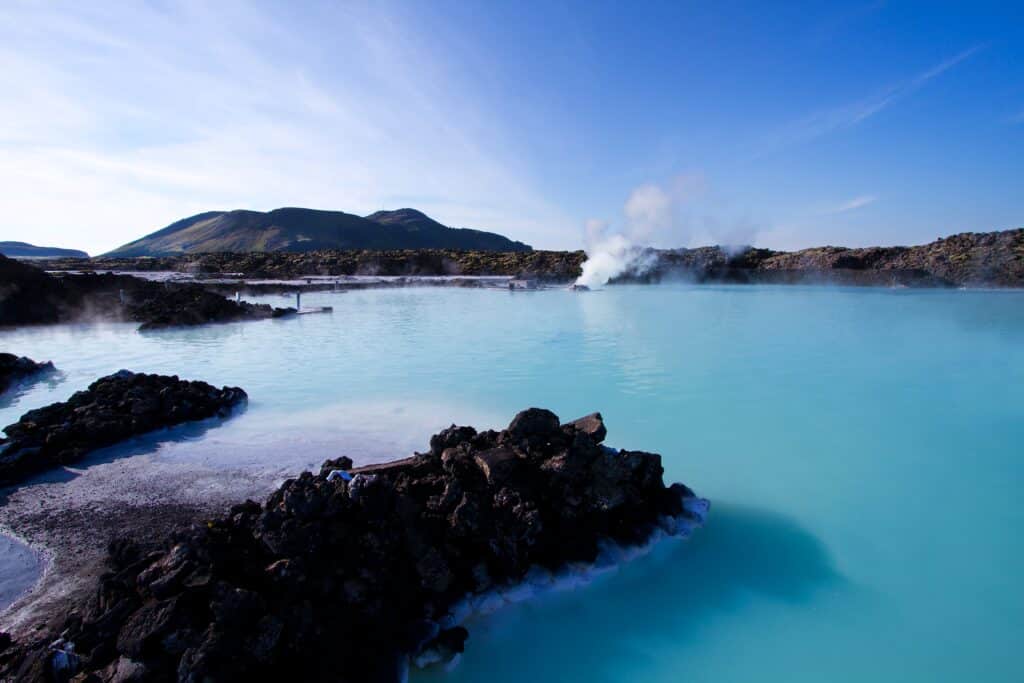 Tip: Book your visit beforehand. Try to visit the Blue Lagoon as soon as you arrive or on your way back to the airport. Give yourself plenty of time to enjoy it.
5. Explore The Glaciers Galore
Have you ever had the urge to venture inside glaciers and explore ice tunnels? Then visit the incredible Langjökull (Icelandic for "Long Glacier") for a truly once-in-a-lifetime experience! The mighty ice cap is the second-largest glacier in Iceland, at 935 square kilometers (361 square miles), and is the most popular glacier in Iceland for jeep and snowmobile trips, as well as skiing and hiking as well.
Traverse beneath Langjökull's thick ice sheet and get a first-hand view into the astonishing beauty of a glacier's formation and processes, as well as the vivid blue coloration.
Did you know: This is the only place in the world where this is possible!
6. Viking World Museum
Teleport yourself to the Viking Age. Iceland's open-air museum allows you to set your sights on a replica of the 9th century Viking ship Islendingur (Icelander), which sailed across the Atlantic to Newfoundland and New York in 2000 in celebration of Leif Ericsson's voyage.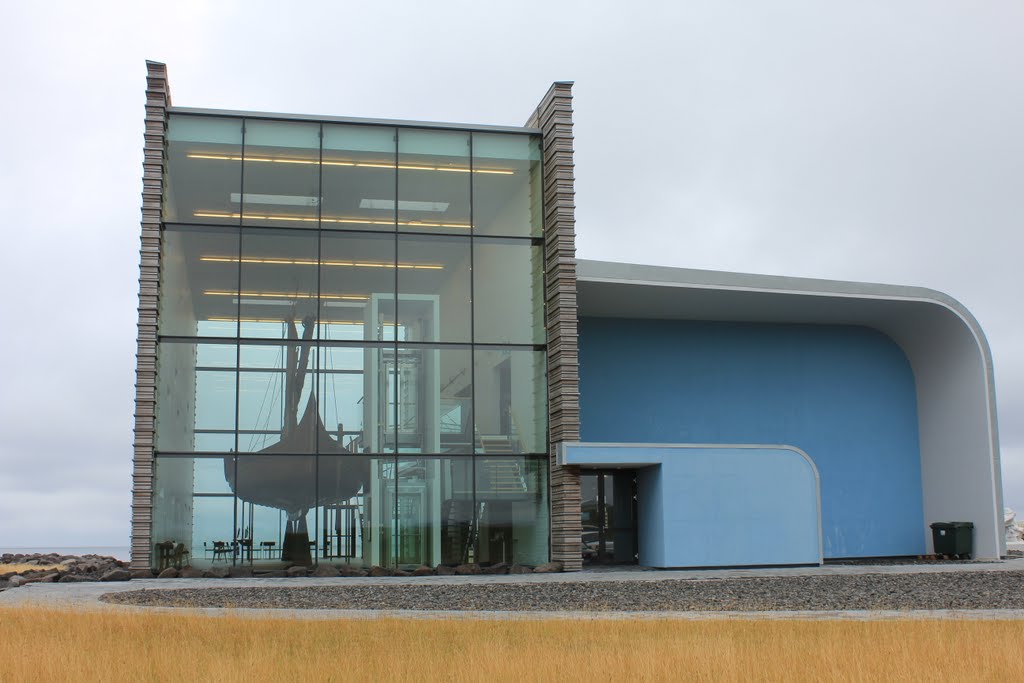 PSA for mythology lovers: Make sure you visit the museum's fascination section on Norse mythology!
7. Delicious Seafood
Seafood lovers will delight in Icelandic cuisine! Sink your teeth into delectable dishes of lobsters, salmon, berry jam, Plokkfiskur, and other tasty foods from Iceland.
Tip: Plokkfiskur is a famous traditional dish in Iceland – a combination of béchamel sauce, fish (cod or haddock), onions, and potatoes.
8. Black Lava Pearl Beach
The Djupalonssandur Beach situated in the west of Iceland on the Snæfellsnes Peninsula is another stunning reason why Iceland is a top best bucket list destination. Called the Black Lava Pearl Beach, the arched-shaped bay of dark cliffs and black sand where some rock formations resemble an elfish church.
Take a peek through the Gatklettur – an arch-like rock with a hole through it – and view the Snaefellsjokull glacier. Make sure you also stop by the two beautiful freshwater lagoons nearby, which are also said to have healing properties.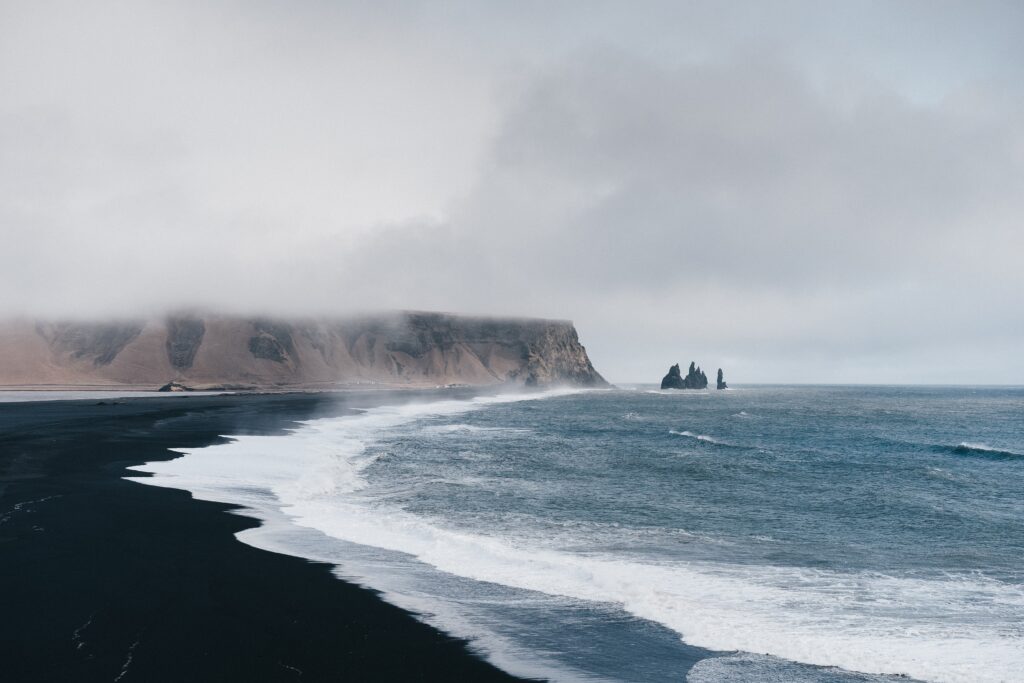 Speaking of elves. . .
9. Visit The Elf School
Another reason why Iceland should be one of your bucket list destinations is Reykjavik's Elf School. Situated in the heart of Iceland, is a magical place featuring tiny elf houses and mystical gardens. A staggering 37% of Icelandic locals believe that elves exist – and that's why they've built a miniature village for these mythical creatures.
10. Hallgrimskirkja Cathedral
On the top of a hill in Iceland's capital city, Reykjavik, is the majestic Lutheran parish church. It's the largest church and tallest structure in Iceland. Designed to resemble the trap-rocks, mountains, and glaciers that adorn Iceland's landscape, construction took over 40 years to complete.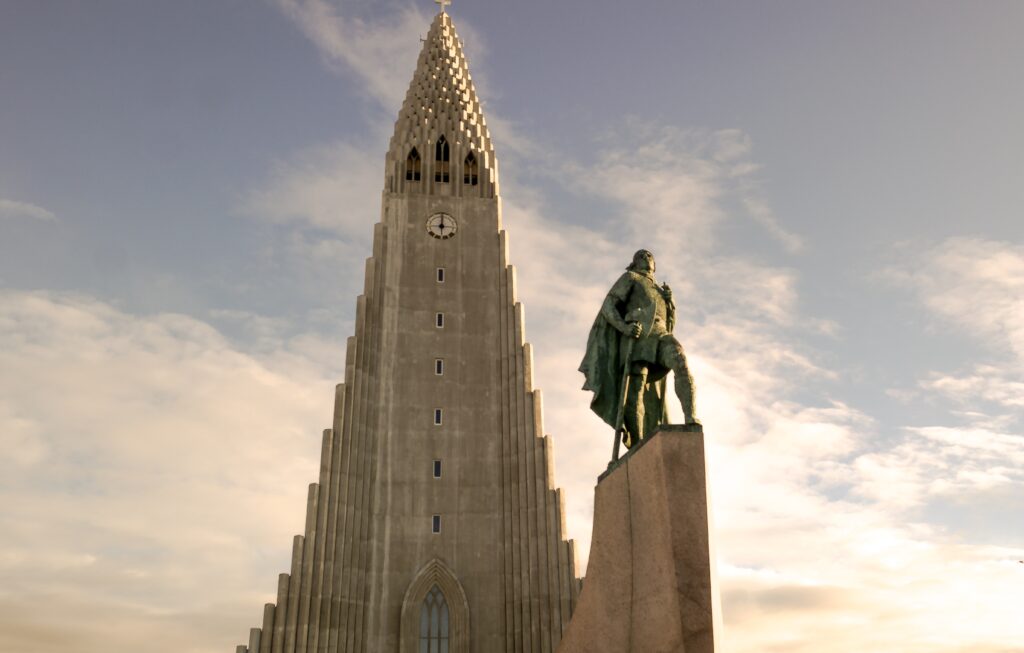 Peek inside to see the large pipe organ and take the elevator up to witness panoramic views of the city from the viewing deck. In the church courtyard, you'll find a Leif Ericson monument, the Norse explorer who discovered North America approximately 500 years before Christopher Columbus.
11. Hekla Volcano
An explosive reason why Iceland is the best destination is, of course: the volcanoes. Iceland is the most intense volcanic places in the world, consisting of over 130 active and inactive volcanoes in total. The magnificent Hekla is among the top 4 most active volcanoes in the country and is also known as the Gates of Hell. The upturned boat-shaped volcano has still been used as a cinematic backdrop throughout the years and remains a popular hiking and camping destination.
12. Discover Striking Landscapes
Iceland boasts dramatic landscapes that you won't be able to find anywhere else. The waterfall in the Hvítá river canyon, the volcanic craters, and the gigantic geysers are all a delight to the eyes. Just imagine yourself surrounded by sparkling icebergs, black sand beaches, lava fields, and stunning waterfalls – all in one place.
Booking Your Iceland Accommodation
What You Should Know About Iceland Accommodation:
The land of fire and ice is quickly becoming a top-rated destination for travelers across the globe, and the lodging options in Iceland are extensive. Standards are universally high, so visitors are guaranteed comfortable, clean bedding at the very least – even youth hostels in Iceland are in much better condition than the rest of the world.
Luxury Accommodation In Iceland:
On the other hand, travelers seeking a no-expense-spared holiday in Iceland might have to tone down their expectations. While there are many high-end hotels across Iceland, you won't find many 5-star hotels in Iceland that compare with international luxury standards.
Be Aware of Peak Season:
Even though Iceland has many accommodation choices available for keen visitors – reservations fill up quickly. During the summertime and Christmas season, hotels are usually fully booked around these times. So, make sure you channel your inner early bird and book several months in advance.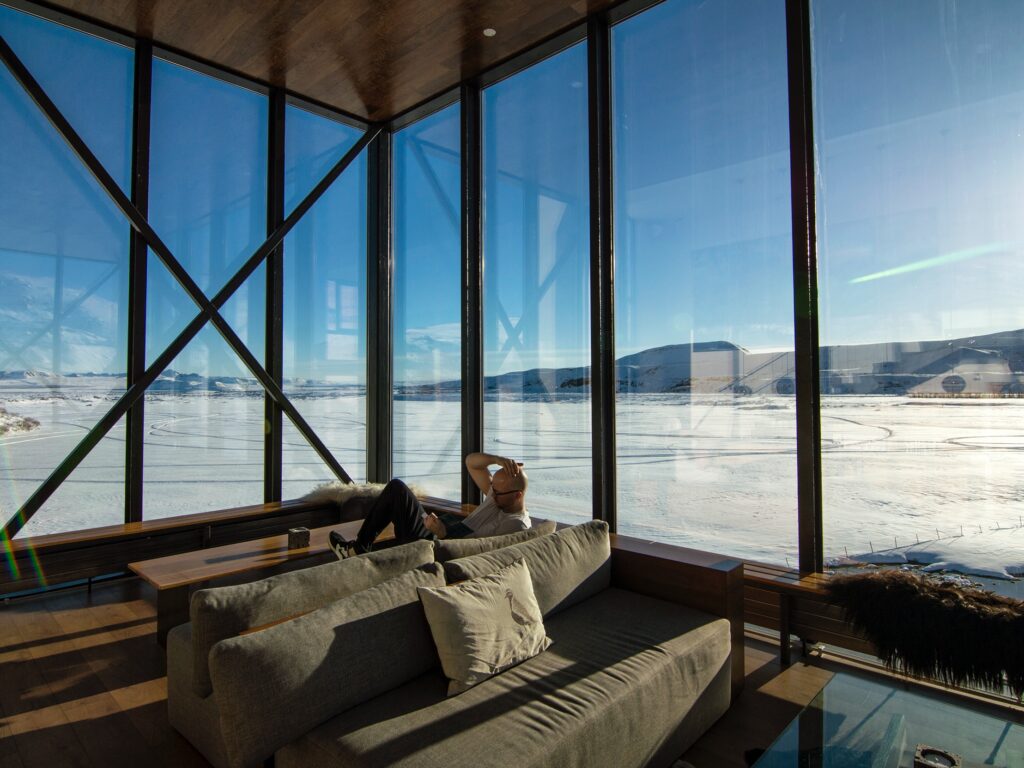 Where To Stay In Reykjavik
Naturally, Iceland's capital has the widest range of accommodation in the country to suit all budgets and needs. The best place to stay in Reykjavik is downtown near the Laugavegur shopping street – this is where you'll find most of the best attractions, restaurants, and souvenir shops in Reykjavik.
Travelers without a tight budget have an array of luxury hotels to choose from: Hotel Borg, situated in the heart of the downtown area, offers 99 deluxe rooms in the Art Deco style. Or The Icelandair Hotel Marina, which overlooks the stunning harbor and is ideal for travelers with a more refined taste.
5-Star Accommodation: The Reykjavik EDITION by Marriott – Iceland's only five-star accommodation.
Family Accommodation: Centerhotels is a chain of a few centrally located 3-4 star hotels in Reykjavik.
Where To Stay Near The Blue Lagoon
The Silica Hotel gives exclusive access to a private Blue Lagoon and free access to the main one.
Of course, there are many other incredible options for lodging in Iceland, and the bottom line is you should do your research to identify what activities you will want to do while you're there. And of course: enjoy your Icelandic adventure