When it comes to cities in Mexico, Guanajuato is easily the prettiest city among them. Meandering narrow streets, vibrantly colored houses perched on steep hillsides, art, art, art, and fascinating local traditions make this Mexican city a top pick for many travelers who are searching for a place to truly experience both the weird and the wonderful.
Where is Guanajuato, Mexico? Right in the heart of Mexico, of course. Located in the mountains of central Mexico, just northwest of Mexico City. Once upon a time, Guanajuato was one of Mexico's best-kept secrets. Still, this UNESCO World Heritage Site town has long passed the point of being an "off-the-beaten-track" destination and is growing in popularity with foreign tourists – but don't let this deter you from exploring this gem.
Guanajuato truly is a one-of-a-kind city; here's what you know before visiting.
Things To Do In Guanajuato
Wander The Streets
Guanajuato is perfectly designed to do just that for travelers who prefer to explore without a plan. The colonial city has plenty of narrow streets to wander and alleyways leading to tunnels just waiting to be explored. The best way to get to know this city is simply to meander through the streets, camera in hand, and soaking up Guanajuato's rich history, traditions, and color! Just remember to bring comfortable shoes!
Is Guanajuato safe though? It is generally a safe city, and as long as you have enough common sense and street smarts, you'll have no problem exploring on your own.
Dive Into Local Art & History
Another reason to simply just explore the streets is that when it comes to the cultural explorer, Guanajuato does not disappoint. Every street corner has a small treasure to be discovered. Nicknamed the "city of frogs", the Mexican city is filled with monuments, street art, and other details depicting the web-footed creatures.
But for the museum and gallery lovers, Don Quixote Iconographic Museum has a diverse collection of paintings, murals, and sculptures; and Casa Diego Rivera gives you a peek into the home of famous artist Diego Rivera and even contains some of his early works.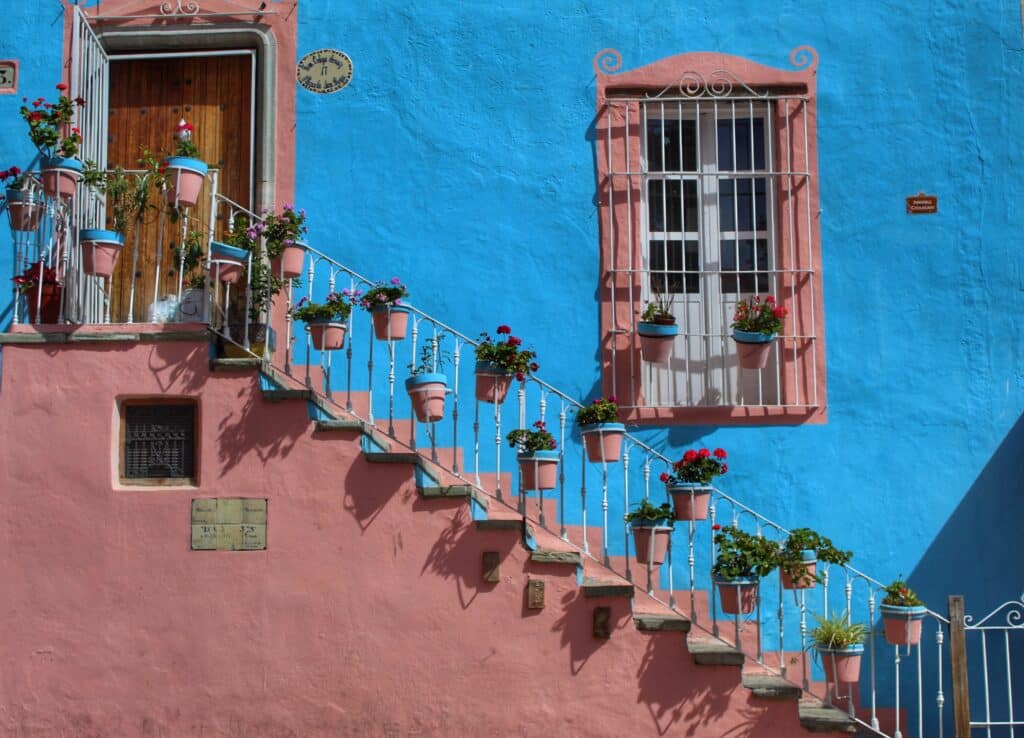 Experience The Bizarre
Definitely an iconic attraction in Guanajuato, and perhaps one of the stranger museums, is the Museo de las Momias de Guanajuato. Translated, it means the Museum of the Mummies of Guanajuato. The museum houses a collection of naturally mummified bodies unearthed from the town cemetery during the 19th and 20th centuries to make room for more bodies. Some of the mummies have looks of horror on their faces, adding to the shock factor.
Visit The Beautiful Basílica de Nuestra Señora de Guanajuato
Undoubtedly the center of the city, the stately 17th century Basílica de Nuestra Señora de Guanajuato is a religious and architectural specimen that leaves visitors astounded. It's home to a jewel-covered image of the Virgin, dating back to the 8th century, which was supposedly hidden from the Moors in a cave in Spain for 800 years. Lore aside, this red-domed, yellow monument is nothing short of magnificent.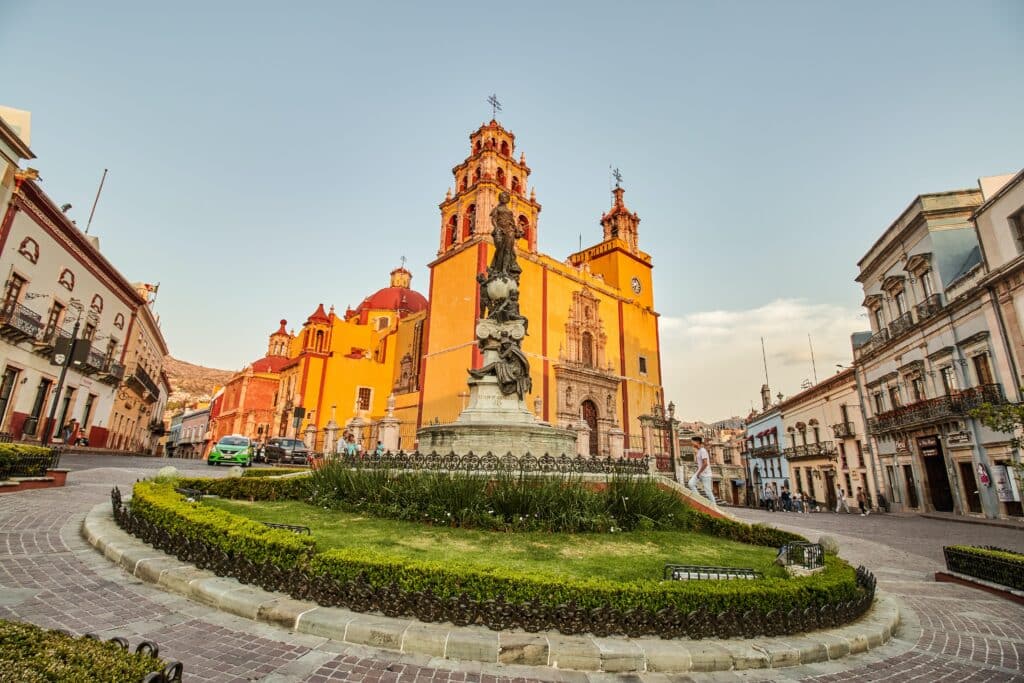 Swoon At Callejón Del Beso
Guanajuato has its very own Romeo and Juliet story. Tragic and romantic, the legend goes that a young woman from a wealthy family once lived here and fell in love with an ordinary working man. Upon her father discovering their romance, he forbade the young lovers from seeing each other. But determined not to let their love die, the young man moved into the building next door, and the couple carried their relationship out in secret – exchanging stolen kisses from across the balconies at night. Eventually, the woman's father found out and, in a fit of rage, stabbed his daughter in the chest. Overcome with grief and unwilling to continue his life alone, he eventually committed suicide.
Today, the tragic love story has turned Callejón Del Beso (Alley of the Kiss) into a popular, free tourist attraction in Guanajuato. Apparently, sharing a kiss with your significant other on the third step beneath the two balconies will seal your love forever.
Where To Stay In Guanajuato
Guanajuato is one of those destinations with accommodation to suit every budget and taste, from hotels and guesthouses to vacation rentals.
One beautiful high-end hotel is the Hotel Boutique 1850. Situated in the center of Guanajuato, the hotel offers beautifully adorned rooms housed in a neoclassical building that dates to – you guessed it – the 1850s. Located in one of Guanajuato's best-rated areas, this one is for the tourists who want to get celebrity treatment during their stay.
Or, if you're looking for something a bit more inexpensive, Casa Tepozanes is a friendly and charming guesthouse with all the typical amenities and is well-located and within walking distance of many attractions.
What to Eat in Guanajuato
If you're exploring cities in Mexico or Guanajuato in particular, there are some local favorites that every Guanajuato explorer absolutely must try. Whether you opt for a high-end restaurant, an Instafamous eatery, or a street-food stall, here are some of the traditional dishes you must try to make your stay that much more delicious.
Enchiladas: consist of a tortilla that is usually dipped in a chile-based sauce, then stuffed with various fillings such as cheese, meat, or fish. Then it is rolled up, baked, and topped with sauces, onions, beans, or more cheese.
Salsa verde enchiladas: a Mexican dish prepared by covering enchiladas with green salsa.
Enfrijolada: a Mexican dish consisting of fresh corn tortillas smothered with beans in their liquid.
Enmoladas: essentially enchiladas covered in mole sauce.
Enchiladas mineras: traditional Mexican enchiladas hailing from Guanajuato, a mining town where the women took this dish to their husbands at the end of their work hours.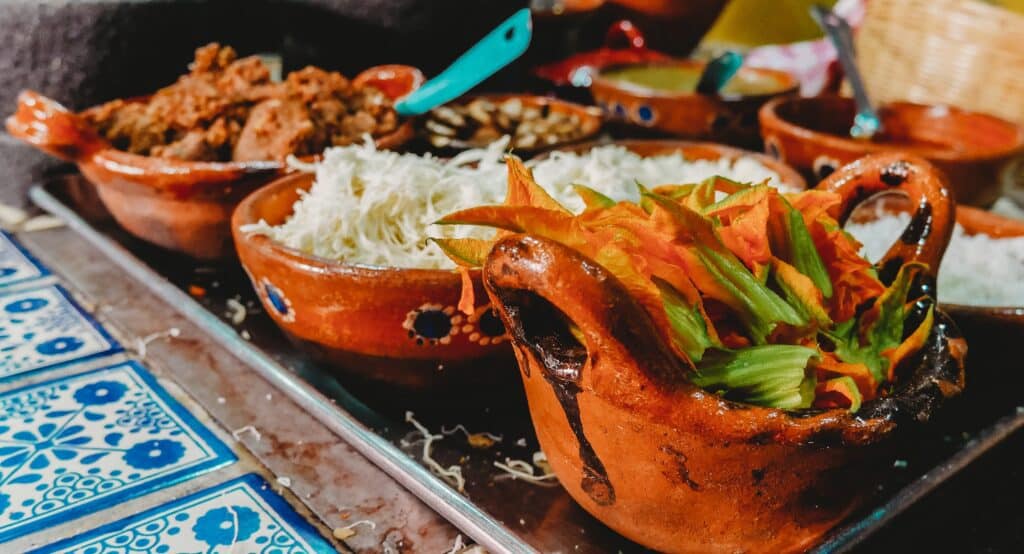 How To Get To Guanajuato
Plane: The nearest international airport in Guanajuato is Del Bajío (BJX) in Silao 30. If you are flying from the US, it could be cheaper to fly to Mexico City and take a bus to Guanajuato. However, Interjet and Aeromexico fly direct from Mexico City to Del Bajío airport if you don't want to take the bus. Flights take one hour.
Bus: If you opt for the bus, a bus trip from Mexico City (Mexico Norte station) to Guanajuato takes around five hours. Or travel to Puerto Vallarta on the coast, in an overnight bus trip which takes nine hours.
Travel Insurance
Don't forget travel insurance for your trip in case anything goes wrong. It's always best to be covered.
Or ensure that you are at least covered in the event of a medical emergency.
Air Doctor has an international network of doctors and connects travelers to private doctors worldwide – you can have a consultation within two hours of booking an appointment.
And there you have it, everything you need to know before you visit Guanajuato. With all its colorful buildings, winding streets, charming plazas, and easy escapes into the mountains, Guanajuato should be at the top of your travel bucket list.