A stunning archipelago found in the Indian Ocean; the Maldives has built itself a world-renowned reputation as a luxury tourist destination. But recently, more and more travelers have been able to enjoy the Maldives on a budget.
Before 2008, all foreigners in the Maldives were obliged to stay in resorts, but since then licensed locals have opened their own guesthouses on "local islands" – where Maldivians live, instead of self-contained resorts. But of course, if you're searching for Maldives budget resorts, we've got some for you too.
We have put together a few tried and tested tips on how to travel the Maldives for cheap, as well as ten of our favorite budget hotels and resorts, so you can start planning your budget trip to the Maldives sooner rather than later.
Maldives on a Budget: Essential Tips for Doing It on the Cheap
1. Travel during low season (or try to avoid peak season).
You can easily do the Maldives on a budget by visiting during the southwest monsoon when it's the cheapest (it starts in May and ends in October).
Since it's the rainiest time of the year, guesthouses prices could drop to half peak-season levels, and while it can be overcast and wet during this time (especially June and October), it won't be chilly thanks to the year-round warmth of the equatorial air.
Accommodation prices peak from the start of December to the end of February, so it's best to plan outside this time frame to guarantee cheaper costs.
2. Select your flight carefully.
Unless you have your own private yacht, the only way in and out of the Maldives is by air. And while the average fare has ticked downward in recent years, the island's remoteness means flying to Male will never be cheap. Some bargains can be found with charter airlines like Condor or Edelweiss and Go-First offers direct flights from Mumbai and Delhi. Opting into a stopover or two could reduce your airfare costs significantly.
3. Shop around to find cheap accommodation.
It's important to know that there aren't any super cheap options for accommodation. You won't find backpackers or bungalows on the beach like in Southeast Asia. But there are plenty of Couchsurfing hosts – if you don't mind that kind of accommodation.
There are also many budget guesthouses (that are surprisingly good value). For around $30-$60 per night, you can stay in a clean, modern, and spacious room with air conditioning, a hot shower, free breakfasts, snorkeling gear, a bottle of water each day, twice daily room cleaning, and fast WiFi.
The easiest way to find cheap accommodation in the Maldives is through Booking.com or Airbnb. It's really up to you, there are options – but if you want to visit Maldives on a budget. . .
4. Stay in a guesthouse instead of a resort.
Finding the right accommodation to suit your budget will be the biggest single savings you can make on a trip to the Maldives – and the cheapest option will always be a guesthouse. Even the fanciest guesthouse will cost significantly less than the cheapest resort.
And unlike self-contained resorts, guesthouses put you on a local island which gives you the freedom to pick your own restaurants and select the activities (and tour companies) that give you the best bang for your buck.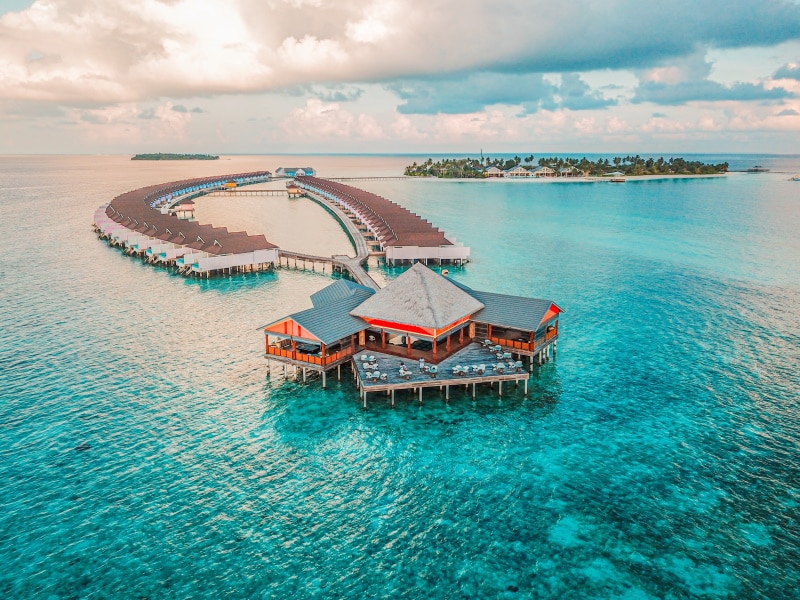 5. Use cheaper transport options – like local ferries.
Transport in the Maldives can be cheap – if you travel like a local. Local ferries run on an infrequent schedule but shouldn't cost more than $2 for a three-hour journey. MTCC ferries – the state-run public transport system – is excellent, even if not particularly timely. On an often crowded but sociable dhoni, you can sun yourself on the roof while looking for dolphins as the boat finds its way to your island.
If you want to visit a resort, you'll probably have to pay for a speedboat since local ferries don't stop at resort islands. These are quite expensive – and can range from $200-$280 per person for just a 45-minute trip. Avoid seaplanes if you're trying to enjoy the Maldives on a budget – these usually cost around $500 (with return) for a 20-min journey.
6. Research restaurants with cheap food nearby.
This one is more for travelers who aren't opting for all-inclusive resorts. Since most guesthouses offer a generously sized free breakfast, you'll only need to worry about lunch and dinner. But in general, the smaller the island, the fewer food options there are, and you'll likely be eating at your guesthouse for most meals.
On Fulidhoo, the smallest island, you can expect to pay around $10 per meal. While busier islands, like Maafushi, have plenty of restaurant options offering incredibly delicious and reasonably priced dinners – ranging from $5-$10 per meal.
7. Choose an island popular with budget travelers.
The further you go from the crowds, the more you'll need to pay to get and stay there. Busier islands with well-established guesthouse scenes are what you should be looking for if you want to experience the Maldives on a budget. As a result, you'll find the largest pool of restaurants and activities (and better transport) links to Male and its airport.
The most popular islands for budget travelers are:
Maafushi
Dhigurah
Fulidhoo
Thulusdhoo
Huraa
Ukulhas
Rasdhoo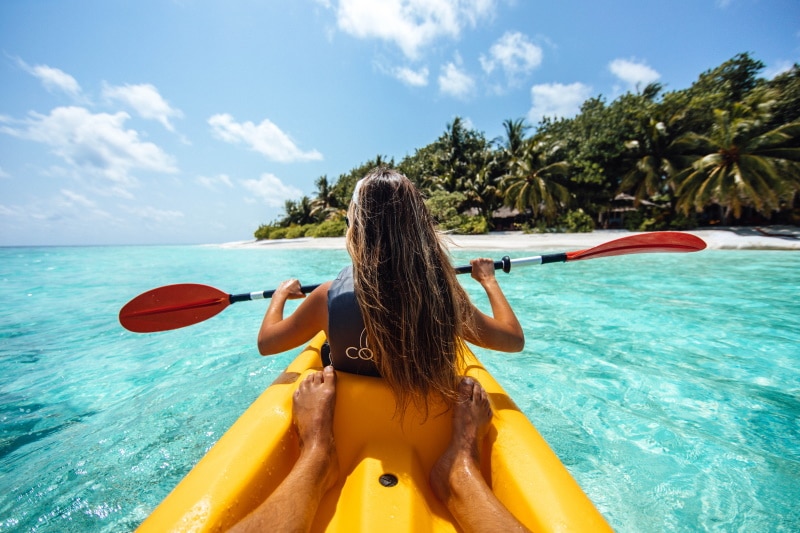 8. Research cheap excursions on islands you're planning to visit.
The cheapest way to go on an excursion is to book through your guesthouse. But also, don't be afraid to shop around for better rates. Head into four or five guesthouses and ask for their prices too before you make your decision, and always check to find out what's included in the price – some guesthouses include lunch, water, and a soft drink, while others don't include any extras.
Divers can arrange a dive through their guesthouses or through a local dive shop – but can expect to pay around $100 per person for two dives. The best option for diving in the Maldives on a budget is doing a liveaboard trip, and if you're not in for that, you should probably book your diving package in advance – especially if it's the main reason you're traveling to the Maldives.
You can also enjoy lots of snorkeling excursions with plenty of tropical fish, and if you're lucky you might see some manta rays or a whale shark or two. Expect to pay around $50 per person for a half-day snorkeling trip. Most guesthouses offer snorkeling gear at no extra charge, but it might be a good idea to bring your gear along if you already have your own.
Many guesthouses also arrange fishing trips ($50 per person) or day trips to the resorts ($50 per person plus a $30 per person entrance fee). You can also head to the sand banks ($25 per person) or go island hopping ($50 per person).
9. Get a SIM card at the airport.
Since roaming costs can quickly add up when you're using your phone outside WiFi hotspots, you'll save a lot by picking up a local pay-as-you-go SIM card at the airport when you arrive. For as little as $10, these cards usually include plenty of data – more than enough for a couple of weeks. You can top up in the atolls if you run out.
11. Try to pack everything you'll need during your stay.
Due to the location of the Maldives, finding even the most basic items can be challenging. If you're staying at a resort, no problem since these resorts import every possible luxury (with prices to match). But unless you plan to travel to Male every time you need something, you'll save both time and money by bringing everything you need with you. But don't try to bring alcohol in because authorities will confiscate it.
12. Avoid high taxes on alcohol.
Unless you're staying at a resort, any holiday in devoutly Muslim Maldives is going to be alcohol-free. The only way to get a drink if you're staying in a guesthouse is to head to a nearby resort for an excursion or a liveaboard diving boat for the evening.
Islands like Maafushi have a dive boat semi-permanently anchored next to the island, making getting a sundowner relatively easy. But there are huge taxes on alcohol in the Maldives, so you might prefer to abstain from drinking.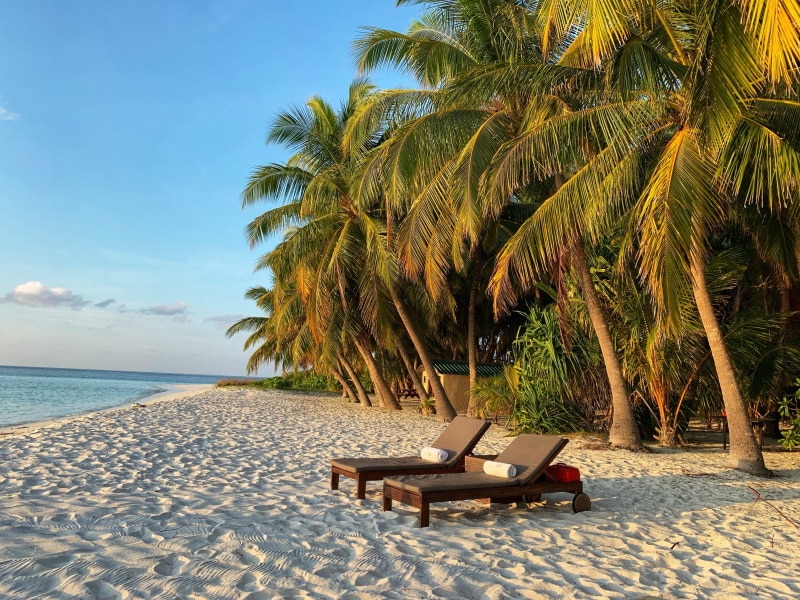 Maldives Budget Resorts and Hotels
To make planning that much easier, we've scoured the internet to find the best Maldives budget hotels, resorts, and guesthouses.
Triton Beach Hotel – Maafushi
For as little as $70 per night, you can enjoy an incredibly fancy (and comfortable) stay at Triton Beach Hotel. Wake up to an enormous inclusive breakfast, and enjoy amenities like a flat-screen TV, on-site barbecue, and free WiFi, complete with a spa, an outdoor pool, and ocean views. This one screams "value for money"!
Thundi Sea View – Fulidhoo
Located near the ocean, next to a small beach, Thundi Sea View guesthouse offers a down-to-earth stay on Fulidhoo Island. Featuring sea views, all rooms are equipped with air-con and free WiFi and come with a generously portioned breakfast. The property is close to the Fulidhoo Cave, the Reef Tip Faru Kolu, and the Kunaavaashi Kandu Diving Point. The in-house restaurant also serves both local and European cuisines.
The Barefoot Eco Hotel – Hanimaadhoo
Nestled on the shores of Hanimaadhoo, The Barefoot Eco Hotel welcomes travelers to Maldives on a budget with its tranquil and comfortable surroundings, as well as all the necessary amenities. With free WiFi access throughout the property, an outdoor pool, spa, fitness center, and even a private beach area so guests can enjoy activities like diving, snorkeling, and canoeing on-site.
Arena Beach Hotel – Maafushi
Found along the coast of Maafushi is the Arena Beach Hotel – and as far as Maldives budget hotels go, it's got it all. Featuring modern and tranquil accommodation with elegantly furnished rooms, complete with all the amenities, as well as free WiFi access across the property. There's also a range of activities to take part in, or you can simply sit in a lounger on the gorgeous rooftop pool, and look out at the Indian Ocean.
Equator Village Resort – Gan
When it comes to Maldives budget resorts, Equator Village in Gan has it all. Including all the amenities like air-conditioning, free WiFi, and breakfast, as well as all the lovely extras like the outdoor pool, private beach area, sea views, and even a tennis court. Activities can also easily be arranged on-site. The resort is also conveniently located near the airport – it's a win-win!
Stingray Beach Inn – Maafushi
Stingray Beach Inn found on Maafushi Island offers guests a relaxing getaway and a homely atmosphere. With an in-house restaurant, TVs, air-conditioning, and free WiFi, travelers' every whim is catered to. There's also a shared hot tub and hammocks in the garden; you'll have plenty of relaxing options when you come home after a day of activities.
Paguro Villa – Ukulhas
Paguro Villa is found on Ukulhas Island – which makes the perfect backdrop to the pretty flower-filled gardens set with bistro tables for evening sundowners. Complete with all the necessary amenities and then some, the Paguro Villa also has a quaint Indian restaurant (Paguro Café) that's just a short walk from the property.
Embudu Village Resort – South Male Atoll
Found in South Male atoll, it takes a 20-minute speedboat ride from Velana International Airport to reach the island. This simple yet naturally beautiful private island takes a mere 5 minutes to walk from one end to the other. With pristine beaches and all the amenities you might possibly need, Embudu Village Resort is a rare gem amongst Maldives budget resorts.
Innahura Maldives Resort – Lhaviyani Atoll
Innahura Maldives Resort, located in Lhaviyani Atoll, is an incredibly beautiful resort that is surprisingly budget-friendly. Featuring a restaurant, outdoor swimming pool, fitness center, spa, and bar (plus all the nice-to-have amenities) – guests will want for nothing. Not to mention the private beach area, shared lounge and garden, and evening entertainment!
Blue Water Thoddoo Inn – Thoddoo
Offering a private beach area, Blue Water Thoddoo, also offers an array of activities to be enjoyed on-site or in the surroundings, like cycling, fishing, and diving. With 24-hour front desk help, free WiFi, TVs, and minibars in each room (as well as a kitchenette complete with an oven and refrigerator), there's very little you can't enjoy at this budget-friendly inn.
Maldives on a Budget FAQs
What is the Minimum Budget for a Trip to the Maldives?
Based on the average daily price of other visitors' experiences, you should plan to spend a minimum of $240 per day, depending on your accommodation, what it includes, and what activities you'll be doing and transport costs.
Here's a sample daily budget to work on:
Guesthouse double room: US$60 – $100
Cheap resort double room: US$150-$350
Ferry ticket: US$5-$10
Dinner for two on a local island: US$20
Two-tank dive (or other excursions and activities): US$50-$100
Is Bali Cheaper Than the Maldives?
Yes. Bali is definitely cheaper than the Maldives. Bali has cheaper accommodation options, and food and activities are much more budget-friendly.
Should I Go to the Maldives or Bora Bora?
It depends. If your trip doesn't have flexible dates and you want specific weather during that time, then you should plan according to that. Travelers who want to feel more part of society and civilization will prefer Bora Bora, but those who enjoy feeling totally "off the grid" (as if you have an island to yourself) will enjoy the Maldives.