Updated: 28 May 2022
Florence – aka the Cradle of Renaissance, has long been regarded as Italy's cultural capital, and Tuscany's most famous city. Without a doubt, Florence is one of the most cultural and historical cities in the world, filled with amazing architecture, and a vast selection of museums, galleries, boutiques, and ancient sites.
Is traveling to Florence, Italy on your bucket list? Here's our guide on what to do in Florence when you only have 2 or 3 days.
Flying to Florence Italy
If you're flying to Florence, Italy there are a few things you need to know.
First of all, Florence Italy Airport (FLR), called Amerigo Vespucci, is a small airport.
It's located on the northwest outskirts of Florence – 4 km from the city center. The airport is connected to some of Europe's major airports including Amsterdam, Barcelona, Brussels, Bucharest, Frankfurt, Geneva, London Gatwick, Madrid, Munich, Paris Charles de Gaulle, and Vienna.
There are also flights to and from these Italian cities: Bologna, Cagliari, Catania, Milan, Malpensa, Olbia, Palermo, Rome Fiumicino, Turin, and Verona.
You can either take a taxi to and from the airport, or you can take the Busitalia SITA Nord "Vola in Bus" bus shuttle which operates between the airport and the central railway station of Santa Maria Novella.
For more info, visit: www.aeroporto.firenze.it/
You may even want to consider flying into Pisa and then making your way to Florence though.
Tuscany's second airport is far from the city center, but fares at this airport are much more cost-effective. Once there, your options for budget-friendly transport to Florence are bus or train. The bus will cost you around € 17, while the train will cost you around € 5, but you'll have to change trains. You also don't need to book tickets for these ahead of time, just make sure you carry cash.
Also, don't forget to pack these essential documents prior to your trip.
What to Do In Florence in 2 Days
Florence, 2 days. No problem. We've got a walkable itinerary of top sites to see.
Traveling To Florence, Italy – Day 1
Piazza del Duomo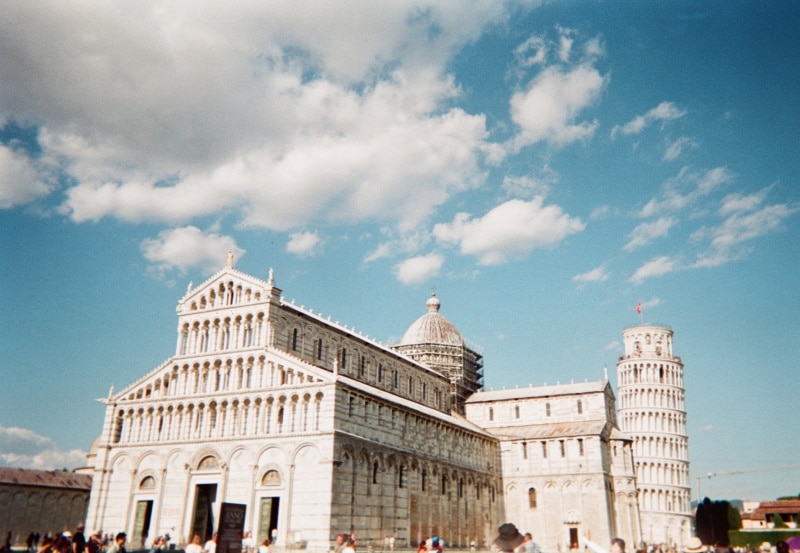 Start your visit at the majestic Piazza del Duomo.
Here you can find the Duomo – or Cathedral of Santa Maria del Fiore – and its iconic cupola or dome by Brunelleschi. You can also admire the Baptistery and its bronze Gates of Paradise, and Giotto's very tall bell tower – climb to the very top to get an incredible view of the city.
Buy a single ticket (valid for 72 hours) to visit all three. Keep in mind you need to book a time to climb up the dome – you can do this when you purchase your pass and return later. If you really want to take in every detail – like exquisite mosaic floors and stunning frescoes – but you're short on time, then spend your time in the cathedral and admire the other monuments from the top.
Piazza della Signoria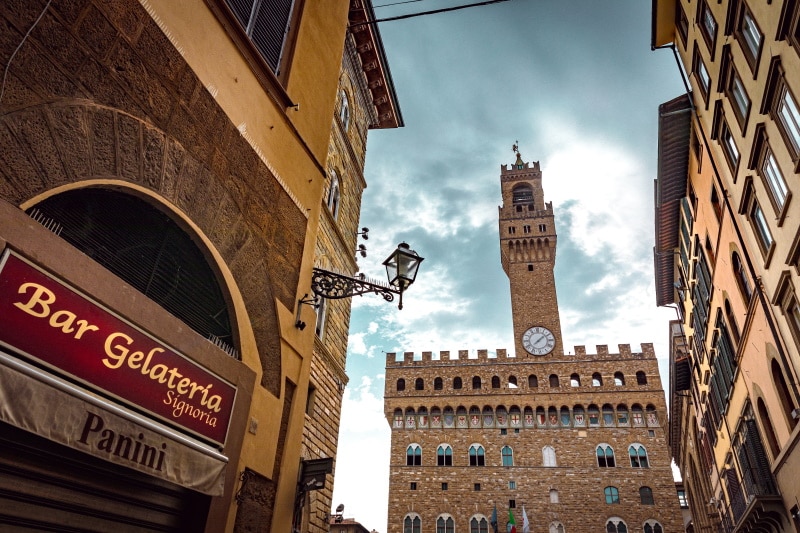 Continue your walk along Via dei Calzaiuoli– the street by the bell tower – to reach the breath-taking Piazza della Signoria. The center of Florence's political power for centuries. The grand Palazzo Vecchio can be found here – the city government's headquarters as well as a city museum.
Take in the stunning Loggia dei Lanzi to the right of Palazzo Vecchio, where wonderful statues like the Perseus by Benvenuto Cellini and the Rape of the Sabines by Giambologna are displayed. Admire Neptune's Fountain by Ammannati and the equestrian statue of Cosimo I by Gambologna in the plaza itself.
The Uffizi Gallery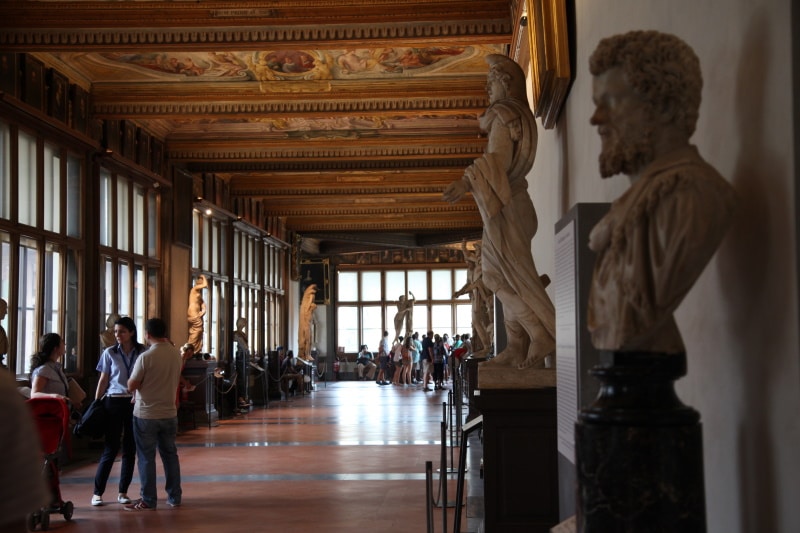 Head to one of Italy's top museums – and one of the most important in the world – the Uffizi Gallery, by going right between Palazzo Vecchio and the Loggia dei Lanzi. Its world-renowned collection of Renaissance masterpieces includes works by Botticelli, Michelangelo, Leonardo da Vinci and Raphael, to name just a few.
If you want to go inside the gallery, you should buy Uffizi tickets online ahead of time because there is often a long queue outside. Plan to spend at least 2 hours inside or opt for a guided tour.
Ponte Vecchio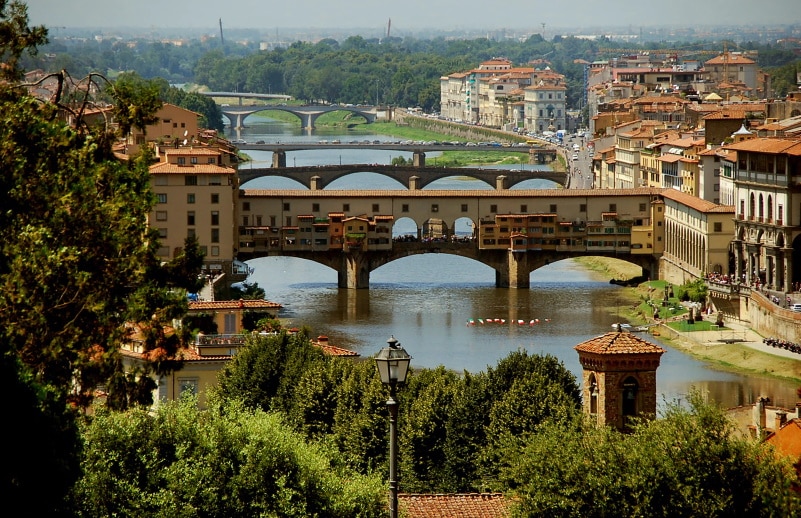 Connected to the Uffizi Gallery by the famous Vasari Corridor is Florence's most celebrated landmark – Ponte Vecchio, literally, "Old Bridge". Linking Palazzo Vecchio to Palazzo Pitti, the bridge has connected the riverbanks at this point since the 12th century.
Pitti Palace and Boboli Gardens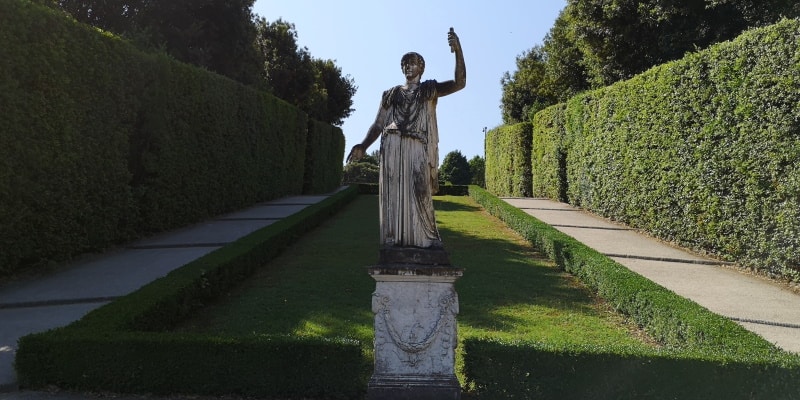 Crossing Ponte Vecchio, you'll reach the Oltrarno area where the gorgeous Pitti Palace stands. Home to several noteworthy museums like the Modern Art Gallery and the Palatine Gallery, and the stately Boboli Gardens as its backyard.

The museums will take time to visit, but if your time is limited and the weather is pleasant, you should definitely visit the gardens.
Santo Spirito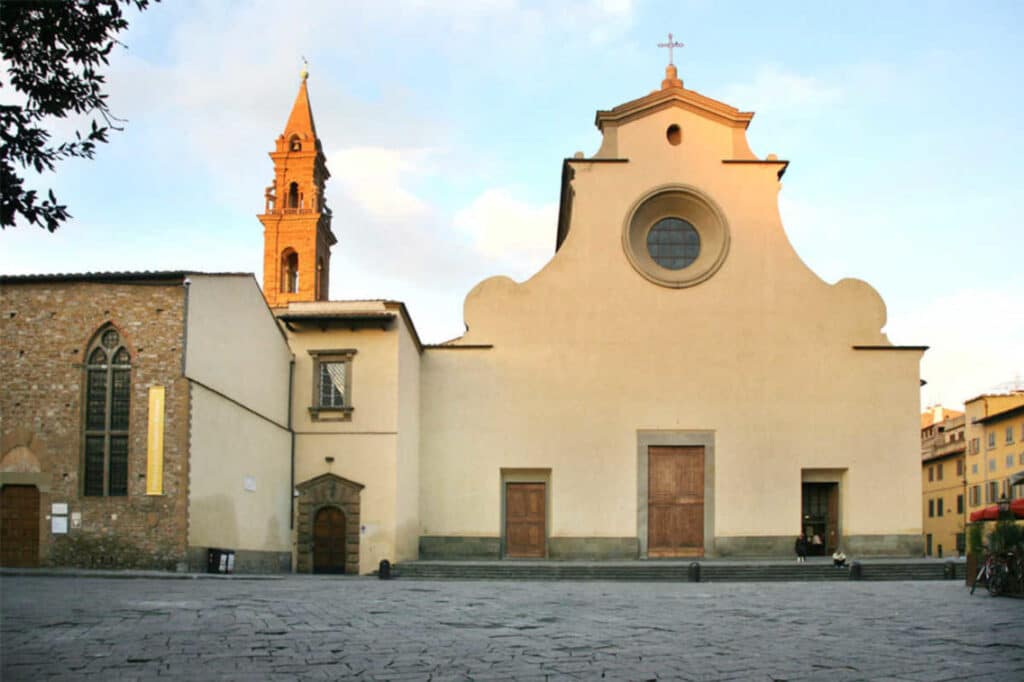 If you're not too tired after your visit to the gardens, we highly recommend making your way to the nearby Piazza Santo Spirito with its Church of Santo Spirito. Built by Brunelleschi, the church towers over the square with its unpretentious, yellow façade. Inside there are many artistic treasures waiting to be discovered.
There are several restaurants and cafes around the square and in nearby streets for you to indulge in delicious Tuscan food and wine after your busy day in Florence.
Traveling To Florence, Italy – Day 2
Piazza and Church of Santa Maria Novella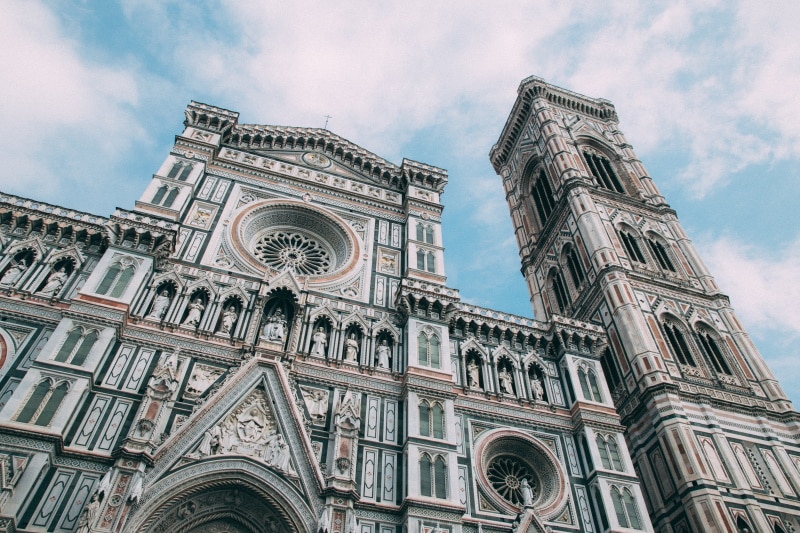 Start your second day of traveling back on Arno's northern riverbank, in Piazza Santa Maria Novella. The recently renovated square and its pinnacle Santa Maria Novella Church is truly something to behold. The church's white and green façade was designed by Leon Battista Alberti, while the stunning Tornabuoni Chapel inside is adorned by frescoes by Ghirlandaio – in short: a must-see.
Piazza San Lorenzo, Church and Medici Chapels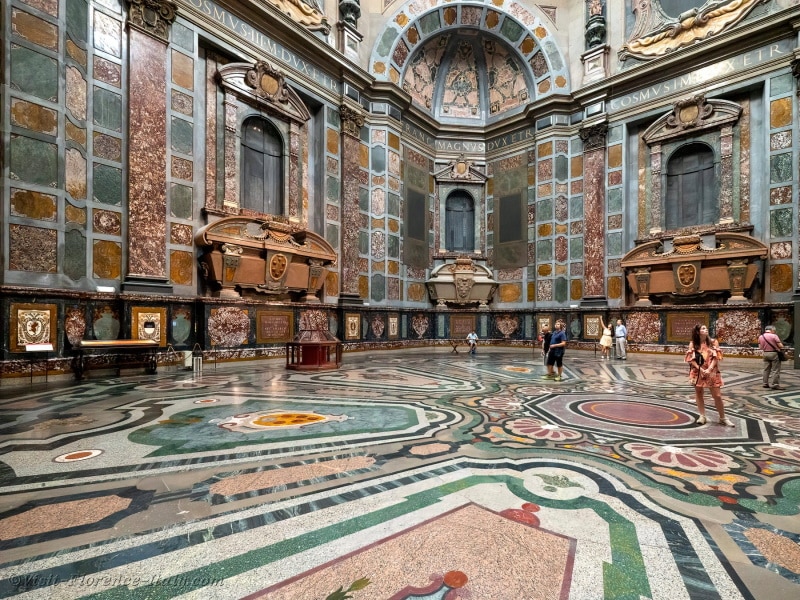 In Piazza San Lorenzo, you can either do a quick visit to the San Lorenzo Church – the church with its unfinished façade where the Medici family worshipped – or the Medici Chapels – the dynasty's final resting place where you will find beautiful marble statues by Michelangelo in the New Sacristy.
Accademia Gallery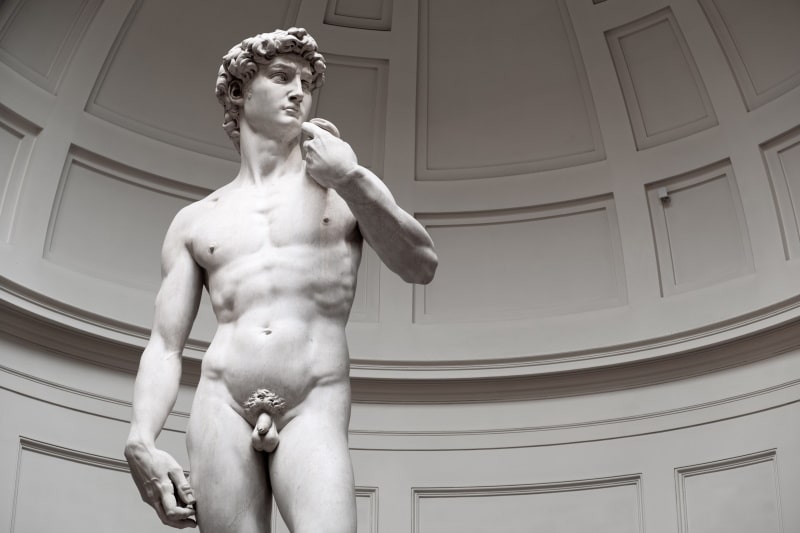 A must-see if you're traveling to Florence, Italy – the Accademia Gallery, which houses Michelangelo's glorious original marble statue, David. By now you would have seen a copy of it in front of Palazzo Vecchio, but the original is unrivaled.
If you have at least an hour to spend, visit inside and pre-book tickets ahead of time.
Piazza Santa Croce and the Basilica of Santa Croce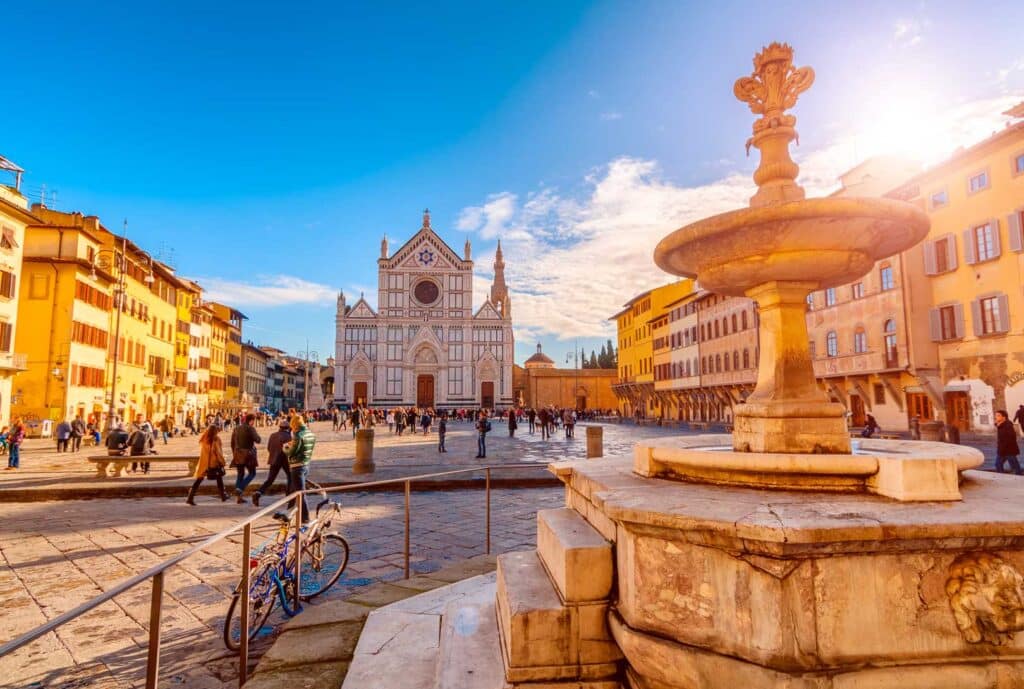 Now head to Piazza Sana Croce, and set your sights on the impressive Santa Croce Church. This is where many infamous Florentines and Tuscans were laid to rest – such as Michelangelo and Galileo. Even if you don't have time, admiring the exterior, as well as the grand statue of Dante is incredible enough.
Piazzale Michelangelo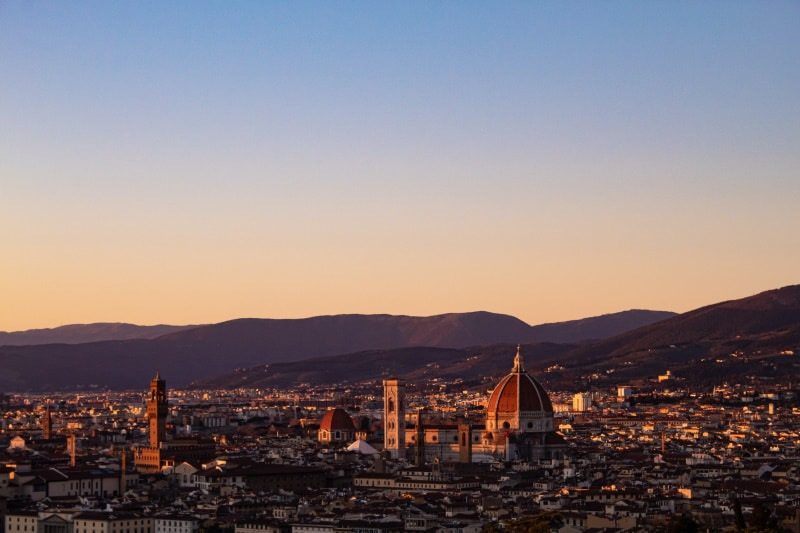 End off your last day with the best views of Florence.
Head to Piazzale Michelangelo, a square overlooking the city, nestled in the first hill in the Oltrarno. Here you can soak up your last moments in the city, and reminisce about your Florentine whirlwind as the sun sets.
PS: If you're a sucker for castles, here are the medieval castles you have to see while you're in Europe.
3-Day Florence Itinerary
If you've got an extra day to spare, follow the 2-day itenary mentioned above and spend your third day doing this:
San Miniato al Monte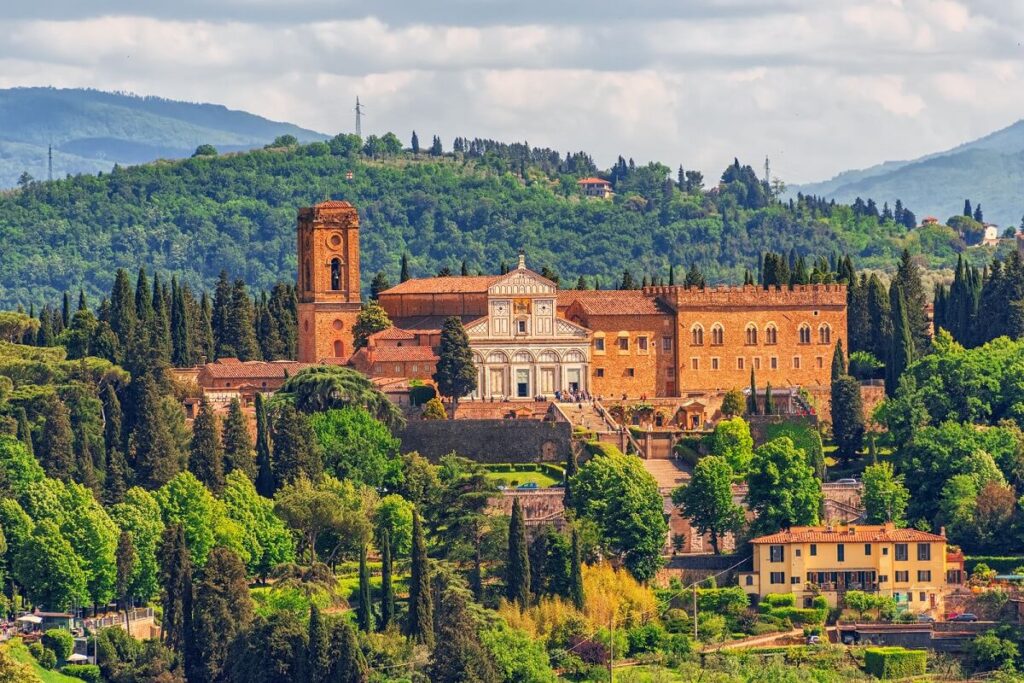 Start your third day in Florence back near the Piazzale Michelangelo – just a few minutes' walk from here you will find a small Romanesque church atop the hill. The Basilica di San Miniato al Monte is an iconic landmark in Florence, financed by the famous guild Arti di Calimala and built as early as 1015.
The church's façade can be seen from all over Florence and few take the time to visit it, but it's certainly worthwhile.
Mercato Centrale (Food Halls)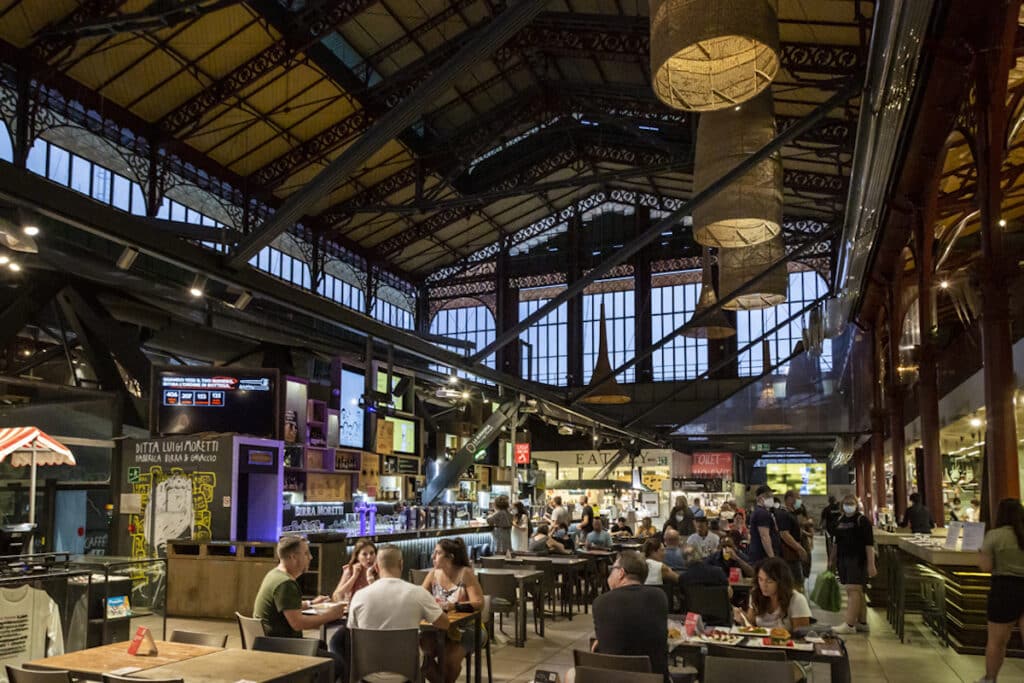 Make sure you head to the Mercato Centrale for lunch. This Florence food market is located in the San Lorenzo neighborhood and is bustling with vendors selling fresh meat, produce, pasta, and fish. You can also enjoy cooked food here and indulge in Tuscan specialties like porchetta. Or stop off at one of the many cozy wine bars and enjoy some local wine while you catch your breath from the hustle and bustle of the market.
This is also the perfect opportunity for you to pick up a souvenir and take a taste of Florence back home with you.
Museum of San Marco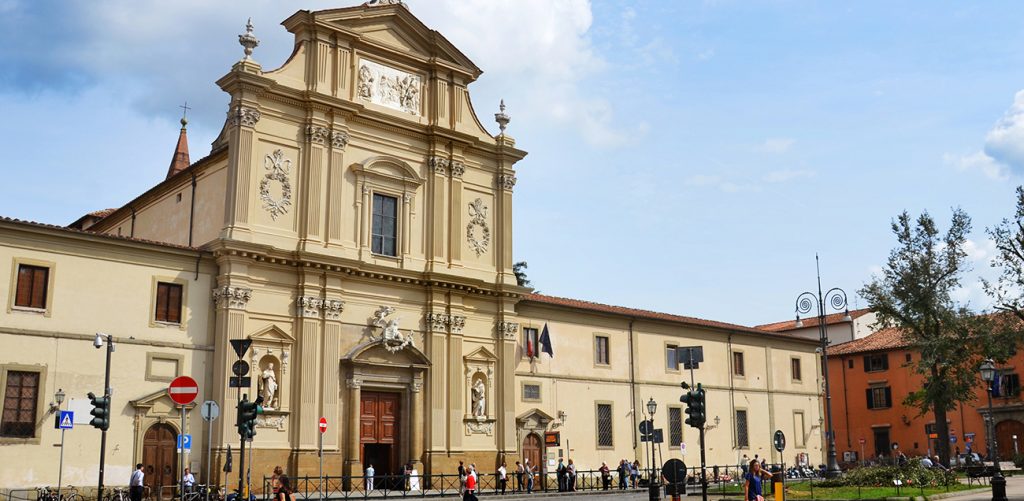 Then go to Piazza San Marco, to the National Museum of San Marco, housed in the former San Marco Monastery. Here you can find works by the gifted monk Fra Angelico, who painted Biblical visions in soft colors – which also feature the latest painting techniques of the time.
Make sure you pick up a gelato somewhere nearby before heading to the final spot on your itinerary.
Palazzo Medici-Riccardi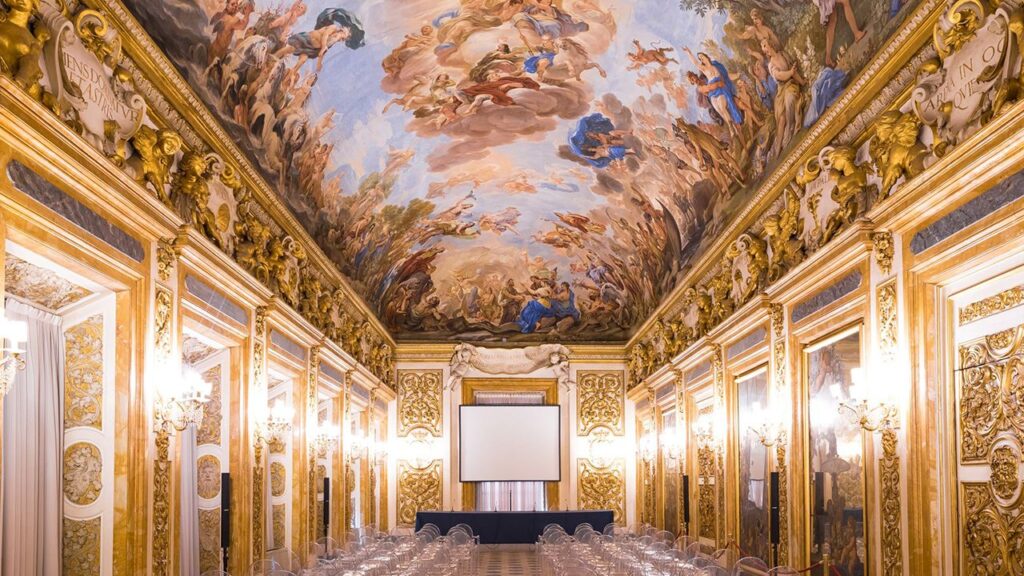 For your final stop make your way to the Palazzo Medici-Riccardi – just a two-minute walk from Basilica di San Lorenzo. This is the former city palace of the Medici's, where they actually lived. The Renaissance palace was built in 1444 and remained in the hands of the Medici family for a century, but was then sold to the Riccardi family.
Make sure you stick around in the palace's peaceful courtyard garden, built in the 15th century as a green sanctuary for the family.
Now it's time for you to have dinner and enjoy your final evening in Florence.
Florence FAQS
What is Florence known for?
Florence is most renowned for its culture, Renaissance art, architecture and monuments.
What should you not miss in Florence?
Don't miss out on gelato. But these three attractions are also unmissable: Cattedrale di Santa Maria del Fiore, The Uffizi Gallery, and Accademia Gallery.
Is Florence really worth visting?
Florence is one of Italy's most popular cities to visit. It's the art capital of the world, it's a gorgeous city with streets to meander, and of course – gelato.
Is Venice or Florence better?
It's not a coin toss. Florence isn't overly expensive and has a quaint atmosphere. While Venice is all gondola rides through magical canals, and naturally, is bustling with tourists.
Is Florence safe for tourists?
Like most cities in Italy, Florence is safe. You will be safe walking through the streets anytime of the day or night. There is hardly ever violent crime, very little property crime, and only occasional instances of pickpocketing.