You won't be frowned upon for thinking that Portugal has it all. From historic cities, centuries-old castles, incredible natural landscapes, award-winning wine, to its world-renowned cuisine, Portugal is really a place for the soul.
Lisbon, the country's capital city, is one of the trendiest destinations right now, and for good reason. It has magnificent landmarks, beautiful plazas, intimate cobbled alleyways, and a stunning hilltop location on the River Tegus. But, Lisbon is also a beach destination.
Therefore, if you're a die-hard sun and relaxation seeker, know that the city is surrounded by arguably some of the world's best beaches.
Portinho da Arrabida
If peace, quiet, and complete relaxation is what you're after, then Portinho da Arrabida should be somewhere at the top of your list.
Located in Setubal, one hour away from Lisbon (easily accessible via the Fertagus train), Portinho da Arrabida is renowned for its calm crystal clear waters, bright thin sand, and a phenomenal backdrop of luxuriant vegetation of the greenish Arrabida Mountain. It's also one of the best places for diving and sports fishing.
Summer sea coastal landscape with sandy Portinho beach. Top view from Nature Park of Arrabida in Setubal, Portugal. All people are unrecognizable.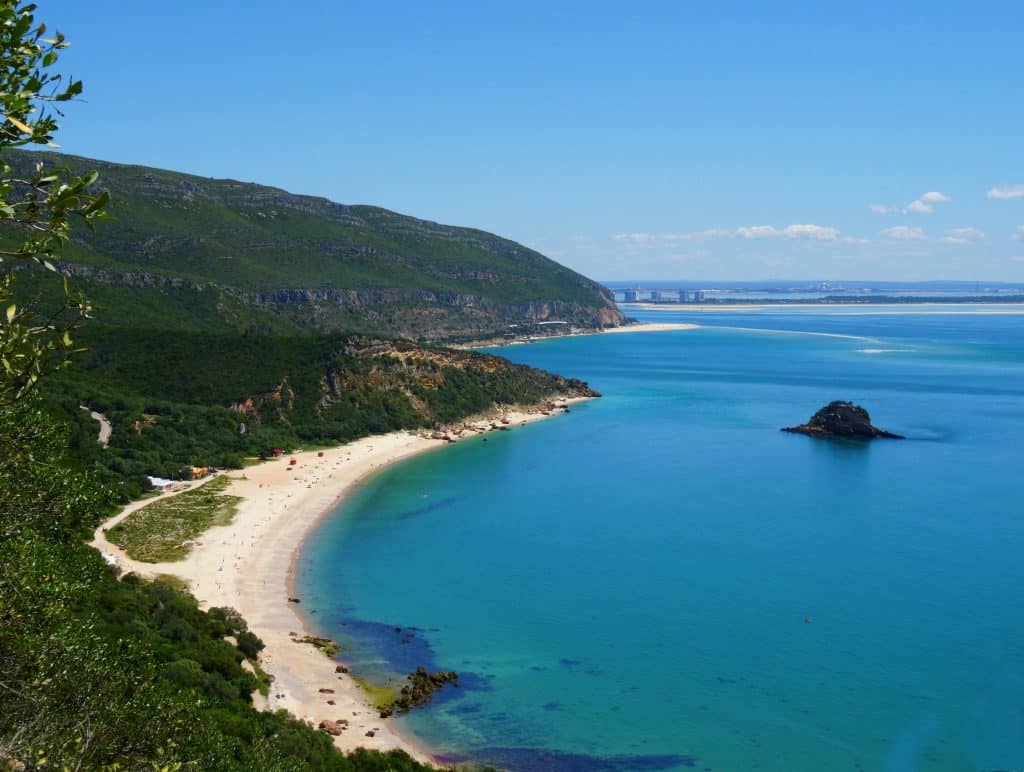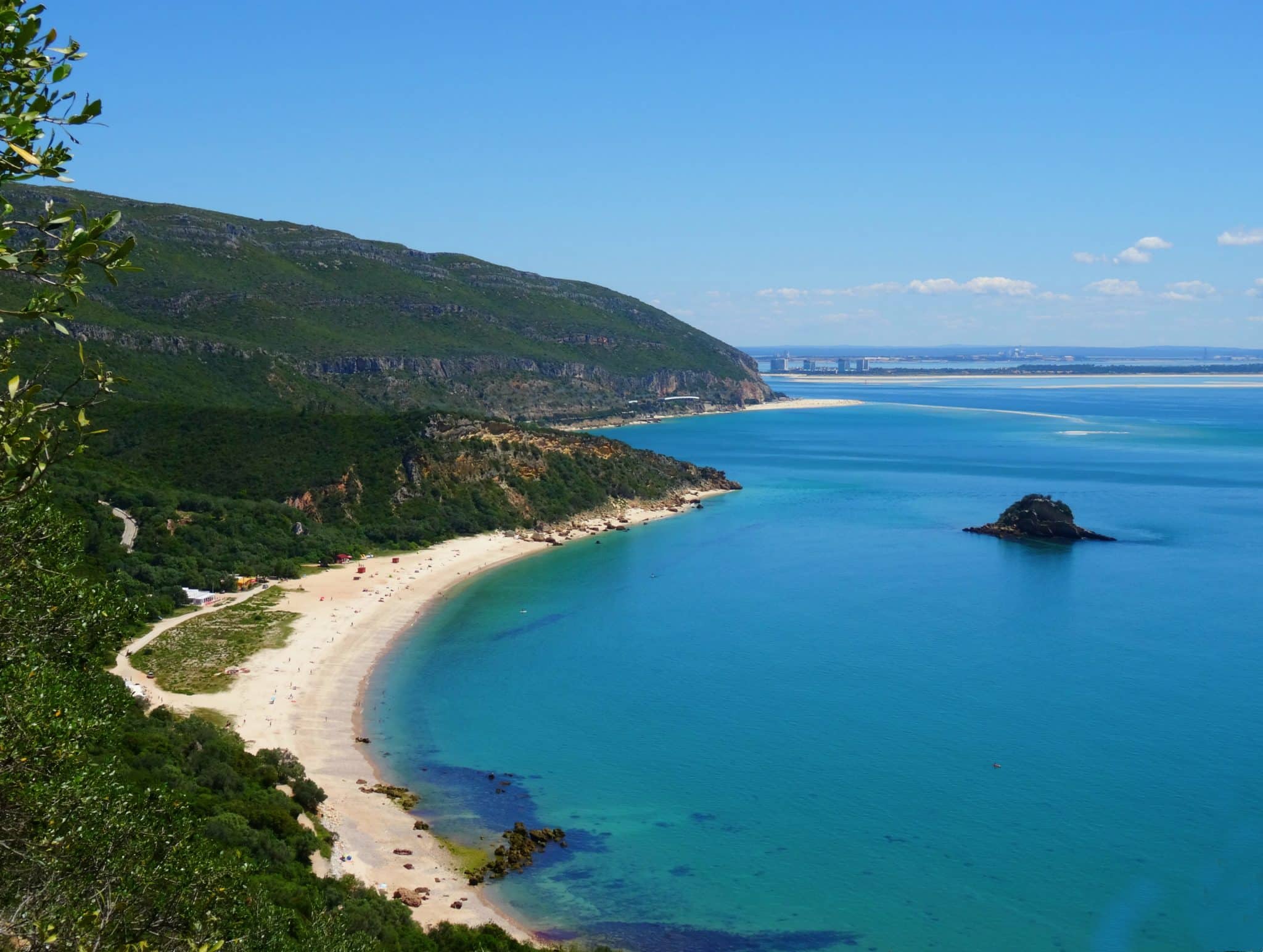 Praia do Tamariz
Praia do Tamariz is one of the most popular and elegant beaches around Lisbon. Most people associated it with the famous casino of Estoril, but most with the Forte da Cruz, built in the seventeenth century to protect the coast against enemy invasion.
The beach is located at the foot of the gardens leading up to the Estoril Casino and includes a complete range of services and facilities.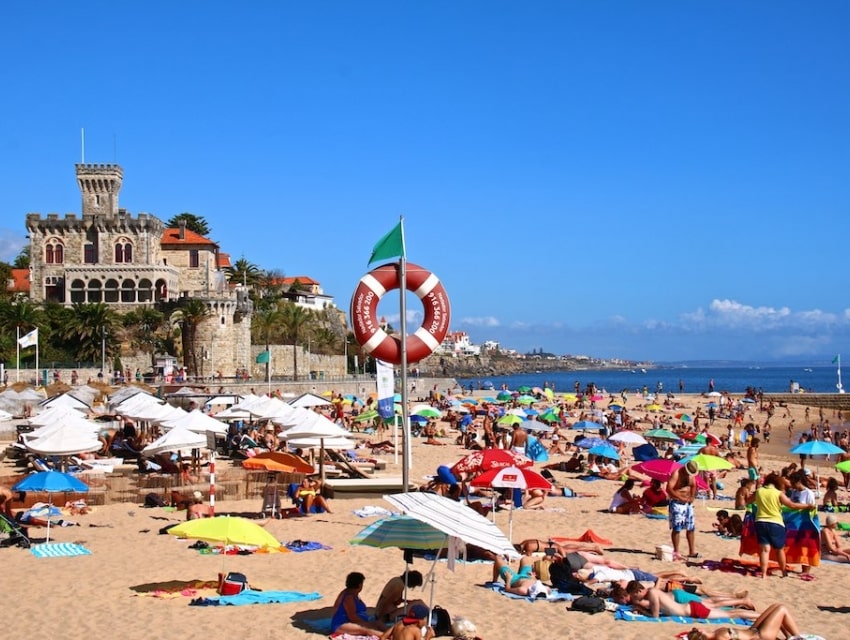 Praia de Carcavelos
Praia de Carcavelos is not only one of the most popular beaches on the Estoril coast, but also one of the most easily accessible ones, as it's located at just a 10-minute walk from the Carcavelos train station. The beach is renowned for its golden sands, excellent tourist facilities, and reliable surf.
If you don't like crowded places, then this is the place for you, as it's one of the largest expanses of sand on the coast. The Sao Juliao da Barra Fort is the dominating landmark of the area.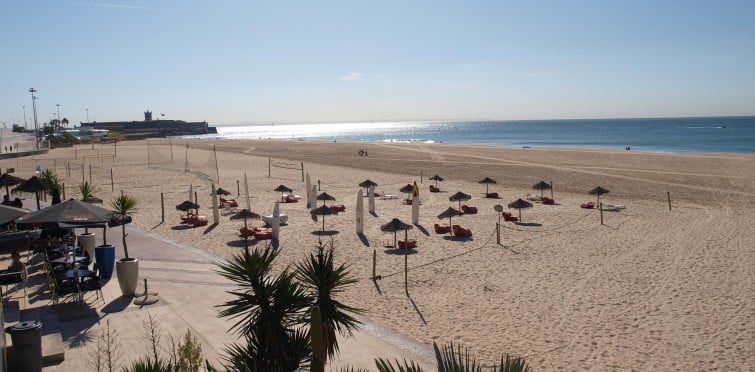 Praia do Meco
Praia do Meco is the perfect beach for those that love large, open, natural spaces. Famous for hosting the Super Bock Super Rock festival a couple of years ago, the beach is located near the village of Meco.
The beach is also known for being an excellent spot for surfing, bodyboarding, and windsurfing. If you just want to enjoy nature, free your mind, and you don't care about modern facilities, then Praia do Meco is definitely a must.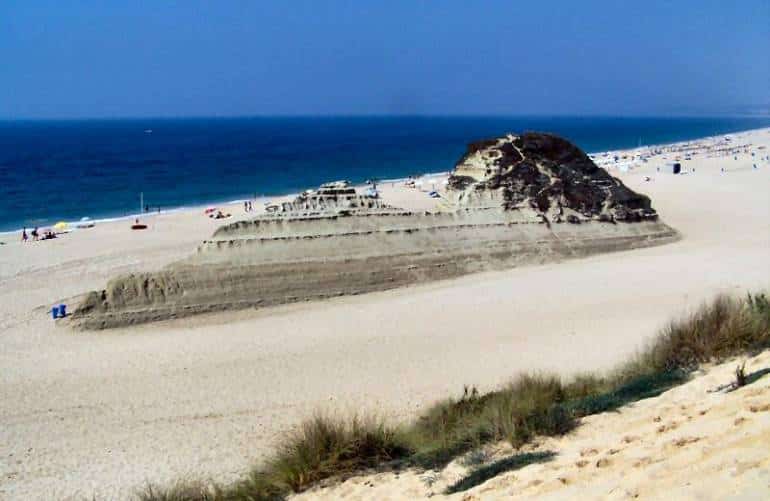 Praia dos Galapinhos
Located near Setubal, in the Parque Natural Arrabida, Praia dos Galapinhos is also one, very stunning beach, easily accessible from Lisbon. The beach has been awarded on multiple occasions thanks to its crystal-clear azure waters, golden-white sands, and a backdrop of densely forested hills. The beach itself is narrow and sheltered by cliffs.
It's easy to get fascinated by the natural beauty of the place since there are many those who consider it to be a slice of paradise. The only possible downside is the fact that access is somewhat tricky via an uneven and steep path known locally as the "goat path." Facilities might be limited, but you will find a bar, a restaurant, and a few stands for competitive fishing and scuba diving.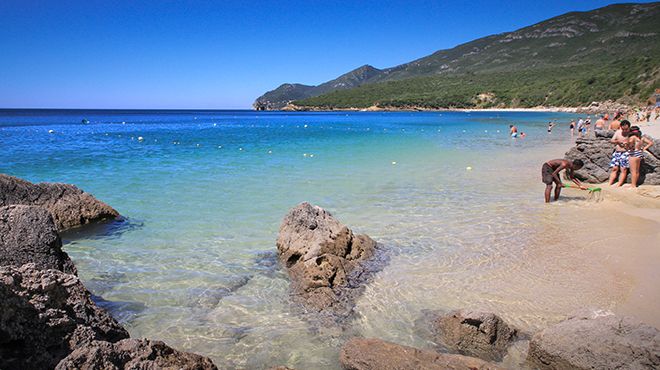 We hope this article has inspired you to go out and experience Lisbon's beaches in all their glory.