Considering seeing Europe by train? The good news is that it has a fantastic railway system and while you may need to do some hopping between stations, it's still one of the best ways to explore the continent.
Not only are European trains frequent and reliable but they're comfortable too. Plus, it beats having to hire a car and drive everywhere yourself.
If you're planning to see your favorite European countries by train this year, we've outlined a few tips that will help you make the most of this transport option, from Europe train routes to how to book Europe train tickets.
Europe By Train: Railway Operators
Here are the websites you can visit to purchase your train tickets through Europe (or even if you want to travel to Europe by train). Just keep in mind that each of the railways has different routes and operates at different times, so you might want to do some research and comparisons depending on where you want to go when it comes to booking Europe train tickets.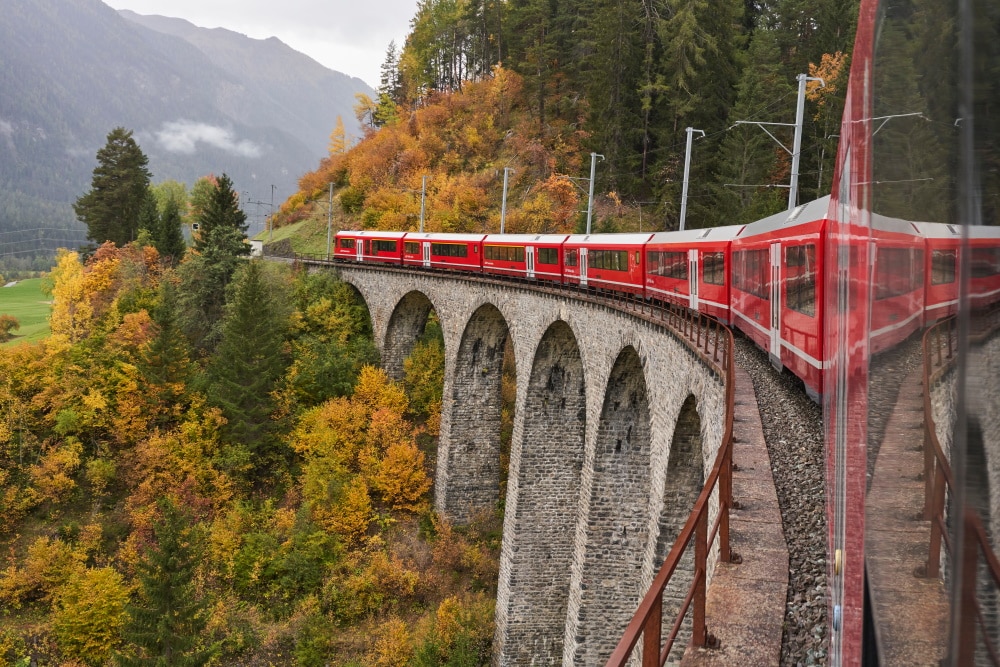 Top 6 Europe Train Routes to Try
If you're traveling through Europe by train, you need to have at least some idea of the top train routes. So, we've picked our top Europe train routes to try, as well as their length, and some things to look out for along your journey!
1. Glacier Route – Switzerland
Journey: Zermatt to St. Moritz (290 km; 7.5 hours)
Why it's a top route: The Glacier Route links two of Switzerland's best-loved ski resorts, and the trip offers panoramic views that will have you glued to the train windows throughout your journey.
2. Rhine Valley Line – Germany
Journey: Cologne to Mainz (152 km; 2.5 hours)
Why it's a top route: Take in a patchwork of vineyards, the hilltop fortresses of the Koblenz, and the legend of Lorelei Rock only add to the majesty of the journey.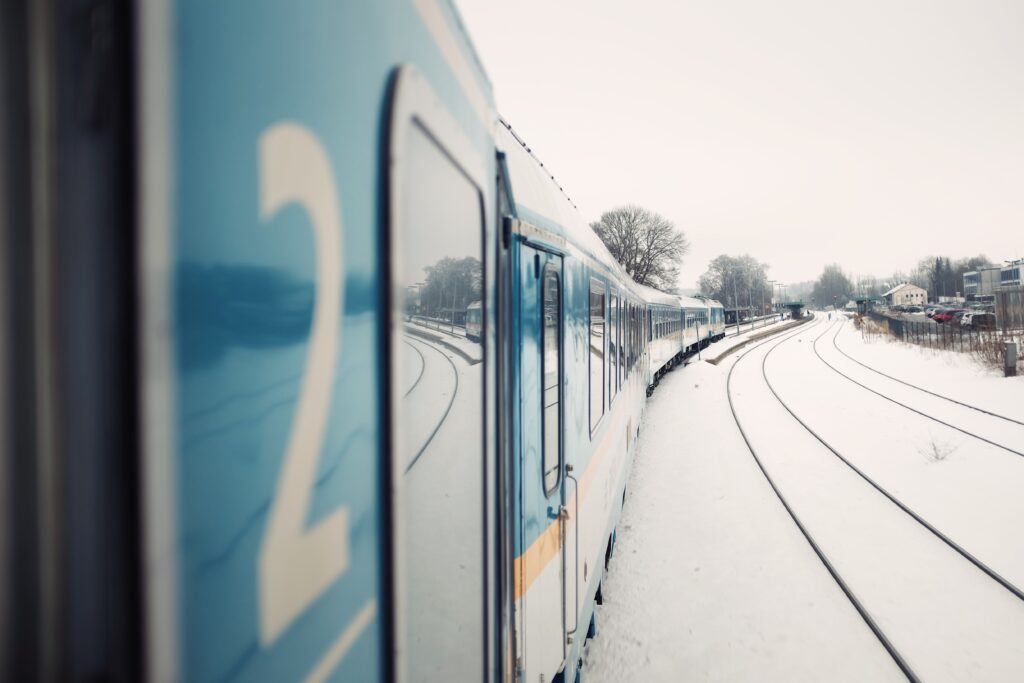 3. Venice Simplon Orient-Express – UK, France & Italy
Journey: London to Folkestone; Calais to Venice (1,636 km; 24 hours)
Why it's a top route: This magical train route plays out on two heritage trains: the British Pullman and the VSOE. The former takes you on the UK leg and the latter takes you between Calais and Venice. Watch mountains and meadows slip by as you sip a martini in the piano bar.
4. Bernina Express – Switzerland & Italy
Journey: Landquart to Tirano (163 km, five hours)
Why it's a top route: Loop through the Prättigau mountains and over Zügen Gorge's sheer-sided ravines before reaching the climax at the 2,253m high Bernina Pass – the gateway to Italy. This train route is big on dramatic views.
5. El Transcantábrico Clásico – Spain
Journey: León to Santiago de Compostela (643 km, four to eight days)
Why it's a top route: Experience the luxe side of the pilgrimage to Santiago de Compostela. This train route hugs the northern coast and stops at the Guggenheim Museum in Bilbao and the UNESCO Biosphere Reserve of Picos de Europa National Park.
6. Bohinj Railway – Slovenia & Italy
Journey: Jesenic to Trieste (approx 150 km, three hours)
Why it's a top route: Built as a strategic network for the Austro-Hungarian monarchy, today this train route is revered for its easy connections to Most na Soci, Lake Bled, and Nova Gorica's wineries.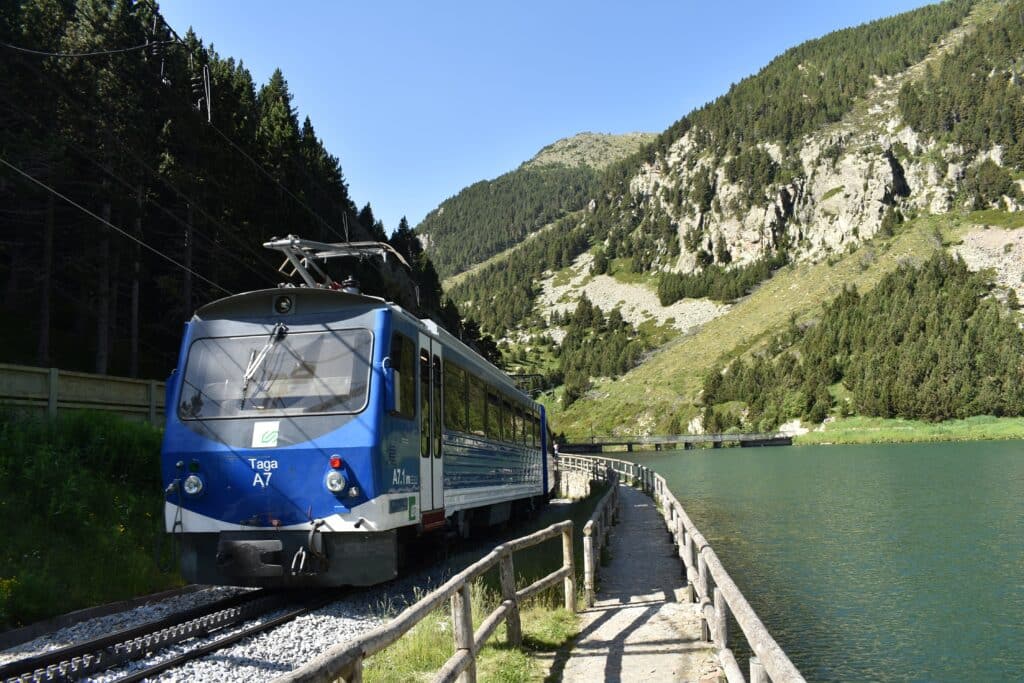 Tips on the Best Way to See Europe by Train
Europe train travel is, for the most part, efficient and scenic, here are some top tips to guarantee you're making the most of seeing Europe by train.
Know Your Passes
Europe is full of wonderful sights and experiences, which is why Europe travel by train is best done over an extended period of time. Consider investing in an InterRail pass if you're looking to sightsee, as it'll work out to be the most cost-effective in the long run. But as always, it's best to do your research beforehand to make sure that the pass you buy is the best fit for your Europe by train trip!
The passes can be a little confusing to understand at first though because your country of residence, as well as your destinations, will need to be taken into account. Prices can also vary depending on your age or if you want to travel on a high-speed or night train. Some sites might lead you to believe that a rail pass will work out cheaper but this isn't always the case. It's always best to compare a pass with individual tickets before you book anything.
Experience The Train At Night
If you're looking to get from point A to B as quickly as possible, or if you want to experience the journey from a different perspective, book a night ticket. Single-sex cabins and bunks cost less than a day ticket would and gives you a chance to catch some sleep while you travel. If you're there for the view, it's cheaper than a day pass, and less crowded, too! Plus, being able to see night lights along your journey is an unrivaled experience.
Don't Try and See It All
When you have the option to zip between cities, it can be tempting to try and see as much as you can but this isn't always the best idea. Traveling 5 hours to get to another city isn't much but these blocks of time can really eat into your day and take time away from sightseeing. If you're traveling to a fairly large city, aim to stay at least 3 nights if you really want to explore. Many travelers also make the mistake of thinking that because two cities look close together on a map, the travel time will be minimal. The reality is you could actually end up traveling for most of the day in some instances. If you need to make a lot of changes on an indirect route, your journey can take much longer.
Opt for the Scenic Route If You Can
When you first start searching for tickets, you will be met with the fastest routes. However, it's definitely worthwhile looking into the more scenic routes, even if they do take a little longer. The European countryside is filled with breathtaking scenes that you shouldn't miss out on if you can help it.
Stay Safe
While train travel is one of the safest ways to get around, it never hurts to be vigilant while waiting for your train at the station. If you're going via night train, it may be wise to invest in a padlock or extra security, and always make sure you keep an eye on your bag whenever you can.
Bring Some Food Along
Depending on how long you'll be in your train compartment, you might want to take a small picnic along. Yes, most trains do have a restaurant car or have snacks for sale onboard but nothing substantial. If you want to eat something proper, stock up on some bread, ham, cheese and other snacks before your trip. Some lines will even allow you to bring some wine onboard.
Don't Forget About The Smaller Cities
When people start planning trips to Europe, bigger cities such as Berlin, Paris and Amsterdam tend to land on their lists first. However, there are so many unique and beautiful towns and villages that you can reach by train that should definitely be included on your list. Something that many travelers tend to do is stay in a smaller city and take day trips out from there, which generally allows them to see much more.
Choosing to travel by train is an excellent way to get around and with a little pre-planning, this could end up being one of the most scenic vacations you've ever been on.
FAQs
What is the Most Scenic Train Ride in Europe?
There are a lot of different opinions about this, but here are some of the top picks:
Flåm Railway – Norway
West Highland Line – Scotland
Rome to Palermo – Italy
Mariazellerbahn – Austria
Stockholm to Narvik – Sweden-Norway
Glacier Express – Switzerland
Mainz to Koblenz – Germany
Nice to Digne-les-Bains – France
Bar to Belgrade – Montenegro-Serbia
Levanto to La Spezia – Italy
Can You Get Anywhere in Europe by Train?
No. Although Europe has an extensive high-speed rail network, allowing travelers to quickly get between major cities, train travel in Europe isn't available everywhere. As you move further into Eastern Europe and the Balkans, train travel becomes less prevalent. For instance, even popular Dubrovnik isn't connected to the rest of Europe by rail.
Is Eurail First Class Worth It?
While traveling first class means spacious seats, USB-ports, free Wi-Fi and – in some cases – complimentary drinks and meals, the only real difference for some will be how quickly they get on and off their seat, as well as whether or not they need to pack food.
Is Eurail or Rail Europe Better?
Rail Europe tends to offer better sales but has slightly higher-priced tickets.
Eurail tickets are only sold to non-European citizens, which could mean a higher chance of meeting with other travelers along your way, at a slightly lower cost.
How Many European Countries Can You Visit in 2 Weeks?
Depending on your itinerary and which countries you plan to visit, you can visit 3-4 countries during a two-week stay in Europe – keep in mind this is still quite a squeeze.