Vietnamese food is distinct, heavenly, and admired by foodies worldwide. Traditional Vietnam food offers taste buds a layered flavor experience, delighting palates on street corners in Hanoi, Ho Chi Minh, and restaurants across the globe.
Vietnamese cooking is cherished for its fresh ingredients, complementary textures, and reliance on herbs and vegetables. Traditionally Vietnamese dishes comprise salty, sweet, sour, and spicy flavors, which are achieved through the use of nuoc mam, a fermented fish sauce. Common ingredients in recipes include shrimp paste, bean sauce, lemongrass, ginger, mint, Saigon cinnamon, and Thai basil leaves. With a strong French influence in many dishes, Vietnamese cuisine is fragrant and bursting with flavor with every mouthful.
If you're ready to explore the exciting cuisine this country has to offer, here are the Vietnamese dishes you have to try first.
9 Vietnamese Dishes You Absolutely Have To Try
1. Pho (Noodle Soup)
Vietnam's beloved staple dish is pho – pronounced "fuh". Originating in northern Vietnam, it is now a national dish and can be found on almost every menu in the country. These tasty bowls of steamy noodle soup can be eaten any time of the day, but the dish is mainly enjoyed at breakfast. Traditional pho recipes include a flavorsome beef or chicken broth, flat rice noodles seasoned with ginger, coriander, and spring onions. Typical protein options include juicy slivers of pork, chicken, or beef and tofu for vegetarians. Once you've got your steamy bowl in front of you, add a dash of chili flakes and squeeze a lime over it.
2. Goi Cuon (Spring Rolls)
These translucent spring rolls are not only deliciously fresh but also surprisingly light and incredibly moreish. Goi cuon is a type of Vietnamese spring roll packed full of greens, coriander, and minced shrimp, pork, or beef. Another version of goi cuon, popular in the south of Vietnam, uses barbecued strips of pork wrapped with green banana, star fruit and then dunked into a decadent peanut sauce. In northern Vietnam, they're often called nem cuon. The traditional spring rolls are served cold, usually as a starter before the main course, and are delicious either way.
3. Banh Xeo (Sizzling Pancakes)
Banh xeo, or sizzling pancakes, are inexpensive and satisfying, which is why they're one of the top Vietnamese dishes. These delicious, fried rice paper pancakes are filled with fresh greens and dipped into a rich fish sauce, nuoc cham. Ho Chi Minh City is the best place to go to try these sizzling delights. They're the best on-the-go snack while out and about on your travel adventures.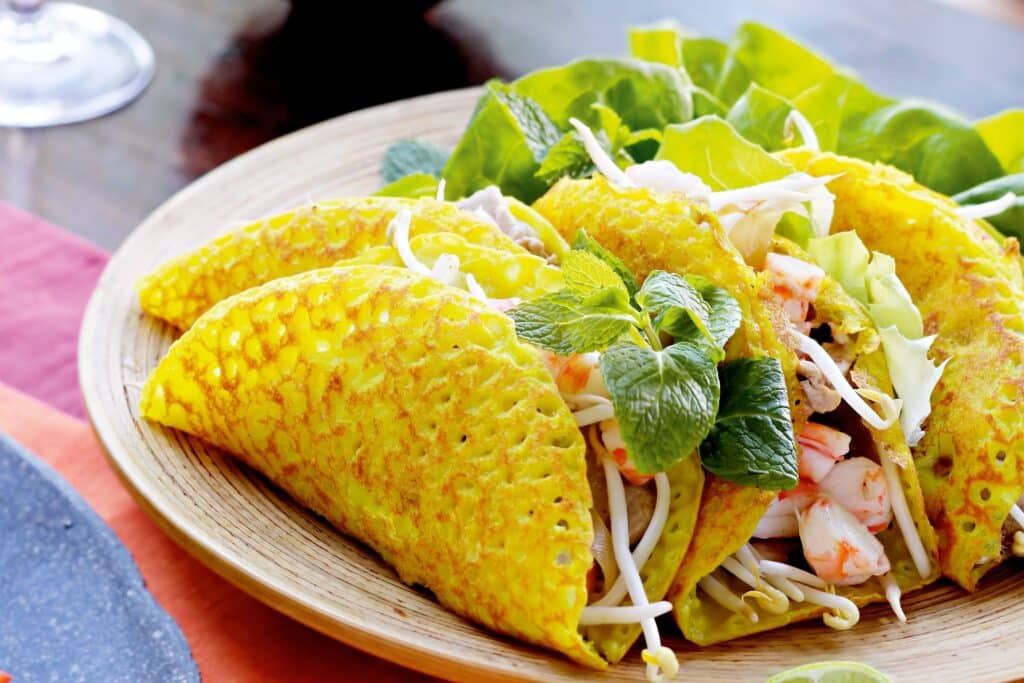 4. Com Tam (Broken Rice)
A quick and easy street-food favorite, com tam or broken rice, is almost entirely exclusive to Ho Chi Minh City and another tasty dish from Vietnam. Comprised of smaller bits of rice – hence the name – it was traditionally a leftover-style snack. Today it is a popular snack on every street corner in Ho Chi Minh. Com tam is served with grilled, steamed, or shredded pork, fish, or even just a fried egg. And since this is Vietnamese cuisine, it wouldn't be complete without a sprinkle of fresh herbs, spring onion, and a fresh lime squeeze.
5. Cha Ca (Turmeric Fish)
Seafood dishes are well-loved in Vietnam, and cha ca is probably the best known one. Reportedly created in Hanoi, the traditional Vietnamese dish consists of white fish sautéed in butter fragranced with dill and spring onions, served on rice noodles with a sprinkling of peanuts. Thanks to its prime waterfront position, Da Nang is the best place to enjoy seafood-based Vietnamese dishes, and cha ca is no exception.
6. Bun Cha (Grilled Meatballs)
Another Hanoi specialty, bun cha, you can find these Vietnamese treats at food stalls, street kitchens, and restaurants across the lively city. Bun cha is made with barbecued pork meatballs grilled on an open charcoal fire, served over cold rice noodles with assorted fresh garnishing and a flavorful broth. It's often been compared to meatballs or hamburgers; bun cha is a Vietnamese dish typically enjoyed at lunchtime.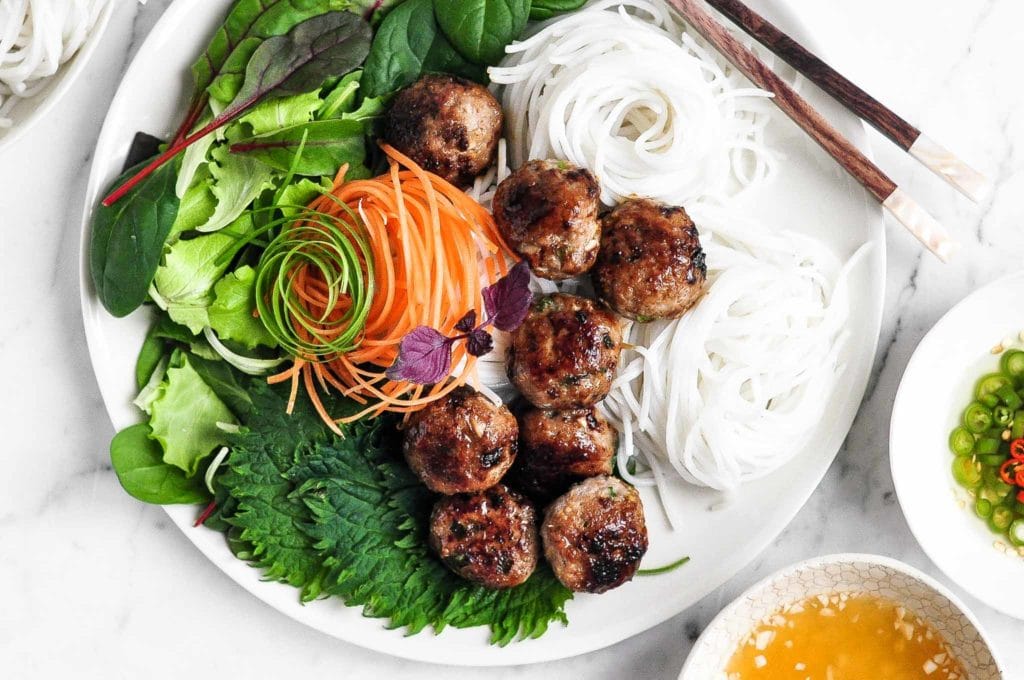 7. Banh Mi (Vietnamese/Saigon Sandwich)
Easily one of the most famous Vietnamese dishes, banh mi is an intriguing dish that entirely encompasses the delicious intricacies of Vietnamese cuisine. The Vietnamese or Saigon sandwich first made its appearance on plates in the 19th century during the French colonial rule, and it has all the je ne sais quoi of French influences. Banh mi is made with a baguette sandwich packed with greens and various fillings to choose from, like paté, pork, chicken, liver, beef, and tofu. This Vietnamese dish is so mouthwatering it is replicated around the world, from New York to London.
8. Mi Quang (Noodle Soup)
An underrated and cheap noodle dish, mi quang is a beloved Hanoi street food and a Vietnamese classic. While ingredients vary from restaurant to restaurant and chef to chef, you can always expect to be served with a simple bowl of meat noodles with fragrant oils, fresh sprigs of herbs, shrimp, peanuts, and quail eggs. Generally eaten at dinnertime, but you'll want to be slurping the turmeric-infused bone broth, yellow noodles and fragrant herbs any time.
9. Cao Lau (Noodle Bowl)
A central Vietnamese specialty, you can find the best cao lau in Hoi An. This delicious bowlful of thick rice-flour noodles, pork-rind croutons, and bean sprouts in a light soup flavored with fragrant herbs like mint and star anise. Cao lau is usually topped off with thin pork slices and garnished with grilled rice-flour crackers or crispy rice paper. This traditional Vietnamese food is typically served with a local salad and green beans. A local legend surrounding the dish is that authentic cao lau is cooked with water drawn from one specific local. This is why Hoi An is the best place to enjoy it.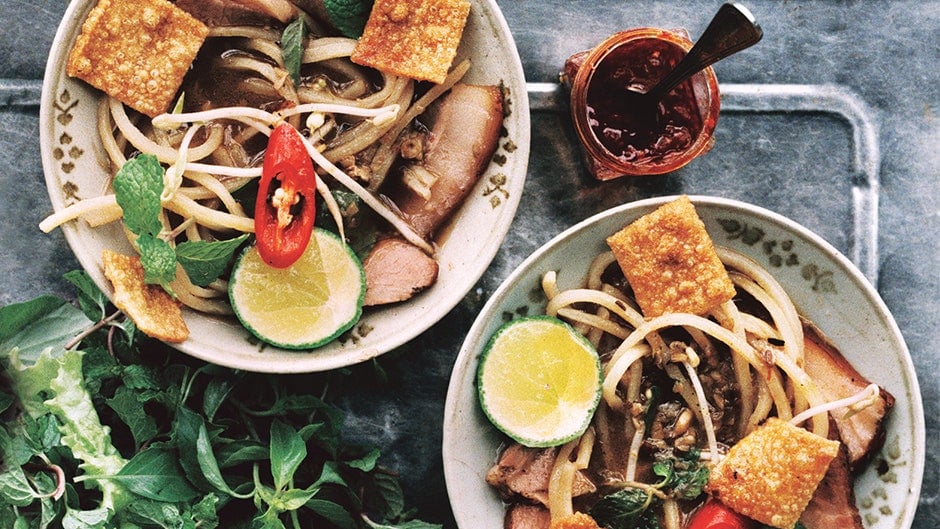 So now that you know the most mouthwatering Vietnamese dishes, it's time you indulge your inner foodie and try out the best flavors of Vietnam, from Saigon to Hanoi.