Thailand is brimming with incredible places to stay – in fact, it can be downright difficult to choose accommodation, especially if you are searching for a spot with a private pool.

The good news is we have rounded up our list of the 10 most beautiful private pool villas in Thailand. So, whether you are a couple searching for the perfect honeymoon destination, or a larger group searching for a fun vacation spot, here are the villas you should consider.
Private Pool Villas in Thailand You Have to Experience
1. Shades Of Blue Villa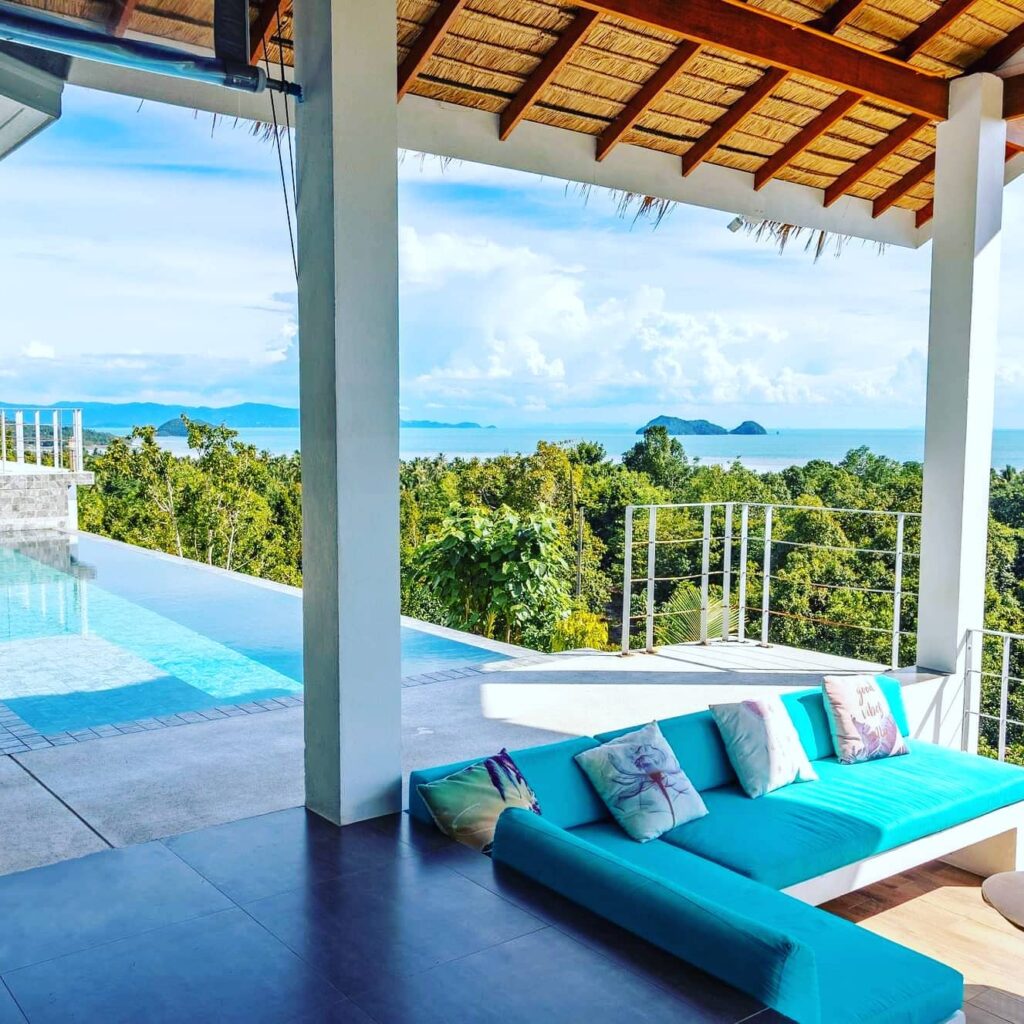 If you're looking for the perfect villa escape for you and your loved ones, then Shades of Blue is made for you. Situated on the west of Koh Phangan, this villa is primely located and only three minutes from the magnificent bay of Hin Kong.
True to its name, Shades of Blue, is the epitome of private pool villas in Thailand. Tropical style, with a gorgeous infinity swimming pool and ocean views that seem to go on for miles. Once the setting sun basks the coconut trees in its warm glow, you'll never want to leave this hideaway heaven in the jungle.
Special features:
Large private space with private decking area
Air-conditioned throughout
Daily maid service
Private infinity swimming pool
2. Sunset Cove Residence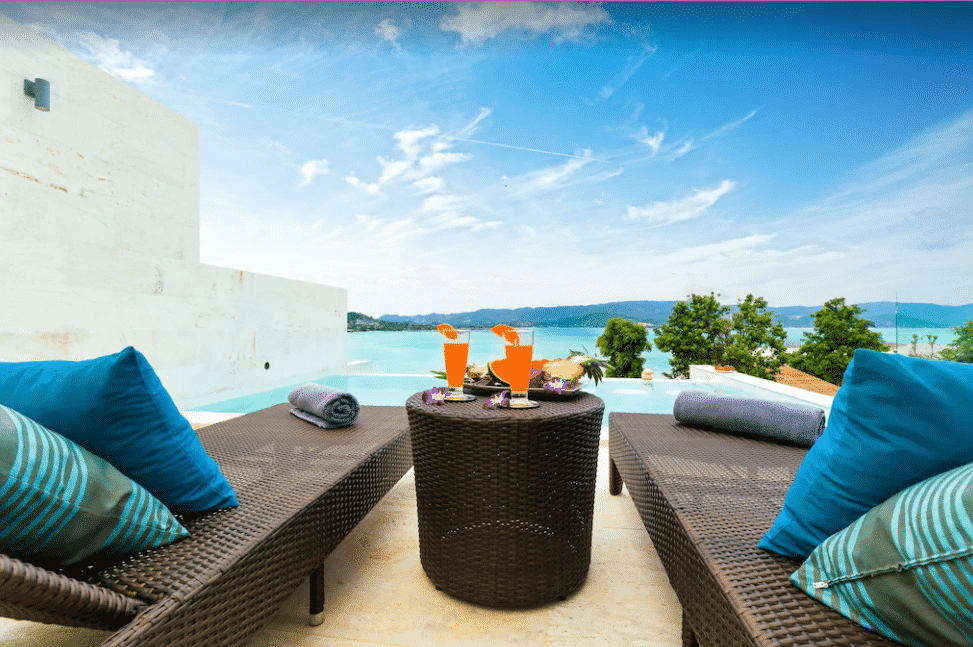 Another truly epic Thailand villa, Sunset Cove Residence, sleeps up to eight people, making it ideal for friends and families. And if you plan on spending as much of your time in the water – the private swimming pool will leave you awestruck.
Situated on the North-Eastern tip of Koh Samui Island, this remarkable villa offers breathtaking views of the ocean landscape and comes equipped with all the modern amenities. And the best part is that it doesn't break the bank!
Perfect for a large group of friends or families who want to spend their time in Thailand relaxing, recharging, and chasing the sun. Perhaps one of the biggest drawcards of Sunset Cove Residence is that it's a mere five-minute walk from the beach.
Special features:
Clubhouse
BBQ facilities
Garage space for 2 cars
Free fast WIFI, coffee facilities and more
3. Orchid Paradise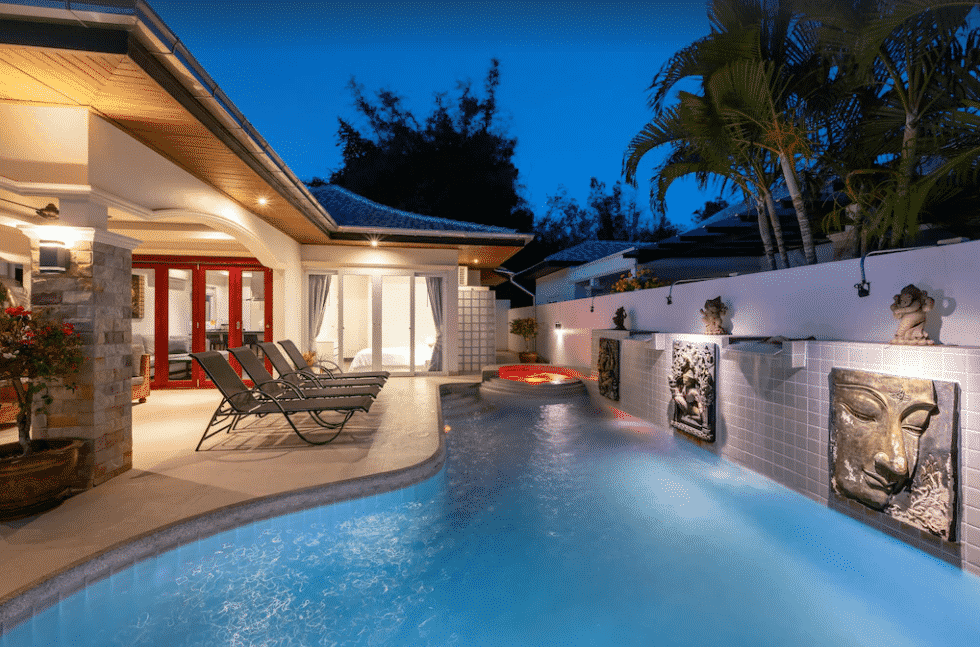 When it comes to Thailand villas with private pools, Orchid Paradise has everything you could possibly desire – and more. Nestled in the exquisite area of Hua Hin, this stunning villa was recently refurbished and comes with an incredibly luxurious salt-water swimming pool, BBQ, modern kitchen, and the modern touches continue throughout – making you feel like royalty without going overboard on spending. Thankfully, the contemporary design doesn't take away from the fact that you'll still feel quite at home while you're on your vacation in beautiful Thailand.

Special features:
Laundry machine
Close by the famous Black Mountain golf course in Hua Hin
Cooler outdoor seating area
4. Wings Phuket Villa By Two Villas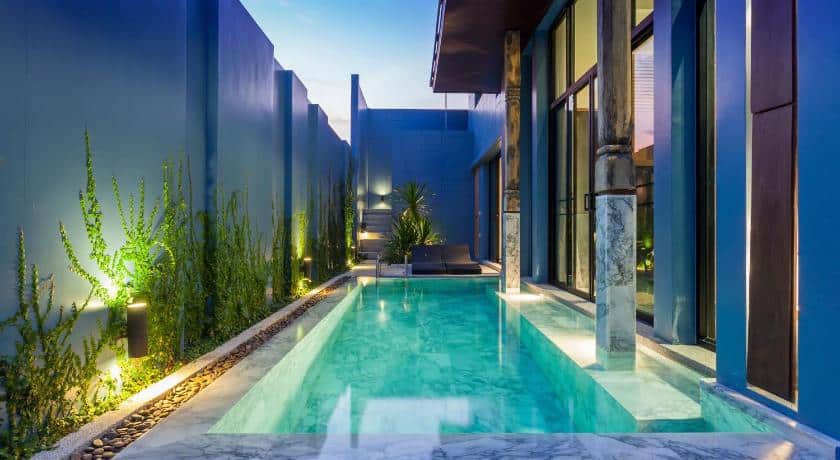 Jet set off to the incredible Wings Phuket Villa and experience a Thailand villa (with private pool) in the heart of the country. Budget-friendly and luxurious – this villa screams honeymoon material!

All villas come fully equipped with air-conditioning – perfect for those hot summer nights. And all of them overlook a stunning garden – which is perfect for lazy mornings with coffee in hand. The villas come with a full kitchenette, so you can cook up a storm during your stay. And after dinner, you can enjoy an indulgent bubble bath (sounds like paradise, right?).

With modern designs and stunning finishes, as far as private pool villas in Thailand go, this one has it all.
Special features:
BBQ available
Car hire and airport shuttles are available
1–3-bedroom private pool villas are available
5. Guapa Luxurious Cottage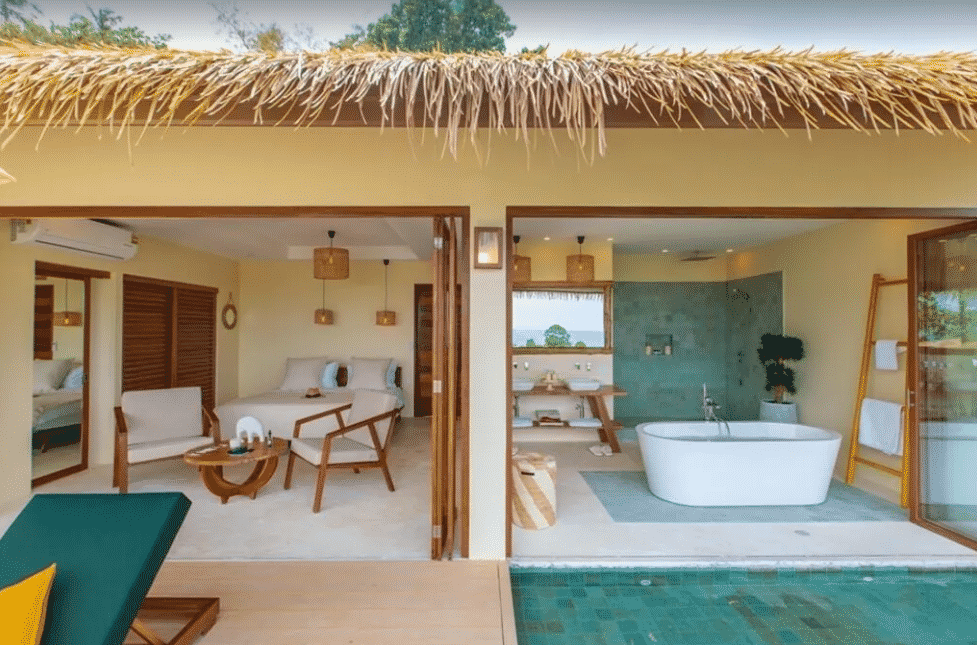 Perhaps one of the most charming elements about this private pool villa in Thailand is its unique Balinese design. Experience a touch of Bali in the heart of Thailand – for an incredible price too. Completely immersed in nature, another bonus for this Thailand villa with private pool is that it's a mere 500m from a stunning beach!

Experience maximum comfort, high-end amenities, and 5-star service – need we say more?
The villa comes with a fully fitted kitchen (kitted out with the latest and greatest), a private swimming pool to cool off in the Thai humidity, private sun loungers for basking in the sun, and a Bali stone rain shower or bath which overlooks the ocean. If you're not tempted to book your stay now, then huh?

Oh, and the best part? It's all for less than $100 per night!

Special features:
Private pool with ocean views
Pocket WIFI and an iPhone to plan your daily outings
Basket of fruit and cold drinks on arrival
6. Long Beach, Luxury Pool Villa
Looking for Thailand villas with private pools fit for a family? Then Long Beach, Luxury Pool Villa has your name written all over it. At less than $65 per night, this magnificent villa is ideal for a family who is searching for quality and a private pool.
Situated in Long Beach, the villa is primely located with easy access to the beach, as well as nearby bars, restaurants, and cafes.
The villa has also been designed to suit European standards – and even has a baby cot for if you're traveling with little ones!
As a nice touch, food and drinks are offered in a welcome package and daily cleaning is provided. Sounds like it's ticking all the boxes of a great family-friendly villa? That's because it is.
Special features:
Complimentary laundry service
40sqm swimming pool
Large American style kitchen
7. W Koh Samui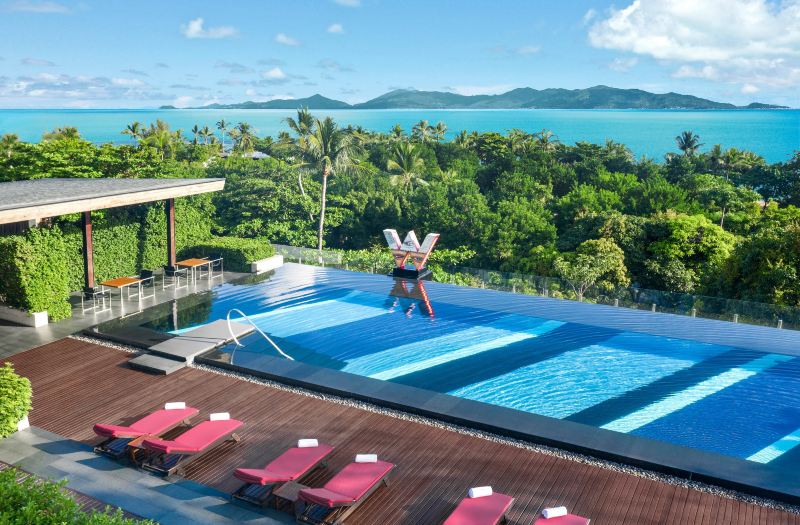 Searching for Thailand resorts with private pools, offering world-class luxury – this one is for you.
The resort caters to travelers that would like access to their own private pools and is perfect for those who want all the benefits of a resort combined with the privacy.
The resort is beachfront, so in other words: it's in a prime location!
All villas come equipped with a large private deck with a private pool, and state-of-the-art entertainment gadgets, including a 46-inch flat-screen TV, and a Yamaha Wi-Fi sound dock.
Oh and, each room has an Illy espresso machine, & Bliss Spa amenity.
You can also enjoy a bubble bath and binge-watching your favorite shows on the 22-inch flat-screen TV in the bathroom. Why not throw in some champagne from the minibar and have a bubble blast?
Special features:
On-site gym, tennis, and spa use (complimentary classes)
Public infinity pool and a water sports center by the beach
Enjoy free ice cream, bottled water, and soft drinks at the Sweet Spots located all over the property
8. Annie Villa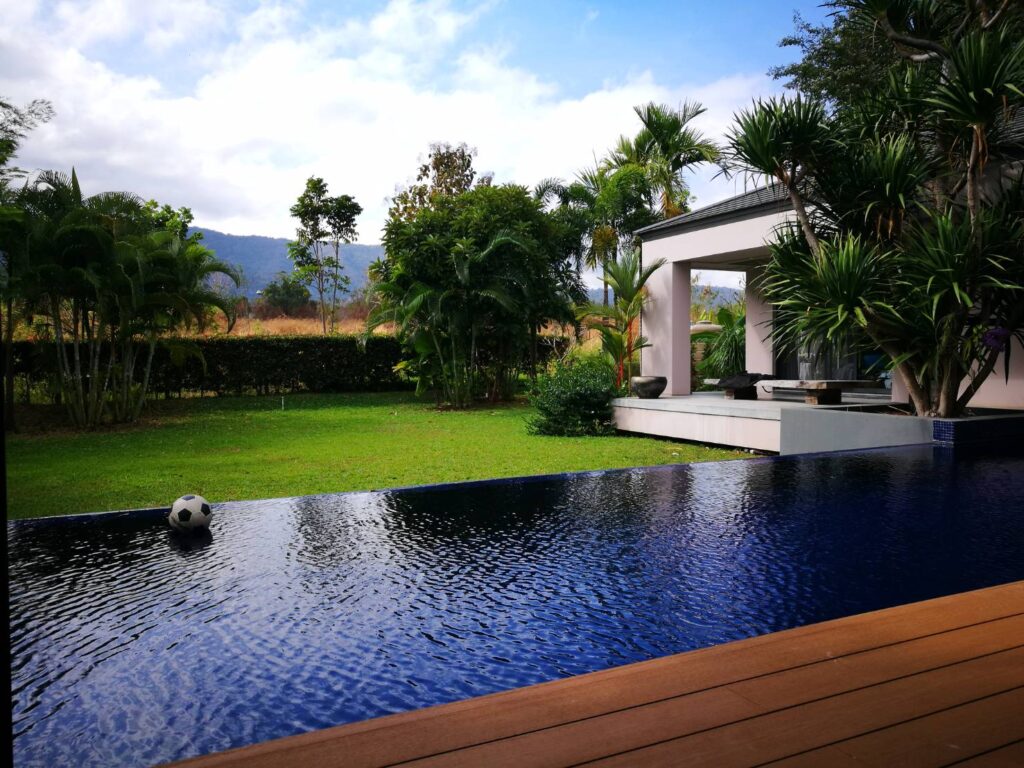 What sounds more divine than a luxury private pool villa hidden in the jungles of Thailand? This incredible villa is located just 4km from Khao Yai National park and offers expansive mountain views. If you're looking for a Thailand villa that offers total nature immersion, then this one is for you.
But it doesn't stop there. The villa comes fully equipped with everything you might possibly need (or want) for a luxurious vacation. From the jacuzzi to table football, and the audio system to the television – this private Thailand villa is calling your name.
Oh, and for those with an affinity for outdoor adventures, this villa also has bikes that you can take along the national park trail. Not to mention the incredibly large infinity swimming pool.
If you're an outdoors enthusiast, then this place is perfect for you! Bonus: it can accommodate up to 8 guests – did someone say family vacation in Thailand?

Special features:
Immersed in nature
BBQ available
Large open plan design
Where To Stay In Thailand
The Thai Islands
‍Includes: Koh Tao, Koh Samui, & Koh Phangan:
Popular with backpackers
Party-animal central (home of the famous Full Moon Party – held monthly)
More romantic during quieter months of the year
Popular for snorkeling
Phuket
Popular among holidaymakers in Thailand – especially families
Lots of luxurious resorts to choose from
Ideal for family-friendly vacations
The North Of Thailand
Includes: Chiang Rai, Chiang Mai, and Pai
Different to the vibes of the beaches in the South
Steeped in culture – features magnificent temples, incredible forestry, and jungles
Perfect to discover waterfalls, hot springs, and hikes
Hua Hin
Another popular spot for families
Features lots of beautiful beaches
Offers various attractions for day trips
Perfect for foodies and hikers
Phi Phi & Krabi
Popular among backpackers and younger couples
Not recommended for families – ideal for partiers
Beach lovers will love this region
Bangkok
No beautiful beaches – but plenty of cultural beauty
Amazing temples
Market lovers will be pleased with Bangkok's floating markets
20 Essential Tips For Visiting Thailand
From general travel tips to respecting the beautiful Thai culture, to tips for staying safe during your travels and budget-travel advice – here are the essential travel tips for visiting Thailand.
Check visa requirements. Make sure you check whether you need a visa before traveling to Thailand since each country has different visa requirements. Some nationalities don't need visas if they're staying in Thailand for less than 30 days, others can obtain visas on arrival, and some must get theirs in advance. So check the visa requirements first!
Pack for hot, humid weather. Thailand's climate is hot and humid. So unless you're heading into higher altitudes where the temperature is likely to drop, pack plenty of lightweight, breathable clothing for warmer weather.
Keep enough cash with you. Cash is king in Thailand. Whether you're headed for the street markets, local restaurants, or even many tourist attractions, many places will only accept cash as payment. Thankfully ATMs are frequent in touristy areas. Just make sure you alert your bank that you'll be in Thailand so they don't assume it's fraud.
Avoid scam companies. Before you book any accommodation or tours, read customer reviews to make sure it's legitimate. Thailand has sadly seen a rise in tourism scams and illegitimate businesses that try to get money out of tourists.
Remove your shoes. Feet are considered the dirtiest part of the body in Thai culture. You'll have to remove your shoes whenever you enter temples, people's homes, spas, and other establishments, so wear shoes that are easy to slip on and off.
Don't touch other people's heads. The head is considered the holiest part of the body, so you should never touch someone's head. While it's unlikely that you would – just be aware that it's seen as disrespectful.
Dress respectfully. When entering temples, you must follow the dress code. Besides removing your shoes, you should wear clothing that covers your knees, shoulders, chest, and stomach. There's no strict dress code for going about your day, but Thai people do dress modestly.
Ask before taking photographs. Before taking a photo of anyone you should ask for their permission. If you see a local wearing a traditional garment or a monk praying in a temple, this can be a beautiful image to capture. Thai people are very friendly, so if you ask to take a photo, they will most likely have no problem with it.
Respect the king. Thais love their king. There are posters, monuments, and other displays of affection with the king's face all over them. So, travelers should respect the monarchy and never say anything negative or offensive about the king.
Consider the economy. Northern Thailand is much cheaper than the south since the north doesn't have many tourist destinations besides Chiang Mai and Chiang Rai. So if you're trying to make your money last longer – spend more time up north than in the south.
Eat like locals. Eat local street food whenever possible. Thailand has some of the best street food in the world – just picture mouthwatering pad thai noodles, crispy spring rolls, spicy curries, and refreshing bowls of mango and sticky rice.
Use cheaper forms of transportation. But find what works for you and your comfort level. Thailand has an extensive network of travel options. For traveling short distances you can take a tuk-tuk, rent a motorbike, or hop into a songtaew (red pickup trucks that are shared taxis). Or take buses, minivans, trains, or planes for longer distances. One transport option isn't always cheaper than the others so do your research.
Practice caution if you're renting a motor scooter. Don't just rent a motorcycle or motorscooter for the hell of it. Thailand has one of the highest traffic fatalities records on earth and driving here isn't for the faint of heart. Don't wear tank tops and t-shirts – these won't help if you have an accident.
Use budget airlines. If you're flying around Thailand use budget airlines like Lion Air, Air Asia, Vietjet, Orient Thai, Nok Air, or Thai Smile. They are reputable and well-priced airlines. Bring your own snacks for the plane – they charge extra for these when you're up in the air.
Avoid drinking tap water. When in Thailand, it's better to stick to bottled water. Unless you have your own filtering bottle, just bring a reusable water bottle that you can refill at drinking water stations to try reduce your plastic waste.
Sun protection is a must. Always wear sunscreen – and bring along a hat and sunglasses too. The sun is strong in Thailand, so you're always at risk of sunburn. Bring some SPF from home – prices are expensive in Thailand.
Stay safe. Tourists are a big target for petty theft in Thailand. So keep your belongings safe, with a trusty lock or safe, and don't bring too many valuables while you're exploring.
Make sure you're covered by travel insurance. Never travel without travel insurance. You never know what will happen while you're abroad. Especially if you'll be doing things like riding motorbikes, hiking mountains, cliff-jumping, and taking part in water sports – and even if you're not, you'll want to be covered in case you get sick.
Practice sustainable tourism – no riding elephants! There are plenty of tour companies that exploit animals for tourism – a sad (over-popularized) activity that is extremely harmful to the elephants. There are sanctuaries that rescue elephants to keep them in a safe environment. The same goes for tiger petting operations. So do your research to make sure none of your activities are harmful to animals or the environment.
Don't disrespect the Buddha. Buddhism is the main religion in Thailand, so the Buddha is revered by locals. When visiting temples and statues of the Buddha, avoid taking any inappropriate (or goofy) photos and avoid touching the Buddha. You're also not supposed to point your feet directly at the Buddha or turn your back on the Buddha.
So whether you opt for the northern areas of Thailand, the Islands, or even the bustling Bangkok, you can be rest assured that you will find private pool villas in Thailand, galore! And with these tips in mind, you can look forward to an exciting, safe, and memorable trip.