Bordered by the mystical Andes Mountain range to the east, encompassing a remarkable variety of climates and landscapes, Chile is an incredible place to lose yourself. And if you're a beach lover then, you're in luck!

Stretching along South America's western edge, Chile boasts a coastline of more than 6,000km of Pacific Ocean. When it comes to beaches in Chile, there's no shortage of them.
7 Beaches in Chile You Have to See
1. Bahía Inglesa
Translated as "English Bay", Bahía Inglesa is a resort village on Chile's northern Atacama Desert coast – in other words, it's got more than one Chile beach. Playa La Piscina beach offers beach explorers a sheltered cove with calm, clear waters to frolic in – with proximity to restaurants and bars on Av del Morro. While in the south, the breezy shoreline means beaches like Las Machas and Cisne, are the best Chile beaches for water sports – whether it's sailing, windsurfing, surfing, or kayaking. And of course, whichever beach you pick along the Bahía Inglesa, you'll be met with stunning coastlines and plenty of sunshine to bask in.
2. Playa Chorrillos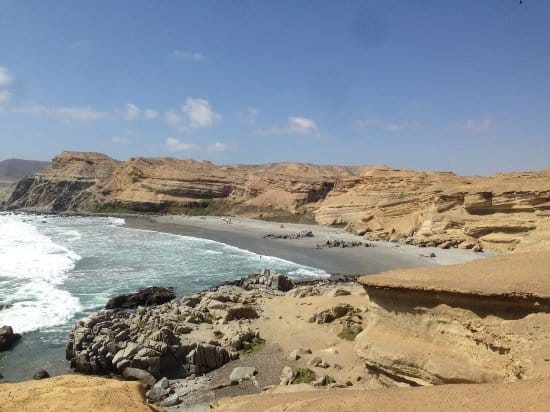 If you follow the coast south from Bahia Inglesa, eventually, the ins and outs of the coast open up to present Playa Chorrillos. This rugged stretch of shoreline in the Atacama region offers dramatic panoramic views of cliffs overlooking the sea. Although hard to access, the beach is popular among locals and tourists who are willing to work a bit harder – if you're lucky enough, you'll have the entire beach to yourself.
3. Viña del Mar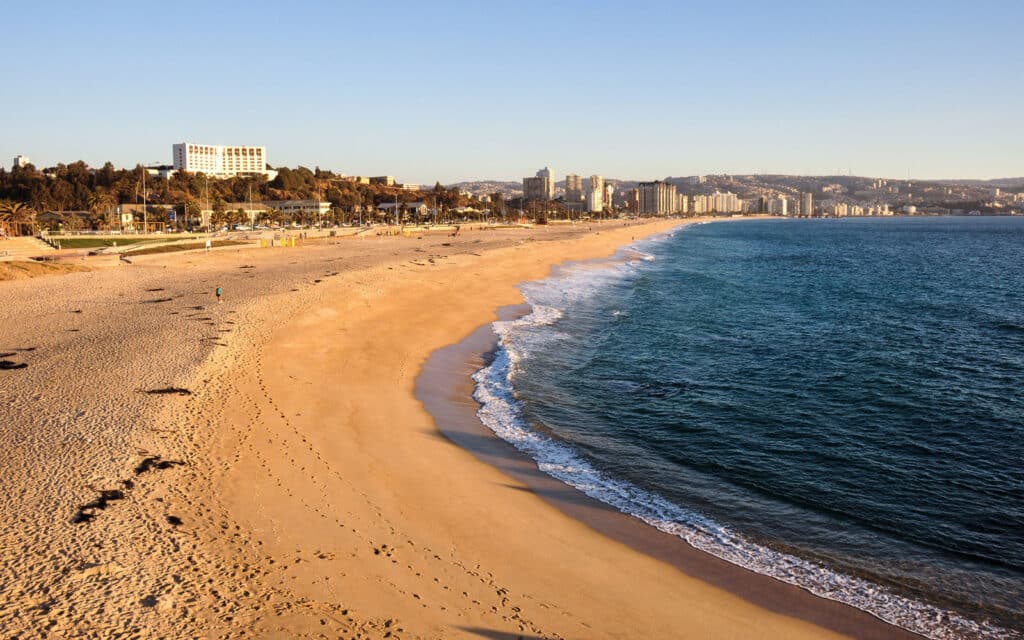 Since the capital is further inland, there are no beaches in Chile, Santiago per se. However, as the fourth largest city in Chile, Viña del Mar is the most obvious choice for beach lovers in Santiago. As the most renowned coastal town within a two-hour radius of Santiago, Viña's coastline is bursting with high-rise hotels, resorts, and restaurants. The beachfront is lined with market stalls filled with local crafts and souvenirs. Even though the water might be a bit cold, the waves are mild and perfect for children. The beach is also expansive enough to help crowds disperse.
4. Playa del Cole Cole, Chiloe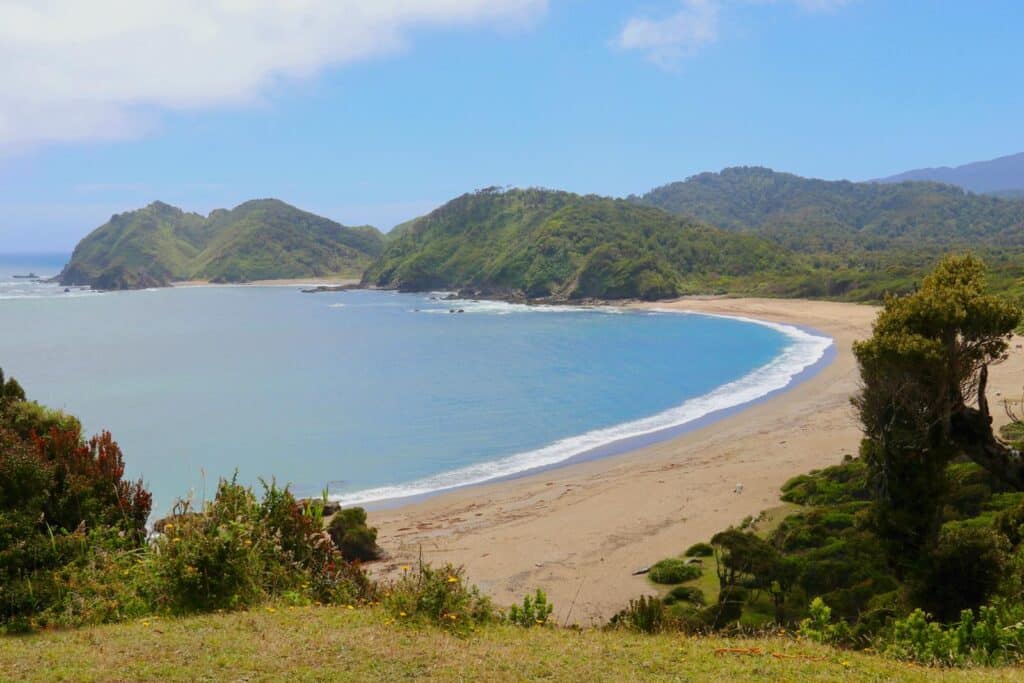 Although this beach is notoriously tricky to get to, it's rumored to be one of the most beautiful beaches in Chile – the incredible hidden beach of Chiloe National Park. You'll need to register to enter the park, and the chances of getting lost en route to the beach are high, but as soon as you lay eyes on Playa del Cole Cole's golden sands, it will all be worth it. When it comes to Chile beaches, this is ideal for travelers who enjoy treks and remote escapes. Playa del Cole Cole offers spectacular landscapes and tranquil scenery – with shrubbery-covered hills, Valdivian jungle, and seas that seem to go on forever.
5. Playa Anakena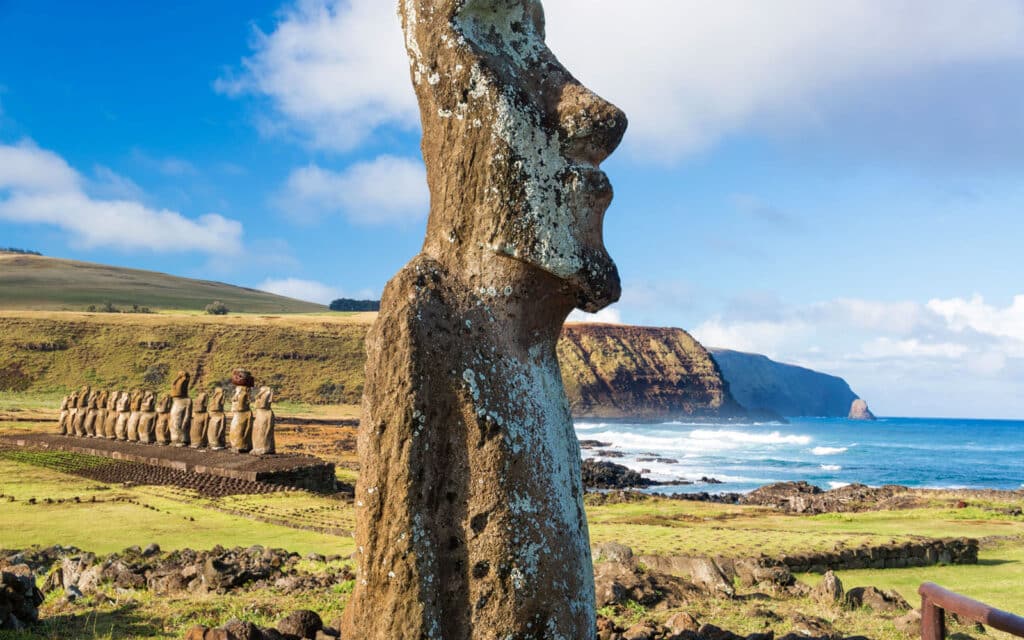 The paradise beach. Playa Anakena is the main beach on Easter Island and is the epitome of the idyllic beach scene – pristine coastline, powder-soft sand, and crystalline waters. Framed by coconut trees and Moai statues, this is one of the best beaches in Chile for the more mystically inclined traveler. Shrouded in sacred history and culture, Playa Anakena is considered the birthplace and cradle of Easter Island's Rapa Nui culture. Today you can visit the remains of some of the ceremonial platforms, called Ahus, and witness the tremendous cultural, social and religious development here.
6. Playa La Virgen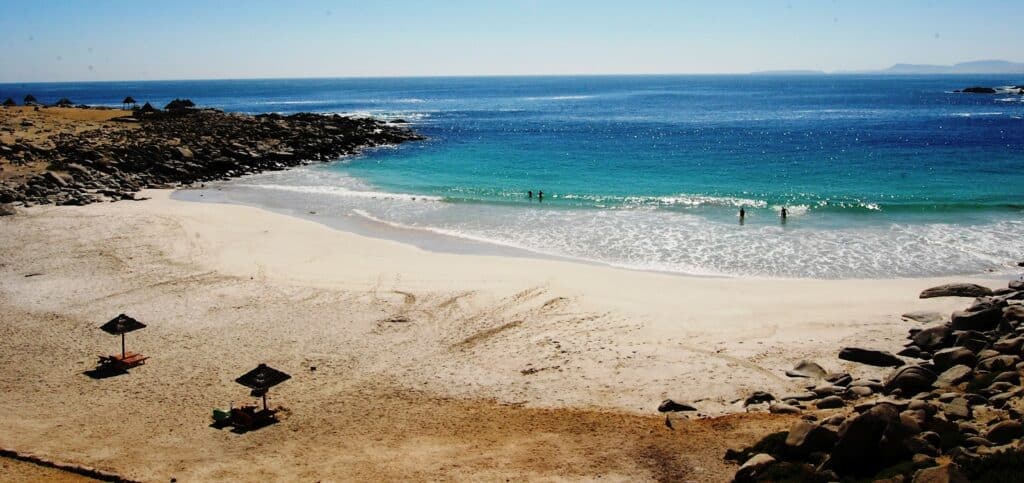 Another beach that once used to be a well-kept Chilean secret, the stunning Playa La Virgen, can be found just 46 km south of Bahía Inglesa. Getting her name from a rock formation that is said to look like the Virgin Mary – the blue-green waters and white sands are popular indeed. Situated along a pretty coastal road, this once well-guarded treasure is definitely worth a day trip to this little sliver of sandy paradise. In January, you'll usually find the beach packed with a younger party crowd until the families takeover in February; either way, the umbrella-dotted beach is still among the top Chile beaches.
7. Pan de Azucar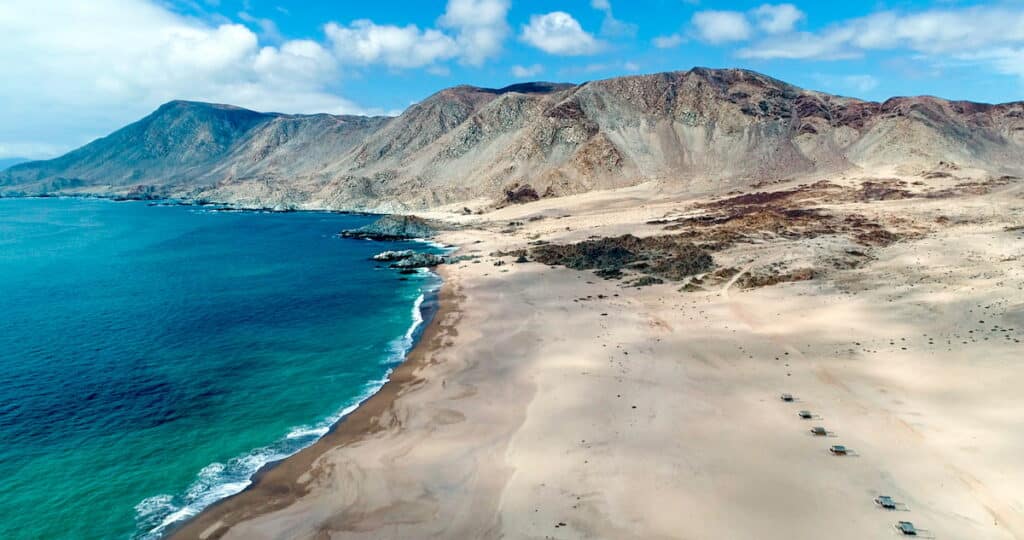 Like many other places in Chile, Pan de Azucar National Park is perfect for travelers who are looking to get a little lost and discover their own piece of paradise. Translated as "Sugar Loaf National Park", the surroundings are as fantastical as the name – an otherworldly landscape of volcanic rock, desert scenes, and white sandy beaches. Once you reach the opening which overlooks the beach, the Pacific Ocean extends as far as the eye can see. Don't be surprised if you are greeted by Camanchaca, a coastal mist that sweeps in off the sea. If you're keen to do some snorkeling, the village of Caleta Pan de Azucar is the perfect spot. Whether you opt for some water or jungle explorations, this isolated beach undoubtedly deserves a place among the best beaches in Chile.
There you have it—our top picks among Chile's beaches. Whether you are looking for a quiet place to bask in the sunshine, a busy shoreline with stalls to explore, or a remote escape that requires a bit of a trek – Chile has a beach to satiate any taste.