The magic of fall is slowly spreading across the United States, so we've made a list of all the best places to see the fall foliage.
Each state transforms before your very eyes, with postcard-like landscapes of oak, ash, maple, and hickory trees giving way to their fall leaves.
So, nature lovers and leaf peepers – there's no need to Google: fall near me. Get your hiking gear prepped, pack some road trip snacks, and start your autumn adventures across national and state parks. You're in for some wonderful scenery and, of course, the best fall foliage.
Where to See Fall Foliage in the U.S.
1. Ozark National Forest, Arkansas
With more than 1.2 million acres, it goes without saying that Ozark National Forest offers spectacular scenery – especially when caught under fall's spell. The fall foliage takes over during October, and you can stroll through an enchanting autumnal setting with colorings of gold, orange, and red. Bonus: there are plenty of mountains, springs, and rivers to take plenty of Instagram-worthy snaps.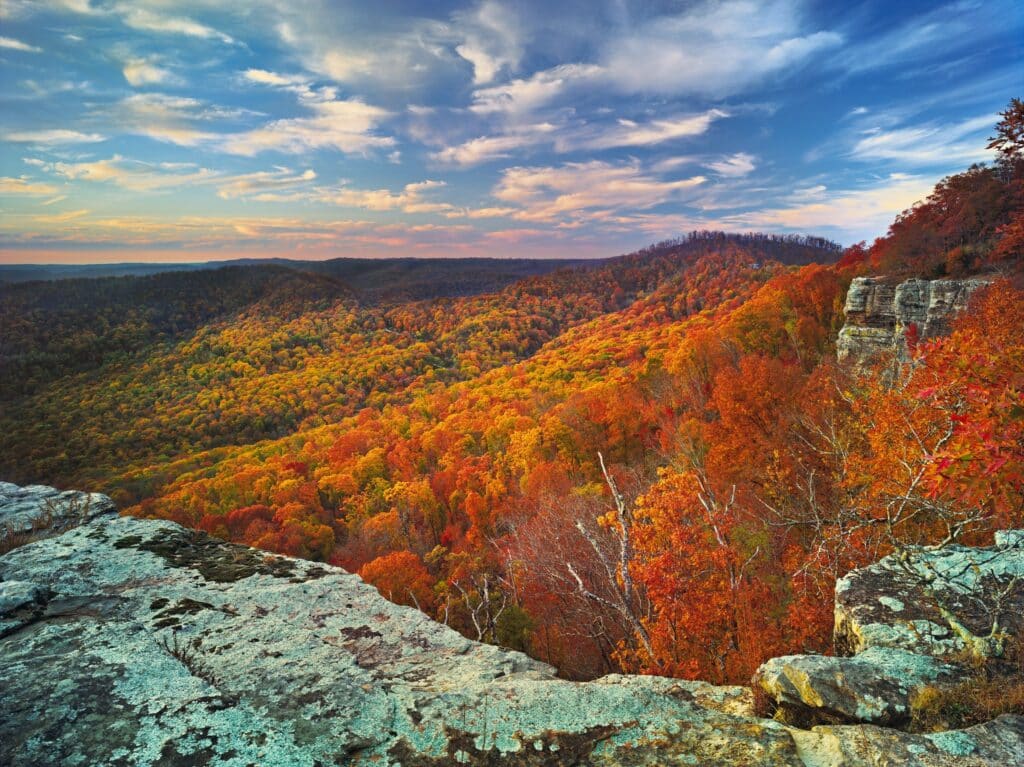 2. Huntington, New York
Huntington's Caumsett State Historic Park Preserve is another place to experience the festival of fall colors. The New York state-based park has over 1,600 acres, 27 trails, and a variety of botanicals and forestry, including hickory, maples, tulips, and dogwoods. The perfect place for a woodland escape, complete with hikes, crackling fires, and pretty fall leaves.
3. Taos, New Mexico
Contrary to popular opinion, the deserts in the Southwest are also affected by the wondrous changes of fall's seasonal colors. The Southwestern landscape of New Mexico is particularly extraordinary, especially if you drive along one of the United States' most scenic routes. Aptly named: The Enchanted Circle, the 83-mile road trip connects the towns of Questa, Red River, Eagle Nest, and Taos – and the views will undoubtedly leave you enchanted.
4. Columbia River Gorge, Oregon
Home to over 50 waterfalls, the Columbia River Gorge nestled between Oregon and Washington only becomes more entrancing during the months of fall. It's during October and November when Mount Hood experiences the autumnal metamorphosis and comes alive with vivid fall colors. The fall foliage offers the perfect scene for hiking, biking, and taking marvelous pictures.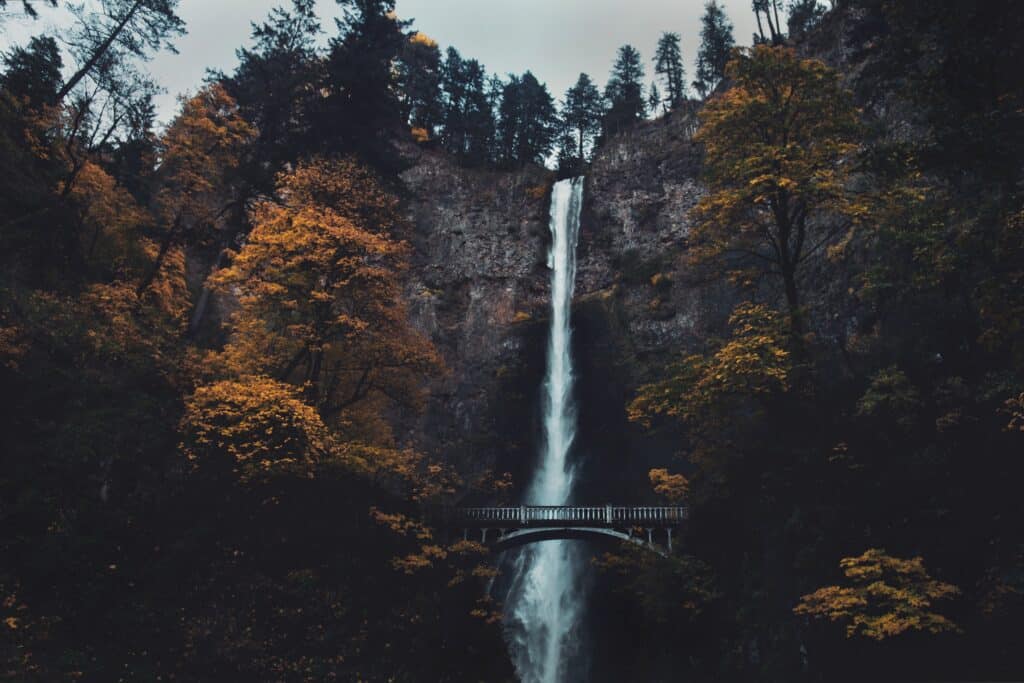 5. Wisconsin Dells, Wisconsin
If you ever find yourself along the Wisconsin River, you'll probably stumble across a magnificent glacier-formed gorge called the Wisconsin Dells. During fall, the Dells becomes the perfect place to enjoy the changing fall leaves and experience a peaceful moment or two among the fall foliage. Some of the most popular attractions include boat tours, river walks, and sightseeing in Devil's Lake State Park.
6. Eastern Shore, Maryland
Maryland's Eastern Shore enfolds the Chesapeake Bay and the Delmarva Peninsula – and when fall sweeps across the region, the walks around Elk Neck State Park are ravished with gorgeous colorings of russets and yellows. After you've devoured some yummy Maryland crabs, make sure you take a stroll to witness the beautiful fall foliage firsthand.
7. Catskill Mountains, New York
When it comes down to the best places to see fall foliage in the U.S., New York's Catskill Mountains are basically the perfect fall setting. Pop in at all the local breweries and cideries and take in the spectacular landscape on a hike or scenic drive. Check out New Paltz, Woodstock, or any of Catskills' picturesque little Americana towns, which are perfect stops for the nostalgic traveler.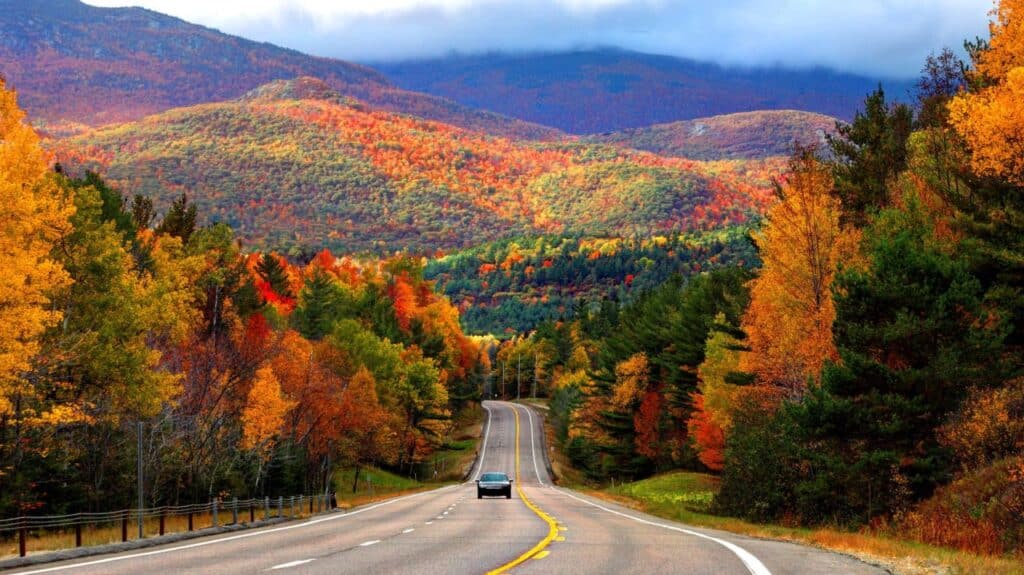 8. Bar Harbor, Maine
By mid-October, Maine's Bar Barbor is a hive of tourists waiting to get their fill of salty sea air as they experience the spectacular fall colors. Acadia National Park is the perfect spot for adventurous kinds wanting to kayak or get out the binoculars for whale and bird watching. But there are many quaint shops to pop into downtown for those wanting more of a quiet weekend getaway with lots of hot beverages.
9. Stowe, Vermont
If you didn't know Stowe is called "Fall's Color Capital", you'll quickly discover why when you visit this Vermont town in fall. From September through to mid-October, Stowe's flora is overcome by the chill in the air and gives way to a marvelous festival of colors – making it perfect for hikes or bicycle rides. If the weather gets chilly, you can still enjoy a scenic drive down Mount Mansfield Auto Toll Road.
10. Cape Cod, Massachusetts
Massachusetts' Cape Cod may be a popular summertime destination – but leaf peepers hoping to catch the changing seasons are well aware of its autumnal charms. Cape Cod is the perfect place to embrace the entire harvest theme – you can go pumpkin picking or check out a cranberry bog. But even if you opt for a simple walk along the shoreline, you're guaranteed a mosaic of colors.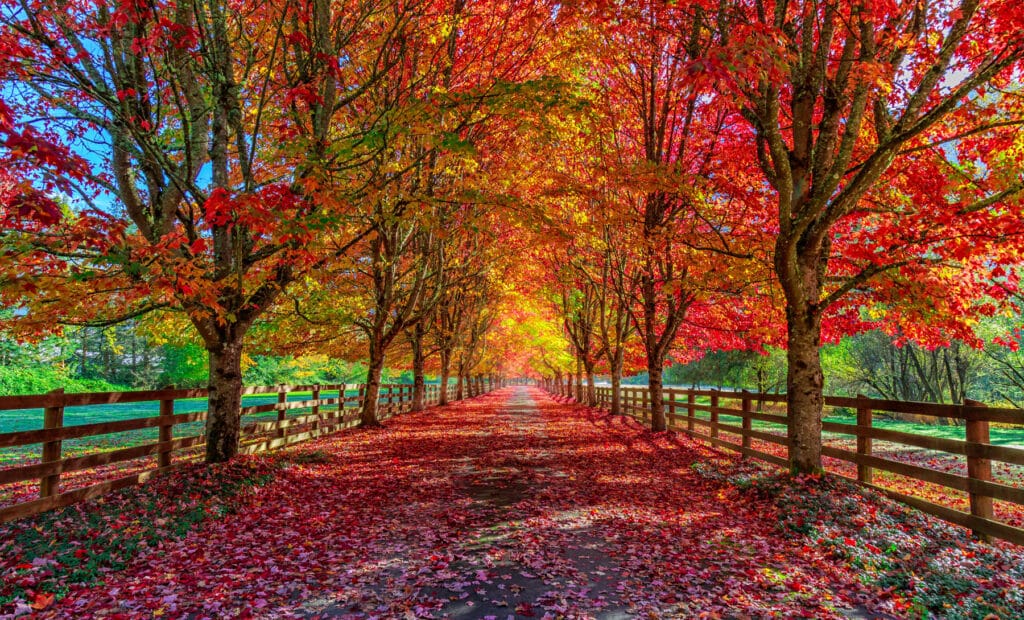 11. Blue Ridge Mountains, North Carolina
Stretching 469 miles between the Great Smoky Mountains National Park and Shenandoah National Park, the Blue Ridge Parkway offers a scenic drive between North Carolina and Virginia. And when the fall leaves take over, the already dramatic landscape goes the extra mile. Feast your eyes on the dogwood, sassafras, and maples that line every curve of the highway with stunning canopies of yellows, oranges, and reds.
12. North Conway, New Hampshire
Tucked within the White Mountain National Forest is the Kancamagus Highway, more than 34 miles of roadway for leaf peepers to enjoy the beautiful vistas in early October. When you're not hiking, biking, and rock climbing, retreat to one of the area's cozy restaurants.
13. Brooklyn, New York
New York might be one of the most striking autumn places – and The Brooklyn Botanical Garden is easily accessible by fall-foliage-seeking-urbanites. With 52 acres of space, themed gardens, paved pathways, feature plant pavilions, and native species of plants from across the globe – the fall colors are on full display from mid-to-late October.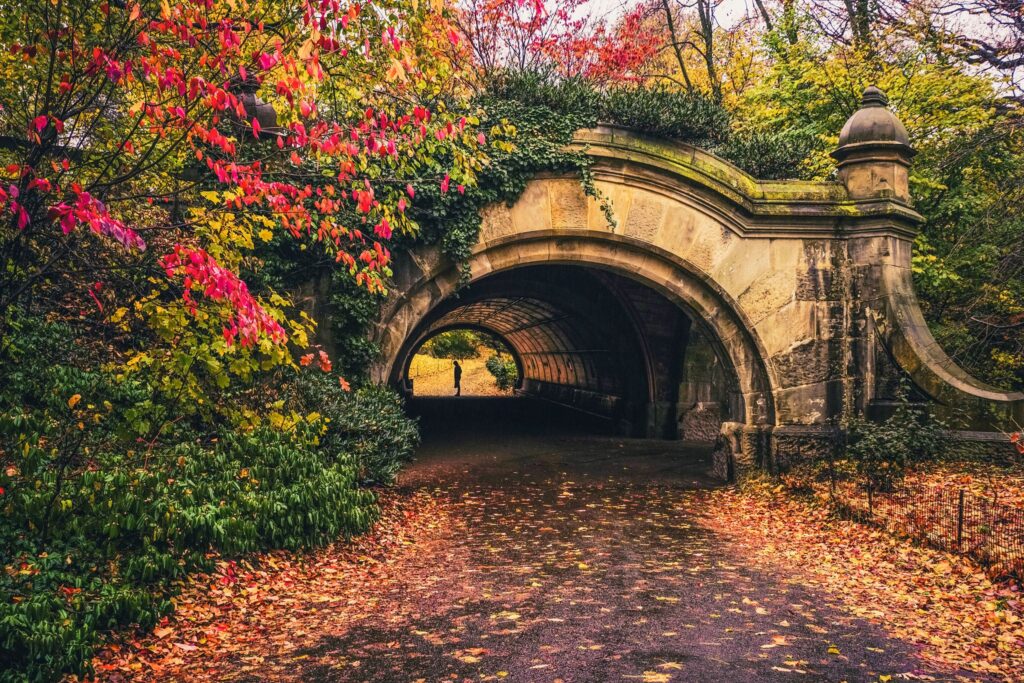 14. Aspen, Colorado
If Aspen already features on your bucket list, then you won't regret crossing it off the list in fall. Named after its gorgeous aspen trees, this mountain town's most vibrant season, albeit short, is worth the trip – when thousands of the native trees transform into the perfect yellow-gold autumnal hue. Before ski season sets in, visitors can simply enjoy the gorgeous views.
15. Upper Peninsula, Michigan
Michigan's Upper Peninsula meets three of the Great Lakes and encompasses over 4 million acres of protected forestland – in other words, there's a whole lot of fall foliage. Just take your pick from over 20 state parks within the region and bask in the vivid fall colors of ash, Aspen, beech, birch, maple, oak, and sycamore trees.
Whether you're on the lookout for a sleepy little town to explore or a national park with plenty of territories to adventure across – these are some of the best places to see the fall foliage and experience colorful spreads across the United States.