With Oktoberfest just around the corner, we thought we'd kick things off by celebrating beer gardens in Germany. "Biergarten" form an integral part of German beer culture. Long festive tables, incredible settings, and of course – yummy beer make these spots drool-worthy.
German summertime isn't particularly pleasant until late August, when the sun appears, nights are warm, and beer gardens are in full swing (and sunshine).
Who wouldn't enjoy sipping on a refreshing beer (or four) surrounded by pretty greenery and lively folk in a traditional biergarten? Here are 15 for you to add to your German beer gardens adventure.
15 Must-Visit Beer Gardens in Germany
1. Schwabengarten – Stuttgart
Schwabengarten is one of the largest beer gardens in the area – and one of the most kid-friendly locations as well. When it comes to the best beer gardens Germany has to offer for parents, this is the one. Linked to the Schonbuch Brauhaus, it features a colorful playground for children, so the adults can sit back and enjoy a well-deserved beer or two.
2. Beer Garden Odonien – Cologne
A beer garden after every art lover's heart. Situated amongst metal sculptures, fire installations, and water features, and found in Cologne's uber-cool Ehrenfeld district, this beer garden was created by industrial artist Odo Rumpf. Keep your eye out for concerts, open-air cinema, and other events that happen here!
3. Schillergarten – Dresden
The location alone easily makes the Schillergarten the most beautiful beer garden in Dresden. Nestled in the villa quarter Blasewitz, the traditional house is adjacent to the Elbe bridge "Blaues Wunder". Join the other 850 people and relax just like Fredrich Schiller did over 2 centuries ago.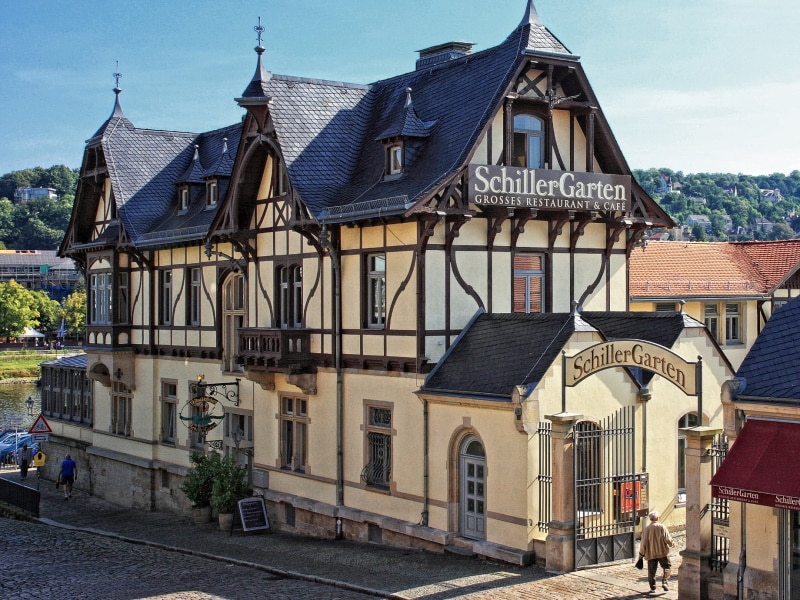 4. Spezial-Keller – Bamberg
Translating quite literally into "Special Cellar", this beer garden offers a different perspective for beer garden goers. Not too far from Bamberg's old town, Spezial Keller impresses visitors with wonderful views of Bamberg Cathedral and Michaelsberg Monastery. Make sure you try the spicy smoked beer, a local specialty.
5. Altona's Balkon – Hamburg
Hamburg gives off major maritime vibes, so why not enjoy your cold beer overlooking the harbor at Altona's Balkon Café & Biergarten. Tucked away in a park of the same name, this spot is the epitome of German beer gardens. Order a classic Holsten beer, grab a snack, skip the tables, and sit on the grass.
6. Hafenhalle – Konstanz
If the first thing that comes to mind when you think: beer gardens Germany is a cozy atmosphere on a wooden terrace between a lake and a charming little town, then Hafenhalle (Harbor Hall) is perfect for you! This biergarten in Konstanz offers six kinds of freshly draught beer and hearty food from the surrounding area around Lake Constance.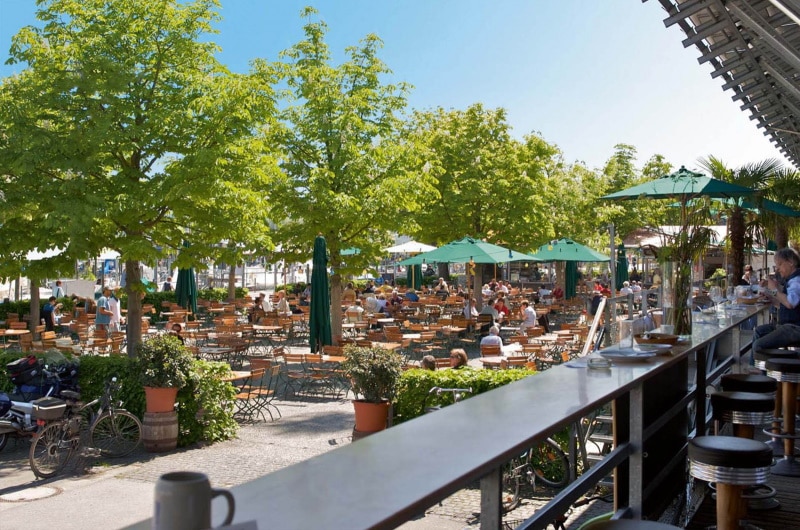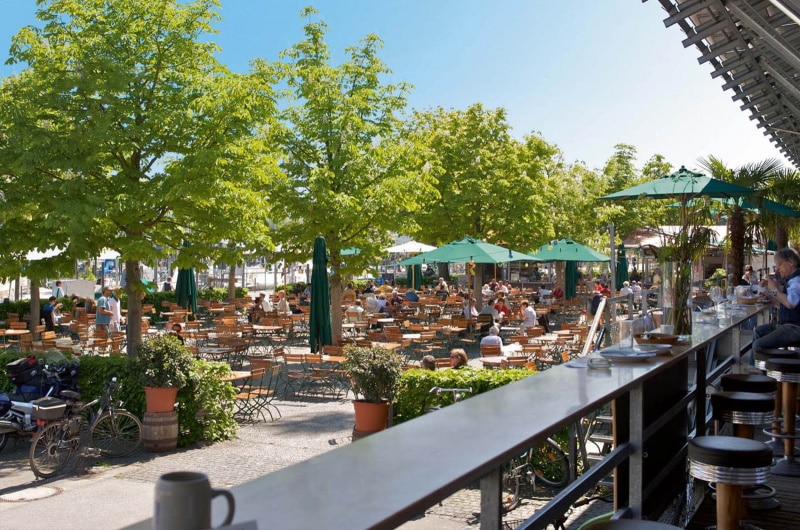 7. Gut Kaltenbrunn – Lake Tegernsee
The Blauberge, Wallberg, and Setzberg mountains border one of Bavaria's cleanest lakes: the Tegernsee, and the Gut Kaltenbrunn estate makes the most of the view with its panoramic beer garden. Located around 50 km south of Munich, this is the perfect spot to enjoy Bavarian hospitality and, of course some of the best beer Germany has to offer.
8. Summit Restaurant Gipfelalm – Zugspitze Mountain
All beer gardens in Germany seem to have key similarities: outdoor seating, a pretty view, and no snow. Except for this one: Summit Restaurant Gipfelalm located at an altitude of 2,962 meters (9,718 feet) on Germany's highest mountain, Zugspitze Mountain. The country's highest beer garden receives visitors by cable car or on foot and welcomes them with a pint of beer, a summit cross, and a breath-taking view.
9. Biergarten Stadtwaldhaus – Krefeld
Possibly one of the most idyllic beer gardens Germany has to offer. The Biergarten Stadtwaldhaus is located in the middle of the Krefelder city forest, just next to a small lake. The municipal park even offers recreational activities for the whole family, like golf, playgrounds, pedal boats, and a horse racing track.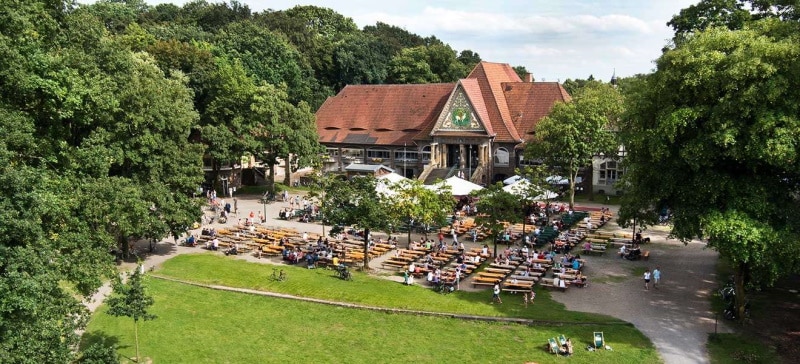 10. Luftgarten – Berlin
Luftgarten in Berlin was once an old airport ground and is now one of the largest beer gardens Germany is home to. And also one of the coolest spots in Berlin. The endless lawn is dotted with tables, benches, lounge chairs, and picnic blankets. Order a Radler (beer mixed with Sprite) and a currywurst (sausage with a spicy curry sauce and a side of fries). Then rent a bike and pedal around the old airport grounds.
11. Hirschgarten – Munich
Munich boasts more beer gardens than any other city in Germany. And Hirschgarten is the biggest (not just in Germany, probably in the world too). Seating around 8,000 people, the restaurant and Biergarten date back to 1791 – drink your way through Germany's beer history. Settle under the chestnut trees and enjoy traditional Bavarian food, 1-liter pours, and a lively atmosphere.
12. Augustiner Keller – Munich
Augustiner Keller is a traditional beer garden but also features an expansive indoor hall, complete with a conventional wood interior and stage for live performances. This is the second-largest beer garden in Munich – seating up to 7,000 thirsty guests. Always buzzing with life and brimming with beer and delicious baked Brezels (pretzels) – what more could you want?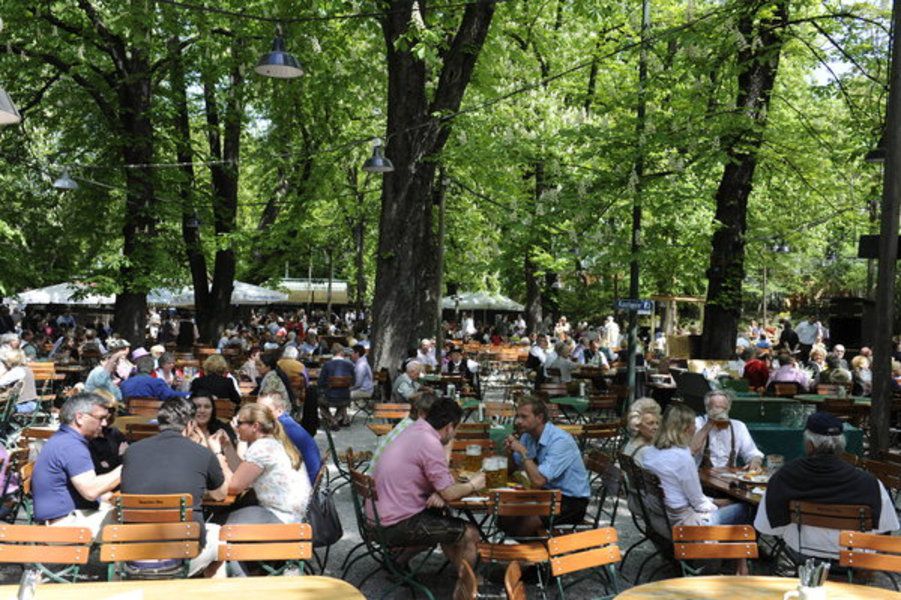 13. Café am Neuen See – Berlin
Café am Neuen See in Berlin is a city favorite located in the famous Tiergarten Park zoo (next to the Spanish embassy). Surrounded by the forest and a lake, this spot is bustling with people every afternoon till late when the fairy lights illuminate the trees. Make sure you try their Leberkäse (traditional meatloaf)!
14. Prater Biergarten – Berlin
Why not visit the oldest, most active Biergarten in Berlin? Prater is located in the super trendy Prenzlauer Berg neighborhood and has been serving patrons since 1837. Old chestnut trees shade this quiet spot in the heart of the city, where both Berliners and tourists alike meet to enjoy happy hour.
15. Zur Sonne – Berlin
Making up part of the historic restaurant Zur Sonne, here's another beer garden that offers a charming escape from the bustle of the city life in Berlin. Make sure you try the baked goods from the brezelbuben (pretzel pals). Brezelbuben have been strolling around Biergarten for centuries, supplying the drinking crowds with food back when pubs didn't offer food. Today only a handful of pretzel peddlers stroll the streets and beer gardens.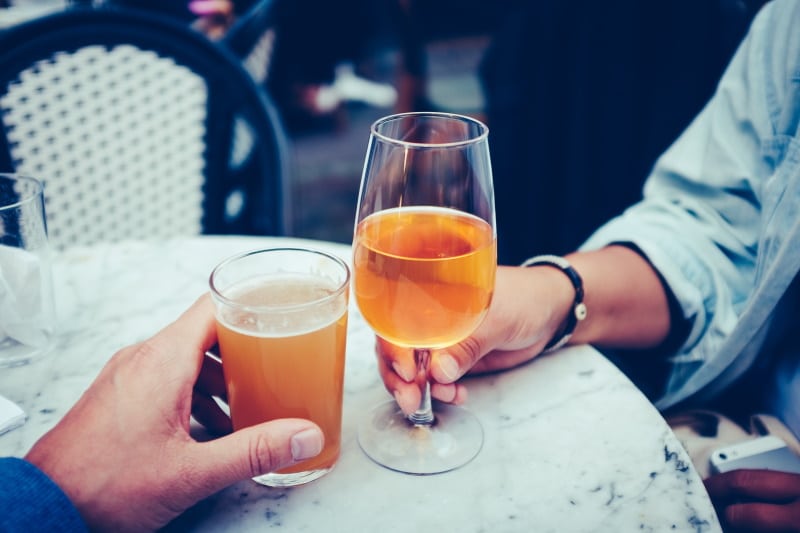 The Best Beer in Germany: What to Try
Now that you know where to go, you probably want to know all about the best beer Germany has to offer. Here's our list of must-try German beers.
Weihenstephan Hefe Weissbier: Cloudy, Bavarian-style wheat brew. Its light, yeasty taste makes for a refreshing drink before a meal or with dinner.
Erdinger Kristall: The crystal-clear version of the traditional Hefeweizen. The perfect thirst quencher. It's the kind of beer you can serve with a lemon wedge.
Spaten Oktoberfest: A sweet, brown beer with a mild malt taste and roasted notes. This beer is traditionally brewed in March and served around Oktoberfest.
Aecht Schlenkerla Rauchbier: Harder to find than most beers. A sweet, malty beer brewed by exposing the malt to intense beech smoke. Best enjoyed with a hot meal.
Paulaner Salvator Doppel Bock: A fine example of bottom-fermented beer. This beer is darker and richer than a regular bock. Doppel bock is packed with big flavors and has aromas of toasted spice, caramel, and burnt sugar.
Schneider Weisse Aventinus Eisbock: Made by freezing off a portion of water in the brew and removing it. This increases the beer's body, flavor, and alcohol content. A heavy nutty beer with hints of plum and caramel.
Augustiner Hell: Unlike the name, this is a cool beer. Mild, sparkling, and dry – it's easy to drink, and perfect for pre-party, on-the-go drinks.
Gaffel Kölsch: A Cologne favourite. This is a light, refreshing beer brewed only in and around the city. Less bitter than a pilsner, a perfect balance between fruity and hoppy. Only served in small 200 ml glasses.
Berliner Kindl Weisse: Classic summer drink in Berlin. A tart, tangy beer created from deliberately soured grain. Traditionally served in a large, boule-like glass and colored green (with a shot of sweet woodruff syrup) or red (with raspberry).
Radeberger Pils: The epitome of a classic German pils. An easy-drinking beer, that pairs well with every meal. Has a strong hop flavor that gives it a herby taste.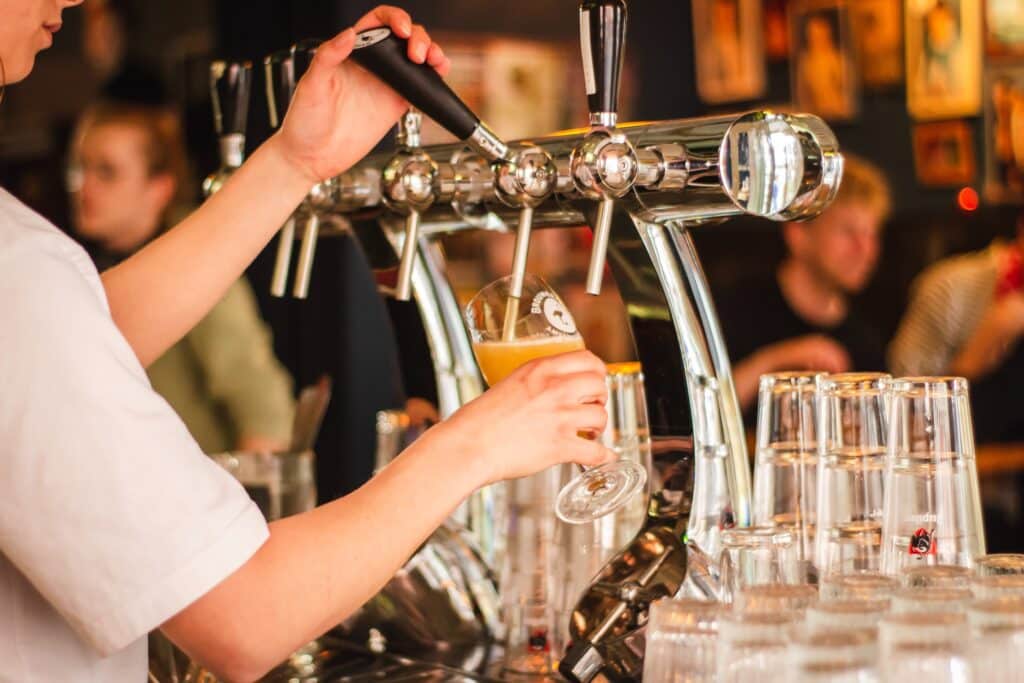 What You Should Know Before Visiting German Beer Gardens
There are some need-to-knows when it comes to German beer gardens. Luckily, we've got you covered.
Usually there are no waiters and communal seating arrangements. So pick a spot (even if you're sharing the table with other people) and settle in. Make sure you ask if the seating is available before you sit down.
Some biergartens have staff that take orders, but for the most part there's a central beer pouring station where you order and pay for your drinks. You'll also need to transport the food and drinks to your table.
Cash is king in Germany and cards may not be accepted at every Biergarten.
You can bring your own food to Biergarten since they don't all serve food. Sit at a table without a tablecloth and enjoy your own little grocery-store picnic.
Make sure you know a little German. It will definitely come in handy! Prost means cheers. The most important words at a Biergarten: Ein Mass Bier bitter. This means One more beer, please.
FAQs
What Part of Germany Has the Best Beer?
Everywhere. But some of the country's best beer towns include Munich, Berlin, Düsseldorf, Cologne, and Nuremberg. The beer capital is Bamberg – with nine working breweries producing 50 different local beers.
What is a Beer Garden Called in Germany?
Biergarten. This is depicted by an outdoor area in which beer and food are served, usually at shared tables shaded by trees.
What is the Most Famous Beer in Germany?
Pilsner is easily the most popular type of beer in Germany. 'Pils' is a light-golden beer with a dry hoppy aroma. The name has roots in the Czech town of Pilsen.
What is Bavaria Known For?
A lot. Oktoberfest festival in Munich, Alte Pinakothek in Munich, The Bayreuth Festival, and Hohenschwangau Castle in Fussen, to name a few.
Is Bavaria Safe?
Totally. It's one of Germany's safest states. It's unlikely that you'll ever feel in danger here. The state has the lowest crime rate in the Federal Republic. But you should always keep your wits about you – especially if you're walking by yourself or you're in remote areas.