The COVID-19 pandemic has interrupted travel plans for more than a year now. Travelers and tourism sectors are still adapting and new trends are emerging to combat the pandemic's effects – treehouse vacation rentals are one of them.
As a result, secluded vacation rentals are increasing in popularity. In fact, a survey commissioned by Airbnb revealed that from May 17 to June 6, 2020, there were more Airbnb listing bookings in the US compared to the same period in 2019. Perhaps this is due to Airbnb being safer than hotel accommodation – read more about this in our "Is a Hotel or Airbnb Safer for Travelers During COVID-19?" blog post.
With road trips and remote stays becoming a popular choice among pandemic-era travelers, it comes as no surprise that in a 2020 webcast with Reuters, Airbnb CEO Brian Chesky said that unique stays like treehouses are "booming".
Why is this Tarzan-like getaway so appealing? In general, treehouse rentals are more secluded making them social-distancing friendly, but they also allow for total emersion into nature. And, after many months of being sofa-bound, a little retreat into the great outdoors is almost imperative.
Featured as a 'unique stay", Airbnb's treehouse vacation rentals include secluded Norwegian spots and homes among the Costa-Rican jungle canopies. So here are 10 of the best treehouse rentals from around the world – they're all rated above 4.85 stars!
10 Must-Try Treehouse Vacation Rentals From Around the World
Located in France's Midi-Pyrénées region is a quaint treehouse cradled in the arms of a 150-year-old oak tree. The little hut offers a jacuzzi, easy access to local attractions and hiking trails – not to mention the spectacular views of the French countryside and the breathtaking Pyrenees.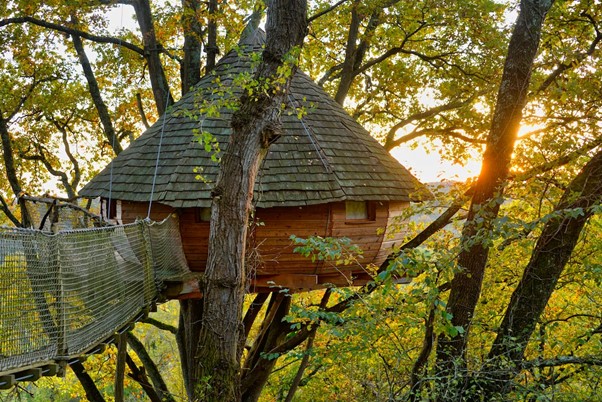 Perched high above 600 acres of private wilderness in Down Under's Blue Mountains, this secluded treehouse is nestled between two national parks and a world heritage rain forest. Floor-to-ceiling windows allow the guest to take in the full expanse of the Bowen's Creek Gorge and amenities such as a fireplace and bath make it that much more incredible.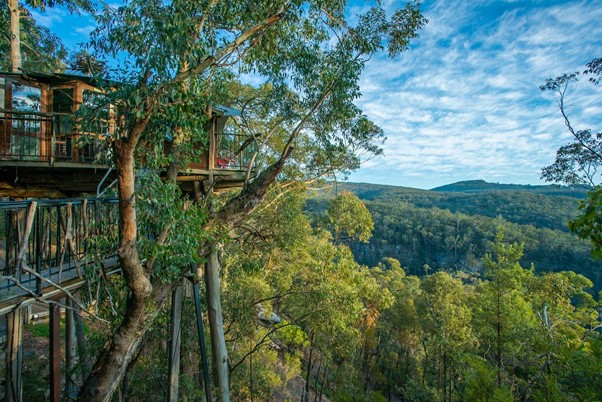 Nested on 15-foot stilts in the lush Hawaiian rainforest, this treehouse rental is nothing short of a tropical paradise. A wrap-around porch offers 360-degree views of the beautiful, local flora setting – but floor-to-ceiling windows ensure that the scenery can still be enjoyed from the bed. The rental is also eco-friendly so the environmentally conscious traveler will feel right at home among the Hawaiian greenery.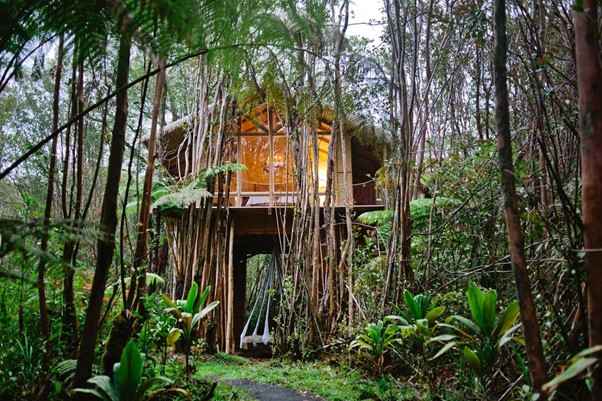 Disconnect from the world in a modern Scandinavian treehouse. Settled six meters above the Tessungåe river and a three-hour drive from Oslo, the rental has no electricity or Wi-Fi – charging facilities are available at a nearby camp. But who would want to distract themselves from the thick Norwegian forestry that becomes a picture-perfect snow-globe in winter months?
Situated on a farm in Southern Africa's Plettenberg Bay region, this rental is ranked #1 treehouse in the country. Offering all the necessary creature comforts, the treehouse boasts spectacular views of both the valley and the ocean. This spot is in a prime location for touring the Garden Route, Sardinia Bay, or for anyone wanting to enjoy the pristine coastline.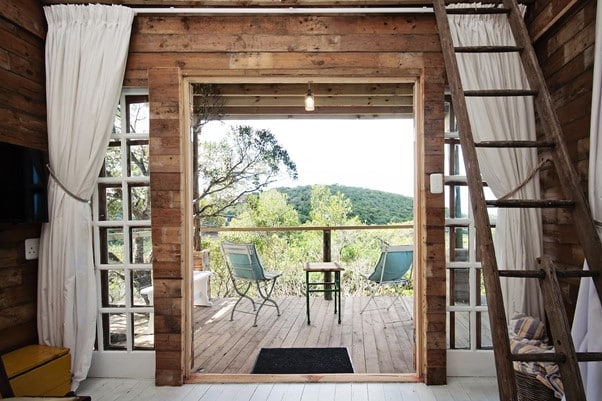 Located in Costa Rica's wild and beautiful Finca Bellavista Community in the Southern Zone is a modern, eco-friendly oasis. Both luxurious and secluded, the rental is truly "off-the-grid" since it warrants a 10-15 min hike from "base camp" to the front door. Once there, you can bask in the incredible experience of the jungle and eat fresh fruit, explore the lush greenery, and enjoy local wildlife sightings of tropical birds and monkeys.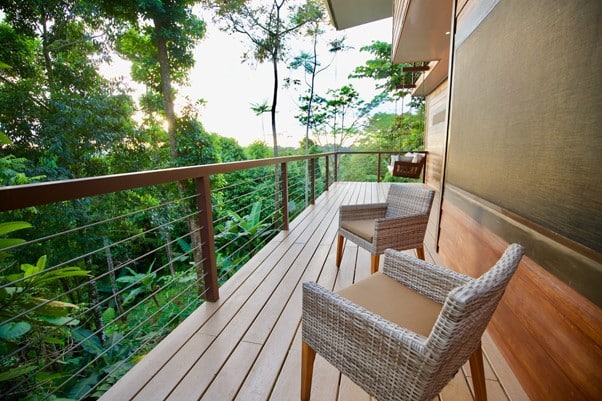 Built-in 1959, this rental was moved from its original home in Washington to Idaho's cedar-lined slopes. Recently remodeled, the treehouse offers guests a deep-forest hideaway amongst 13 wooded acres. A spot after the adventure-seeker's heart – Crystal Peak Lookout is ideal for hiking, snowshoeing, and stargazing – the wood-fired sauna just tops it all off.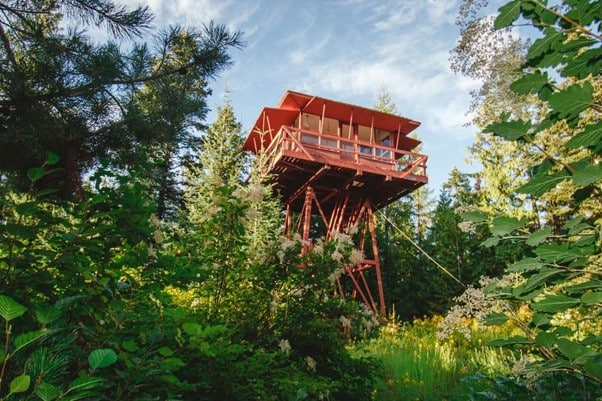 Romance is definitely in the air in this rustic, metal treehouse. Found just a few minutes from Florence, the rental's quirky design touches include an antique wood-burning stove and a marble kitchen sink. Surrounded by olive groves and boasting breathtaking views of the Tuscan landscape from the wrap-around terrace, it's easy to see why guests fall in love with this eccentric spot.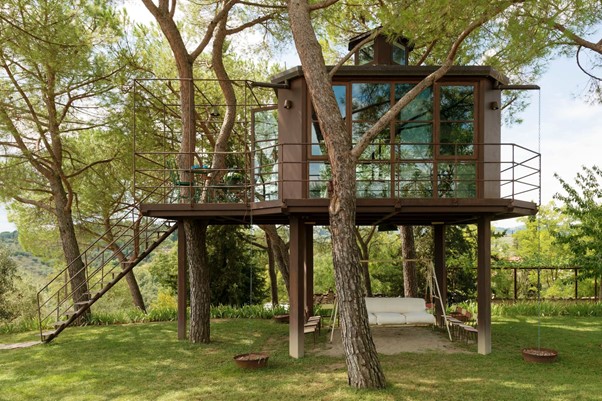 Tucked away in the Little Forest Hills region of Dallas, this rental is a perfect blend of classic Texan charm and contemporary Bauhaus influence which the hosts describe as warm rustic elegance. Entirely surrounded by Japanese maples and close to Ash Creek, this treehouse is popular among guests who enjoy kayaking, paddleboarding, and trail running.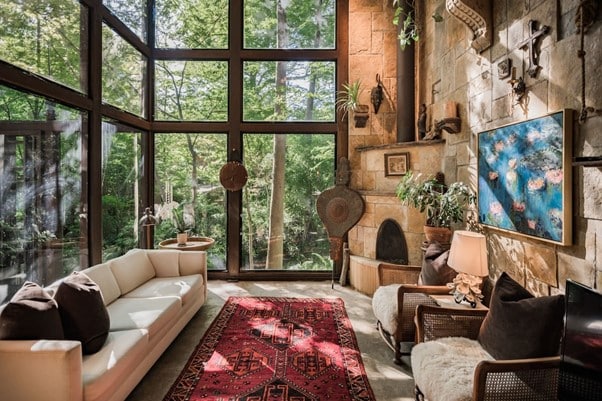 Situated in the quaint town of Willow, just two and a half hours from Manhattan is a treehouse offering a romantic, secluded setting in the forest. With countless windows, a wood-burning Swedish hot tub, and reading nooks galore – this rental is the perfect trip to get away from the city and embrace the quiet of the Catskills' lush outdoors.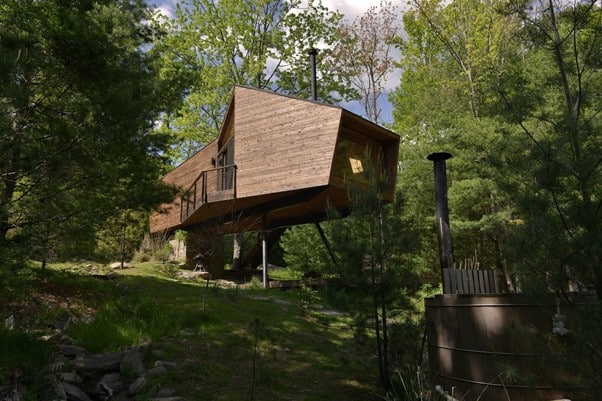 There are so many remote treehouse rentals that are ideal for travelers looking to unwind and immerse themselves in the splendor of Mother Nature. If you want to search for more treehouses available in your immediate vicinity, make sure you select "unique homes" from the dropdown in Airbnb's search and filter by treehouses.