Beaches in the Philippines are notorious for powder-soft sand, shallow turquoise waters, waving palms, and bobbing fishing boats. Located in the western Pacific Ocean, the archipelago country has the 5th largest coastline in the world and is made up of over 7000 islands, which is also just another way of saying that it is teeming with beautiful beaches.
Most Memorable Beaches in the Philippines
1. Cloud Nine
When it comes to the best beaches in the Philippines, it can't get any better than being on Cloud Nine, right? Especially if you're looking to catch some waves. Located on Siargao Island, the "Surfing Capital of the Philippines", the beach is a hotspot for surfers and is considered one of the best surfing spots in the world. And thanks to the swells, more tourists have been flocking to the shores of Cloud Nine.
2. Anawangin Cove
A nature lover's paradise in San Antonio, Zambales, Anawangin Cove is a crescent-shaped wonder and fine white-ash sand beach lined with Agoho trees. The cove is only accessible by boat or a five-hour tricycle journey from Pundaquit. The beach and its natural surroundings attract travelers year-round, but it's often flooded with visitors from Manila in peak season – so make sure to visit when it's quieter to truly experience the magic of Anawangin Cove.
3. White Beach
Situated about 315 km south of Manila on the island of Boracay is White Beach. The near 4 km stretch of beach is the hub of action in Boracay and easily one of the Philippines' more popular beaches. White Beach is divided into three sections: Station 1 offers a luxurious, low-key feel with several resorts to choose from, Station 2 is bustling with activity and shopping opportunities, and Station 3 provides an off-the-grid escape into native bungalows.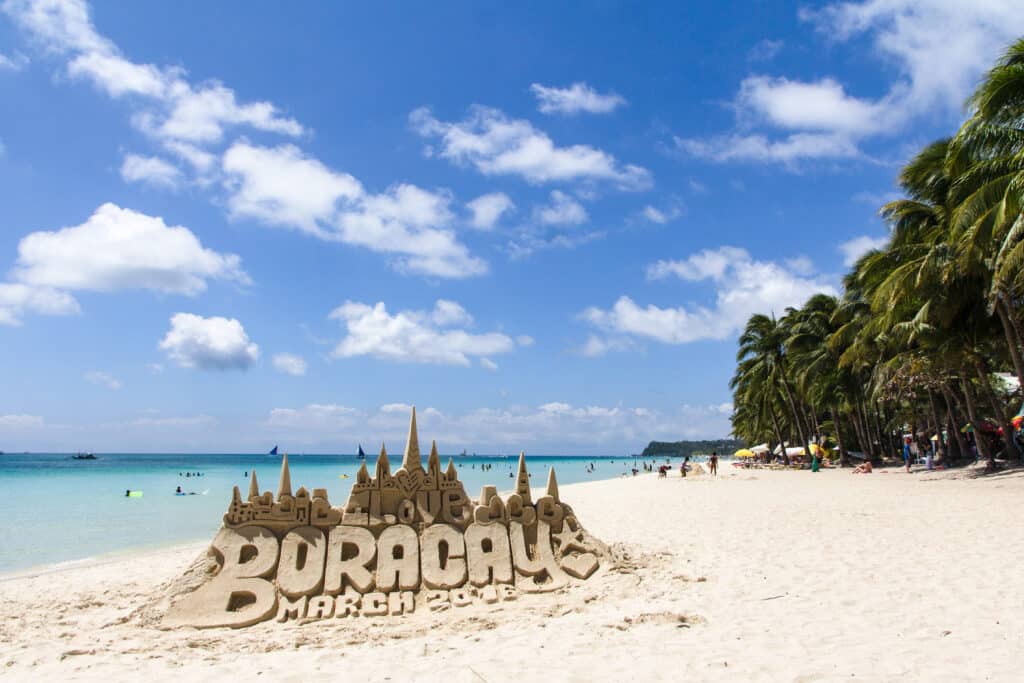 4. Long Beach
True to its name, Long Beach is the Philippines' longest beach, stretching 14.7 kilometers across San Vicente; it is also the city's signature attraction. Like White Beach, the beach comprises three beaches, with Long Beach 2 being the more popular pick of the lot: 50 m wide, spectacular sunsets, and 7km of uninterrupted golden sand. In addition, Long Beach offers a tranquil coastal haven since it is unspoiled and uncrowded, making it perfect for sunbathing and swimming in peace.
5. Nacpan Beach
If you're up for an easy day trip out of El Nido, then Nacpan Beach is the perfect excuse to hop on a bicycle and get out of town. Another unspoiled beach in the Philippines, Nacpan Beach, provides a mellow atmosphere and is considered by many to be a hidden gem of El Nido. Remaining untouched by mass tourism, Nacpan Beach is an ideal stop for island hopping or a hillside excursion to witness the spectacular views of the Twin Beaches.
6. Anguib Beach
Anguib Beach is just one of nine beaches in the Cagayan Valley on Palaui Island. With golden, sun-baked sand, palm-fringed shorelines, and expansive views of rolling hills and volcanic mountains, it's easy to see why this place is often referred to as a beach that encapsulates "raw beauty". The beach is tranquil, the waters are warm, and beach club resorts will cater to your every whim – what's not to love?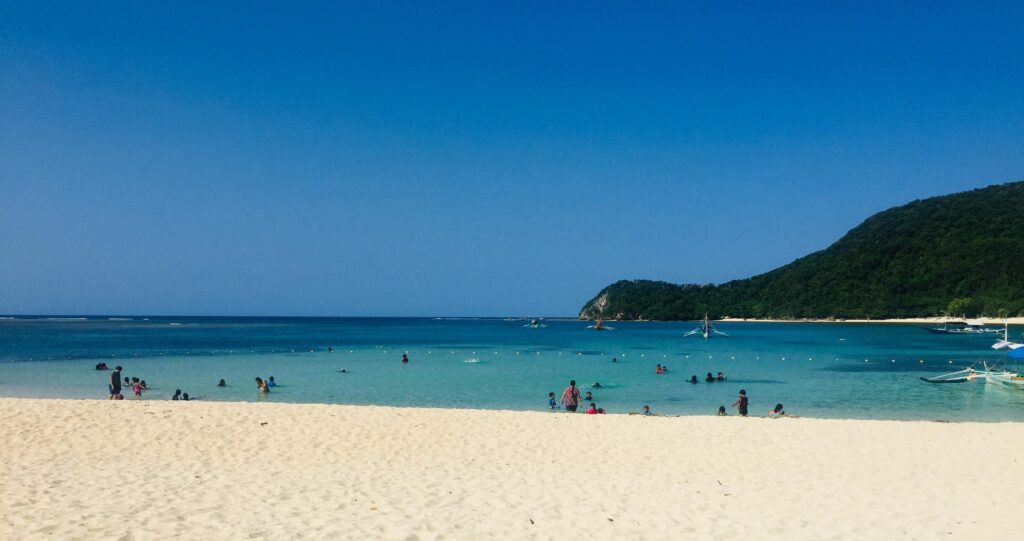 7. Marimegmeg Beach
A beach after every party lovers' heart – Marimegmeg Beach. Just a 10-minute tricycle ride from El Nido, this is one of the liveliest shorelines in the Philippines. With palm-fringed golden sands, a buzzing beach shack bar scene, and plenty of mixologists to keep the cocktails coming, Marimegmeg beach has more than earned its place as one of the best beaches in the Philippines. Not to mention a zipline that takes you over the water between the mainland and an offshore island!
8. Toytoy Beach
Toytoy Beach is perhaps the best-secluded beach in the Philippines. Found in the remote northwest parts of Catanduanes Island, this expansive, untouched stretch of fine sand and stunning coral reefs make it an excellent spot for snorkeling. Catanduanes Island is one of the lesser-explored islands by tourists, so if you're looking to lay your towel down on an off-the-grid beach, then Toytoy Beach could be the one for you.
9. Paradise Beach
A honeymooner's sanctuary, Paradise Beach is a dazzling arc of white sand that meets the glistening ocean on the small island of Bantayan. This secluded beach allows visitors to frolic, splash, and play in the waves or lets them take to the jungles to explore paths trodden by adventurers. For the most part, there are no distractions in the form of resorts, bars, or hawkers – which means Paradise Beach is ideal for those looking for some quieter time when sticking their toes into the sand.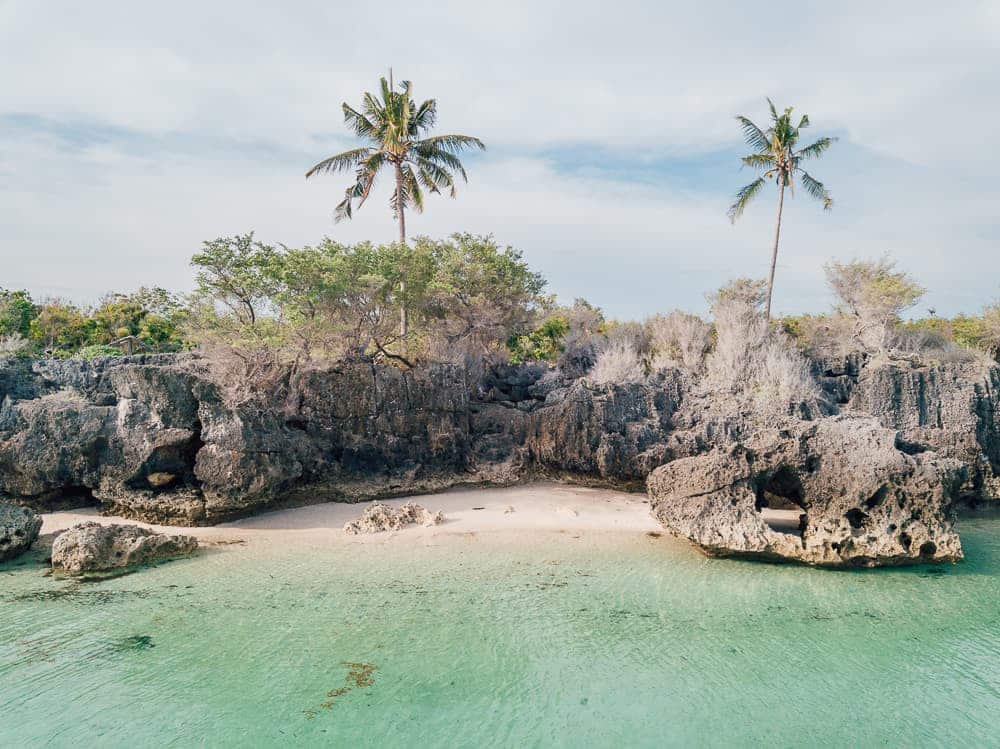 10. Paliton Beach
Nestled on the western side of Siquijor Island, just northeast of San Juan, is the pristine Paliton Beach. Soft white sand, crystal clear waters, and stunning views of Apo Island make this little spot a little piece of heaven on earth. A little off the map, you turn off at the little church in Paliton village and continue on a sealed track for about 1 km till you find the beach. But the little trek will be well worth it since the best diving spot can be found here – along a wall running from Paliton Beach towards Tubod Beach.
So whether you're searching for a secluded island to explore, a cove that offers the chance to catch some waves, or a lively spot to bake in the sun while sipping on a cocktail, Philippines beaches genuinely have it all.