When it comes to apps for travelers – you're spoilt for choice. But instead of scrolling through the Apple and Android app marketplaces to find the ones worth your while, you can read through our list of the apps to travel the globe with.

We've got a list of the 10 must have apps when traveling.
10 Must Have Apps For Travelers
Best for: Flights
1. Skyscanner
Skyscanner is one of the top apps for travelers looking for cheaper airfare options.
The app searches millions of flights from over 1,200 sources and gives you the best available options.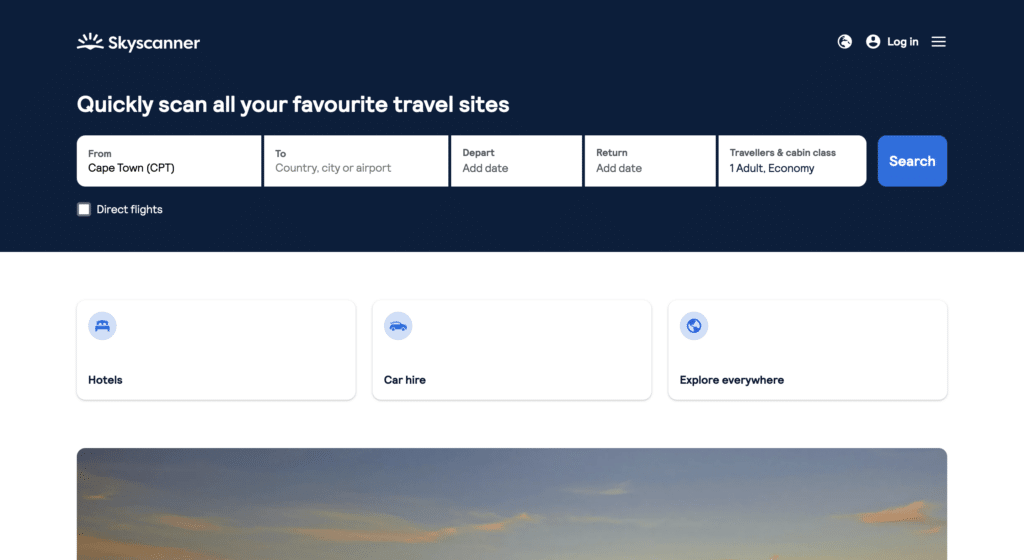 Reasons it's a must-have app:
It's got a user-friendly interface. Skyscanner is an intuitive and easy-to-use app. And this makes it much easier to search for flights, hotels, and more when planning your trip. Even if you're not an experienced traveler.
Skyscanner makes it easy to compare prices. Namely for flights, (but also hotels and car rentals). You can search for flights from different airlines and travel agencies (all in one place). Simplifying the comparison processes and helping you find the best deals for your travel plans. You'll also be notified of any price changes.
It offers flexible search options. With Skyscanner you can search for flights based on various factors, like departure and arrival dates, specific cities or airports, or even countries.
Skyscanner gives you helpful travel info, too. Get comprehensive travel info on airport guides, travel tips, and even a currency converter. When you're planning a trip these kinds of resources can help you better navigate the ins and outs of the travel experience.
From the cheapest routes to the best departure times, Skyscanner should be on every traveler's list of apps. Visit the Skyscanner website or head to your app store to download the app before your next trip!
2. Hopper
Hopper is another popular travel app many people turn to when comparing flight prices, accommodation and more. The mobile-only app is great for travelers who are looking to save money. It's price prediction feature, flexible search options, and personalized recommendations help travelers meet their needs and budget.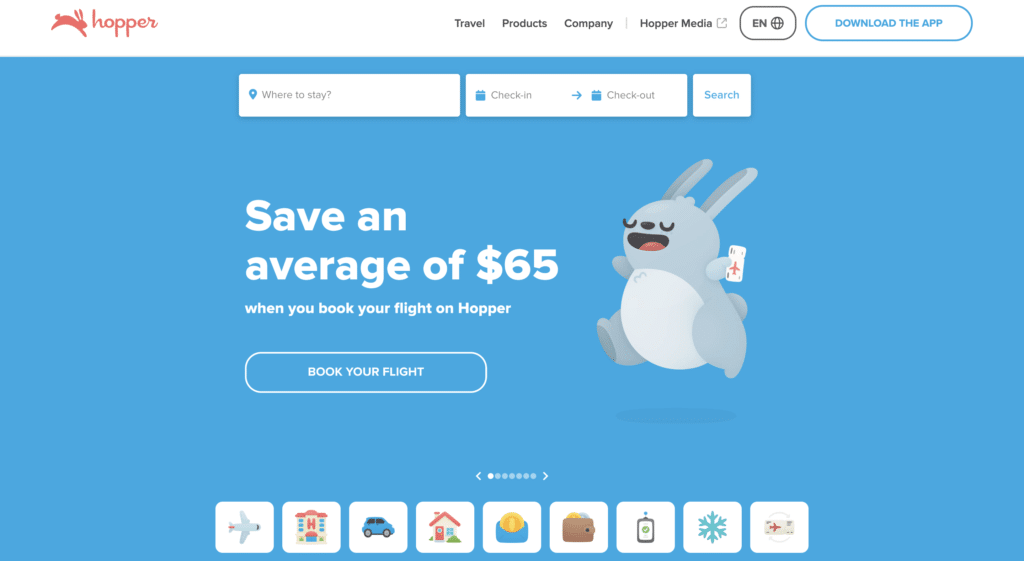 Reasons it's a must-have app:
Hopper is user-friendly. Hopper's design offers a streamlined user experience and is easy-to-navigate. The layout especially makes it easy for users to track prices, search for flights, and manage travel plans.
It predicts flight prices. Using data analysis and machine learning algorithms, Hopper can predict flight prices, meaning users can book flights when the prices are at their lowest – helping users save money and plan their trip more efficiently.
Hoppers gives users flexible search options. Users can search for flights based on various factors such as departure and arrival dates, airports, or cities, and more). Plus, users can also set up alerts for notifications on price drops for specific flights or routes.
Hopper gives personalized travel recommendations. By tracking user preferences like budget, travel style, and destination, users can plan their trip easily and even stumble upon activities and attractions that suit their interests.
Hopper's level of detail is what makes it so valuable. Not only does it tell you to wait before buying your tickets, but it also gives you estimated dates of when prices are likely to rise. You won't regret downloading this must-have travel app.
You can find Hopper on the App store or Google Play Store
Best for: Accommodation
3. Booking.com
Booking.com is high up on the list of must have travel apps available. And probably needs no introduction, either. But for consistency – Booking.com is a site that allows travelers to book everything they might need for their travels, including accommodation, flights, care rentals, airport shuttles, tours, and attractions.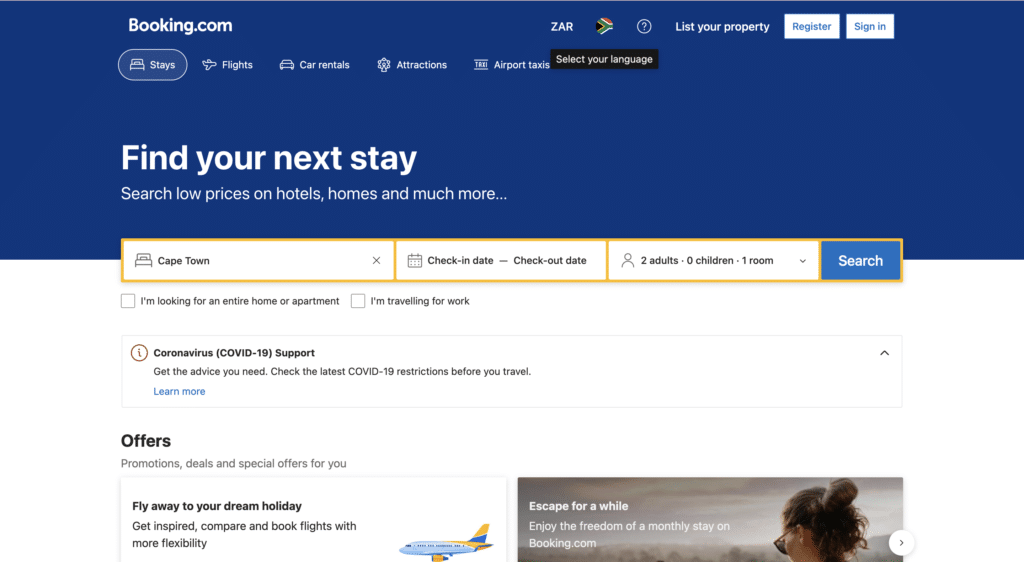 Reasons it's a must-have app:
Booking.com is user-friendly. The app makes it simple for users to find and compare different accommodation, read reviews, and manage their travel bookings.
It provides a wide range of accommodation options. Whether you're looking for hotels, resorts, apartments, villas, or other kinds of accommodation – Booking.com has it all in one place. This makes it easy to compare pricing and find the best deal on accommodation.
Booking.com offers valuable travel information and a sense of community. For instance, you can join various travel communities for specific destinations and find helpful tips from other travelers in dedicated forums. You can even ask questions for the best advice on planning your trip and making the most out of destinations.
The loyalty program, Genius. Booking.com's loyalty program called Genius offers members great discounts and other benefits, like free room upgrades, late check-outs, and more. This is a great way to save money and have a more enjoyable travel experience.
Booking.com is a tried and trusted travel app, and even if you're just comparing flights, looking for attractions, or searching for the perfect stay, Booking.com will undoubtedly have something handy.

It's good to know that Booking.com is part of Booking Holdings which also owns Kayak, Priceline.com, Agoda.com, Rentalcars.com, and Opentable.com – so you'll probably notice similarities across these services.
Visit Booking.com's website to download their app!
4. Airbnb
Airbnb is basically a household brand now, and one of the best apps to travel with. Airbnb helps you find a place to crash – from simple rooms in someone's home to luxurious beachfront properties. It also offers other kinds of travel bookings like tours, classes, and workshops.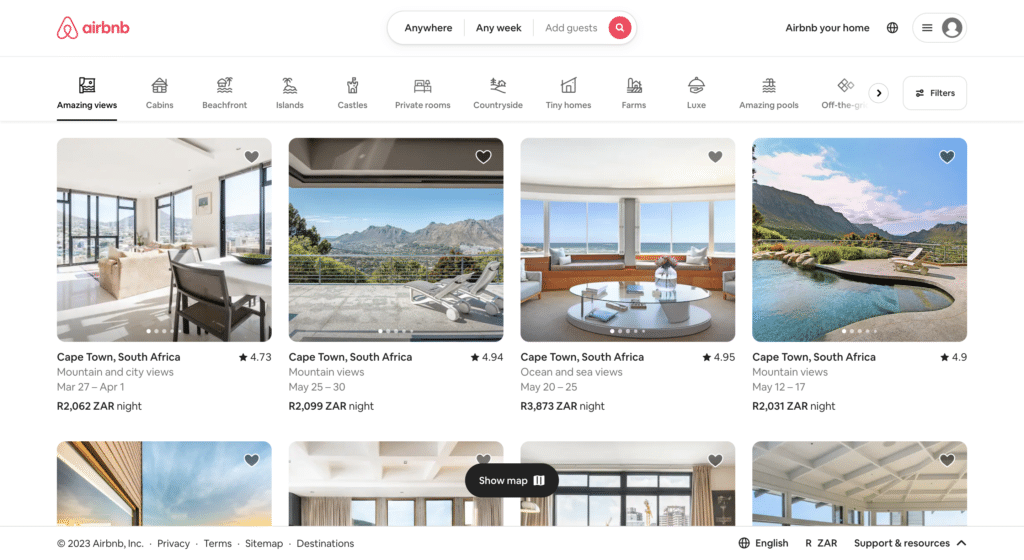 Reasons it's a must-have app:
Airbnb offers travelers a wide array of accommodation options. From apartments, houses, villas, and even unique stays like treehouses and yurts – you're spoilt for choice on Airbnb. This variety allows travelers to find accommodations that suit their preferences and budgets.
It's cost-effective. Airbnb stays are often more affordable than traditional hotels – especially for longer stays or groups of people traveling together. Plus, the app often has last-minute deals or off-season discounts that can help travelers save money.
Airbnb offers local experiences. Something that makes Airbnb so popular is that it gives travelers the opportunity to stay in local neighborhoods, and a real chance to experience local culture, as opposed to staying in touristy areas. This can offer more authentic travel experiences and allow travelers to explore local communities and attractions.
Users can enjoy flexibility around their bookings. Airbnb often allows travelers to check-in and check-out at any time that's convenient for them – instead of being restricted by hotel check-in times. In addition, many Airbnb hosts usually accommodate special requests or provide local recommendations.
Airbnb offers unique, cost-effective stays, a local travel experience, and a trustworthy review system that helps users find the best stay for their needs. Whether you use it for travel inspiration or to find a place to stay, you're guaranteed to keep this in your travel arsenal.
You can use Airbnb on their website, or download it on the App or Google Play Store.
Best for: Transport
5. Uber
Uber is a global app that offers users ride options to get from point A to B. The concept works well for travelers since it eliminates the need to carry local currency. In addition, you don't need to speak the same language as your driver to get where you need to go (besides for small talk). And perhaps the best part: there's no haggling.
Reasons it's a must-have app:
Uber is a convenient way to get around. Especially if you're in an unfamiliar city. If you use Uber, you don't need to worry about navigating public transportation or finding a local taxi.
It's relatively affordable. Uber can often work out more affordably than traditional taxi services – particularly for longer trips.
Uber is safe. Uber has a rating system for both drivers and passengers, and drivers undergo background checks before they start driving for the platform. And all rides are tracked by GPS, which provides an additional layer of safety.
It's accessible in most places. Uber is available in many cities across the globe, making it a reliable option for travelers who don't want to venture into unknown territory and navigate local transportation.
Uber is transparent. Uber offers transparent pricing and estimated arrival times, so you know what to expect before you even book your ride.
Overall, Uber is a must-have travel app because it offers a convenient, affordable, safe, and transparent way to get around many cities in the world. Even if you do prefer local transportation options – you never know when you might need to book an Uber.
Want to get started? Download the Uber app from Google Play or App Store, or visit their site.
6. Citymapper
Citymapper is another incredible app for travelers. It's a public transit app that helps you make comparisons between different transportation options in a specific city, including walking, cycling driving, and public transport. Its live timing also means you can easily locate the most efficient route, with step-by-step instructions on where to find the nearest bus or train station.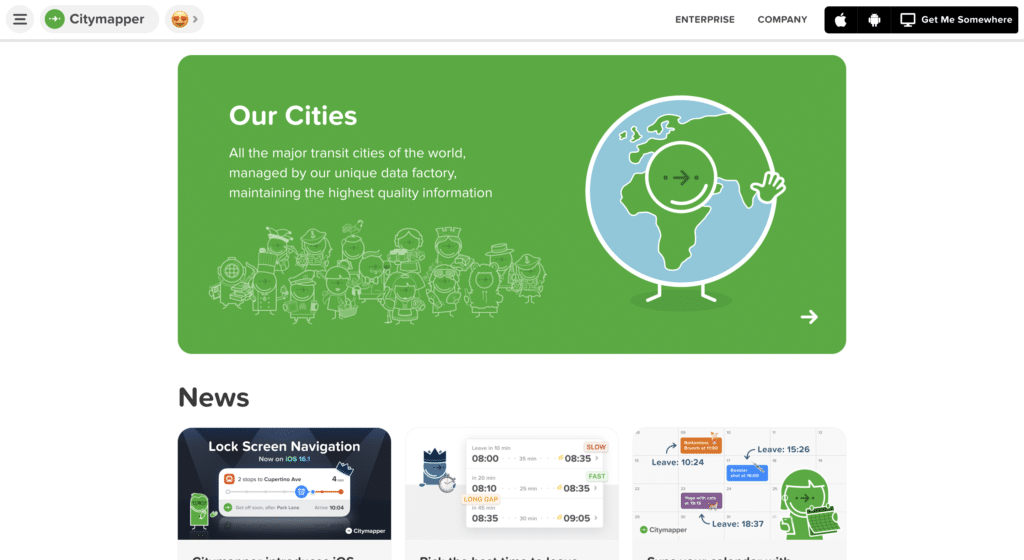 Reasons it's a must-have app:
Citymapper provides real-time transportation updates. The app updates you on public transportation schedules, including delays and disruptions, which help you plan your journey more efficiently and avoid unexpected delays.
It offers multi-modal journey planning. Citymapper integrates various transportation modes, including ride-hailing services, public transport, and walking or cycling routes to help you find the most efficient route to your destination.
Citymapper provides transit maps. There are detailed transit maps for many cities around the world, making it easier to navigate public transportation systems.
It offers live-traffic data. Citymapper also provides live traffic data and offers suggestions for the fastest and most efficient route to your destination, taking into consideration current traffic conditions.
Citymapper is accessible. Since it covers many cities across the world, it's a reliable option for travelers who may not be familiar with local transportation options.
Overall, Citymapper is a must-have travel app since it offers real-time transportation updates, multi-modal journey planning, transit maps, live traffic data – all which help travelers navigate unfamiliar cities more effectively and efficiently.
Visit Citymapper's website to get their app.
Best for: Language barriers
7. Google Translate
Google Translate is one of the best apps for travelers (and easily the most underrated).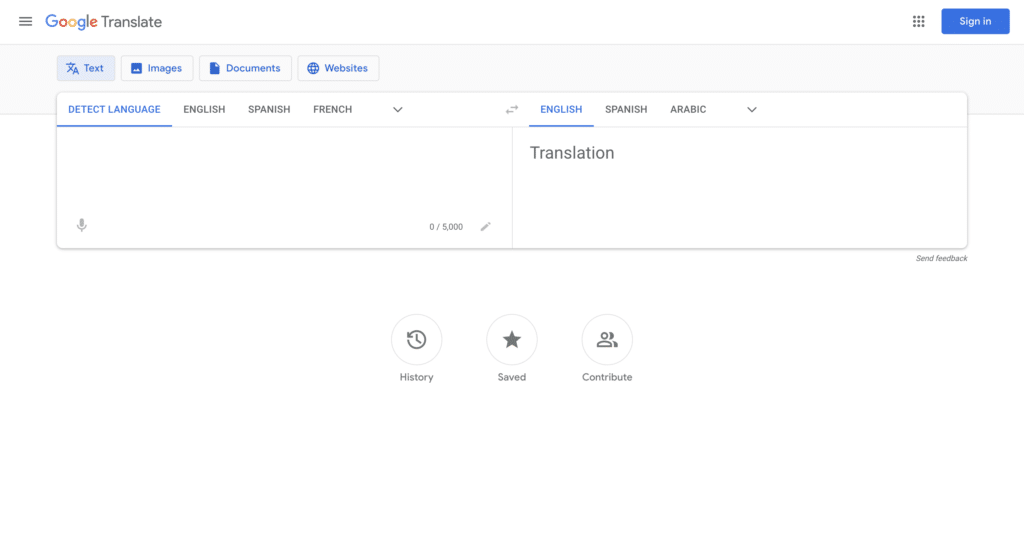 Reasons it's a must-have app:
It helps travelers combat language barriers. A significant challenge many travelers face is the language barrier, and Google Translate helps to overcome this by translating words, phrases, and sentences from one language into another. This helps travelers to communicate with locals, navigate a new place, and interpret signs and menus.
Google Translate offers a wide coverage. Since it supports over 100 languages, it's an invaluable tool for travelers visiting countries where they don't speak the local language. Especially for countries with languages very different from English, like Mandarin, Arabic, and Russian.
It has an offline mode. You can also use the app in an offline mode so, even when you're not connected to the internet or traveling to remote areas where internet access may be limited, you'll still be able to understand foreign languages.
Google Translate is convenient and user-friendly. The app can be easily downloaded onto any smartphone, making it a convenient, user-friendly, and cost-effective solution for travelers who don't want to invest in a dedicated translation device.
Google Translate is a great app for travelers who wants to travel confidently, communicate effectively, and navigate language barriers.
You can use Google Translate on the website, or download the app.
8. TripLingo
TripLingo is an invaluable tool for international travelers. Learn essential phrases, instantly translate your voice, or connect to a live translator, and even get the lowdown on local culture, and more!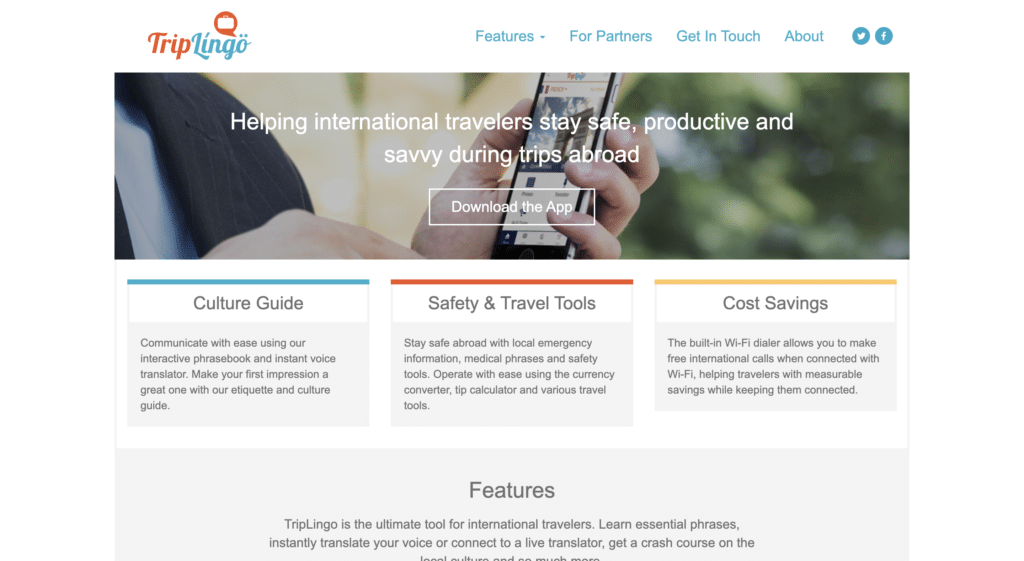 Reasons it's a must-have app:
TripLingo lets you customize your experience based on your travel needs and preferences. Through various features like voice translation, cultural tips, and emergency assistance, your experience is tailored to your individual travel style.
It has an interactive language learning experience. Easily pick up on essential phrases and words in the local language of a next destination you're heading to. This is a great way to immerse yourself in the local culture and connect with locals.
TripLingo has safety features. Including emergency assistance and local emergency numbers – which are especially important if you're traveling solo or heading to areas that might be considered less safe.
It gives you cultural tips and etiquette advice. Avoid cultural misunderstandings and make the most of your travel experience with tips and etiquette on local culture.
TripLingo has an offline mode. You can use TripLingo without an internet connection, so even if you don't have a local sim or are headed somewhere "off-the-grid" you can still make use of the app.
TripLingo is amazing for travelers who want to immerse themselves in local culture, communicate effectively, and travel more confidently.
TripLingo is available on Apple and Android app stores, or you can visit their website and download it from there.
Best for: Health & Wellbeing
9. The Jet Lag App
The Jet Lag App uses the latest research on sleep and circadian neuroscience to guide you before, during, and after travel specific to your itinerary's time zones. A must-have travel for travelers wanting to minimize the impact of jet lag on their travel experience and arrive at their destination feeling refreshed and ready to explore.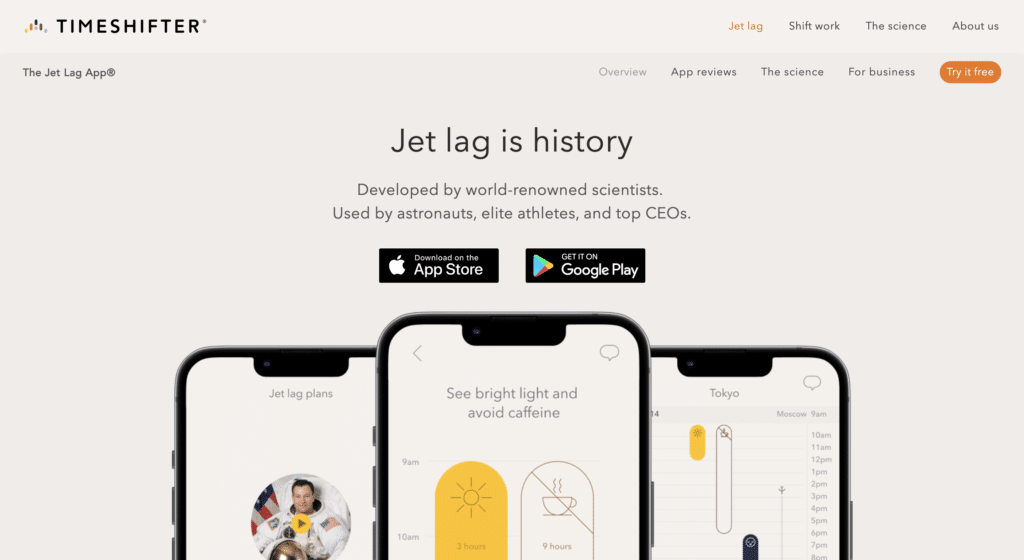 Reasons it's a must-have app:
The Jet Lag App helps with jet lag reduction. Designed to help travelers overcome jet lag, the app creates a customized plan based on your itinerary, sleep patterns, and other factors that impact your circadian rhythm. Helping you feel more alert and refreshed when you arrive at your destination.
It's scientifically proven. Jet Lag is based on scientific research from Harvard and is built to help travelers adjust their circadian rhythm using light therapy, melatonin, and other proven methods – making it reliable and effective.
The Jet Lag App creates a personalized plan for each user. The plan is personalized to your variables and itinerary to ensure it's optimized for your needs.
It's user-friendly. The app is user-friendly, easy-to-use, and provides clear instructions and guidance, making it accessible to travelers of all ages and backgrounds.
It's cost-effective. Compared to expensive treatments and therapies, The Jet Lag App is a cost-effective solution for travelers who want to reduce the impact of jet lag without investing too much money.
The Jet Lag App is a must-have for travelers who want to bypass the effects of jet lag, through personalized recommendations. Overall, it helps travelers feel more rested and alert during their trip, improving their travel experience.
The Jet Lag App is available on the App Store, Google Play Store, or their website.
10. Air Doctor
Air Doctor is an innovative and must-have travel app that connects travelers to a global medical network of local doctors in case they get sick while abroad. In offering, at-home (hotel), clinic, and video consultations, Air Doctor is also able to provide cross-border medical services and valid local prescriptions. Now, travelers can get seamless access to medical care during their travels from anywhere at any time.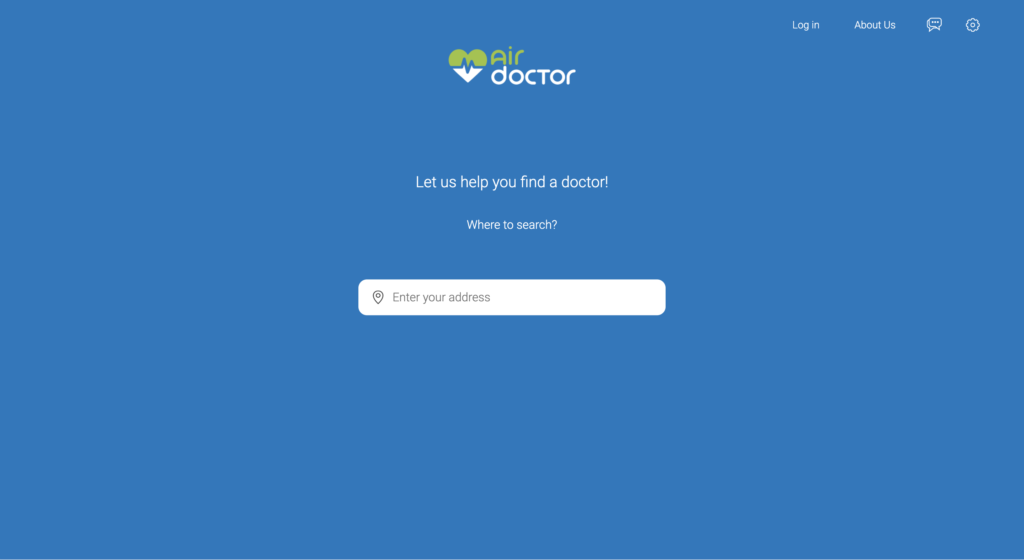 Reasons it's a must-have travel app:
Air Doctor improves the travel experience. It's stressful getting sick abroad, from navigating foreign healthcare systems to not speaking the local language. With Air Doctor in your pocket, you can browse local doctors, find one who meets your requirements, and book a consultation (at-home, clinic, or telemedicine) with just a few taps. You don't need to disrupt your travel plans either – receive quality medical care, get treated, and go on your way.
It's a fully digital solution. Air Doctor is an easy-to-use, intuitive app, with a user-friendly interface. The app is available in 7 major languages and users can access 24/7 multi-lingual support.
Air Doctor is cashless & claimless. Travelers who make use of the Air Doctor service through a partnered insurance provider can enjoy a cashless solution – meaning you just show up to the doctor, get medical care, and don't need to pay since your insurer covers the consultation. And once you're done, you don't need to go through the hassle of filing a claim.
Air Doctor is trustworthy. All 20,000+ doctors on the have gone through Air Doctor's thorough, multi-stage vetting process, and are monitored on an ongoing basis.
Air Doctor is accessible. Air Doctor has doctors across 75 countries around the world, including some of the most popular tourist destinations. But with 24/7 telemedicine services also mean that no matter where a traveler is located, they can receive medical assistance.
It's tailored to your requirements. Travelers can browse local doctors in the Air Doctor app and filter them according to their personal preferences – including languages spoken, medical specialty, location, appointment availability, gender, and more.
Air Doctor is a must-have app for travelers since it provides them with peace of mind. Travelers know they can access quality medical care, anywhere, anytime – and use the Air Doctor app to find a local doctor near them, get treated, and travel worry free.
Want to experience the world worry free?
Download the Air Doctor App on the App Store or Google Play, or visit the website and use the web app to find a local doctor near you now!
In conclusion, travel can be stressful. But, with the help of this list, the only concern you'll have left is what to pack!