When you're traveling there's no better way to fully immerse yourself in a new culture than through its cuisine. Exploring local restaurants and savoring authentic dishes is a vital part of any travel adventure. And what better way to uncover local flavors than with the best food apps for travelers.

After all, how do you discover those hidden gems, far from the tourist traps, and actually dine like a local?
In this guide, we'll take you on a journey through the best travel food apps that will transform your travel dining experiences. Whether you're a globetrotting foodie or just seeking a taste of local authenticity, these best food travel apps will quickly become your trusty companions. Say goodbye to generic tourist menus and hello to a vibrant foodie travel experience in your chosen destination!

And we're not just talking about the best app for finding food while traveling – that's too generic. We think the best travel food apps and websites should introduce you to a world of local experiences. . .
So, let's dive in and discover how these 7 best food apps can elevate your culinary adventures and help you eat like a local.
Best For Vegetarians and Vegans: Happy Cow
Proudly listed as the world's #1 app for discovering vegan food, HappyCow is a popular app and website that helps users find vegan and vegetarian restaurants, cafes, and other vegan-friendly businesses around the world.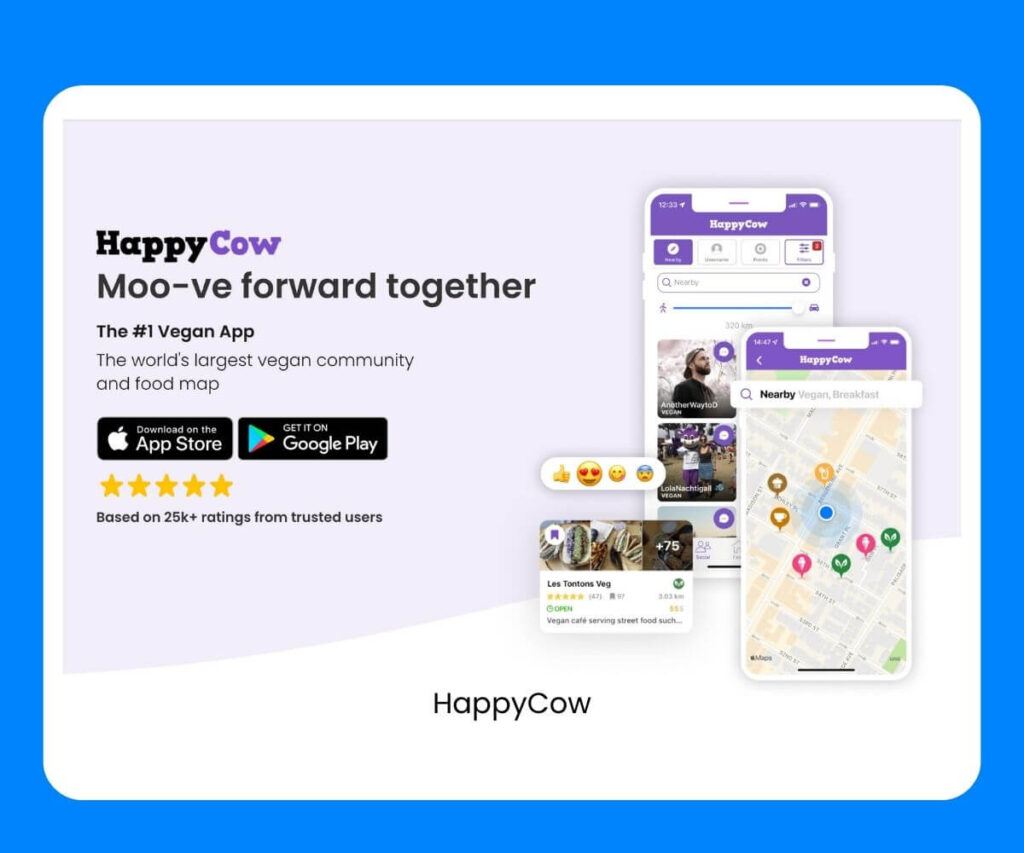 Locations:
Available in over 180 countries.
Available:
iOS and Android
Features:
Comprehensive listings: HappyCow has over 260,000 listings for vegan and vegetarian restaurants, health food stores, and other vegan-friendly businesses across more than 180 countries. It's easily the largest directory of vegan and vegetarian businesses in the world.
Advanced search and filtering: HappyCow allows users to search for businesses by location, cuisine type, price range, and other more factors. This makes it easy to find the perfect vegan or vegetarian restaurant.
User reviews and ratings: Users can leave reviews and ratings, helping other users make informed decisions about where to eat.
Offline access: The app allows users to download listings for offline use, which is super helpful for travelers headed to areas with limited internet access.
Itinerary planning: HappyCow allows users to create and share itineraries with other users – a nifty feature that can ease meal plans when traveling with friends or family.
With features like that and more and more people opting for plant-based lifestyles, there's no doubt that many would consider HappyCow one of the best food apps for travelers.
Best For Authentic (+ Affordable) Food Experiences Across Asia: Eatigo
Are you looking for a great way to save money on dining out in Asia?

When it comes to the best app for finding food while traveling, each traveler will have different needs and preferences. . . But if you're headed to somewhere in Asia. There's little doubt that Eatigo is easily one of the best travel food apps.

Eatigo is an app that helps you find and book restaurants with discounts of up to 50%. No wonder, it's Asia's No.1 restaurant reservation platform. Use it to find the best deals based on your location, availability, and interest. It also offers a great way to discover new restaurants and try new cuisines.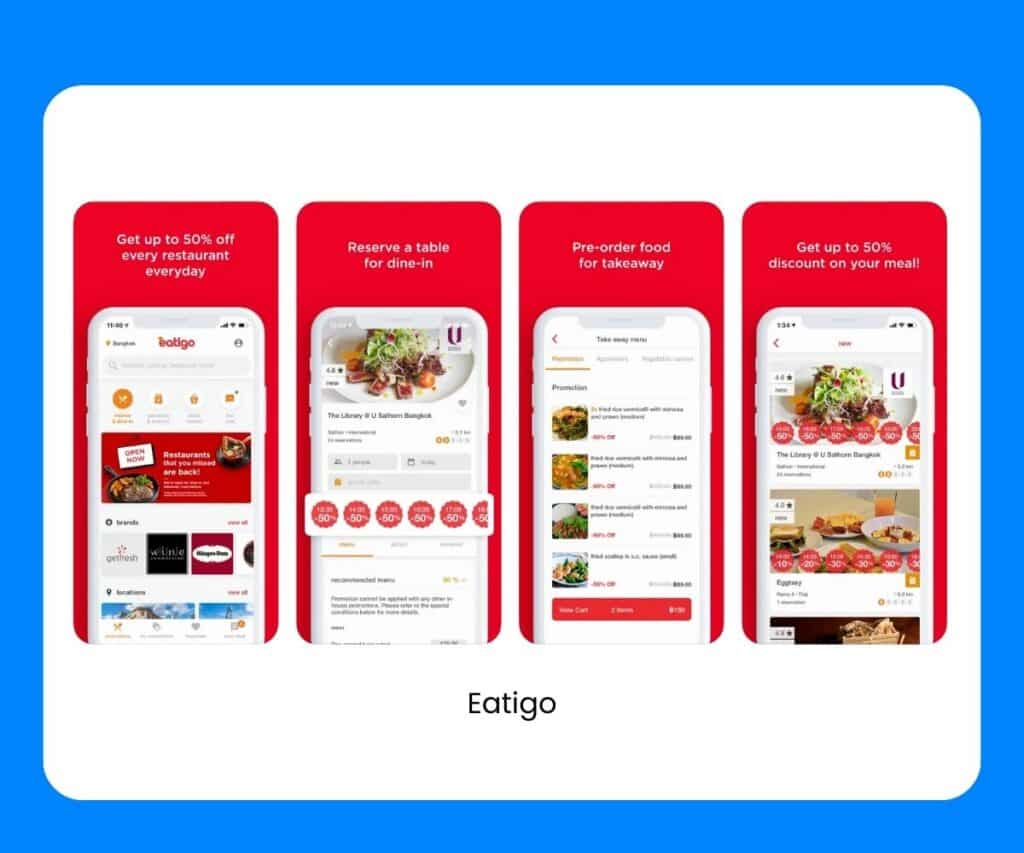 Locations:
Available in over 60 cities across Asia.
Available:
iOS and Android
Features:
Up to 50% discounts: Eatigo offers discounts of up to 50% at over 4,500 restaurants in over 60 cities across Asia.
Comprehensive listings: Eatigo has a wide variety of restaurants to choose from, including authentic local restaurants, popular chains, and fine dining establishments.
Easily make reservations: The Eatigo app is easy to use, making it easy to find restaurants, make reservations, and redeem your discounts.
Pre-order food for takeaway: Did someone say, "Let's order in?".
Trusted: Eatigo is a reliable and trusted platform that has been used by over 10 million people.
Eatigo is one of the best food apps for traveling because it helps you find authentic Asian restaurants that are both affordable and delicious. Now, that's a travel food app after my own heart.
Best For Foodies Who Are Looking For Acclaimed Eating Experiences in the USA: LocalEats
LocalEats is a great app for foodies on-the-go because it has a curated list of restaurants that have been selected by experts based on their food, service, and atmosphere. You can filter your restaurant search by category winners, cuisine type, top 10, savings, and more.
Featured #1 in Forbes' 10 Best Apps for Traveling Like a Local, LocalEats is ideal for travelers heading to smaller towns across the US who want an authentic dining experience.
With nearly 10,000 locally owned (non-chain) restaurants across 1,000 cities and towns, foodies in the US will undoubtedly call this one of the best travel food apps to eat like a local.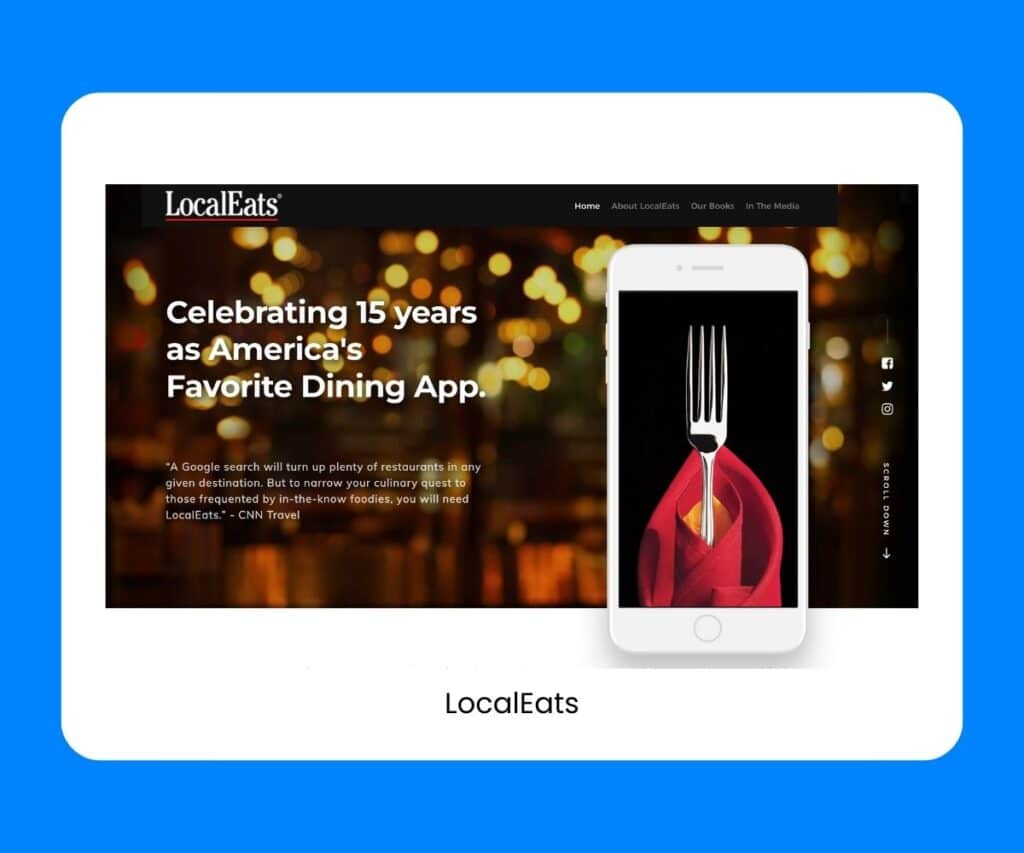 Locations:
Available across the United States.
Available:
iOS and Android
Features:
Curated dining experience: LocalEats is your gateway to a carefully curated selection of local, non-chain restaurants in the United States, renowned for their culinary excellence.
Discover hidden gems: Explore hidden culinary gems and discover new dining hotspots that may not be on mainstream review platforms – until the TikTokers find them that is.
Expert recommendations: Rely on expert reviews and recommendations to guide your dining choices, ensuring memorable meals every time.
User-friendly interface: The app's intuitive design allows you to effortlessly browse, search, and book tables at top-rated local restaurants.
Exclusive offers: Access exclusive deals and offers from participating restaurants, allowing you to enjoy exceptional dining experiences at a great value.
Real-time availability: Check real-time table availability and make reservations at your preferred restaurants with ease.
You can be sure that you are getting a good meal when you dine at a restaurant listed on LocalEats. After all, with almost three decades of curating the opinions of food experts like travel writers, restaurant critics, respected bloggers, and food editors – LocalEats is a must-have for travelers visiting the USA.
And of course, one of the best food apps for travelers.
Best For Finding Hidden Gems Only Locals Know About: Withlocals
Withlocals is one of the best travel food apps because it's a gateway to authentic, hidden gems that only locals know about. Whether you're a solo traveler, a couple, or a group, this app connects you with passionate local hosts and guides who offer unique, personalized experiences that will make your journey truly memorable.
And the best part? It's not just one for foodies.

You can fully customize your Withlocals experience based on your interests and needs. Looking for something unique and localised to do in your chosen destination with your little ones? Withlocals has great child-friendly activities.
Got the Roman Empire on your mind? Withlocals has curated experiences all centered around Ancient Rome.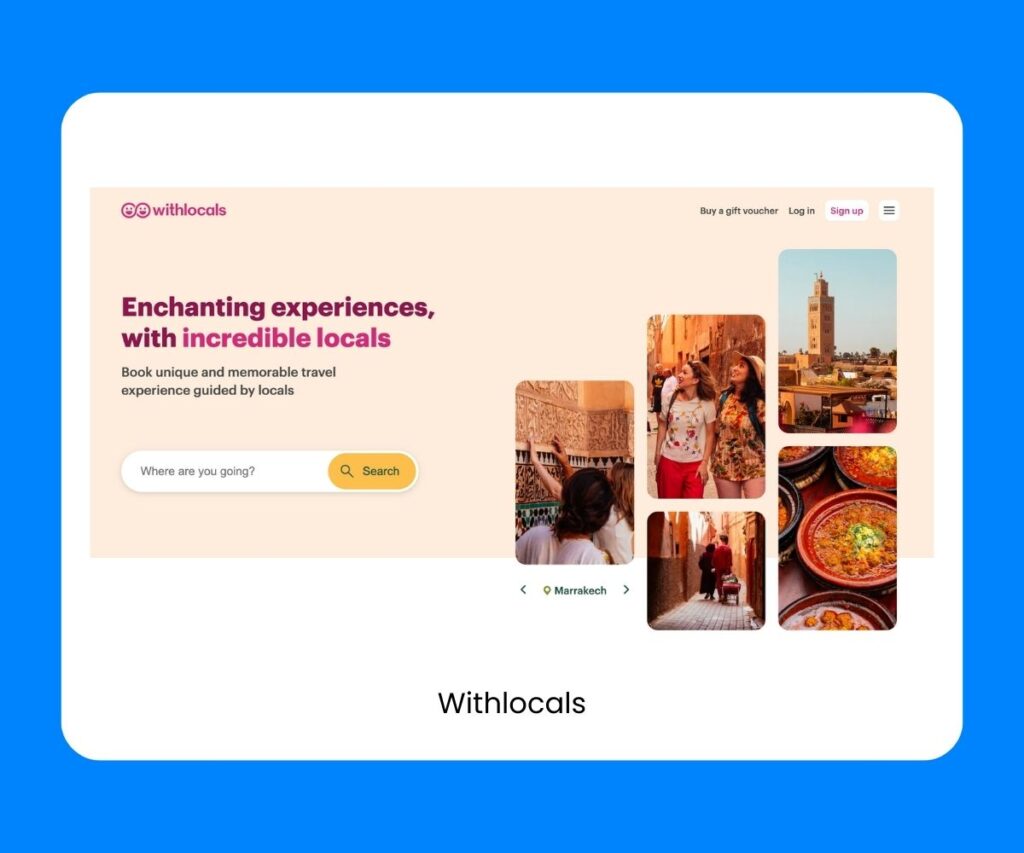 Locations:
Available in over 180 countries and territories around the world, including major cities and popular tourist destinations.
Available:
iOS and Android
Features:
Local insights: Withlocals offers travelers the unique opportunity to book experiences with local guides who know their communities inside-out.
Authentic experiences: Explore off-the-beaten-path activities, cultural immersions, and culinary adventures that are often missed by traditional tourist itineraries.
Personalized tours: Customize your experience based on your interests, whether it's food, history, art, or adventure, and get a tailor-made tour from a local expert.
Connect with local guides: Communicate directly with your local guide, allowing you to ask questions, seek recommendations, and make real connections with the people in the places you visit.
Safety and reliability: Withlocals verifies its hosts and ensures safety measures, so you can explore with confidence.
Ratings and reviews: Read reviews from fellow travelers to help you choose the perfect local host and experience.
Supporting local communities: By booking experiences through Withlocals, you contribute to the local economy and support individuals passionate about sharing their culture.
From walking tours to food tours and everything in between, Withlocals is not only a must-have app for travelers – it's easily one of the best travel food apps.
Best For Food-Focused Travelers in Europe and Australia: TheFork
TheFork is the ultimate companion for food-focused travelers exploring Europe and Australia.
The app is a leading online restaurant booking and discovery platform with over 60,000 of the best dining spots across London, Paris, Barcelona, Sydney and more.

With its extensive coverage, real-time reservations, and user-friendly features, it helps you plan a delightful culinary journey, savoring the diverse flavors of the continents with ease and style. If that's not "best travel food apps" material, then I don't know what is.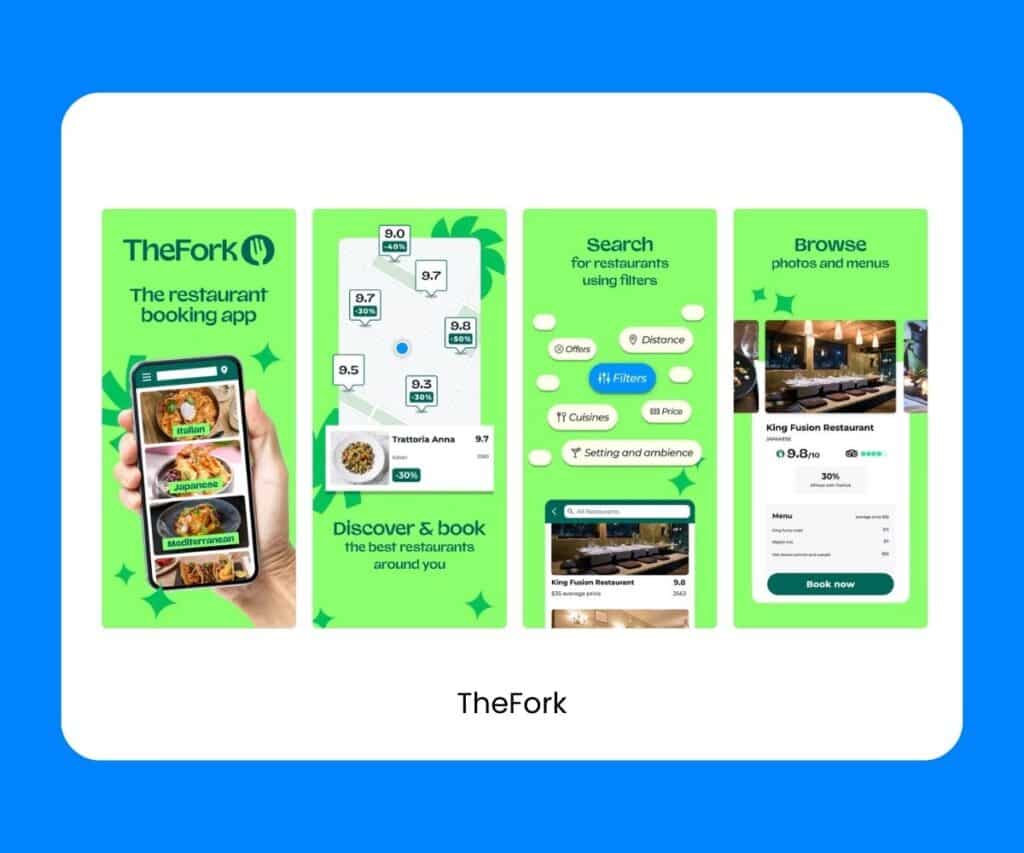 Locations:
Available across Europe and Australia.
Available:
iOS and Android
Features:
Extensive European coverage: TheFork boasts a vast network of over 60,000 restaurants and eateries across Europe and Australia, ensuring you can find dining options in a wide range of cities and regions.
Real-time reservations: Make instant and hassle-free restaurant reservations in real-time, so you can secure your spot at your chosen eatery.
Diverse cuisine selection: Explore European and Australian gastronomy at its finest, with options ranging from traditional local dishes to international flavors.
User reviews and ratings: Benefit from others' insights by reading reviews and ratings, helping you choose the perfect dining spot.
Exclusive deals: Redeem special discounts and promotions at participating restaurants and enjoy more budget friendly dining out.
Personalized recommendations: Receive custom restaurant recommendations based on your preferences and dining history.
Easy-to-use interface: Navigate the app effortlessly, whether you're searching for a Michelin-starred restaurant or a cozy neighborhood bistro.
Whether you're searching for popular restaurants in Madrid, Stockholm, or somewhere Down Under, this travel food app offers instant, easy reservation bookings, exclusive benefits, and some of the best dining choices across many of the world's most popular countries to travel in. . .
TheFork is easily of the best apps to find food while traveling.
Best For Immersive Dining Experiences with Locals and Culinary Enthusiasts: Eatwith
How do cooking classes in Paris sound? Or supper clubs in London?
Do you fancy a rooftop brunch in New York? Or perhaps pasta-making (and wine-drinking) classes in Rome?

These are just some of the most search for experiences on the Eatwith app.
Eatwith offers unique dining experiences hosted by locals and passionate home cooks in various cities and regions around the world. Did someone say: best food travel apps to eat like a local?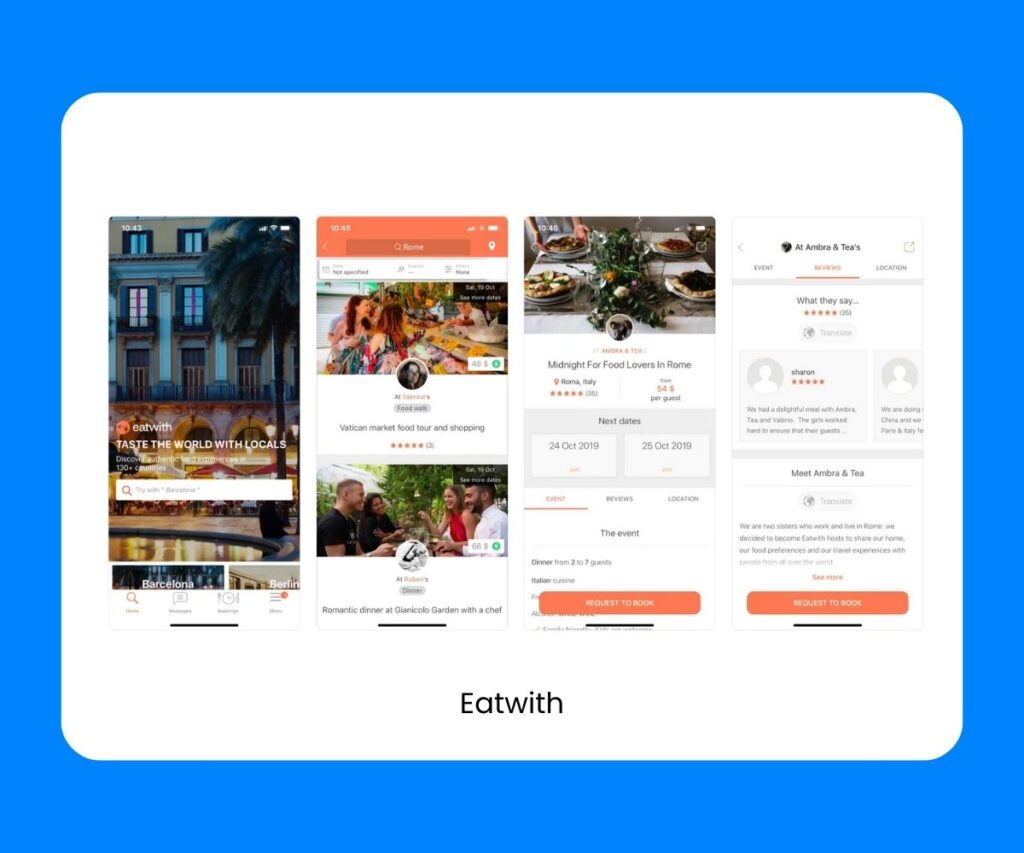 Locations:
Available in over 130 countries.
Available:
iOS and Android
Features:
Culinary adventures: Eatwith connects you with hosts who open their homes or unique venues to provide one-of-a-kind dining experiences, allowing you to savor homemade, authentic meals.
Local insights: Gain access to local culture and cuisine, as hosts often share their family recipes and stories, making each meal a cultural exploration.
Diverse offerings: Discover a wide array of dining options, from intimate dinners and cooking classes to food tours and wine tastings.
Personalized experiences: Customize your dining adventure based on your preferences, whether you're a vegetarian, a wine connoisseur, or seeking a specific culinary theme.
Direct communication: Communicate directly with hosts to discuss dietary restrictions, special requests, or any questions you may have.
Community and connection: Connect with fellow diners and hosts, fostering memorable connections and friendships over a shared love of food.
Verified hosts: Eatwith ensures hosts are vetted, providing a secure and reliable platform for your culinary adventures.
Whether you're looking to connect with locals, explore new cuisines, or share a meal with fellow travelers, Eatwith brings people together through the universal language of food, creating memorable moments and culinary adventures. Without a doubt, one of the best food apps for travelers who are seeking authentic local culinary experiences.
Best For Exploring Authentic Home-Cooked Meals and Food Markets with Local Hosts: TravelingSpoon
When you're traveling, one of the best ways to experience the local culture is through food. But finding authentic home-cooked meals or cooking classes can be difficult, especially in popular tourist destinations.
That's where TravelingSpoon app comes in.
TravelingSpoon offers a diverse range of culinary experiences by connecting travelers with local hosts who offer home-cooked meals, cooking classes, and market visits. This is a great way to immerse yourself in the local culture and learn about traditional cuisine from the people who know it best.
Book a home-cooked meal with a local grandmother in India, learn to make curry paste on a farm in Thailand, go on a food tour in Jerusalem, or explore a local produce market in Cape Town. No matter what experience you choose, you're sure to have a memorable time with one of the best travel food apps.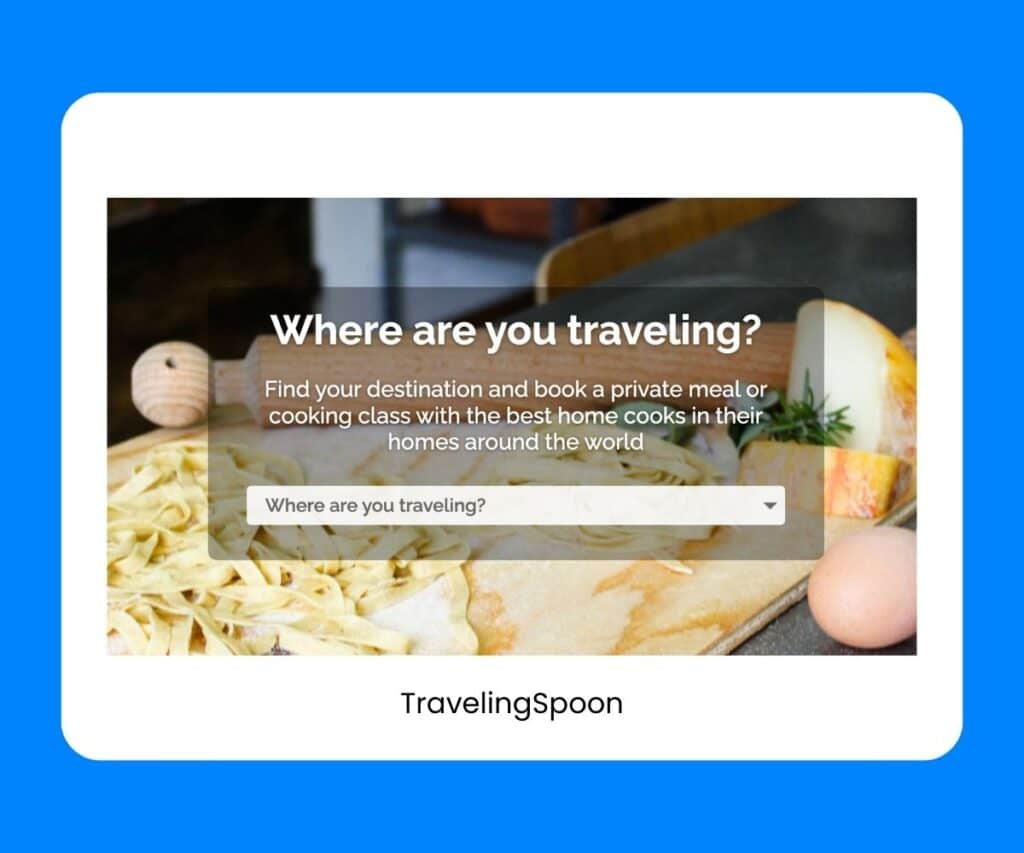 Locations:
Available in 53 countries around the world.
Available:
iOS and Android
Features:
Home-cooked delights: TravelingSpoon allows travelers to experience the most authentic taste of local cuisine through market tours, regional meals, and cooking classes offered by local hosts in their own homes.
Local expertise: Connect with passionate hosts who share their culinary traditions, stories, and cooking techniques, offering authentic insights into the local culture.
Customized experiences: Tailor your culinary adventure to your preferences, whether you're interested in a cooking class, a food tour, or a traditional meal with a local family.
Direct communication: Communicate directly with hosts to discuss dietary preferences, allergies, and any special requests, ensuring a personalized experience.
Cultural immersion: Beyond the food, TravelingSpoon experiences often include cultural components, such as market visits, farm tours, and more.
Community building: Foster meaningful connections with hosts and fellow travelers over shared meals, creating lasting memories and friendships.
Verified hosts: TravelingSpoon verifies hosts to ensure safety and reliability, providing peace of mind for travelers.
TravelingSpoon offers a unique opportunity to taste the world through the eyes and kitchens of vetted locals. Whether you're looking to learn, savor, or connect, this app brings people together over the joy of food, offering authentic, immersive experiences that transcend the boundaries of traditional dining. In other words, it's one of the best food apps for travelers who want to eat like locals.
Best Travel Food Apps: Honourable Mentions
In the context of the best food travel apps (as well as the best food apps), these honorable mentions are perfect for checking reviews, getting opening hours, and discovering recommendations from both locals and travelers. Various aspects make them valuable companions for any foodie traveling the globe.
Yelp: A go-to platform for comprehensive restaurant and business reviews, perfect for finding local favorites and gathering user-generated insights.
TripAdvisor: An excellent resource for traveler reviews and ratings, ideal for discovering top dining spots and attractions while traveling.
Jetzy: A social networking app connecting travelers and foodies, facilitating the exchange of local dining tips and recommendations.
Google My Business: A powerful tool for accessing essential business information, including hours of operation, contact details, and user reviews, making it indispensable for travel planning.
Food Delivery Apps (Zomato, UberEats): These apps are not only for food delivery but also provide valuable restaurant recommendations and reviews making them versatile resources for food travelers.
TikTok/Social: Social media platforms like TikTok and others offer a dynamic space for discovering trending food experiences, with short video clips showcasing local culinary delights and hidden gems.
So now that you know what the best food apps are to eat like a local and the best travel food apps in general . . . What are you waiting for? Go eat and explore!
How Air Doctor Can Help You
Air Doctor is an easy-to-use app that connects you with a global network of multi-lingual doctors and specialists so you can access medical care anywhere, anytime. With the Air Doctor app in your pocket, you can access medical advice, get prescriptions, and receive expert medical guidance wherever you are in the world.
Air Doctor offers a wide range of benefits, including:
A global network of over 20,000 multi-lingual doctors and specialists
Choice of clinic, at-home (hotel), and video consultations
Active in 75 countries
Cross border prescription services
Telemedicine services in up to 21 languages
24/7 multi-lingual support
Transparent pricing, and reviews
Most common medical specialties

Air Doctor is the ultimate travel companion.
Download the app before your next trip just in case.