Telemedicine really has revolutionized healthcare as we know it. By giving people in rural and urban areas access to healthcare, the use of telemedicine can be seen for locals and travelers alike.
But every new trend has its confusions, and telemedicine is no different.
Let's take a look at telemedicine and how it can benefit travelers and doctors alike!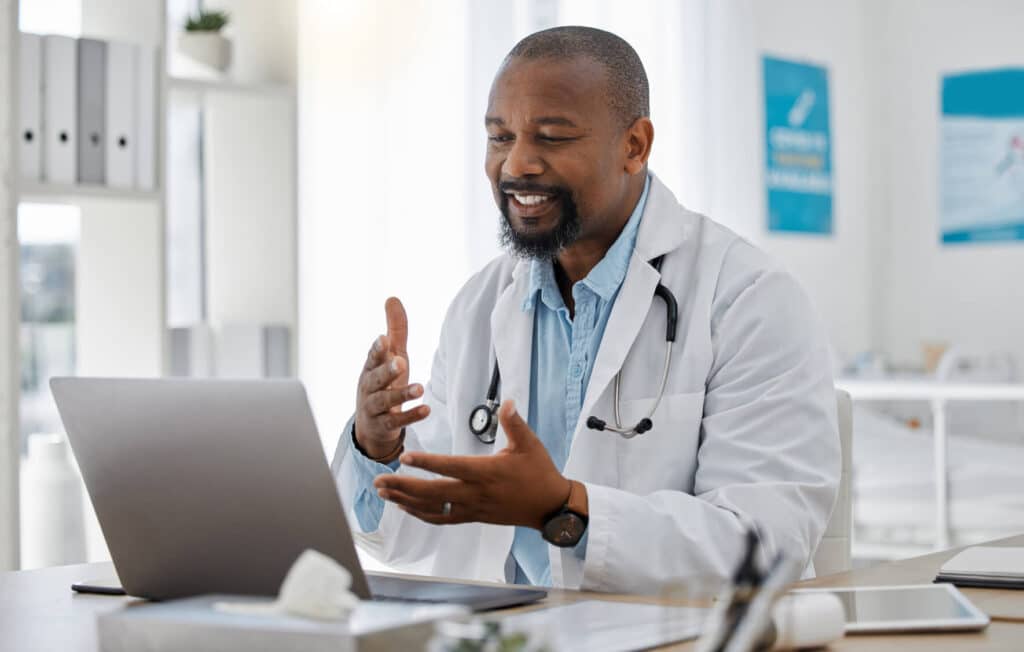 What is telemedicine?
In short, telemedicine is a type of healthcare that uses technology to connect patients to doctors. Instead of going to a physical doctor's office, hospital, or clinic, patients can have virtual consultations from anywhere with internet access.
How popular is telemedicine?
You may be wondering how many people use telemedicine. Well, interestingly the use of telemedicine has increased year-on-year since being introduced into the mainstream. In fact, a McKinsey study found that telemedicine made up 13% – 17% of ALL United States patient visits.
It's also no surprise that the COVID-19 pandemic lead to a spike in the use of telemedicine.
One study conducted found that telemedicine consultations spiked by as much as 766% within the first 3 months of the COVID-19 spread.
Some other stats about telemedicine:
What can telemedicine be used for?
While it was originally used by doctors on ships to signal if there were diseases on board, telemedicine has grown significantly since then. If you're wondering, how is telemedicine used in healthcare and want to know what can you use telemedicine for – we can guide you on what situations are appropriate to use telemedicine for.
Let's dive into telemedicine uses in healthcare:
Non-emergency care: Telemedicine is normally used for non-emergency consultations.
Follow-up appointments: Some patients who've undergone surgery, or are no longer near their doctor, have follow-up appointments to remotely monitor their wellbeing.
Chronic disease management: Telemedicine plays a massive role in treating chronic illnesses such as diabetes and heart diseases, by allowing doctors to quickly and easily check in on patients.
Prescription refills: Telemedicine has been used to streamline the process of getting prescription refills for low-schedule medications.
Minor illnesses and infections: Minor illnesses, diseases, and common infections can all be addressed and treated via telemedicine.
Pre- and post-natal care: Expecting or new mothers save time, money, and stress by being able to have remote consultations.
After-hours care: If a doctor isn't able to come in, or if it's late, telemedicine can help patients see doctors in a pinch.
Remote areas: Areas that are hard to reach have greatly benefitted from telemedicine, which makes healthcare much more accessible.
In other words, if you asked yourself, "Can I use telemedicine for ear infections?" or "Can I use telemedicine for UTIs?" The answer is yes. Most common ailments can be diagnosed through the use of telemedicine.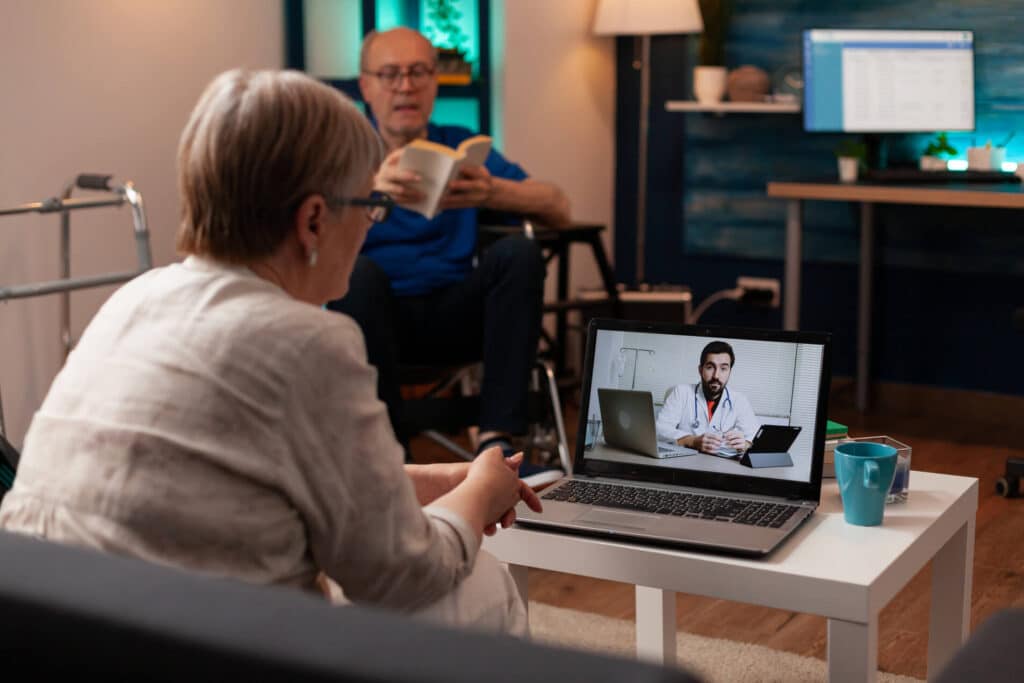 What are the benefits of telemedicine?
Why use telemedicine in the first place? If you're not too sure on the reasons to use telemedicine, we've got all the reasons the use of telemedicine would be great for you.
Telemedicine consultations are hugely beneficial for both patients and doctors.
Benefits for patients:
Convenience and accessibility: Patients can see doctors from almost anywhere in the world, reducing the need to be in ERs, crowded clinics, or to travel long distances.
Time saving: Telemedicine consultations can reduce waiting times and traveling to see doctors, making it easier to receive healthcare without disrupting daily routines.
More access to specialists: Telemedicine allows patients to see specialists of all kinds, regardless of where they are in the world.
Reduced costs: Telemedicine consultations can be cheaper than doctor's visits, and cuts the cost of traveling to and from the consultation rooms.
Privacy and comfort: Many people who've made use of telemedicine have said that being able to see a doctor in the comfort of their own home has allowed them to open up more and receive more comprehensive care.
Benefits for doctors:
Increase efficiency: The use of telemedicine means that doctors can see patients while also reducing paperwork and other admin that would take large chunks of time.
Flexibility: Doctors travel too! Telemedicine use allows doctors to see patients, no matter where they might be in the world.
Reduced no-show rates: Telemedicine appointments have a much lower cancellation or "no-show" rate, making it easier for doctors to stick to their schedule, and to provide better ongoing care.
Increase patient numbers: Telemedicine also allows doctors to see more patients in shorter periods of time, increasing how much they'd earn on a daily basis.
Lower overheads: Doctors who pay for offices can cut those costs by remotely consulting patients.

What are some tips on how to use telemedicine as a patient and a doctor?
The use of telemedicine can improve healthcare experiences for both patients and doctors.
How does a patient use telemedicine? We cover that here. As well as tips for doctors too.
By following these tips, you can ensure that you are using telemedicine effectively.
How to use telemedicine as a patient:
Using telemedicine doesn't need to be complicated!
Here's what you should do if you want to use telemedicine as a patient.
Check with your insurance provider to see if they can refer you to any telemedicine services they cover.
Have a look around online to see if you can find any online doctor's directories.
Once you've found the doctor you like, have a look at their reviews to see if they get good ratings.
If you're using a mobile app (like the Air Doctor app), you should download it and make sure your account is set up.
Test your tech. Most telemedicine consultations can be done on a phone, laptop, or tablet, as long as it has a microphone, video camera, and stable internet access.
Once you're sure you're able to see and speak to the doctor, it's time to schedule an appointment.
Now it's time to see the doctor. Make sure you're somewhere that's well-lit, and that you can easily be heard. Some doctors may use Zoom, Skype, Facetime, or even a built-in video functionality in an app like Air Doctor, so find out if that's possible first!
If your insurance covers the consultation, you're good to go. Otherwise, you should make sure you pay for the consultation if you haven't already.
If you need to make follow-up appointments, contact the reception, or with the doctor directly.
And finally, be sure to ask the doctor any questions you have about your condition or treatment plan.
One more thing: Be sure to have your medical history and any relevant test results ready to share with the doctor. This will help them to provide the best possible care.
How to use telemedicine as a doctor:
Telemedicine is a great way to provide care to patients who are unable to come to your practice or clinic. It can also be a convenient way to see patients who live in rural areas or who have difficulty making it to appointments.
Here are some tips on how to use telemedicine as a doctor:
Make sure you have the right equipment. You will need a computer or tablet with a webcam and microphone, as well as a stable internet connection. You may also want to consider using a headset to improve your audio quality.
Create a comfortable and private space. You will need a quiet place where you can speak to patients without being interrupted. You should also make sure that your background is uncluttered and professional.
Be familiar with the platform you will be using. There are many different telemedicine platforms available, so it is important to choose one that you are comfortable with. Some platforms offer features such as shared medical records and electronic prescribing, so you will need to be familiar with how to use these features.
Be prepared for the appointment. Before the appointment, take some time to review the patient's medical history and any relevant test results. This will help you to make the most of the appointment and provide the best possible care.
Be professional and courteous. Even though you are not meeting with the patient in person, it is important to be professional and courteous. Dress appropriately and speak clearly and calmly.
Be patient. Telemedicine can be a new experience for patients, so be patient and understanding. If the patient is having difficulty with the technology, offer your assistance.
Make sure you use a secure, reliable platform to protect patient privacy, as well as yours.
Get consent from patients before recording or transmitting any medical information.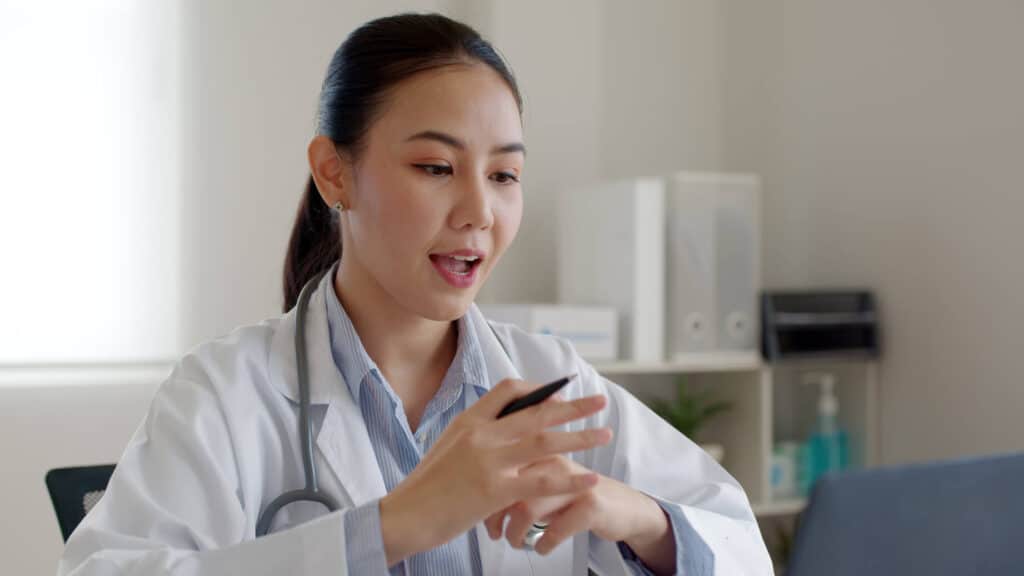 Is there a specific platform or software you should use?
If you're asking yourself how does a patient use telemedicine – well that's up to you and your healthcare provider. If your doctor doesn't have a platform they use like Air Doctor, you can use any virtual meeting software.
Can facetime be used for telemedicine? Yes.
Can you use skype for telemedicine? Yes.
Can zoom be used for telemedicine? Yes.
There's no specific platform. As long as it's a secure, well-known platform, you shouldn't have anything to worry about.
How will telemedicine be used in the future?
Curious about how telemedicine will be used in the future?
The use of telemedicine is poised to reshape the healthcare landscape in profound ways:
It will become a seamless part of our daily lives.
5G networks and high-speed internet will improve the quality of video consultations and real-time data sharing.
Virtual reality (VR) and augmented reality (AR) will revolutionize medical training and education.
Collaborative telemedicine solutions will bridge the gap between specialists.
Telemedicine will democratize healthcare access, addressing disparities in healthcare delivery.
The future of telemedicine is a landscape brimming with innovation and potential. With advancements in technology, connectivity, and medical expertise, telemedicine is poised to become an integral pillar of modern healthcare.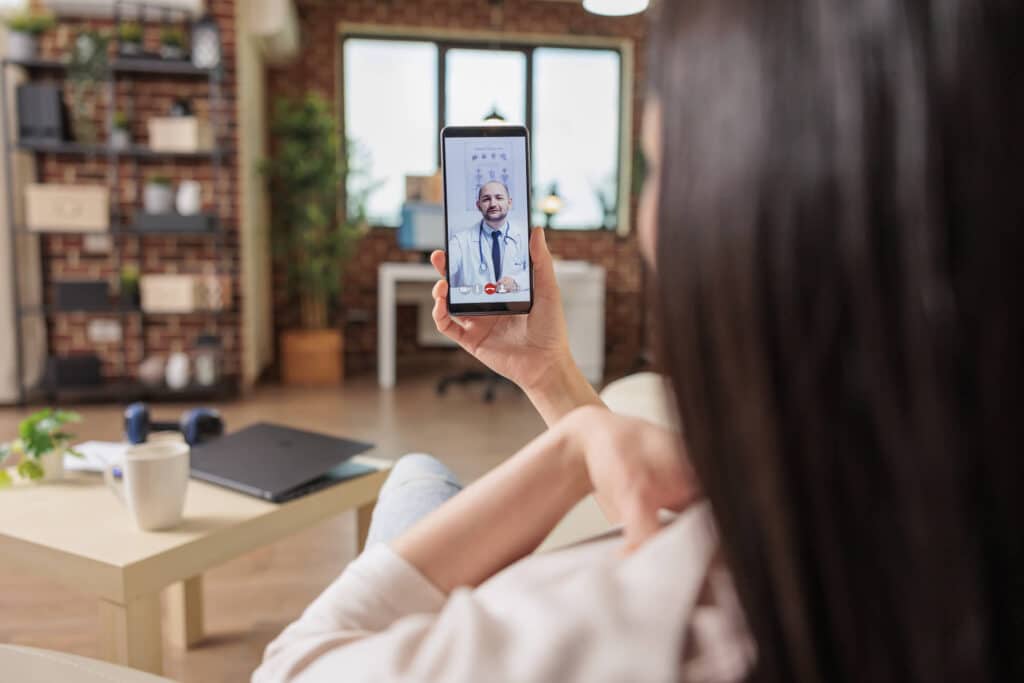 How can Air Doctor help you?
Air Doctor is a leading app that connects travelers who need medical care abroad to a global medical network so they can browse doctors and specialists and book an appointment with a doctor who meets their needs even while they're away from home.
Here are some of the benefits of using the Air Doctor app:
Over 20,000 multi-lingual doctors and specialists
Choose from clinic, at-home (hotel), and video consultations
Active in 75 countries around the world
Most common medical specialities: GPs, pediatricians, dentists, ophthalmologists, dermatologists, gynecologists, and orthopedic specialists
Telemedicine services in up to 21 languages
Local valid prescriptions
The easy-to-use app is available for download on mobile or through our web app.
Make sure you download it before your next trip so you can travel worry-free.