Having the sniffles is the worst – so if you're looking for tips on how to stop nose running, you've come to the right place.
A runny nose is basically mucus being discharged out of your nose. Usually, a runny nose can be caused by anything that irritates your nasal passages. If your nose won't stop running, it may indicate that you have rhinitis. Symptoms include clear, runny discharge caused by swelling or inflammation of your nasal tissues.
A runny nose could also be brought on by cooler temperatures, or by a common cold, flu, or even your allergies. In some cases, you could have a runny nose for an unknown reason – which is called non-allergic rhinitis.
Common Causes Of A Runny Nose
When you get sick, it's because pathogens or germs have gotten past your mucus lining. This is when your immune system takes over and produces proteins called cytokines – which send out cells to find and destroy harmful pathogens. This causes your nose to produce more mucus to clear your body of any germs.
As your nose produces more mucus, your mucus lining gets swollen and fills your nose with more fluid. Once the germs or pathogens are cleared from your nose, your immune system tells your body that you're getting better and your mucus lining starts returning to a normal level.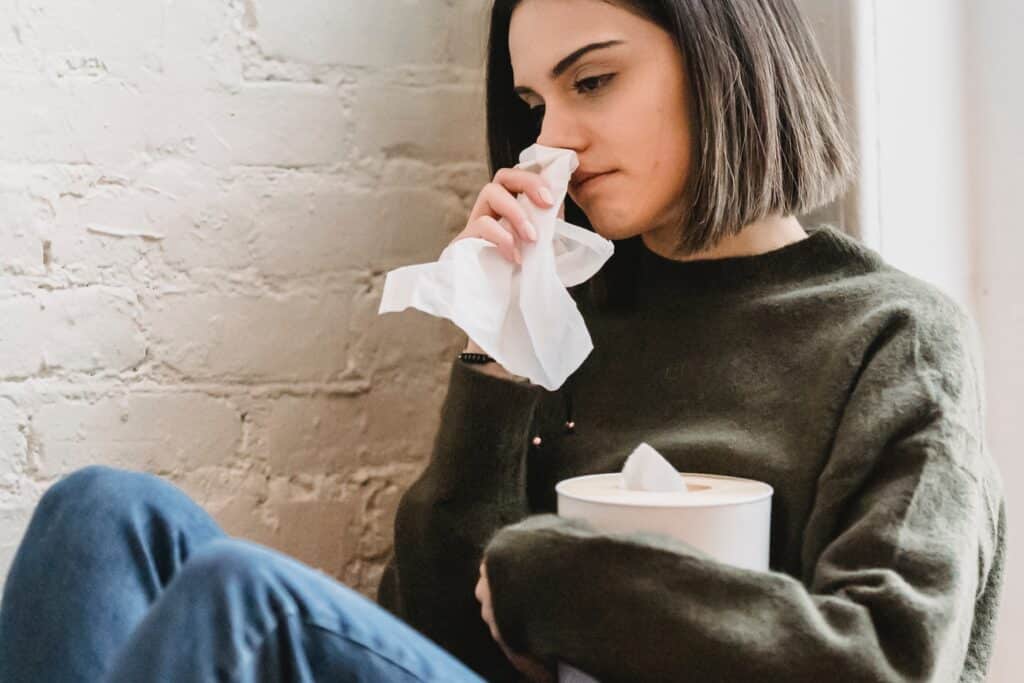 Other causes for a runny nose include:
Decongestants: While great for helping to dry out your runny nose when you have a cold, prolonged use may actually cause your nose to run or worsens a sore throat.
Hunger: As you get older, the nerves to your saliva glands may get confused. So instead of an involuntary response like your mouth watering when you see food, your brain may give you a runny nose when eating instead.
Chronic sinusitis: If you've been to the doctor several times with sneezing, a runny nose, and sore throat (among other symptoms), you might have a chronic sinus infection. This could be because you have undiagnosed allergies and there's an overload of mucus in your nasal passages. If you keep getting sinus infections, you should consider seeing a medical professional to get allergy tests conducted.
Alcohol: Some people are allergic to certain chemicals or ingredients in wine or beer. The reasons are unclear, but it could be caused by an allergic reaction that causes congestion.
Dust: If you're experiencing symptoms like sneezing, a runny nose, or even a cough. It could be caused by too much dust in your environment. Other symptoms like needing to blow your nose first thing in the morning, might be because you're breathing in dust particles while sleeping. This is more common in the wintertime when the heat in many homes is turned on most of the time.
Other causes of a runny nose include:
Drug addiction
Churg-Strauss syndrome
Hormonal changes
Wegener's
Deviated septum
Pregnancy
Nasal polyps
Dry air
Asthma
Respiratory syncytial virus (RSV)
How To Stop Nose Running: 8 At-Home Remedies That Work
A runny nose isn't something to be too alarmed about. And if you aren't experiencing any other symptoms, there are some things you can do to manage a runny nose at home.
1. Make sure you're getting enough fluids.
Staying adequately hydrated when you're dealing with a runny nose can help – especially if you're also experiencing symptoms of nasal congestion. This helps mucus to thin out to a runny consistency and makes it easier for you to blow your nose and expel it. Otherwise, your nose can easily become congested.
Of course, this also means while you're on your "how to stop a running nose" journey, that you should avoid drinking anything that can dehydrate you, like coffee and alcohol.