The coronavirus pandemic has forced working parents across the globe to abandon their family routines and adopt something similar to anarchy. All jokes aside (humour is essential right now), in reality, telecommuting with the added distraction of having the little ones around is no joke. Depending on your circumstances, you may find that you're suddenly faced with balancing working from home, parenting, and even schooling simultaneously during a day.
Juggling virtual meetings, home-schooling, endless emails, family responsibilities, and tight deadlines may seem hopeless. But you're not alone – you can master remote working while quarantining with the kids.
Tips for Staying Sane While Working at Home with Kids
Get Into A Routine
Establishing a healthy routine is essential – both adults and children thrive on routine, so it's beneficial to add some kind of structure to the day. If anything, the pandemic has taught us how much comfort our habits provide us. Maintaining bedtime, morning, and other routines bring a sense of order to the day, offering reassurance during uncertain times.
With most people's usual routines out of whack, establishing a new daily schedule could restore balance at home. A good rule of thumb is creating a predictable routine that is flexible enough to meet individual needs. This goes for both parents and children.
Use this general order as a guideline for the little ones' schedule:
wake-up routines, getting dressed, breakfast and some active play in the morning, followed by quiet play and snack to transition into schoolwork.
lunch, chores, exercise, some online social time with friends, and then homework in the afternoon.
family time & reading​ before bed.
What works for one household won't work for the next, but you should always prioritise the same basic needs. Don't overdo it though, set small specific goals – anything extra is a bonus!
Set Work & Personal Boundaries
If parenting under normal circumstances was deemed challenging, parenting during a pandemic is something to be revered. Working parents have long since struggled with the delicate balancing act of separating work and family lives – who would have thought one day we'd be doing it all under one roof!
If you don't learn to keep your roles of parent and businessperson separate – and giving each your undivided attention for a certain amount of time – you'll always feel like you're not doing well at either.
This is why it is important to have a dedicated workspace – it allows you to separate mentally and detach from the rest of the household. Eliminating the distraction of the laundry pile, as well as the rowdy children, works wonders on your brain's ability to concentrate. And when the workday is done, stepping away from your desk helps you disengage from your job – turning off is an essential part of being able to turn on and be productive the next day.
So, turn off those notifications for a while and enjoy some family time.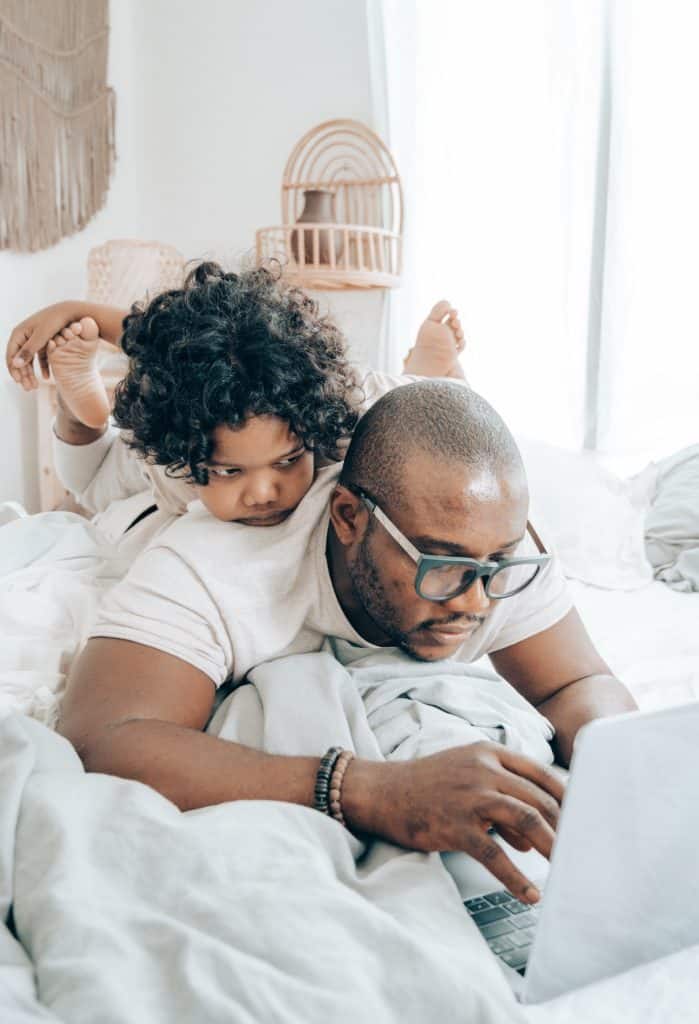 Plan for Interruptions
As much as you'll follow your schedule and have clear boundaries between work and family, be prepared for curveballs. After all, the pandemic itself was a colossal interruption.
And every parent has experienced their fair share of those while working from home. You're on an important call, your little one wants to watch something on TV or needs you to rustle up their next snack, and now you are trying to juggle a juice box and a presentation simultaneously. In essence, rule #1 of parenting during a pandemic: hit the mute button when you're on a conference call—but keeping the kids entertained with a video or game allows you a few moments to indulge the professional in you.
Either way, whether the WIFI or the toddler is being sticky, it might be best to embrace the spirit of adaptability and try to simply "go with the flow".
Stay Focused On The Positives
Times as trying as these often serve to remind us just how important it is to stay as optimistic as possible. This means making the most out of our current situation. Right now, it is easy for our work and home lives to blur, but establishing a balance is essential to a healthy lifestyle and ultimately enjoying your parenting experience with your children.
Find your balance and go easy on yourself. Don't forget that we are all in bizarre circumstances, and we are still figuring this all out as we go along. The most critical aspect to 'keep in mind' is mental health, which brings us to perhaps the most important point here.
Make Time For Yourself
Yes, the kids demand around-the-clock attention, but that doesn't mean you should neglect your own needs. Quite the opposite, in fact, – caregivers also need to take care of themselves, physically, mentally, and emotionally. Make sure you are eating healthily, exercising regularly, and getting enough sleep. In addition to finding some healthy ways to decompress – taking necessary time-outs allows you to rest and reset – even if for a moment.
Self-care should be a fundamental part of your "working from home" strategy.
If you need to – tell yourself: This is hard. Admitting that this situation is stressful makes you human. Besides, we don't know how long this scenario will be a reality – so it is perfectly okay for your stress levels to be higher than usual. We are amid a global pandemic, and you are raising children – that's pretty nerve-racking!
Which is also why there is no shame if you need to seek extra help. Whether you are hiring a babysitter for a few hours or organising playdates – an extra pair of hands and a few moments of uninterrupted time will undoubtedly help your mental well-being.
Communicate With Your Family
If you live in a two-parent household or a household with two caregivers – it is essential to talk about your workload to decide how your workdays will run along with childcare responsibilities. Combining work and home life into one physical space warrants more intention than ever before – it calls for a great deal of communication between all household members.
Yep, parenting during the pandemic while working-from-home full-time is not for the faint of heart. There is no doubt that you can't control every aspect of this situation: such as how long schools will be closed, whether your loved ones will be directly affected by COVID-19 or the fate of your company during this time. However, some things may be within your control, like how you structure your day and what you prioritise. Consider opening up a meditation app and spending a few minutes practising some deep breathing exercises, watching an episode of your latest binge-worthy series, or locking yourself in the bathroom with that secret candy bar! Whatever it is that is psychologically soothing to you, do it every day. Not only will this self-care filter down into all the roles you play – but it will keep you closer to sanity on the spectrum during these absurd times.